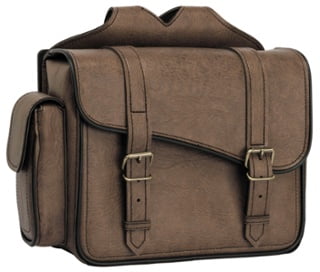 River Road is pleased to announce the release of new motorcycle saddlebags and accessories designed for long trips and quick jaunts. River Road is part of the Tucker Rocky/Biker's Choice family and is full-throttle on a number of exciting new luggage projects.
"Folks will be seeing a lot more of us in the coming months," says David Komoroski, Brand Manager for River Road. "The newest stuff is our brown cruiser line. The expansion of the line to include some new colors gives the customer more selection and makes it even easier for them to personalize their ride. These vintage brown bags will appeal to folks who are into that 'modern classic' look."
The new line features some of the staples of River Road's current line in the same bombproof synthetic material found on their other luggage pieces. Made of durable, synthetic material, they resist water, fading, and cracking better than leather, and are available at a affordable price.
The No Frills Saddlebags are perfect for the rider who needs weekend storage without breaking the bank. "They have all the get-it-done function and good looking form of more expensive bags, and come in at a price that allows everyone to add the capacity necessary for a weeks-long trip," says Komoroski.
River Road has also introduced new Swingarm bags designed for Softailâ, hard tail, and dual rear shock setups. The water- and UV-resistant bags are a perfect way to carry tools and a jacket while retaining the style of your custom. These are available in black.
Finally, the River Road Chrome and Black Saddlebag Guards keep saddlebags secure, in place and away from moving components. "The guards come in two styles and two sizes. It's a no-brainer that everyone with throw-over bags should have. We're also coming in with a slamming good price that I think is one of the best on the market," says Komoroski.
About River Road
River Road is comprised of a group of riders who are proud to offer quality motorcycle luggage in the sweet spot where price, form and function meet. We believe in supporting our local shops. To find your local River Road dealer, visit here.
About Tucker Rocky/Biker's Choice
Featuring the most powerful portfolio of parts, accessories and apparel brands in powersports, Tucker Rocky/Biker's Choice is the go-to supplier for retailers across the nation. In addition to an unmatched product selection, Tucker Rocky/Biker's Choice is proud of its relentlessly customer-centric culture and unwavering pledge to on-time delivery. Because of its uncompromising commitment to continuous improvement, Tucker Rocky/Biker's Choice has been earning the trust of the best dealers in the industry for nearly 50 years.