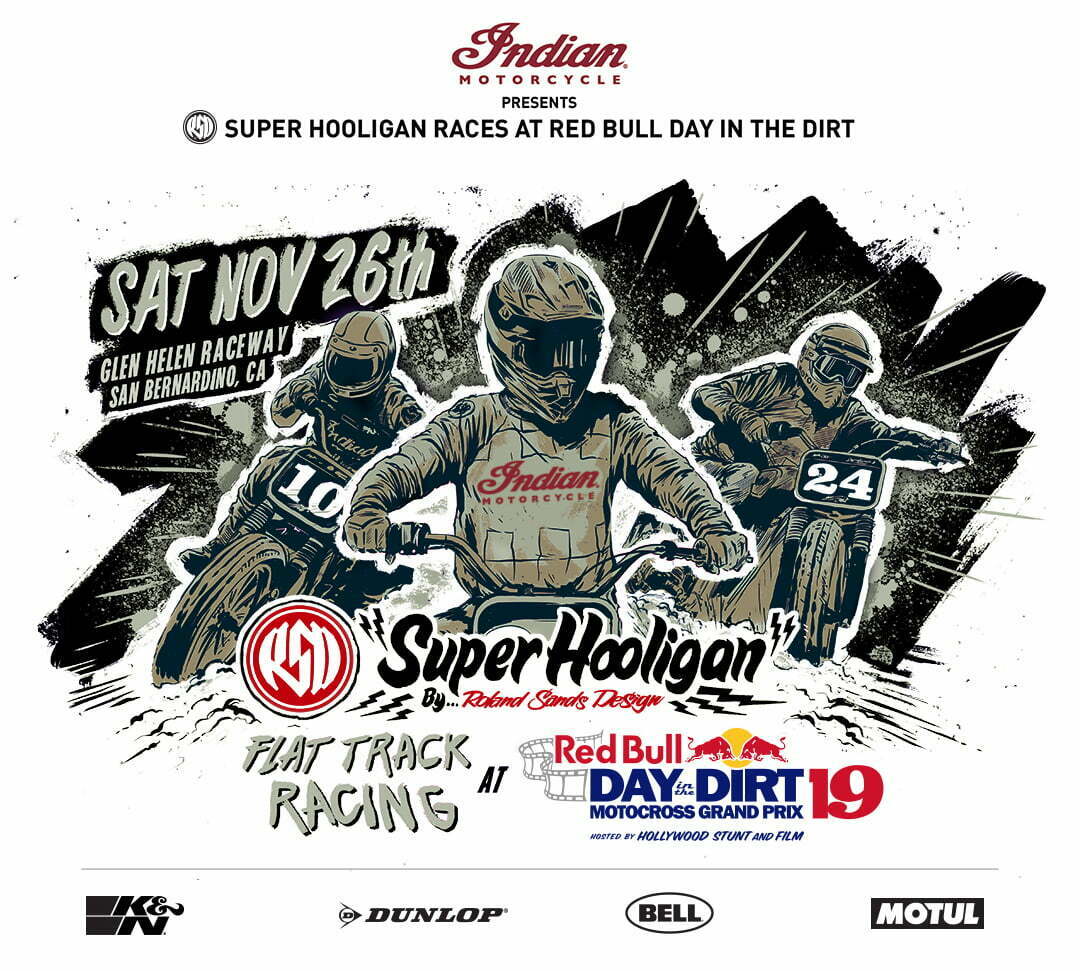 We are stoked to announce Roland Sands Design and Indian Motorcycle are taking RSD Super Hooligan flat track racing to this year's world famous Red Bull Day in the Dirt. The Super Hooligan races, hosted by Hell On Wheels MC, will take place Saturday, November 26, at the 19th annual Red Bull Day in the Dirt at Glen Helen Raceway in San Bernardino, CA.
Today's flat track hooligan racing brings together riders of all ages and experience levels by offering the fun of motorcycle competition in a less structured environment. Combining the craft of custom motorcycles and racing, Super Hooligan class rules are loose and limit the bikes to 750cc and up, twins in stock frames with dirt track tires and no front brakes.
Don't miss your chance to compete for Super Hooligan glory under the lights– Saturday night only.
Ripping it up with buddies in the desert and dry lake beds surrounding the Los Angeles basin is a SoCal tradition that stretches way back. Day in the Dirt pays tribute to that tradition by hosting three days of racing and revelry. Races include Moto-a-Go Go GP Team Race, Vintage Grand Prix, FMF 2 Stroke Revival, multiple mini races, a Women's Grand Prix and more. Skill levels range from pros to amateurs to beginners. Buddies bang bars during the day, then share cold brews around campfires at night.
About Super Hooligan Racing:
With its roots in Southern California motorcycle culture, today's flat track Hooligan racing category is rapidly gaining in popularity with riders of all ages and experience levels across the nation. Roland Sands Design and Indian Motorcycle's recent Hooligan racing efforts are a throwback to '30s era racing, when you raced – and could ride home on – any bike you owned. By offering the fun of motorcycle competition in a less structured environment the Hooligan class allows racers to ride their street-legal motorcycles to track, race and ride them home just like the races of yesteryear.
About Indian Motorcycle:
Indian Motorcycle, a wholly-owned subsidiary of Polaris Industries Inc. (NYSE: PII), is America's first motorcycle company. Founded in 1901, Indian Motorcycle has won the hearts of motorcyclists around the world and earned distinction as one of America's most legendary and iconic brands through unrivaled racing dominance, engineering prowess and countless innovations and industry firsts. Today that heritage and passion is reignited under new brand stewardship. To learn more, please visit www.indianmotorcycle.com.
About Roland Sands Design:
Roland Sands Design is a motorcycle, product and apparel company that has its roots in racing, custom bike building and design. Our inspiration comes from a high performance background that blends the love of two wheels with the desire to create unique products. We live the two wheeled life and our crew is a diverse collection of road racers, off-road, dirt track, super moto and custom bike builders and riders. It's this diversity that allows us to work with the best in the industry on a wide variety of projects. Follow all bike builds, new products and the life and times of the Roland Sands Design crew at www.rolandsands.com.