Rough Crafts, from Taipei, Taiwan, is one of the custom-bike shops that commands respect. No matter its geographic location, owner Winston Yeh is definitely a power player when it comes to making factory Harley-Davidsons look cool. Winston's minimal and sinister styling is representative of his meticulous attention to detail, and his signature usage of all-black aesthetic proves that a flashy paint job doesn't always work. In fact, the subtle approach in highlighting Rough Crafts—and other aftermarket products—is a testament to properly including certain elements on a motorcycle.
Rough Crafts is by no means new to the pages of Hot Bike, but its first-ever bagger build was definitely worthy of some attention.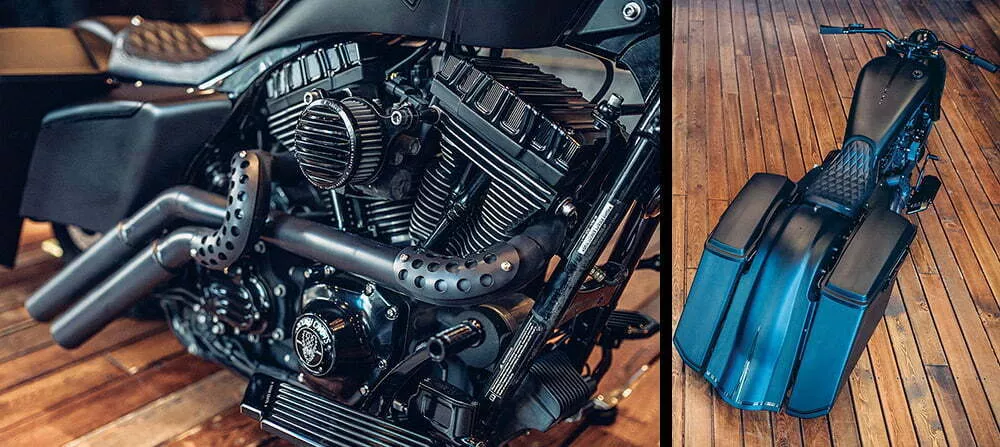 "Through all these years, we've never built a bagger. After the success of our Sportsters and Softails, somehow our customers never asked for a bagger," Winston says. "But the long wait actually gave us a lot of time to think about what would we do if we did build a bagger, and here it is."
It helps that Winston is good friends with the Arlen Ness family, and in Winston's opinion, the Down-N-Out bag/fender kit is, hands down, the cleanest and nicest-looking bag kit on the market, which helped him idealize his current creation. "Zach and I had talked about when I do build a bagger it would only be natural to make it a Rough Crafts-Arlen Ness build, as we don't offer many parts for baggers," Winston says. While it doesn't stock a ton of bagger-specific products (yet), Rough Crafts does offer a wide range of rad Harley-specific products, so Winston was excited to take on the challenge of incorporating some high-quality Arlen Ness parts with his own product line, as well as some others.
In case you're not familiar with Rough Crafts' type of build, the underlying theme to most of them is the color black. Not much changed with this Road King project either. For the roller, instead of going with a bigger front wheel, Winston decided to stay with a 23-inch front, which he says looks more balanced to the whole bike. Instead of running a regular Touring Model's reverse tree, he decided to go with Arlen Ness raked trees for Softails, so it instantly stretched the bike without having a crazy rake. For the rear, Winston utilized a set of Legend Air Ride shocks for balancing out the progressively sprung front forks. As for the front brake, the Arlen Ness inboard brake kit was a natural fit for this project. The single-disc, dual-caliper setup is definitely on the cutting edge of custom, works well with stopping power, and definitely oozes cool.

For the rear, I always think the coolest look for a bagger is to have no exhausts coming out so the bags and fender create a full 'skirt' look from the rear," Winston explains.
After the key elements were decided, the rest of the process came effortlessly; Winston made a custom gas tank, custom exhaust, and a few other detail pieces for it all to flow together in a very natural way.

As far as engine work is concerned, Winston's focus with this build was style, so not much attention was paid in the horsepower and torque departments, but the stock Twin Cam was adorned with plenty of cool Arlen Ness covers top to bottom.
If you're a fan of all-black bikes, you'll definitely appreciate Winston's latest bagger build. His less-is-more approach and edgy appeal is definitely what sets Rough Crafts apart from the herd. Looking forward to the next one, Winston. Now that you've caught the bagger bug…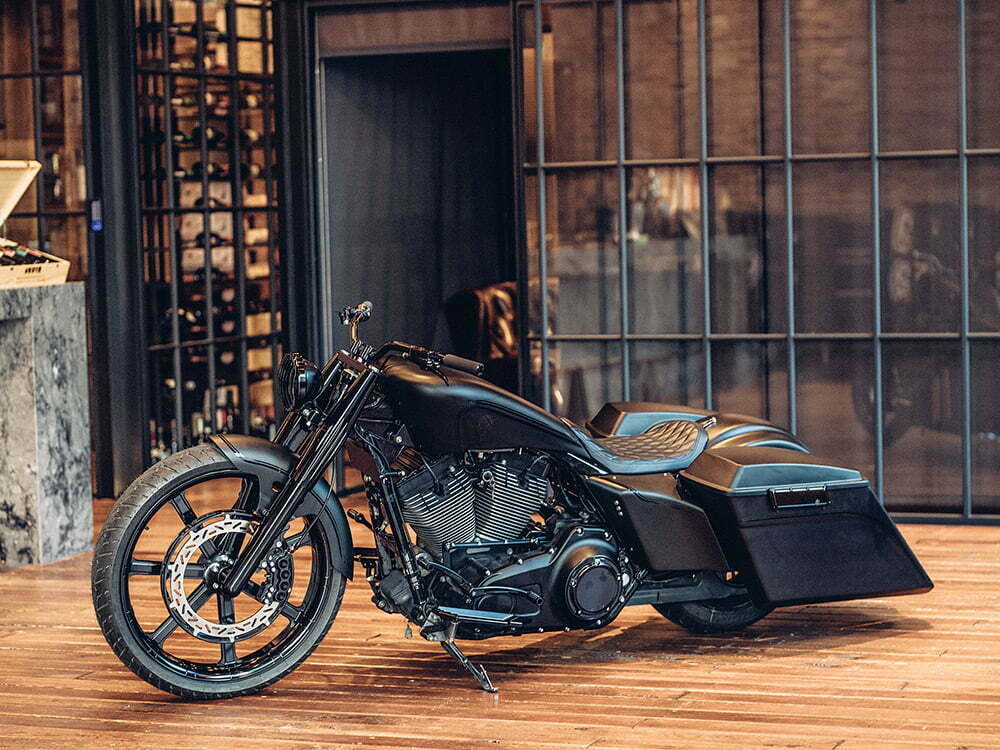 Specifications
| | |
| --- | --- |
| General | |
| Owner | Winston Yeh |
| Shop | Rough Crafts |
| Website | roughcrafts.com |
| Year/Make/Model | 2012/Harley-Davidson/Road King |
| Fabrication | Rough Crafts |
| Engine | |
| Year/Type/Size | 2012/H-D/Road King |
| Builder | H-D |
| Cases | H-D |
| Cylinders | H-D |
| Heads | H-D |
| Rocker Boxes | H-D/Arlen Ness 10-gauge covers |
| Cams | H-D |
| Throttle Body | H-D |
| Air Cleaner | Rough Crafts w/ Sprint Filter |
| EFI | Controller flashed H-D |
| Exhaust | Rough Crafts |
| Special features | Arlen Ness beveled black dipstick, Arlen Ness 10-gauge black pushrod covers, Arlen Ness 10-gauge 12-573 black lifter block cover |
| Transmission | |
| Year/Type | 2012/six-speed |
| Clutch | Performance Machine hydraulic clutch slave |
| Primary Drive | H-D/Arlen Ness beveled primary cover |
| Frame | |
| Year/Type | Stock, w/ a little bit o' chop |
| Suspension | |
| Front end | Arlen Ness Hot Legs w/ Progressive springs |
| Length | Stock |
| Triple Trees | Arlen Ness KO raked trees for Softail |
| Swingarm | Stock |
| Rear Shocks | Legend Air Ride |
| Wheels, Tires, and Brakes | |
| Front | |
| Builder/Size | Arlen Ness beveled/23 x 3.5-in. |
| Tire/Size | Pirelli Night Dragon |
| Calipers | Arlen Ness Inboard Brake kit, single disc/dual calipers |
| Rotors | 15-in. rotor |
| Rear | |
| Builder/Size | H-D/16 x 5.5-in. (powdercoated black) |
| Tire/Size | Pirelli Night Dragon 180/70-16 |
| Caliper | Stock |
| Rotor | Stock |
| Pulley | Stock |
| Finish/Paint | |
| Manufacturer | Air Runner Custom Paint Studio |
| Colors | Black |
| Paint/Graphics | Air Runner/Rough Crafts |
| Plating/Polishing | Rough Crafts |
| Powdercoating | Rough Crafts |
| Accessories | |
| Front Fender | Arlen Ness Wrapper modified fender |
| Rear Fender | Arlen Ness Down-N-Out fender |
| Gas Tank | Rough Crafts tank w/ Rough Crafts gas cap |
| Handlebars | Rough Crafts |
| Grips | Arlen Ness Knurled Fusion |
| Hand Controls | Performance Machine/Rough Crafts |
| Foot Controls | Rough Crafts floorboards/Arlen Ness controls |
| Headlight | Rough Crafts grille-type headlight |
| Taillight | LED light stripes turn signal/taillight |
| Seat | Rough Crafts |
| Saddlebags | Stretched bag kit w/ Arlen Ness beveled black bag latch cover |