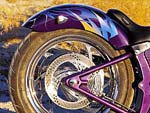 Sometimes, for no apparent reason, things happen while you are going about daily business. Some people call it Karma, others believe that good things happen to good people. Call it what you want, but it's a great thing especially when you happen to be the lucky recipient.
Joe Bowman installs security systems in the Bay area of California, and he received a call to prepare a bid for installing a security system for a local business, Fast Trac Manufacturing, located in Hollister, California. Fast Trac owner Ray Whitehead was in the market for a new security system to guard his motorcycle and parts manufacturing facility.
Joe met Ray at the plant, and that's when things changed for Joe. As the two walked onto the production floor, Joe's jaw dropped. He was looking at some of the best-looking custom V-Twins he had ever seen, and the conversation quickly changed from security systems to bikes. There was no doubt in Joe's mind that he needed Fast Trac to build him a custom bike to keep his Fat Boy company.
As it worked out, Fast Trac was in the process of designing and building a new model. So Joe and Ray brokered a deal where Joe would buy the prototype from Fast Trac with the stipulation that he would have the opportunity to give his input during the design and build phases.
The project began with Fast Trac's Kelly McDonnald fabricating a Softail-style frame to fit Joe's 6-foot 2-inch physique. When it was all said and done, the frame had 2 inches of upward stretch and 4 inches added to the backbone, with the neck raked at 38 degrees. A Fast Trac swing arm was attached to the frame and coupled to a set of EMS shocks to keep Joe's ride a smooth one. One of Joe's priorities was to have a massive frontend leading the way. This was accomplished by the use of a set of GCB 54mm inverted forks held in place by a set of Fast Trac's own billet triple trees.
To get the chassis rolling, a pair of chromed RC Components Thrasher wheels, and Avon Venom tires were pressed into service. The 21-inch front is outfitted with dual OMP rotors and calipers while the 18-inch rear wheel carries a single OMP arrangement.
With the roller complete, both Ray and Joe knew the bike would take on its personality through the use of unique sheetmetal and paint — Joe was thinking smooth and flowing. The centerpiece of this design would be the one-piece gas tank from Independent Gas Tank Company. To keep the great lines of the tank clean, Kelly dropped a Hot Match Custom Cycles pop-up gas cap in to the center of the tank. Both the front and rear fenders were crafted by Kelly. To keep the clean look, he built the front fender just large enough to keep road grime off the bike. When he made his way to the rear of the bike, he fashioned the fender top from 19-gauge steel while using 5/16-inch steel plate for the sides in order to eliminate the need for struts. While he was at it, Kelly also fabbed up an oil tank that flowed perfectly with the lines of the frame.
The molding was performed in-house by the Fast Trac staff before they treated the frame and sheetmetal to a generous application of their own custom-mixed Candy Hot Purple. Once the purple paint was dry, Fast Trac's Robert Dirickson applied the killer flame and skull graphics before coating everything with multiple layers of clear.
Since Joe already had a stock Fat Boy sitting in the garage for his putting-around chores, he knew the new bike had to have major horsepower. To make this happen, Ray chose a Fatso 114-inch motor. The Merch cases were filled with Merch flywheels and rods and topped off with Axtell cylinders, J&E; pistons, and STD heads. Rounding out the engine was a Mackie 623 cam, a Mikuni carb, a Crane HI-4 ignition, and a set of 2-inch Crack Pipes by Supertrapp.
Providing smooth transfer of all the tire-shredding power pumped out by the Fatso, a chromed RevTech six-speed transmission was bolted up to a Rivera enclosed chain primary and Rivera clutch.
There were only a few parts remaining to make the motorcycle road-worthy. Tarro Rodriguez made quick work of the remaining items; among them was a set of Buffalo bars complete with a set of Legends billet mirrors and CCI hand controls. Up front was a Headwinds headlight mounted to the lower triple tree, while down below Joe would have a set of OMP pegs and foot controls to keep the bike in check. Both front and rear turn signals were from Baron, and the license mount and taillight are Paul Yaffe Originals.
This was certainly a win-win situation for both Ray and Paul. Paul got the bike of his dreams, and let's just say if you want to stay out of jail, only enter Fast Trac through the front door during normal business hours.
**SPEC SHEET **
| | |
| --- | --- |
| GENERAL | |
| Owner | Joe Bowman |
| Make/Year | Fast Trac PL114 |
| Fabrication | Kelly McDonald/Fast Trac |
| Assembly | Tarro Rodriguez/Fast Trac |
| Build Time | Eight Weeks |
| ENGINE | |
| Size/Type | 114CI Fatso |
| Cases | Merch |
| Flywheels | Merch |
| Rods | Merch |
| Pistons | J&E |
| Cylinders | Axtell |
| Heads | STD |
| Cam | Mackie 623 |
| Carb | Mikuni |
| Ignition | Crane HI-4 |
| Pipes | Supertrapp |
| TRANSMISSION | |
| Year/Type | '02 RevTech Six-speed |
| Case | RevTech |
| Gears | RevTech |
| Clutch | Rivera |
| Primary Drive | Rivera Chain |
| FRAME/SUSPENSION | |
| Year/Type | '02 Fast Trac Platinum Series |
| Rake | 38 degrees |
| Stretch | 2 inches up/4 inches out |
| Swing Arm | Fast Trac |
| Rear Suspension | EMS |
| Forks | GCB |
| Triple Trees | Fast Trac |
| | |
| --- | --- |
| WHEELS, TIRES & BRAKES | |
| Wheels | |
| Front: | RC Components |
| Rear: | RC Components |
| Tires | |
| Front: | Avon 21-inch |
| Rear: | Avon 18-inch |
| Brakes | |
| Front: | OMP |
| Rear: | OMP |
| FINISH | |
| Molding | Fast Trac |
| Painter | Fast Trac |
| Color | Candy Hot Purple |
| Graphics | Robert Dirikson |
| Chrome plating & Polishing | West Coast Chrome/Fast Trac |
| Powdercoating | San Juan Powder |
| ACCESSORIES | |
| Bars | Buffalo Bars |
| Risers | Built-in |
| Hand Controls | CCI |
| Headlight | Headwinds |
| Taillight | Paul Yaffe Originals |
| Gauges | Dakota Digital |
| Electrical | Tarro Rodriguez |
| Fuel Tank(s) | Independent Gas Tank Company |
| Oil Tank | Fast Trac |
| Front Fender | Fast Trac |
| Rear Fender | Fast Trac |
| Fender Struts | Built-in |
| Pegs | OMP |
| Foot Controls | OMP |
| Seat | Corbin |