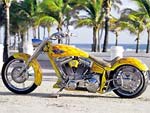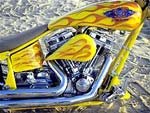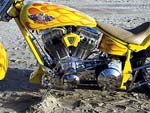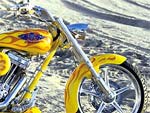 Well, loyal readers (and you first-timers too), it is time for us to point out that as you read this article it is your last chance to win this gorgeous yellow Royal Ryder Bad Ass. Yes, simply by going to page 219 and filling out the entry form you can have this sweet-looking machine in your garage — if you are the lucky winner.
Over the last couple months, we have taken you behind the scenes of Royal Ryder's Hudson, Florida, facility to get a sneak peak at how they build their borderline custom production bikes. Way back then, we told you that this bike might have a S&S; 113 in it. But we were wrong. The guys at RR managed to persuade S&S; to let one of their brand-new, never-before seen Super Sidewinder Plus 117ci motors shipped overnight to Hudson just for this bike. Now, does that motivate you to win twice as much or what?
The 117 SSP features bore and stroke figures of 4.125×4.375-inch and measures 0.069-inch shorter than a stock Evo. Compression is rated at 10.28:1, and it has a 0.600 lift cam. While it sounds like it should be a handful to start, the new 117, as well as the 111 and 124, have electronic compression releases built in and wired to the starter. So when you crank the motor, they open, and when you stop, they close — definitely slick. A new paddlewheel design is incorporated into the flywheel/crank assembly in preparation for the long-awaited S&S; fuel-injection unit due out soon.
More new ideas in the 117 include a high-volume, high-pressure oil pump with nine-tooth gears that actually retrofit on bikes back to '92. The pump maintains 10 psi under almost any conditions and supplies flow to the new piston oilers. On top of all that, the cases, cylinders, and heads have been redesigned for increased rigidity and are produced in permanent molds. The bottom line is that this is going to be an awesome motor to power this incredible bike.
Yet, another all-new product comes with your new bike: a Primo Brute V beltdrive. The new Primo has a 14mm-thick, 3-inch-wide belt and an all-new clutch. The new unit offers significantly more surface area to ensure all of the 117's power gets to the Baker six-speed transmission. The Brute also uses a two-piece backing plate and has larger bearings for even more durability.
This potent power package is carried in a Royal Ryder frame built with 5 inches of stretch in the backbone and a steering neck raked to 38 degrees. The RR frame has the company's signature-style swing arm that couples to a set of Legend Air Suspension shocks. RR built a cool hidden bracket for the compressor and controls for the shocks adding extra spice to your new bike. Up front, an EMS 56mm inverted fork rides in RR triple trees, and naturally, it is all chrome.
Rolling the Bad Ass around are a pair of wheels from R.C. Components, 21×3 inches up front and 18×8.5 inches in the rear. Both wide wheels are covered in Metzeler tires, a brand-new 120/70-21 front and a 240 rear. Slowing the speeding Bad Ass is accomplished with a six-piston R.C. caliper and rotor up front and a four-piston R.C. drive-side unit for the rear.
The bodywork is all steel and made in-house at Royal Ryder. An in-house team of perfectionists take care of smoothing everything to a glass-like finish and then put down the wild paint schemes you see on all of the RR bikes.
The Bad Ass control comes from a set of RR bars, equipped with Joker hand controls, an RR gauge mount, and Dakota Digital display. A Headwinds headlamp, Joker foot controls, an AER oil cooler, a Joker taillamp, and an RR seat round out the necessities on your new bike.
Needless to say, winning this bike should make your day, week, month, and year. If you want to own this Royal Ryder Bad Ass bad enough, we are pretty sure you will get up from where you are sitting, fill out the card on page 219, and drop it in the mail. Then you can go back to dreaming of this wild yellow machine in your garage or living room — wherever you think it will do the most good.
| | | | | |
| --- | --- | --- | --- | --- |
| PURPOSE BUILT SPEC SHEET | | | | |
| General | | ** Wheels, Tires and Brakes** | | |
| Owner: | Could Be You | | Wheels: | |
| Make/Year: | 2002 Royal Ryder | | Front: | R.C. Components |
| Fabrication: | Royal Ryder | | Rear: | R.C. Components |
| Assembly: | Royal Ryder | | Tires: | |
| Build Time: | One Month | | Front: | Metzeler |
| Engine | | Rear: | Metzeler | |
| Size/Type: | 117ci Evo | | Brakes: | |
| Cases: | S&S | | Front: | R.C. Components |
| Flywheels: | S&S | | Rear: | R.C. Components |
| Rods: | S&S | | ** Finish** | |
| Pistons: | S&S | | Molding: | Royal Ryder |
| Cylinders: | S&S | | Painter: | Royal Ryder |
| Heads: | S&S | | Color: | Yellow |
| Cam: | S&S | | Graphics: | Royal Ryder |
| Carb: | S&S | | Polishing: | Bright Side |
| Ignition: | Compufire | | | |
| Pipes: | Vance & Hines | | ** Accessories** | |
| ** Transmission** | | Bars: | Royal Ryder | |
| Yeay/Type: | 2002 Baker | | Risers: | Built-in |
| Case: | Baker | | Hand Controls: | Joker |
| Gears: | Baker Six Speed | | Headlight: | Headwinds |
| Clutch: | Primo | | Taillight: | Joker |
| Primary Drive: | Primo Belt | | Gauges: | Dakota |
| ** Frame/Suspension** | | Electrical: | Royal Ryder | |
| Year/Type: | 2000 Bad Ass | | Fuel Tank(s): | Royal Ryder |
| Rake: | 38 Degrees | | Dash: | None |
| Stretch: | 5 inches | | Oil Tank: | Royal Ryder |
| Swimg Arm: | Royal Ryder | | Front Fender: | Royal Ryder |
| Rear Suspension: | Legends | | Rear Fender: | Royal Ryder |
| Forks: | EMS | | Fender Struts: | Built-in |
| Extension: | None | | Pegs: | Joker |
| Triple Trees: | Royal Ryder | | Foot Controls: | Joker |
| | | | Seat: | Royal Ryder/Danny Gray |