The MK 1
It started when I purchased a 2000 Harley FXDX in 2010 with my associate Alex Lerner of SL NYC fame. Before this time, I had built seven complete custom motorcycles but had yet to experiment with a rubber-mounted bike as a platform for customization.
Fast-forward four years and the bike had received a complete makeover: handmade sheet metal, a 95-inch kit, belt drive, cams, magneto, new exhaust, and all sorts of subtle fabricated doodads. I crossed the country on her solo in 2014, from Connecticut to California, rode her up and down the Pacific Coast Highway to San Francisco, and enjoyed hundreds of miles of reliable fun before I decided it was time again. Time to go back in.
The MK 2
My inspiration to build usually comes from problem solving. I had made up my mind that there are problems with the original rubber-mount system to improve on. For instance, there was the vague feeling in the rear end of the bike when cornering. Most aggressive Dyna riders are familiar with this. The bike you see here is the result of a two-year adventure into solving this problem without giving up my beloved rubber mounts!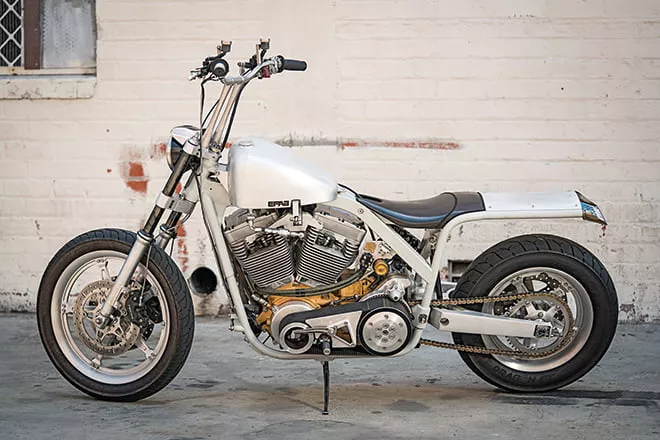 There is no easy answer as to how this bike works now and what makes it behave the way it does. It is now what I call "semi-rubber mounted," a concept experimented with by other engineers in the past with varying degrees of success. I want to be clear that this part of the design, and essentially what allows the bike to function as well as it does, was not my idea. I simply adapted it to my motorcycle, and I want to extend a thank-you to all who shared their knowledge and expertise in this area with me.
This stage of the development dragged on for what seemed like forever. I was both building and prototyping the design as I went. The bike's chassis received a complete re-engineering as you can probably tell, including over a three-axis original CNC-machined components in aluminum, 4130 steel, and titanium. All axles, spacers, linkages, controls, and pivot assemblies were manufactured here, along with all the welding, fixturing, wiring, and Cerakoting. Many short rides confirmed or denied theories implemented. Development continued in earnest.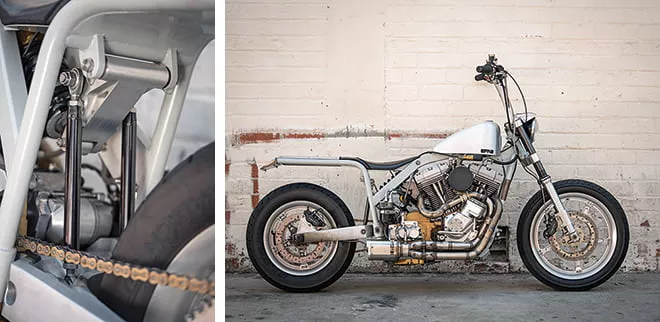 The MK 2.5
Is this the final version? Time will tell. The bike is now being ridden daily by yours truly in downtown Los Angeles. The ride of the MK 2.5 is unlike any Harley I have ever ridden, honestly. I noticed the other day my tires were worn right off the edge of the tread, something I had never been able to achieve on my lower, more traditional rigids or my other "rubber bikes" more suited to going fast in a straight line. Front and rear wheels lift off the ground with ease with a squeeze of the brakes or the twist of the wrist. I think a fair statement would be that it rides like a monster motard bike that bred with an XR1000. It is extremely quick and holds a line through a corner like it's on rails. The motor undulates in the chassis with complete independence from the rear suspension, which keeps the rear wheel stuck to the ground with 5 inches of buttery Öhlins behind it channeled through a progressive linkage.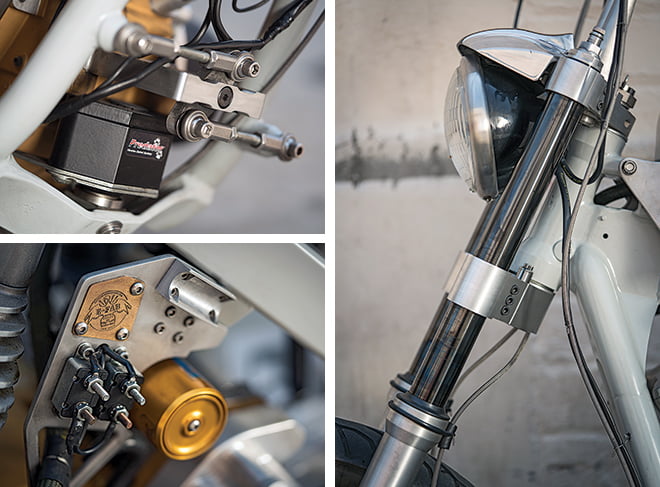 It's easy for me to get so wrapped up in the problem solving that the overall look of the bike gets lost in the static, but in this case it was relatively easy because I knew what I wanted it to look like from the very beginning: a Dyna. I love the look of Harley Dynas, especially the 1999–2003 batch. I never wanted to bury or camouflage the overall look of the bike because it is one of the best-looking Harleys ever in my opinion. Sure, I could have installed a massive inverted fork, gaudy calipers, made it without fender struts, or put giant wheels on it, but then it wouldn't look like my glorious Dyna. Deep down, I will always be a Harley traditionalist somehow.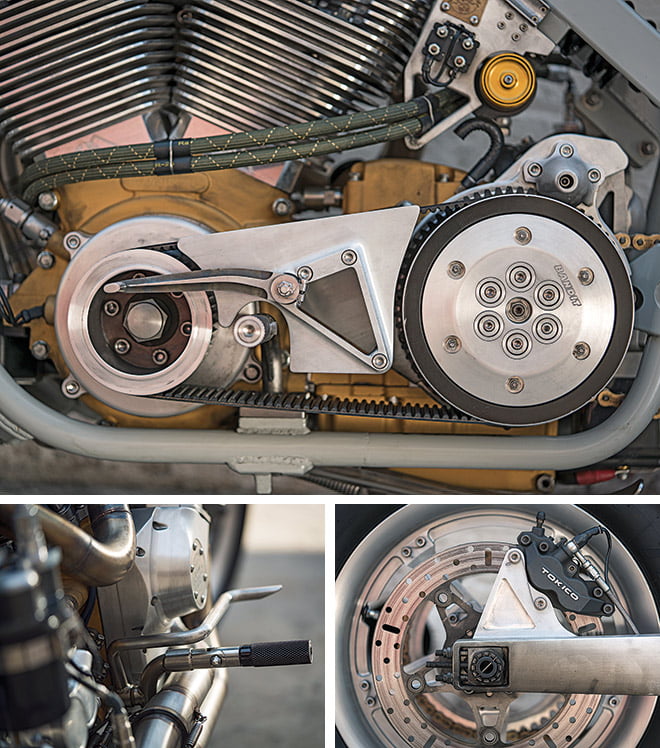 I would like to thank all of my friends who helped me with this concept over the past two years. A few include Alex Lerner of SL NYC, Ryan Boyd, Gard Hollinger and Keanu Reeves at Arch, Ryan HK, John at Darkhorse Crankworks, Satya and Alan Kraus, and Matt Olsen.
| SPECIFICATIONS | |
| --- | --- |
| General | |
| Owner | Lock Baker |
| Shop | Eastern Fabrications |
| Shop Phone | (203) 450-3846 |
| Website | easternfabrications.com |
| Year/Make/Model | 2017/EFAB/Interceptor MK 2.5 |
| Fabrication | Lock Baker |
| Build Time | 2 years |
| Engine | |
| Year/Type/Size | 2000/Twin Cam/95ci |
| Builder | Lock Baker |
| Cases | H-D |
| Cylinders | Delkron |
| Heads | Delkron |
| Rocker Boxes | H-D |
| Cams | Andrews 50G |
| Throttle Body | Lectron |
| Carburetor | Lectron |
| Air Cleaner | K&N |
| Exhaust | Lock Baker, stepped 2-into-1, stainless |
| Transmission | |
| Year/Type | 2000/5-speed |
| Gears | Andrews |
| Clutch | Bandit Machine Works |
| Primary Drive | Bandit Machine Works/Lock Baker |
| Frame | |
| Year/Type | 2017/monoshock rubber mount |
| Rake/Stretch | 27° rake, 2-in. swingarm stretch |
| Suspension | |
| Front End | H-D/Lock Baker |
| Length | 2 in. under |
| Triple Trees | Lock Baker |
| Swingarm | Lock Baker |
| Rear Shocks | Öhlins |
| Wheels, Tires, and Brakes | |
| Front | |
| Builder/Size | Lock Baker/19 x 3.5 |
| Tire/Size | Pirelli Night Dragon/110/90-19V |
| Calipers | Tokico 4-piston |
| Rotors | EBC |
| Rear | |
| Builder/Size | Lock Baker/16 x 4 |
| Tire/Size | Pirelli Night Dragon/150/80-16V |
| Caliper | Tokico |
| Rotor | EBC |
| Pulley | Lock Baker 50-tooth |
| Finish/Paint | |
| Manufacturer | Powdercoat, Cerakote |
| Colors | Gray/gold |
| Plating/Polishing | Lock Baker |
| Powdercoating | Andrews Powder Coating |
| Accessories | |
| Rear Fender | Lock Baker |
| Gas Tank | Lock Baker |
| Handlebars | Lock Baker, Integral, Stainless Steel |
| Hand Controls | Lock Baker, Pingel, Tokico |
| Foot Controls | Lock Baker, Tokico |
| Pegs | Lock Baker Knurled |
| Headlight | 2000 H-D |
| Taillight | Lock Baker LED |
| License Mount | Lock Baker |
| Seat | Lock Baker |