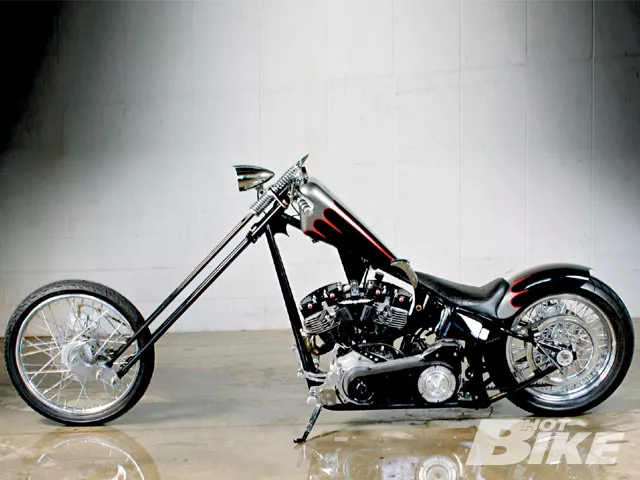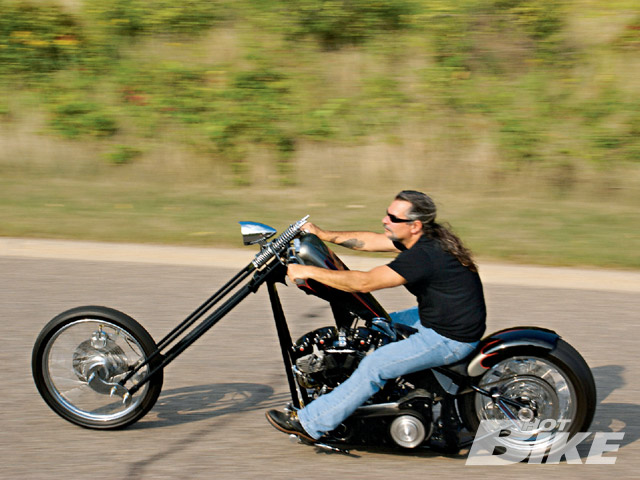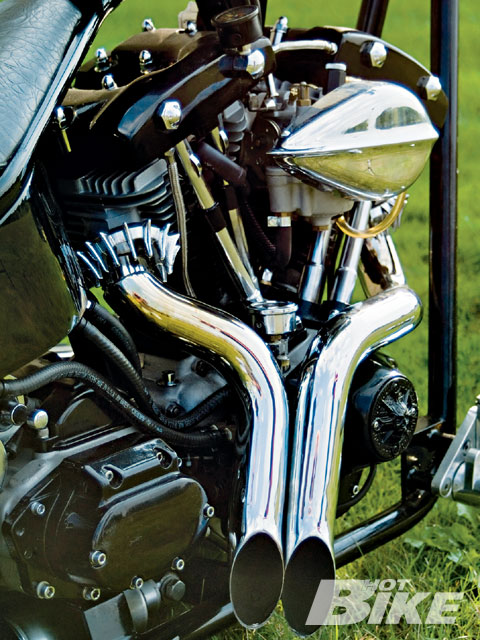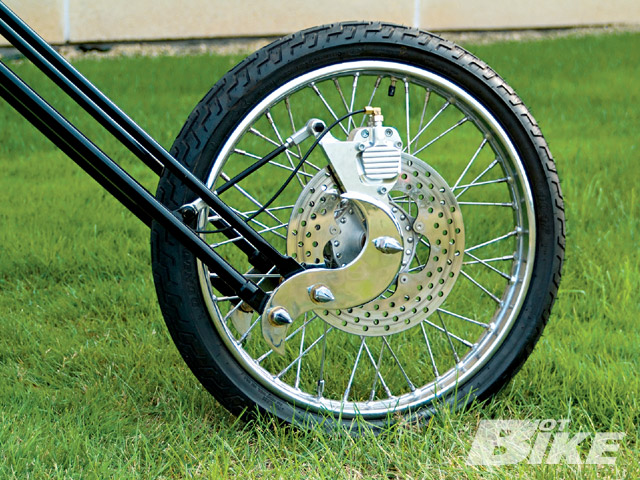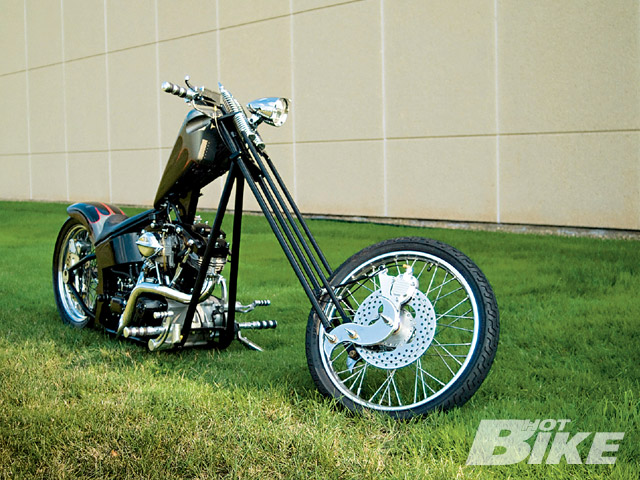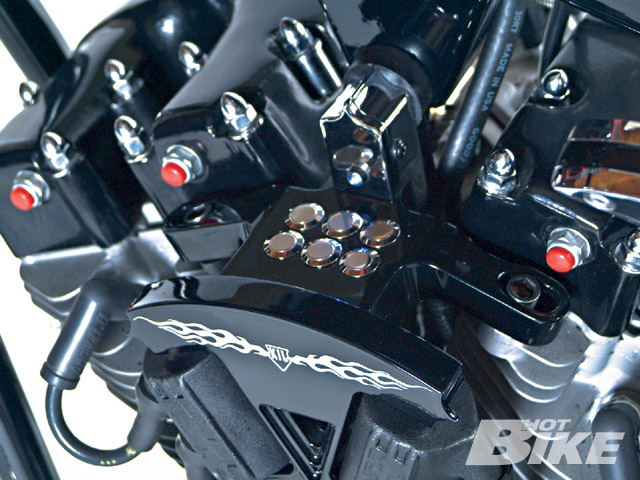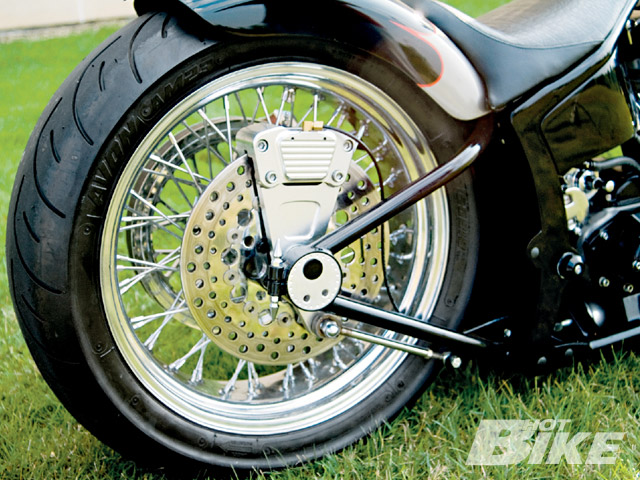 KIL Products recently celebrated its five-year anniversary and Art Dunnier, president of KIL Products, decided to build a sick, kickass chopper to commemorate this special occasion. "We had to dig deep into our imagination to build something that would stand out in a crowd and also stand up to our abuse," Art stated. "This bike was built straight from the holy book of sin."
The frame had been lying around the KIL shop for a while. It started out 5 up, 3 out, with a neck rake of 38 degrees, but when it came time to be put to use to build the raked out chopper Art had envisioned, those dimensions just didn't cut it. Art hauled the frame over to his good friend, Chad, of Pearson Customs.
Chad raked the neck to a modest 45 degrees. Perfect for the look Art was after. "I bought the Springer a few years back and it was just sitting in a corner collecting dust," Art told us. "I was determined to use it on this build. We slapped it in the frame and it was a little short, by about a foot and a half! We ended up cutting the whole thing apart, added all new tubing and re-welding it back together." To get the 2 1/2 inches of trail he was after, Art made custom rockers. First he made templates out of wood and then made a set out of 1/4-inch steel plate and mocked them up with the frontend and wheel. When he had everything just right, Art took them over to his friend Kevin "Teach" Baas of Baas Metal Craft. Kevin cut the rockers out of 3/8-inch plate on his laser jet. "We hand made the bars and welded them to the Springer," Art said. "We cut and welded handlebar reliefs into the gas tank along with a pop-up gas cap. We made our own tank mounts and set the gas tank high on the backbone." The rear fender is a heavily modified West Coast Choppers model.
As for the engine on this chop, "It's a 1976 Harley-Davidson Shovelhead engine I blew up a few years back. I decided it was time to rebuild it so I tore it down and took it to our friend Bill of Big Twin Cycle for machining. After machining, I bead blasted the case, jugs, and heads, finished up all the powdercoating and re-assembled the engine." Art had a 5-speed Ultima trans that didn't quite go with the new look of the beautifully refinished engine, so the transmission was torn down, bead blasted, powdercoated, and rebuilt to match. "We then mated our jockey shift to a Grandeur auto clutch and BDL belt drive to finish the drivetrain," Art said.
The rear wheel is a 60 spoke with 200mm Avon. The front is a 40-spoke Sportster wheel. If you aren't familiar with KIL Products, they make the Keyless Ignition Locks. So it only made sense to utilize one of the company's KIL systems. "We wanted to show how easy the system is to install so we used one of our Builders Kits," Art stated. "The kit comes with everything needed to install a true Keyless Ignition System on your bike, car, or any other 12 volt ignition system. We took an old motor mount, drilled holes for the switches and wired it to the bike; Simple, easy, and painless."
Art informed us that KIL does all its paint in house. With this project he wanted a retro hot rod look so he went with a scallop design. He used a black metal flake base and silver metal flake scallops. Then he took the painted sheetmetal to his friend Brad of Dirt Design Graphics to add the awesome blood-red pin striping. "Final assembly went fairly quick and I have been riding it as much as possible; it definitely gets attention everywhere it goes," Art commented. "A special thanks goes to our friend Jeff Crawford of Crawford Photography for taking the awesome pictures. Now…..back to work!"
| | |
| --- | --- |
| SPEC SHEET | |
| BIKE OWNER | Art Dunnier |
| SHOP NAME | KIL Products |
| SHOP PHONE | (612)-251-6366 |
| SHOP WEBSITE | |
| YEAR/MAKE/MODEL | '08/KIL/Custom Chop |
| FABRICATION | KIL Products |
| ASSEMBLY | KIL Products |
| BUILD TIME | {{{Eight}}} Months |
| | |
| --- | --- |
| ENGINE | |
| YEAR/ MANUFACTURER | '76/H-D |
| TYPE/SIZE | Shovelhead/74ci |
| BUILDER | Big Twin Cycle |
| CASES | H-D |
| CYLINDERS | H-D |
| HEADS | H-D |
| ROCKER BOXES | H-D |
| CARBURETOR | H-D |
| AIR CLEANER | Goodson |
| EXHAUST | Santee |
| | |
| --- | --- |
| TRANSMISSION | |
| YEAR/MANUFACTURER/TYPE | '08/Ultima/5-speed |
| CASE | Ultima |
| CLUTCH | BDL/Grandeur |
| PRIMARY DRIVE | BDL |
| | |
| --- | --- |
| FRAME | |
| MANUFACTURER | KIL Products/Pearson Custom Cycles |
| RAKE | 45 degrees |
| STRETCH | 5 up/3 out |
| | |
| --- | --- |
| SUSPENSION | |
| MANUFACTURER FRONT | Swap Meet/KIL Products |
| LENGTH | Extended 13 inches |
| MANUFACTURER REAR | H-D |
| SWINGARM | Came w/the frame |
| | |
| --- | --- |
| WHEELS, TIRES, AND BRAKES | |
| MANUFACTURER FRONT | H-D |
| SIZE-HEIGHT/WIDTH | 21×2.15 |
| TIRE/SIZE | Avon/21 |
| CALIPER | GMA |
| ROTOR | Wild Rider |
| MANUFACTUER REAR/TYPE | Unknown/Spoke |
| SIZE-HEIGHT/WIDTH | 18×5.5 |
| TIRE/SIZE | Avon/200mm |
| CALIPER | GMA |
| ROTOR | Wild Rider |
FINISH/PAINT COLOR Black/Silver PAINTER KIL Products
GRAPHICS Dirt Design Graphics PLATING/POLISHING D0-Decor
| | |
| --- | --- |
| ACCESSORIES | |
| REAR FENDER | West Coast Choppers |
| GAS TANK | Zombie/KIL Products |
| OIL TANK | Ultima/KIL Products |
| HANDLEBARS | KIL Products |
| RISERS | KIL Products |
| HAND CONTROLS | BDL |
| FOOT CONTROLS | BDL |
| FOOTPEGS | BDL |
| HEADLIGHT | Bright |
| TAILLIGHT | Diamond |
| LICENSE MOUNT | KIL Products |
| SEAT | Roberti Customs |