We're nearly halfway into 2018, and already the pissin' and moanin' that the death of a dinosaur has settled to a faint murmur. That's most likely due to the fact that a good number of naysayers have come to realize death isn't always a bad thing. The Motor Company ultimately did them all a favor by finally putting the dual-dampered rubber soul to rest, once and for all.
While Harley-Davidson clearly did its homework when developing its all-new Softail chassis (code name: Serengeti) and wet-sump dual-counterbalanced Milwaukee-Eight drivetrains to work in harmony, for all intents and purposes, a good portion of that technological prowess of the on-the-fly-adjustable monoshock rear suspension is hidden by the requisite rearmost sheet metal. For the average V-twin enthusiast, that's all fine and dandy in its off-the-showroom-floor bobbed beauty. But for The Speed Merchant's Brandon Holstein ("Brawny" for short), as far as the 2018 Fat Bob goes, there was a bit more stylized form concealing the technological function than he could stand to see. And so the personal challenge was on—the only thing holding Brawny back: not having the new Softail in his Long Beach, California, shop to start on. But the wait would not be long.
Usually, Brawny's better at expressing himself through action rather than words, but when we sat down with him to pick his brain on the 2018 SM-Edition Fat Bob, he was anything but at a loss for words. The conversation began with a brief back story on The Speed Merchant's collaborations with The Motor Company, but quickly led right into the hot topic at hand. "We've [The Speed Merchant] had a working relationship with H-D for quite a few years now. We've worked with them in conjunction with Born-Free and Hot Bike for a couple of custom builds in the past—one being a Street 500, the other a full chrome-moly framer with an XG750 motor at the center. And being one of the Harley Hooligan teams, we've built a couple of 750s (an XG750 and a Street Rod 750) for the track. So when Harley released its new 2018 models, I knew we needed to get our hands on one to do what we do—have some fun with it. So we called San Diego Harley-Davidson and ordered up a 2018 red denim Fat Bob."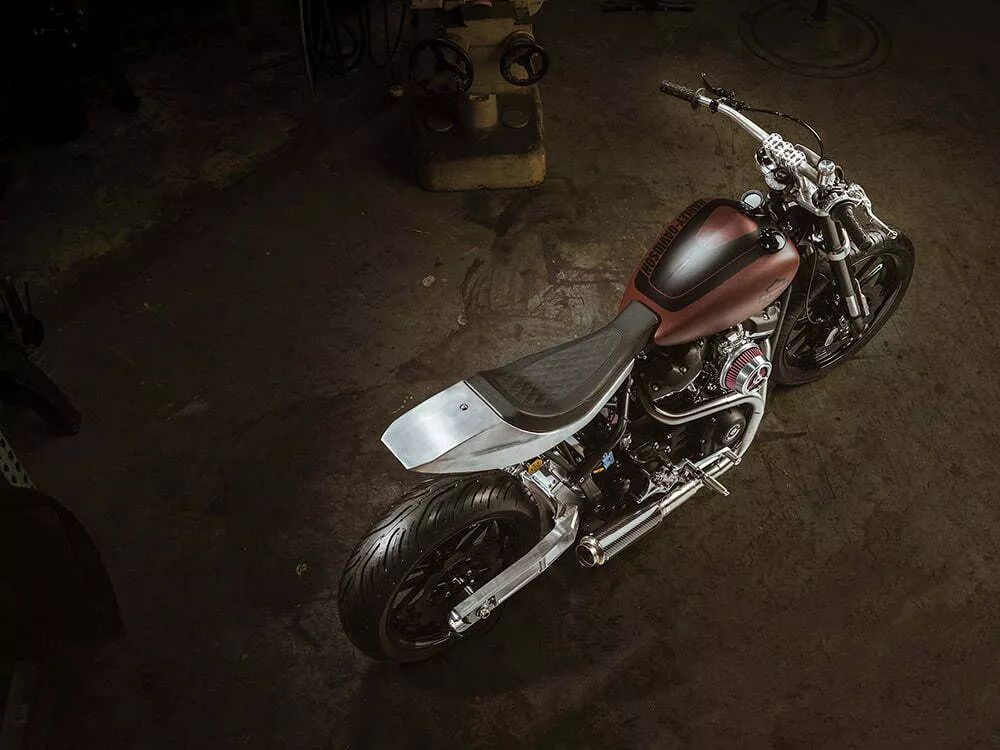 Did you have any prior hands-on experience with the new platforms, or was your fire fueled purely off design-element references you'd seen online?
Both. Before their official release last year, I had the opportunity to ride a few of the new models. The one thing that I took away from riding them was how well they handled compared to previous models—especially the now-discontinued Dyna model. The improvement in the handling department was huge, most notably in the corners at speed. Now keep in mind, I'm comparing stock OEM nonmodified models here, and the confidence I felt in the corners on the new Softails was a pleasant surprise. When I finally got my hands on this Fat Bob, I knew immediately that I wanted to showcase the new Softail design. What I mean by this is I wanted people to see what the new Softail really was: a monoshock design, with decades of proven performance. It's nothing new to the motorcycle industry, but it is new to Harley-Davidson.
---
Related Video:
I also felt like the Softail name had some negative connotations, so was the goal to show people that this isn't your father's Softail, that it's a whole new generation of H-Ds?
With this in mind, we set out to build something unique with this new platform. We chose the Fat Bob because it is the most aggressive of the new lineup. With its 28-degree rake, and no-BS looks, we knew this was the model we wanted to work with. I'd like to think we took this aggressive design from H-D and just pushed it even further.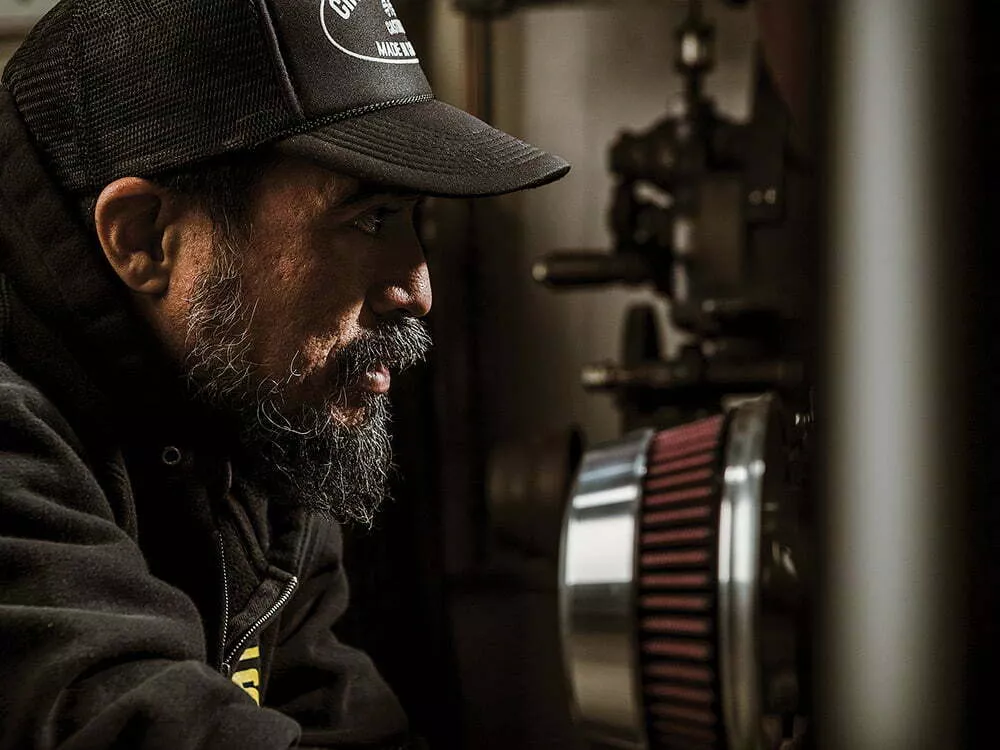 How was your approach to the new Fat Bob—or any of the 2018 models, for that matter—from an aftermarket-company standpoint?
Luckily, for companies like ours and the rest of the aftermarket industry there's always some room for improvement. Without this, or the need to customize any of these production bikes, we would cease to exist. So obviously, the first thing I did was to see where we could make some improvements.
One of the first things we did was to develop a "true" mid-control setup. We decided to make something that would be a straight bolt-on system. The one seen here is the first prototype. We are in the first stages of production for these kits now. They will be available in late spring. This setup is set back about 5 inches farther than H-D's stock mid-control setup. It also sits a bit higher as well.
Wheels and tires are a crucial element of any motorcycle—they can either make or break it, visually just as well as functionally. Obviously, you chose a nondealer option with the Softail.
Well, we decided that we wanted some different-size wheels to give us some better tire choices. This was a hard decision because the stock wheels are pretty damn cool. And I love the H-D lettering that comes on the wheels. But it was just a bit too wide up front, and the tire choices weren't as abundant. So we contacted our good friend Paul at Lyndall Brakes about running a set of his wheels on this build. We've been running his products on many of our builds and racebikes, so he was the first one we contacted. And the design fits the build just right. He hooked us up with a killer set of wheels and rotors, all blacked out. After talking with Paul for a bit we decided to run a 19 x 3 up front and a 17 x 5.5 in the rear.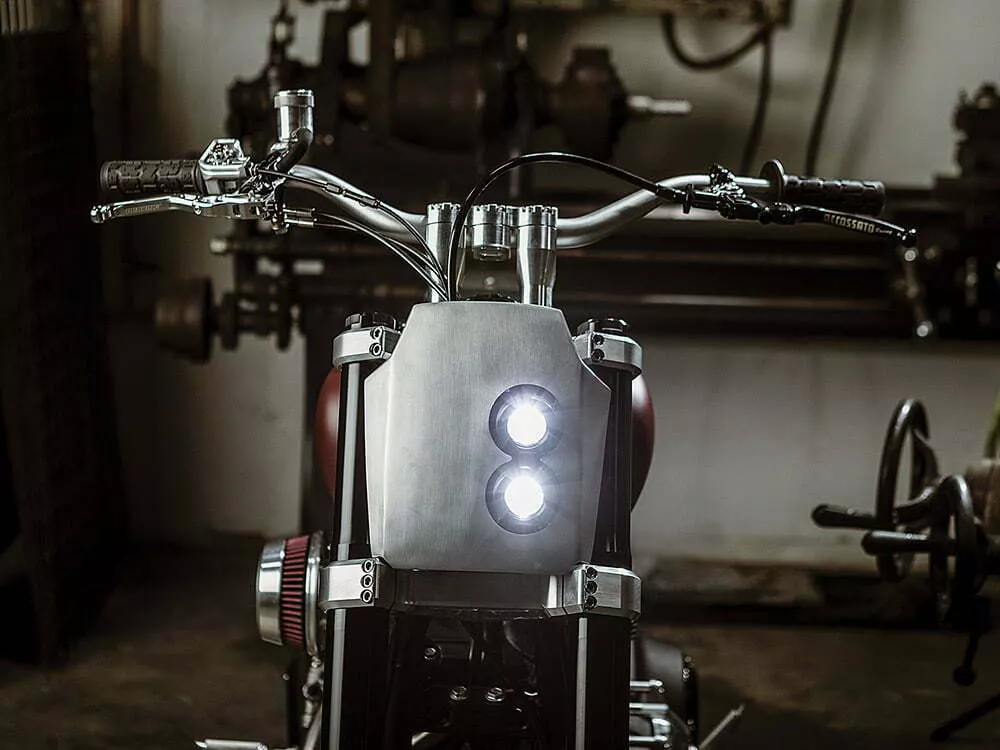 When you finally got Harley's updated suspensions exposed from their exterior coverings, did you feel any further performance tweaks were in order?
Just a little. Up front, to match the slightly narrower front wheel, we decided to make a set of triple trees that incorporate the stock fork. We decided to keep the stock front end and brakes since they felt pretty good as they were. Maybe some stiffer springs for the kind of riding we'll be putting it through, but that's an easy fix. With this in mind, we utilized our inverted Speed Tree design and changed up some of the dimensions to fit this new Fat Bob front end. While we were drawing up the trees we decided to use a GPR stabilizer. So we came up with a bracket that utilizes the riser location to mount the stabilizer. And we also needed to develop a bracket that wrapped around the neck for the stabilizer to connect to.
The next journey we took was to design and develop a billet-aluminum swingarm—a first for these models but something I felt needed to be done. A good friend of mine named AJ helped me draw this up before we sent it out for machining. I don't know how many hours were spent on SolidWorks, but it was a lot—it's made up of nine pieces, pinned and bolted together, then welded up. And I have to thank John [O'Keefe] at Branch for letting me use probably the baddest welder in Long Beach to weld up this prototype. We were able to shave a few pounds off the original swingarm weight, which is always nice. I think the design of this swingarm helps to emphasize what is going on under the seat, which is the Softail's solo shock.
That's not the damping device Harley equipped the Fat Bob with though, is it?
No, the solo shock was handled by our friends at Gears Racing. They were more than happy to help develop a one-off shock for this platform. And we've been running their shocks on our racebikes for a while. So we knew how good they are. It's a single shock with an adjustable reservoir, meaning it can be repositioned at different angles for different applications. And it is fully adjustable for rebound, preload, and compression.

OK, I'm not even sure where to start with the exterior treatment you ended up with, so I'll just let you roll with it.
Well, when it came to the sheet metal, it was important to stay with the Fat Bob feel and vibe—just take it a little bit further. This is why we chose to build a front number plate, or cowling (whatever you want to call it). Both the tail and the front cowling are made by hand out of aluminum. It was a conscious choice to keep the aluminum raw, while painting only the tank (yes, the tank did get repainted!). I really like the shape of the stock tank, and the red denim was something I wanted. We removed the stock tab for the dash from the tank, and modified the front to fit a small Koso speedo/tach gauge. Most people probably won't notice it because it's pretty subtle, but again, I really didn't want to mess with the stock shape or color. The tail is a replica of something I've had lying around the shop for years now. It seemed to fit the build perfectly, but we needed to make it a bit wider to fit the rear of the frame a little better. Finishing off the tailsection, we went down the road just a few miles away to our friends at Saddlemen. They worked their magic and built us a custom seat just for this project.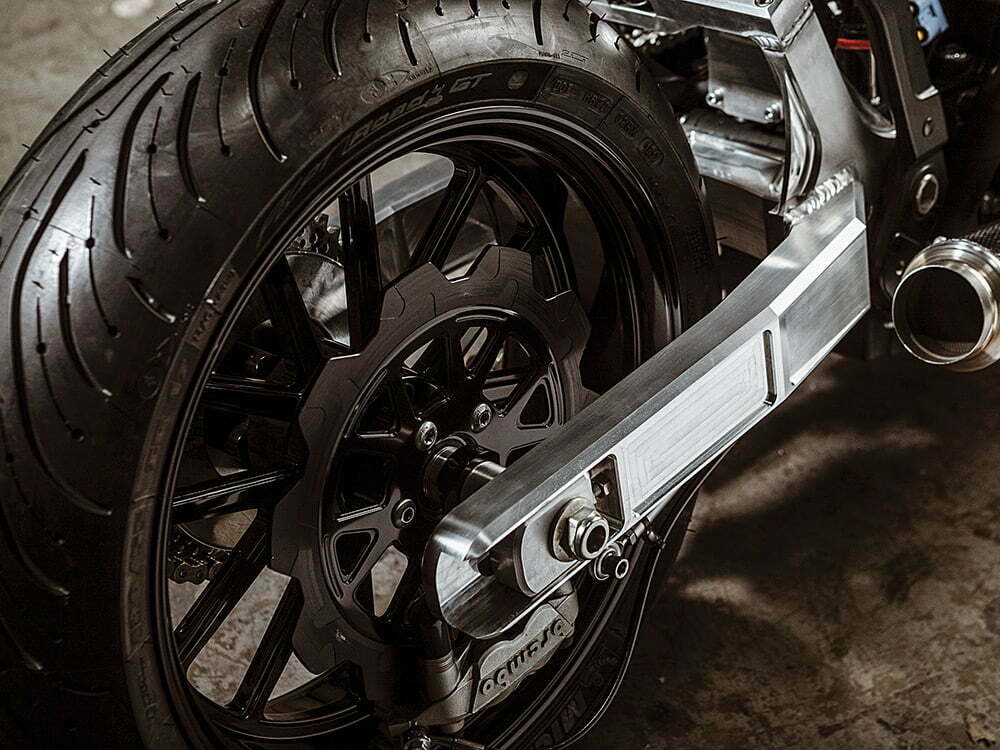 All right, one last thing. You know how I feel about computer-controlled anything—the first thing I do is look for the "manual" mode. What was the Speed Merchant's approach to the Fat Bob's nonmail control system?
OK, so in order to show off the monoshock hiding under the stock seat, I had to do something that most will think is crazy. And I'm sure there are some at H-D who are already shaking their heads, but in my mind, it had to be done. All the electronics and ECU have been eliminated. Yes, no longer fuel-injected. It's carbureted! I modified an aluminum manifold from Horsepower Inc. to fit a 45 mm Mikuni, and finished it with an Alloy Art air cleaner. Basically, we eliminated anything that we didn't need to make it go or stop. At the same time, however, the motor remains stock. Well, for the time being, at least. We'll be doing upgrades in stages. But the reason we left it stock was to see what just carbureting it would do (we are still in the process of tuning it). With the newly designed heads, I think we'll get some really good power out of this M-8. Cams, big bore, head work, etc. will all come down the road.

Specifications
| | |
| --- | --- |
| General | |
| Owner | The Speed Merchant |
| Shop | The Speed Merchant |
| Shop Phone | (562) 424-1848 |
| Website | thespeedmerchant.net |
| Year/Make/Model | 2018/Harley-Davidson/Fat Bob |
| Fabrication | The Speed Merchant |
| Build Time | Three months |
| Engine | |
| Year/Type/Size | 2018/H-D M-8/107ci |
| Builder | H-D |
| Cases | H-D |
| Cylinders | H-D |
| Heads | H-D |
| Rocker Boxes | H-D |
| Cams | H-D |
| Throttle Body | Custom—modified HPI to fit Mikuni 45mm |
| Air Cleaner | Alloy Art |
| Exhaust | The Speed Merchant |
| Transmission | |
| Year/Type | 2018/H-D six-speed |
| Gears | Six |
| Clutch | Barnett's Scorpion Lock-up |
| Primary Drive | H-D |
| Frame | |
| Year/Type | 2018 H-D Fat Bob |
| Rake/Stretch | 28°, 0 stretch |
| Suspension | |
| Front End | H-D |
| Length | Stock |
| Triple Trees | The Speed Merchant |
| Swingarm | The Speed Merchant custom billet |
| Rear Shocks | Gears Racing |
| Wheels, Tires, and Brakes | |
| Front | |
| Builder/Size | Lyndall Brakes/19 x 3 in. |
| Tire/Size | Michelin Pilot /120/70-19 |
| Calipers | H-D |
| Rotors | Lyndall Brakes |
| Rear | |
| Builder/Size | Lyndall Brakes/17 x 5.5 in. |
| Tire/Size | Michelin Pilot /180/60-17 |
| Caliper | Brembo w/ The Speed Merchant bracket |
| Rotor | Lyndall Brakes |
| Pulley | Alloy Art, cush-drive |
| Finish/Paint | |
| Manufacturer | Paint by Bondo and H-D |
| Colors | Red denim |
| Paint/Graphics | H-D |
| Powdercoating | Specialized Coatings |
| Accessories | |
| Rear Fender | The Speed Merchant |
| Gas Tank | H-D, slightly modified |
| Gauges | Koso |
| Handlebars | Moto |
| Grips | ODI |
| Hand Controls | Joker Machine, Braking System, and Accossato |
| Foot Controls | The Speed Merchant, mid-controls |
| Headlight | Lazer Star |
| Taillight | Todd's Cycle |
| License Mount | The Speed Merchant |