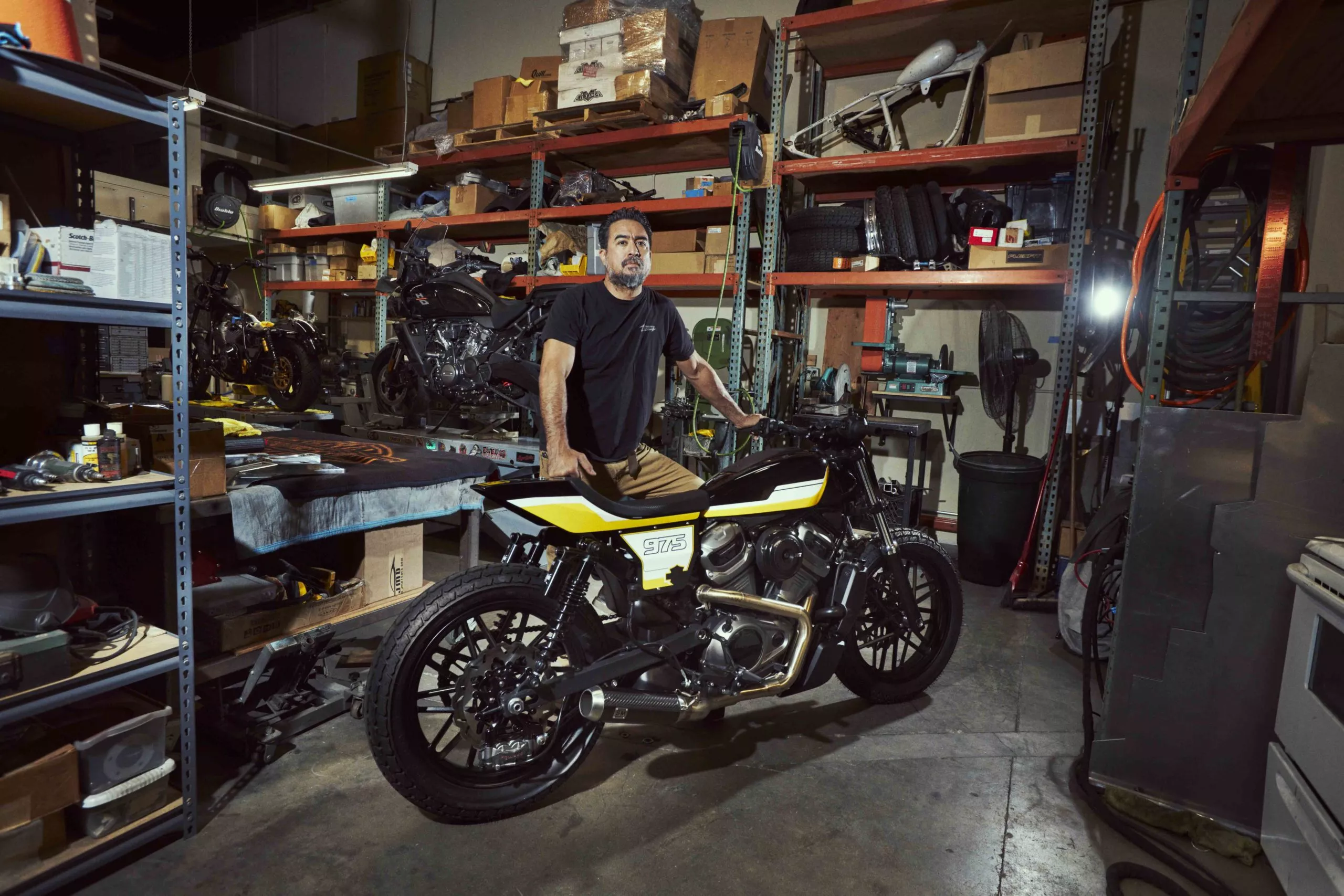 We caught up with Brandon Holstein from The Speed Merchant at the 2022 Born-Free Motorcycle Show to pick his brain on his new Harley-Davidson Nightster that he converted to The Speed Merchant's Flat-Track Nightster, capable of some serious hooliganism. Brandon dished about the ins and outs of converting a completely new platform from The Motor Company, with of course, a super tight deadline to git'er done.
HOT BIKE: Who are you and what do you do?
BRANDON HOLSTEIN, THE SPEED MERCHANT: I'm Brandon Holstein from the Speed Merchant.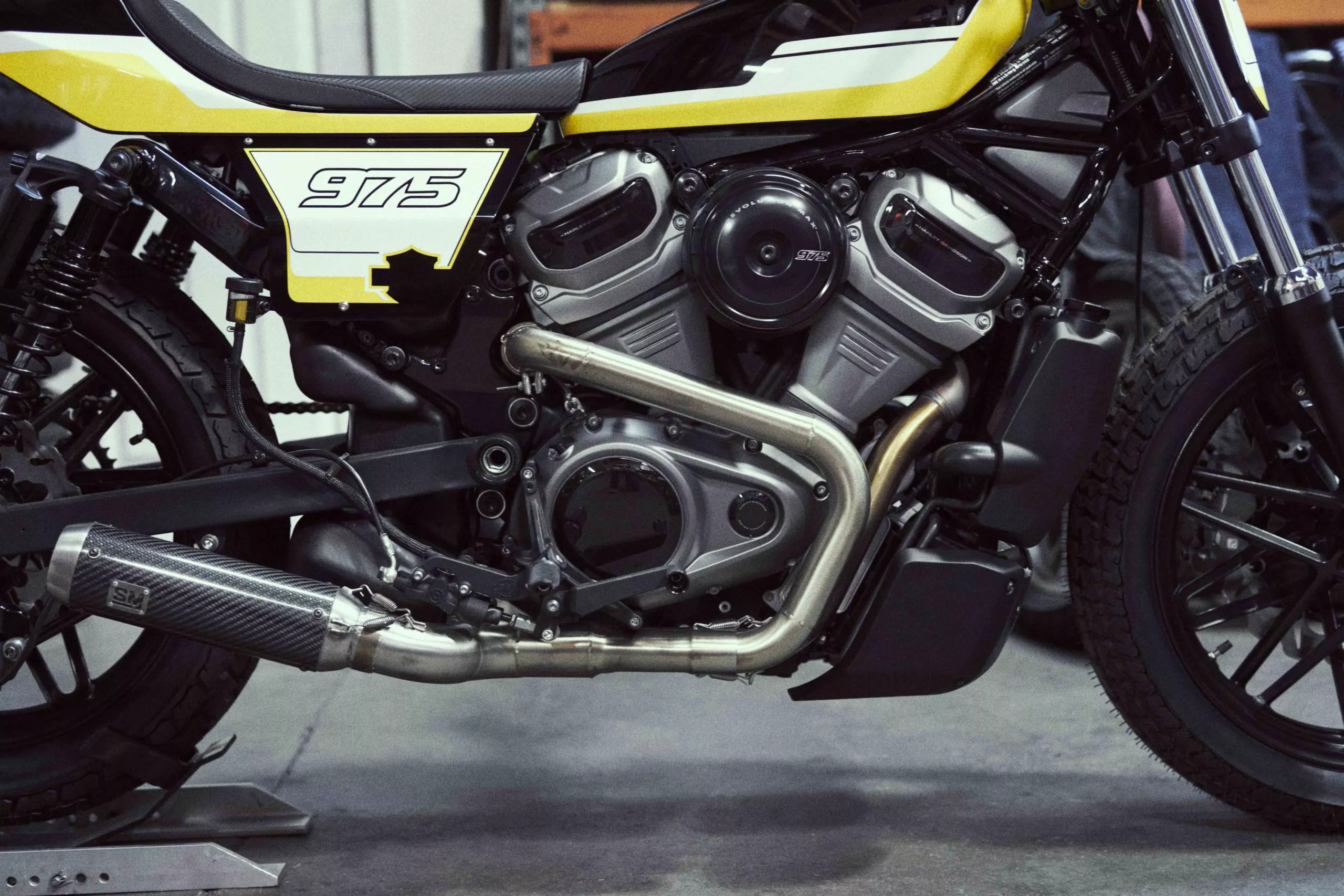 HB: What are your thoughts on the new Harley-Davidson Nightster Platform?
BH: The new Nightster platform is I gotta say, it's pretty impressive. Obviously, we got to be a part of the build with Harley-Davidson and do our little twist to it, and I was really surprised at how well it handled and how quick it is. One of the things that I really like about the new Nightster is the classic lines. So it still holds that traditional Sportster stance and look, but now it's got the Revolution motor in it, which back in the day we made a T-shirt that said Smoking Big Twins, and I think that ranged through till today, too. Now with that new 975, we were asked toward the end of 2021 to be a part of this, and I really didn't know what to expect until we saw photos.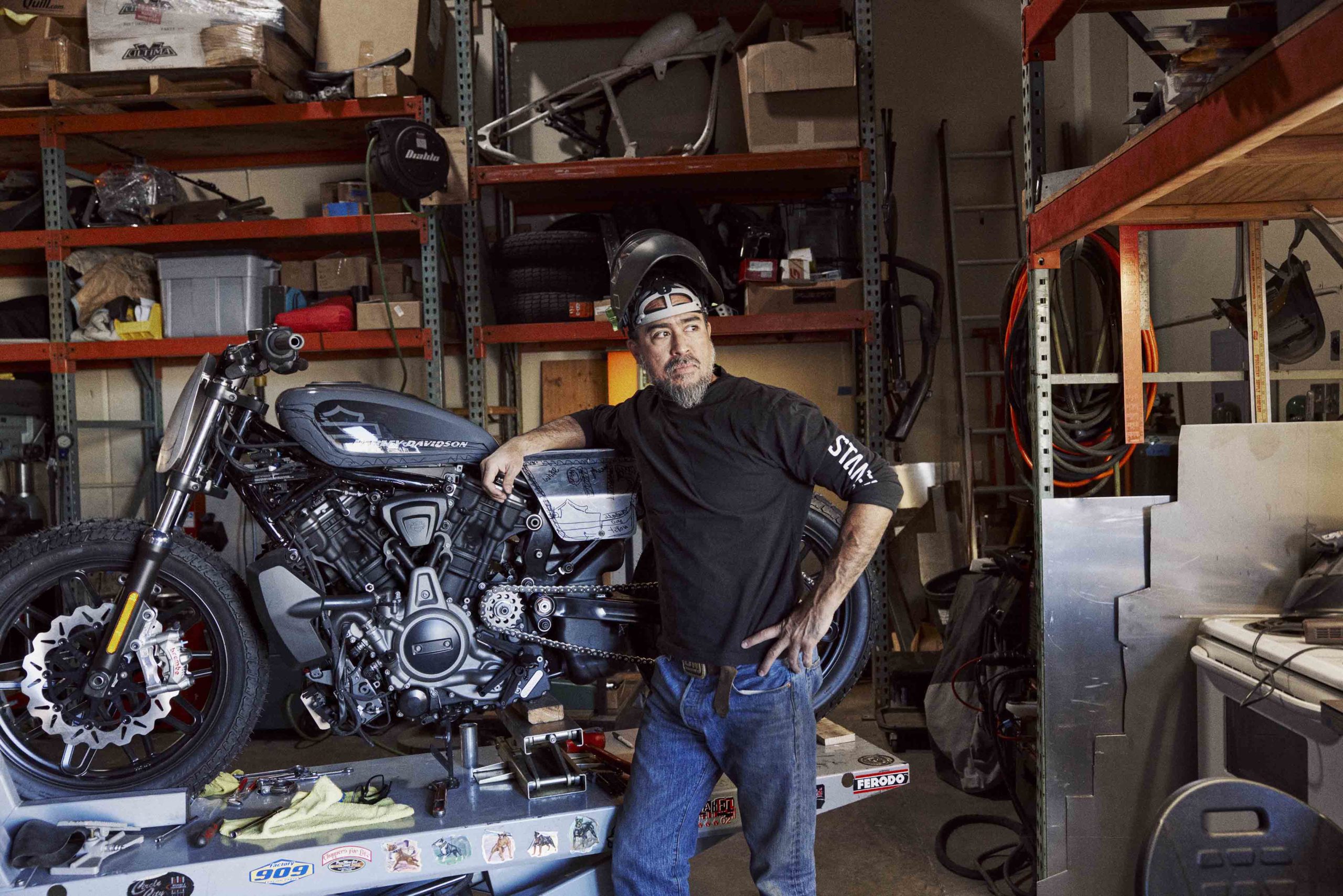 And immediately, I think when I saw the photos of the Nightster, that was just basically a computer photo, we knew immediately that we wanted to do like a hooligan bike. That's kind of immediately where we went. I think originally, before even seeing it, we were going to try and go sort of a road racing route because that's kind of where we've been heading lately. But after looking at it, the classic lines just made it perfect for a little hooligan bike. So that's what we did.
We took some roadster wheels, sports roadster wheels, used two front wheels, 19 front and back, put some Dunlops on it. We did a whole custom subframe and tail section that Saddlemen helped us with, and just build what we thought was a pretty good little hooligan bike. So, fingers crossed. Hopefully maybe I can make it on a track somewhere at some point. Maybe after this tour is done.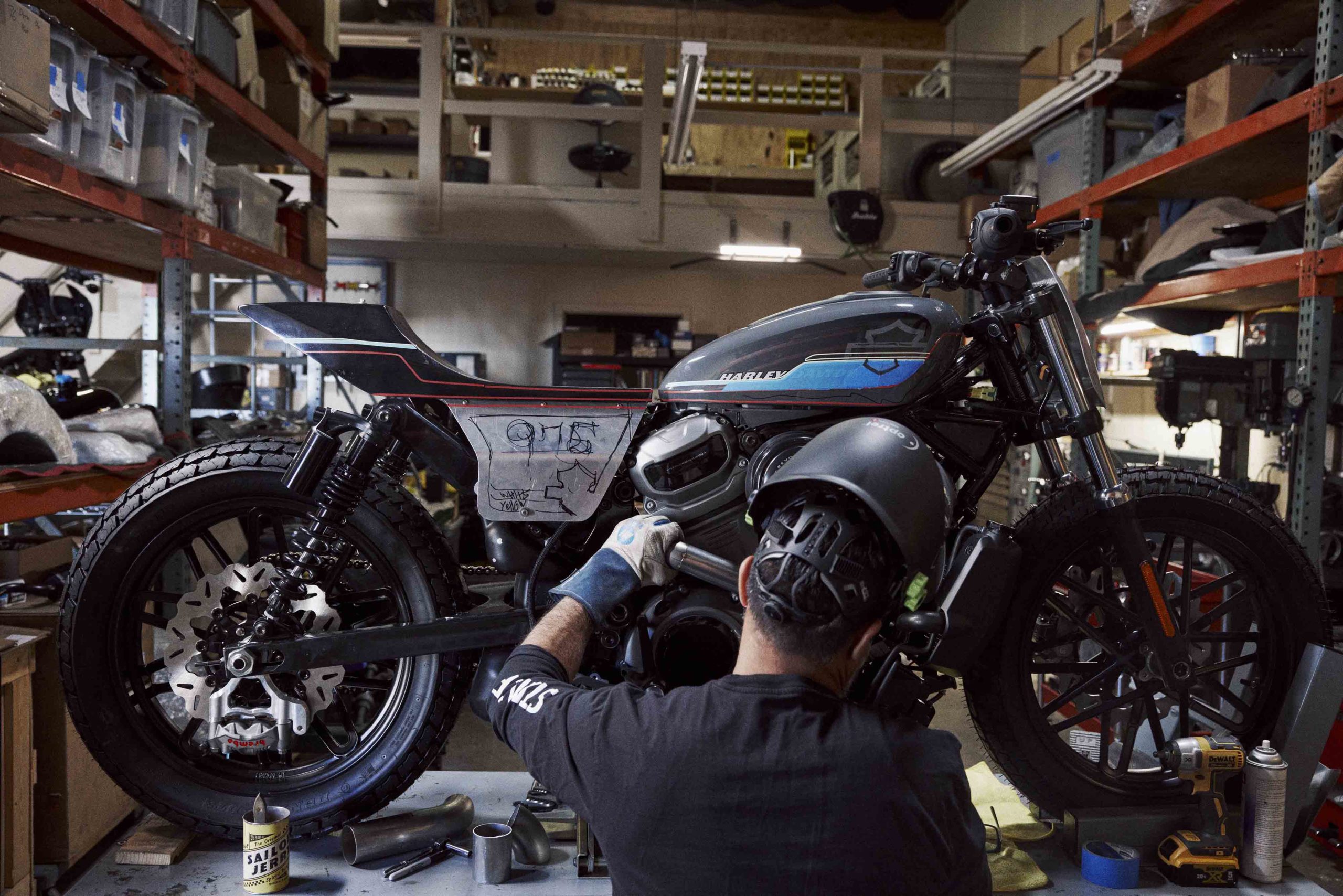 HB: Where did you begin when thinking up this cool little Hooligan Nightster?
BH: When I start a custom project or a custom build, you're always starting with some sort of platform. Unless we're building a ground-up, frame-up design, generally we'll look at the foundation we're given and I look for improvements. Usually, whether it's handling or suspension, getting it up off the ground, more power, better braking and stuff like that, usually it's going to be built around the purpose that it's serving. Is it a long hauler? Is it a race bike, what's the bike going to be used for? So, after answering those questions, that sort of helps, I guess, guide the design process. One of the very first things that we did was taller suspension in the rear. We wanted to get it up off the ground to give it a lot more lean angle. So we went from whatever the stock length shocks were, 10-1/2 or 11, but we've got 15 inch shocks on it now. So we picked it up pretty much as high as we could without interfering with that gas tank. Because on the new design the gas tank is under the seat and it goes all the way down under the seat.
And there's a belly underneath the swingarm. We had to section the swingarm to be able to give us extra clearance to raise it. So that was one of the first things that we did. And then the second was tackling the tail section and the seating position. And then beyond that, it felt like I said, we had a tight timeline, so we were just trying to throw everything at it at once.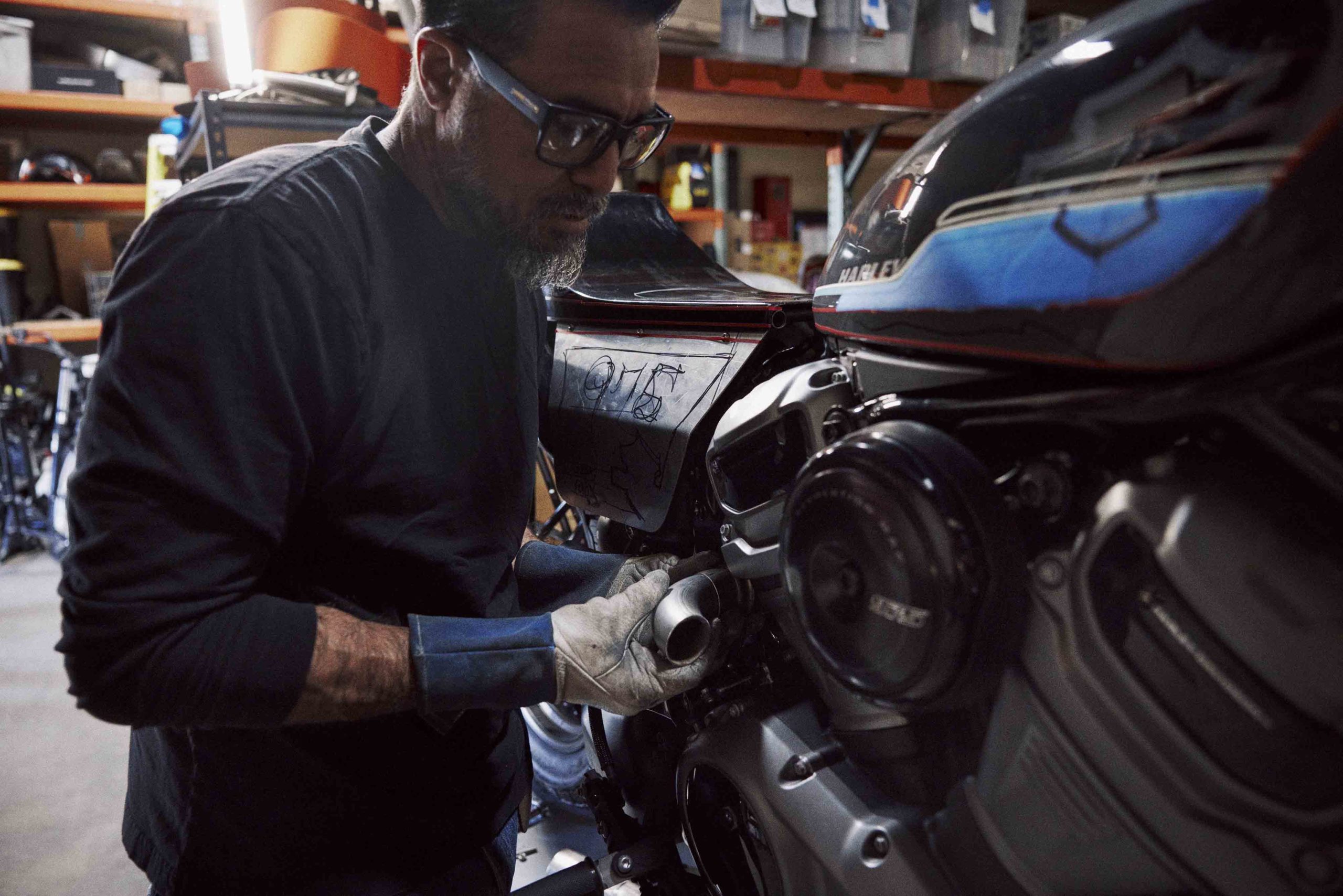 HB: What were some of the challenges you faced with building this bike?
BH: Time was definitely a challenge with the Nightster. And we're kind of familiar with this because we did this with the XG 750. We had an XG 500 that we had built years ago when it first came out. And being a new platform, if you screw something up, you can't get parts for it. So we had to make sure that everything that we did was going to still work and still function when we were done with it, because it's not like you can just go to the parts counter and get something that you need.
The bike wasn't even released at the time, so that was one of the major challenges. When you're in the trenches and you've got two months to do this, it's a bit stressful. And then also trying to run a business at the same time, that was a big challenge. But I would say overall, and seeing the finished product and what Harley has done with it, and the videos that the guys did on all the builders and the fact that these builders are from all over the world, that really awesome to be a part of. Yeah.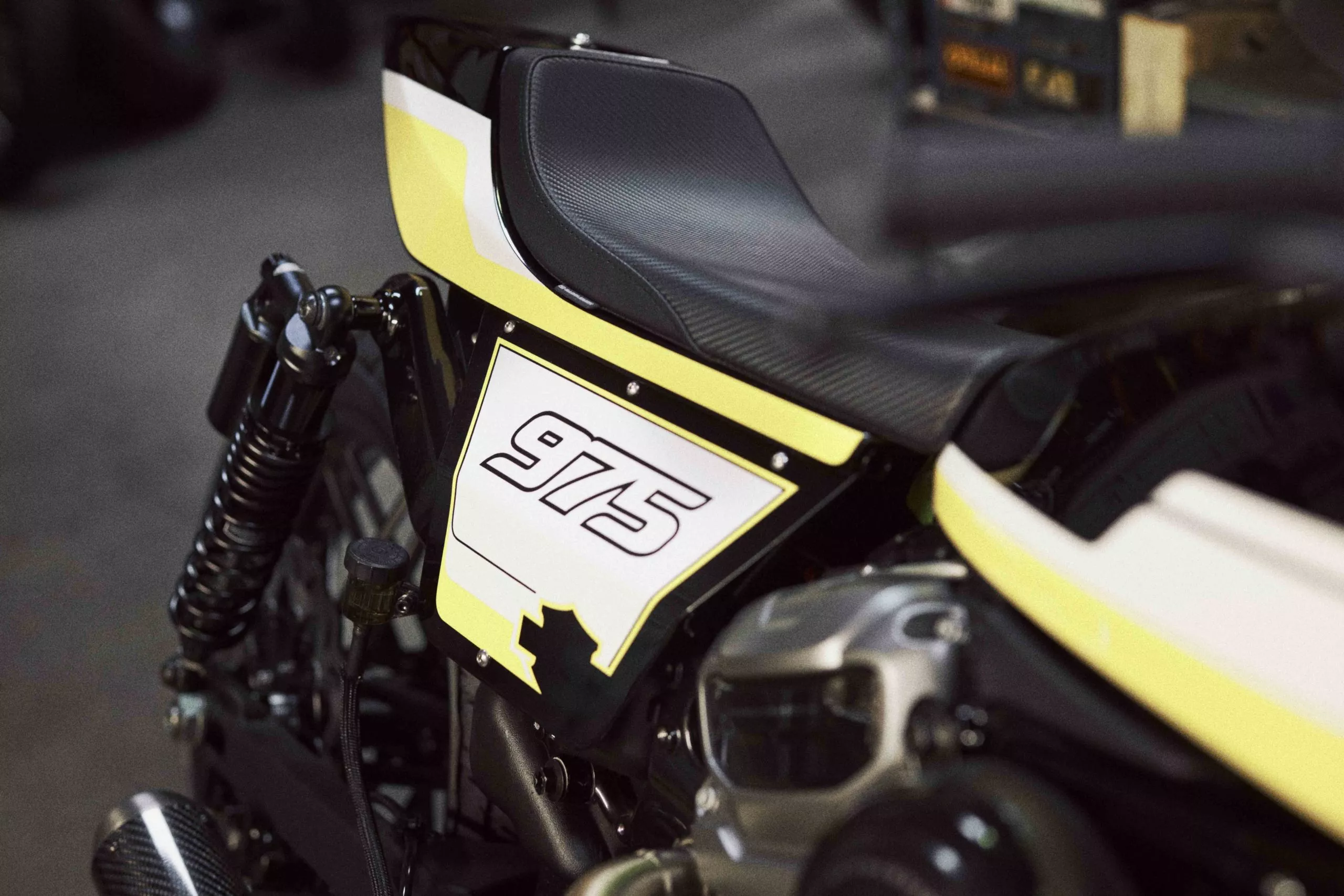 HB: Anyone you to give props for helping you in this process?
BH: I would love to thank Harley-Davidson for including us in this process. We've been having a working relationship with Harley now for quite a few years, and it's been awesome. So I'd like to thank Harley. Saddlemen really helped us out with this and nailed the seat design, like, to a T. It's exactly what I was envisioning. And they came through on a tight deadline as well. California also helped us out with their brake rotors and stuff like that. And then our guys over at Specialized Coatings, they always do our powder coating as fast as we need it.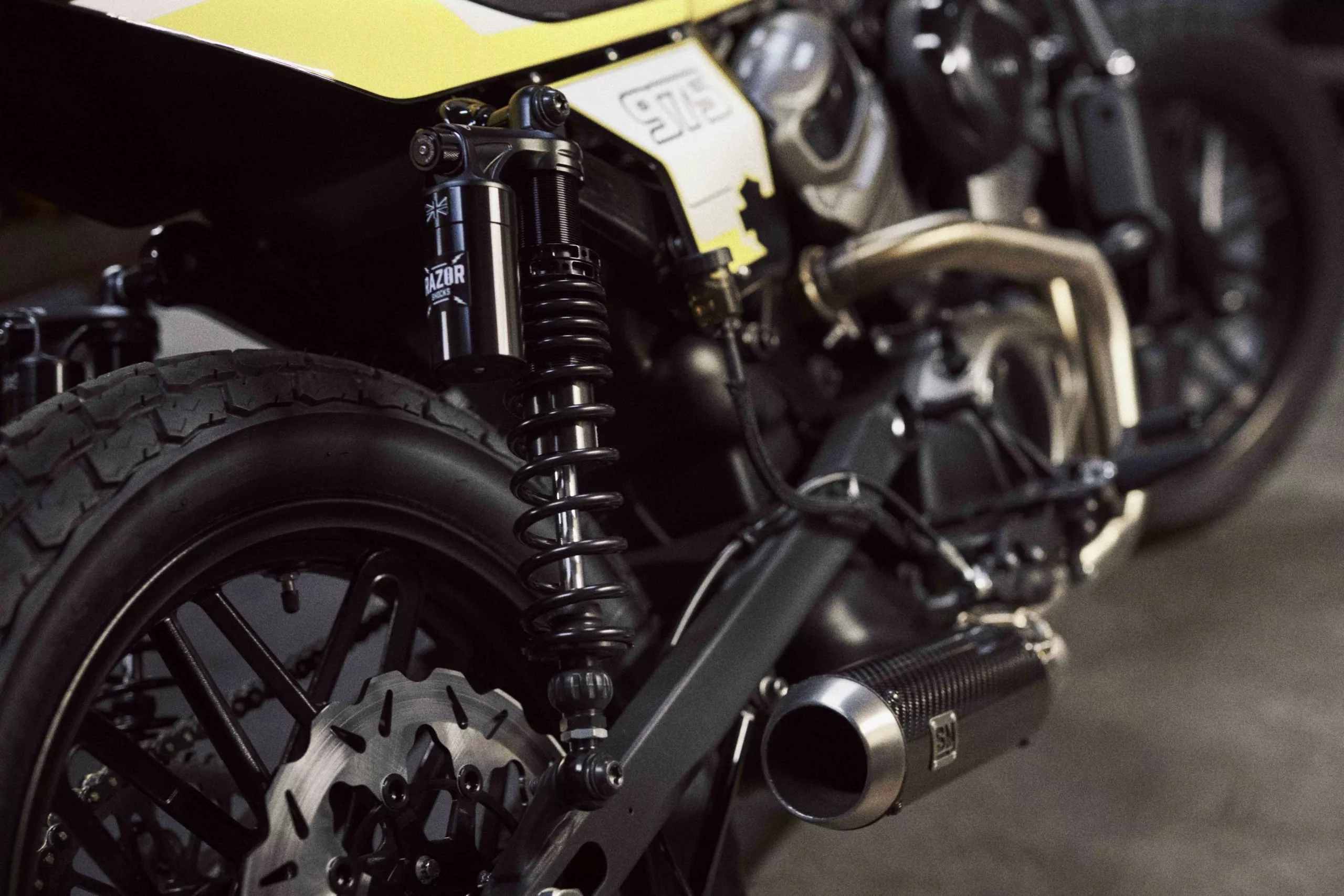 HB: What do you think of the five other custom Nightsters?
BH: Okay, so, being here at Born Free, this is the first time I get to see all of the other bills. We've only got to see it, I'm sure, like you had via video and photos, but now I get to see each one in person, and I'm just blown away by some of the work that's been done on these bikes. I can't believe that some of these guys did so much work in such a short amount of time. It blows me away. I thought I was, like, crunched, but some of these guys did so much work. I'm just stoked. Yeah.