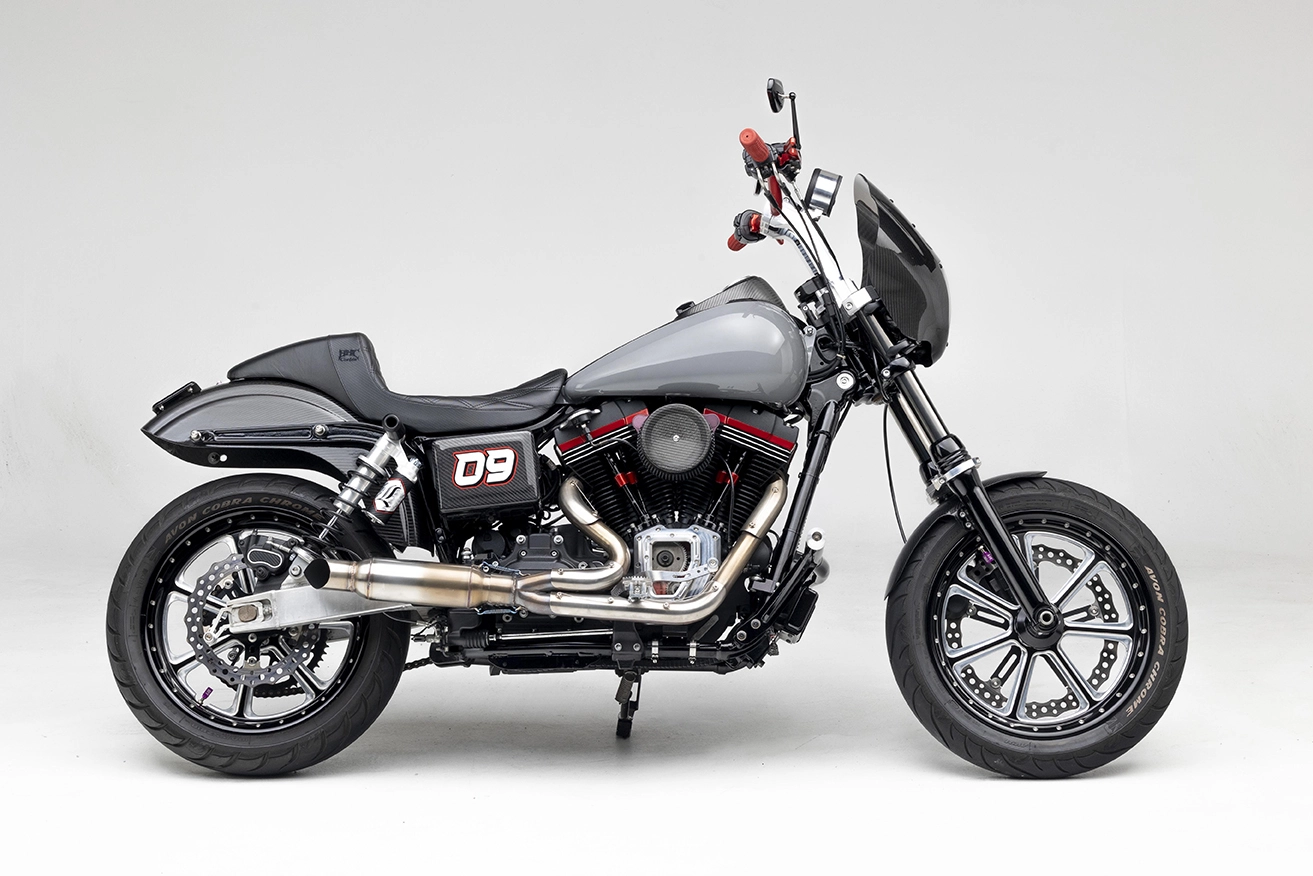 Eric Bergdoll aka "Tattooed Scum" on Instagram comes from the two-wheeled land of street and dirt. Eric applies a  "purpose built" philosophy with everything he rides. "If I can't ride it how I want, beat it how I want and fix it how I want then it's not for me," Eric says. The fact that he can ride anywhere and not have to worry about a thing is not only his greatest reward, it also provides some peace of mind when hitting the road. Being able to ride to the track, race it, and then ride it home is a pretty cool bonus, too. "I'm a firm believer that not all show bikes have to be trailered," Eric says. "I ride my shit in the rain, snow and dirt roads and I load up a week's worth of work clothes and gear and ride to work out of town." Eric basically lives on this thing.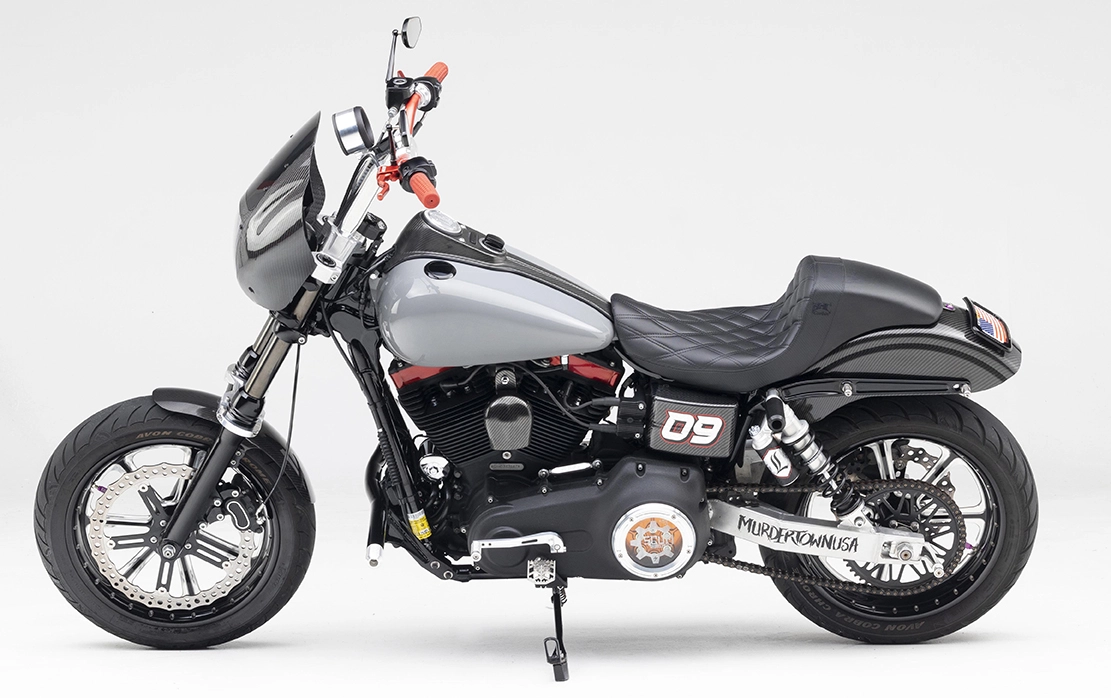 "Well I've been a performance guy, back 20 years ago when racing four wheelers and building fast cars and wrenching on anything I could when I was kid so it was a no-brainer on what direction I wanted to go with it," Eric says. About 7-8 years ago Eric built a 2005 Dyna Super Glide from the frame up (unintentionally) and he built it with performance in mind. "I was coming off of street bikes and needed to feed that side of myself," Eric recalls. He sold the bike a few years later and went through a few more before building a 2017 performance Road Glide, again an all out, full custom build. Eric took the Road Glide up and down the East Coast with four homies and after 14 days of twisty mountain roads, he realized he needed another Dyna. He talked to his buddy, Tim, and bought this bike for a killer deal and immediately blew it apart. Eric changed out every nut and bolt and ended up getting some sponsorship help from Plex Audio, Lexin Moto, Original Garage Moto and Purpose Built Motorcycles. A year later and here we are.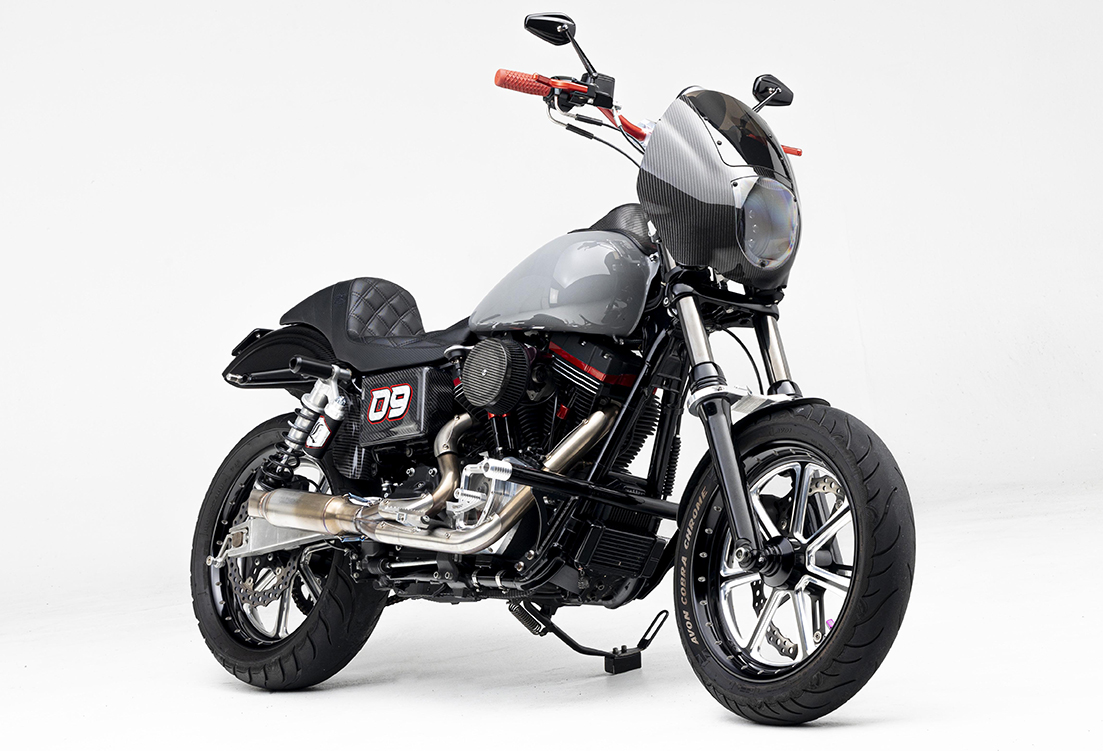 Eric's main goal when building this Dyna was to eventually take it to the track to race, but still keep it as his daily rider, too. He also has the 2017 Road Glide that's built pretty much the same. "The thing is, a Dyna can do what a bagger can do, but a bagger can't do what a Dyna can do," Eric says. "I take this thing everywhere, from Indian Larry's block party, to the track, to Laconia and everywhere in between. Living in the Adirondack mountains I needed it to handle and perform, and it definitely does just that."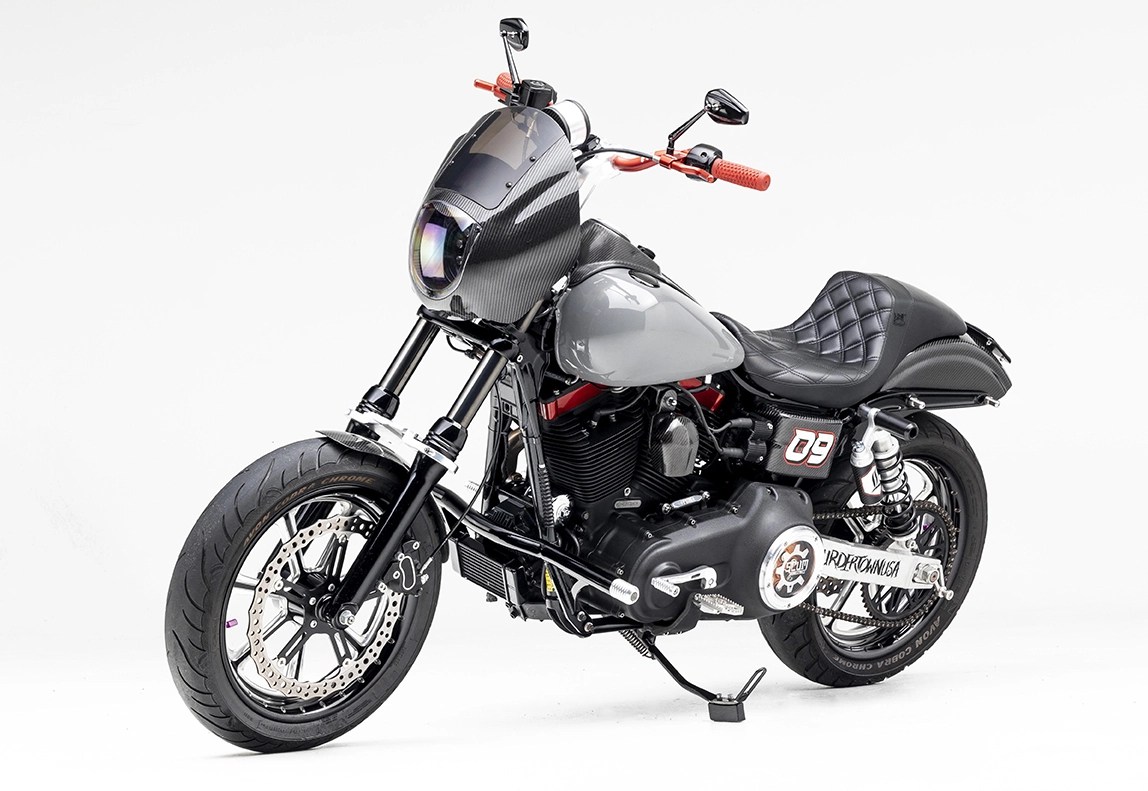 Eric says his recent accomplishment has garnered him some legitimate recognition as a builder, even though he doesn't own a shop. "I'm just a regular dude with some tools and a passion," Eric says. "Getting the opportunity to be sponsored and be in magazines is super humbling and rewarding. Knowing that I can hop on this thing and ride across the country reliably and get recognized at just about any bike night from New York to Cali is also a huge reward. Getting hit up on Instagram by dudes asking questions and being able to direct them and give insight is a huge deal for me, too. I like helping dudes and making new homies more than anything."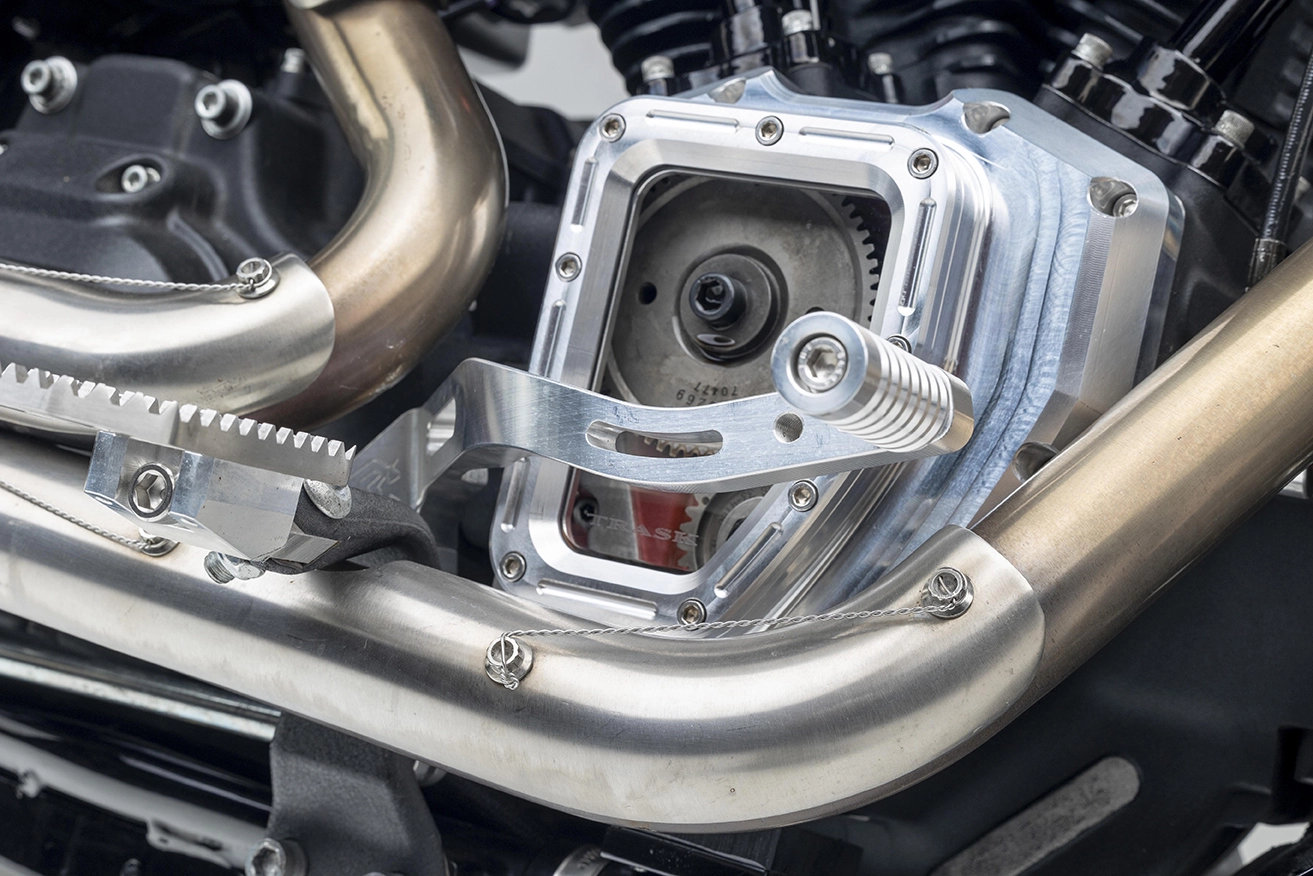 As they say, a custom bike is never quite done is it? Eric continues to make tweaks to his Dyna. And his Road Glide. "I've been working with a few friends and companies to start my own little company, Scum Industries, once I get both of my bikes the way I want them I'll be releasing some gear and custom parts. I'd really like to thank my wife for putting up with my motorcycle addiction and the time I spend in the garage." Eric would also like to the thank the following:  Original Garage Moto, Purpose Built Motorcycles, Plex Audio, Lexin Moto and TMF Cycles for supplying him with some dope parts and trusting him to get the word out. "Original Garage Moto took a huge chance on me when they sponsored me not being a stunt rider still being able to push their parts. And Dino Petrocelli for being such a good photographer and working with my crazy schedule," Eric says.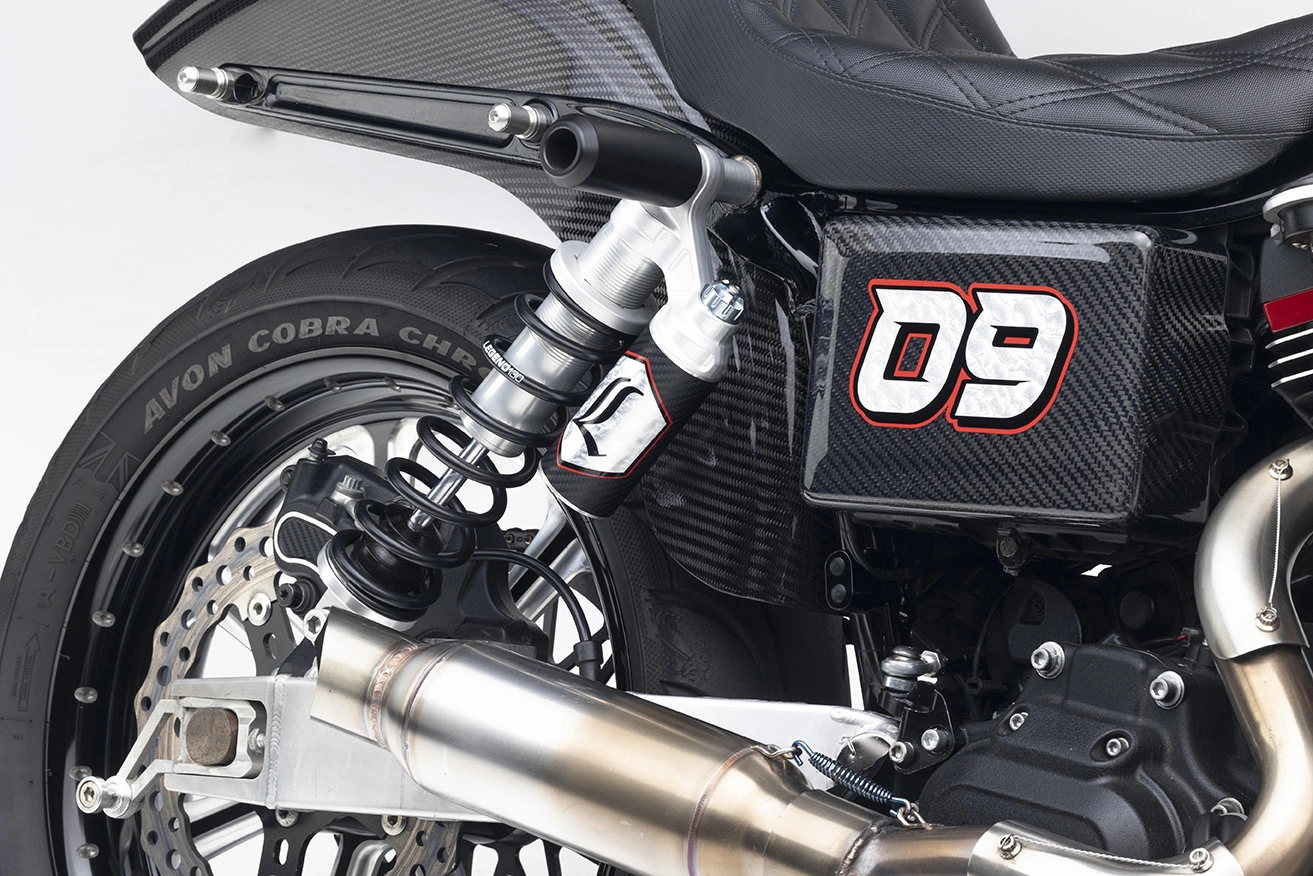 Custom exhaust w/ Trask head pipes and JMD Tubes muffler w/ retaining springs 

A1 Cycles oil pressure gauge  

Trask clear derby cover 

Custom "Scum" clear insert 

Trask Clear cam cover 

Carbon fiber air cleaner cover with my logo

Vulcan chain drive 

Superlite rear 55-tooth sprocket 

Original Garage carbon fiber front fender  

Hofmann Designs carbon fiber side covers 

Italian Design studio Carbon dash 

Italian Design studio carbon rear fender 

Italian Design studio carbon horn cover 

Italian Design studio carbon 1/4 fairing 

Black out recessed gas gauge and cap

Elite levers and clutch perch 

Original Garage Fork brace 

Original Garage Moto X pegs

Original Garage shift peg

Original Garage brake peg 

Original Garage crash bar 

Original Garage perch clamps 

Original Garage radial caliper mount 

Original Garage single gauge pod relocation 

Dakota Digital gauge 

Original Garage "OG" dash block off plate 

Jagg Fan assisted oil cooler 

Original Garage 8.5" pullback risers 

Red Forbidden Moto Fly bars 

Bung King shock sliders  

Custom axle blocks with spools

RSD Diesel 18" wheels 

Arlen Ness 15" Jagged front rotor 

Arlen Ness Jagged rear rotor   

Crossthread brake arm 

Crossthread shift arm 

Trackerdie case saver 

ODI Vans/Cult grips 

Cycle Visions plate mount w/ rear lights 

BMC/Corbin Wall seat

PBM shift linkage 

PBM valve caps 

Moto Illumination headlight 

Leather Pro T-Sport bags  
While ripping through the streets one day Eric got lit up from the local boys in blue. After applying his street and track skillz, he was able to "avoid" a citation Dukes' style. The next day Eric saw the same cop at the local gas station, which led to a conversation where the cop asked him where he was the day before… "How many gray Harleys are there with a helmet and black fenders that live in this area?" the cop asked. To which Eric responded, "I don't know officer, but there must be at least two," which led to a laugh and a respectable, "That was good, I'll get ya next time," from the cop. As it turned out, Eric left the gas station with zero tickets.