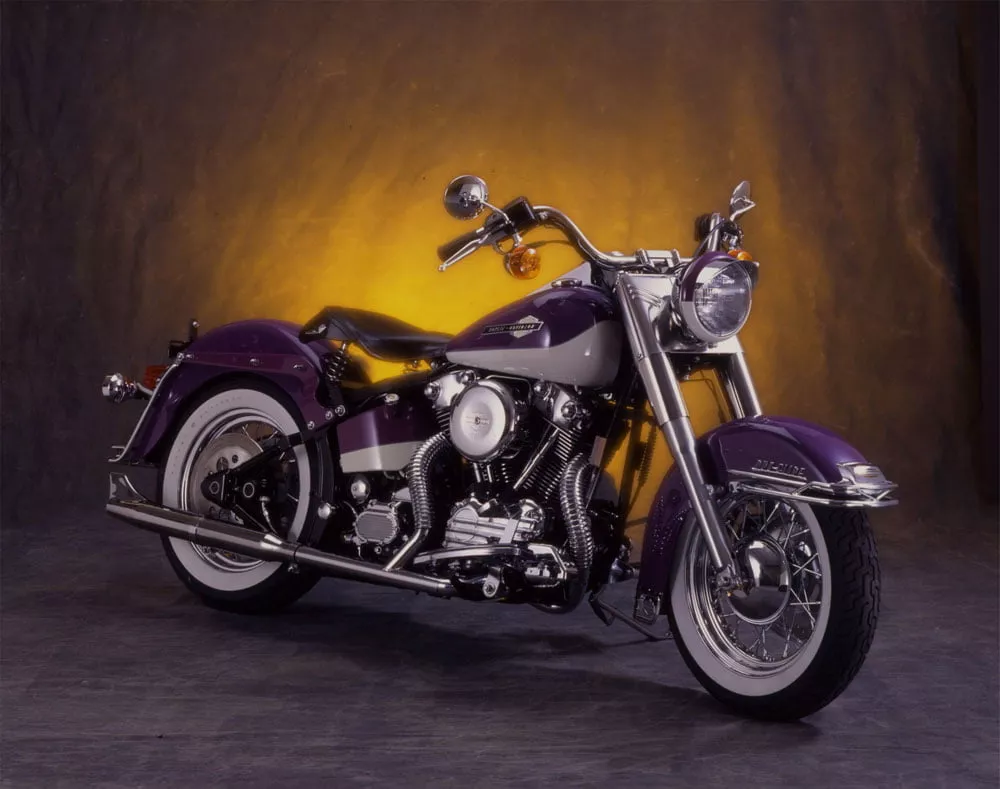 This article was originally published in the February-March 1999 issue of Cycle World's Big Twin magazine.
If, as the old saying goes, those who don't recall history are destined to re­peat it, can those who do remember pick the best bits to replay?
That concept could very easily apply to the custom seen here, which its creator calls Fat Knuckles. It was built with a sense of history and vintage style, but incorporating modern technology and reliability. The result is a bike that visually catches your eye like the be­loved Knucklehead it resembles, but that runs and rides like a new Big Twin.
Built from 1936 until 1948, the Knucklehead was Harley's first overhead-valve V-Twin, and it gained its nickname for the way its rocker boxes resemble a clenched fist. Today, one of the rarest Harleys of all is a Knuckle that's still in stock form. They are few and far between.
That didn't bother the people at Pike's Peak Harley-Davidson, the Colorado dealership that built Fat Knuckles. They liked the Knucklehead look but had no desire to track down a real one and then try to bring it up to modern performance and reliability standards. Better to start out with a new­er bike and give it the full retro look. Thus, a 1997 Fat Boy became the basis of a major transformation—and prompted the Fat Knuckles name.
You don't have to be particularly eagle-eyed to see that the engine lurking under the faux Knucklehead rocker boxes is an Evo. And yes, under the sprung seat is a Softail rear suspension system. This is a completely new motorcycle that re-creates the aura of those long-gone Knuckleheads but packs a modern punch.
"We've built radical customs before" says the bike's builder, Brett O'Connor of Pike's Peak Harley, "but they just sit on the showroom floor here in Colorado. We've had to send them to California or Texas, where they sell right away. Nope, what people spend their money on around here is mostly performance parts."
Indeed, not only do Coloradans want power, they need it. Throughout most of the state, where ground level starts at 5000 feet, one-fifth of an engine's sea-level horsepower has evaporated into thin air. Add in some 10,000-foot moun­tain passes, and you have terrain that'll test the breathing of any engine. So, what Colorado's riders clamor for, rather than chrome and fancy frills, are cams, carburetors and cubic inches.
It may seem strange, then, that the engine in Fat Knuckles is almost completely stock. Stock Evo, that is, apart from the Knucklehead-style cam cover and rocker boxers from Xzotic. Yet the reasoning is simple: The new owner (the bike was sold right before this article was written) was given a blank canvas on which to start his own hop-up program. "Performance wasn't in the budget, otherwise we would have at least installed a cam," O'Connor says. "We wanted to build a bike true to the spirit of vintage motorcycling."
So they have. Lacking only the Springer front end, the Fat Knuckle otherwise bears a startling resemblance to the Thirties' original. O'Connor and crew tried not to overdo the cosmetics, however. "A few customers ask for big tire kits, big engines and stretch tanks, but most of our work is bolt-on," he says. "We do a lot of turbos and strokers, because once someone around here has extra power, they just want more and more."
The original plan called for aqua and gray two-tone paint, but that was before Harley-Davidson released a batch of Heritage bodywork done up in a violet rose and birch white that looked exactly right. All O'Connor had to do was arrange for the oil tank, the rear-fender struts and the headlight rim to be painted to match. To complete the transition from new to old, a bumper was added to the Heritage front fender, along with a set of Duo-Glide badges to further confuse everyone.
The end result proves conclusively that you can customize a Harley-Davidson using mostly genuine Harley-Davidson parts, and do so without breaking the budget or spending the whole winter on the project. O'Connor estimates that the rebuild took three weeks, in­cluding about 45 to 50 hours of labor. Then it was time to take the bike to a few shows and garner a few trophies before passing it on to a new owner with some custom­izing ideas of his own—like more power!
What's next? "We try real hard not to copy what we've done before," says O'Connor, "so it's going to be something new next time." New, but still nostalgic, we hope. And with one hell of a punch.
Hmmm. They had superchargers back in the Thirties, didn't they?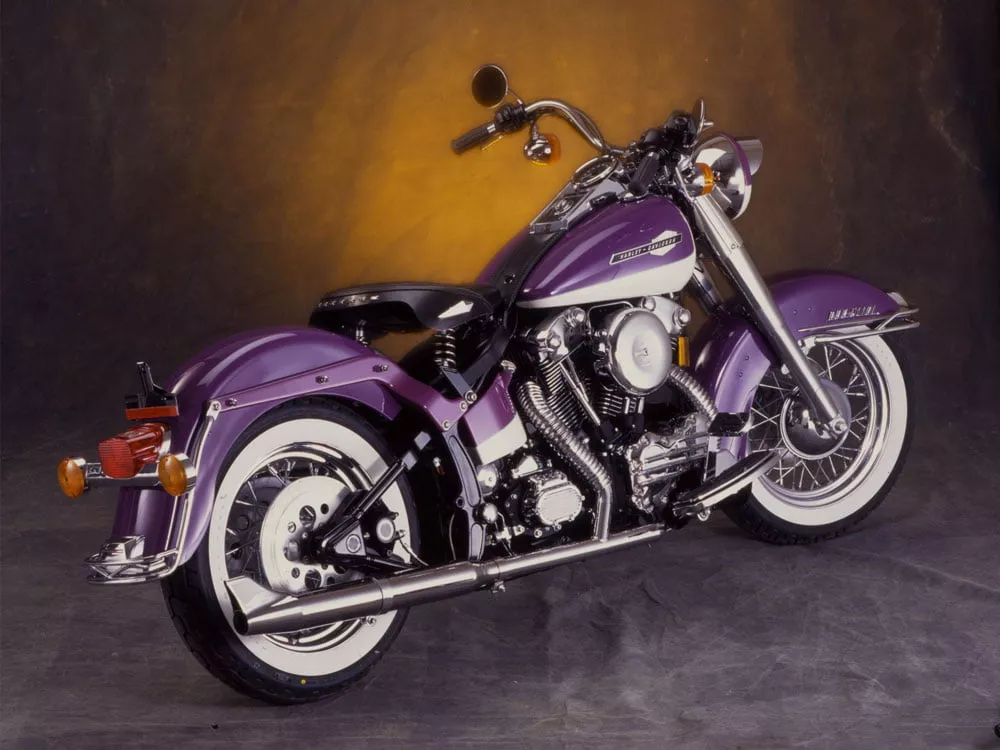 SPEC SHEET
| | |
| --- | --- |
| Bike Name | Fat Knuckles |
| Owner | Herb Aston |
| Colorado Springs, CO | |
| Base Machine | 1997 Fat Boy |
| DESIGNER/FABRICATOR | |
| Brett O'Connor; Pike's Peak H-D; Colorado Springs, CO | |
| PAINT AND CHROME | |
| Painter | Pike's Peak H-D |
| Chroming | Meclec, Fresno, CA |
| Polishing | Pike's Peak H-D |
| ENGINE | |
| Year | 1997 |
| Model | FLSTC |
| Builder | Pike's Peak H-D |
| Displacement | 80 cu. in. |
| Cases | H-D |
| Lower end | H-D |
| Rods | H-D |
| Pistons | H-D |
| Heads | H-D |
| Valves | H-D |
| Cam | H-D |
| Pushrods | H-D |
| Lifters | H-D |
| Ignition | H-D |
| Carb | H-D |
| Air cleaner | H-D Nostalgic Series |
| Pipes | Xzotic |
| Muffler | Xzotic |
| Other mods | Xzotic cam cover, rocker boxes |
| TRANSMISSION | |
| Year | 1997 |
| Type | H-D 5-speed |
| Primary drive | H-D |
| Clutch | H-D |
| FRAME | |
| Year | 1997 |
| Make | H-D |
| Type | Fat Boy |
| Modifications | Frame massaged to allow clearance for kidney cover and Knuckle rocker boxes |
| FRONT FORK | |
| Year | 1997 |
| Make | H-D |
| Type | Wide Glide |
| Modifications | Heritage fenders with modified bumpers and logo |
| REAR SUSPENSION | |
| Year | 1997 |
| Make | H-D |
| Type | Softail |
| Swingarm | H-D |
| FRONT WHEEL/TIRE | |
| Wheel | H-D spoked |
| Tire | Dunlop whitewall |
| Tire size | MT90-16 |
| Rim width | 3.0" |
| Brake | H-D |
| REAR WHEEL/TIRE | |
| Wheel | H-D spoked |
| Tire | Dunlop whitewall |
| Tire size | MT90-16 |
| Rim width | 3.0" |
| Brake | H-D |
| ACCESSORIES | |
| Handlebar | Fat Boy |
| Grips | H-D Nostalgic Series |
| Mirrors | H-D |
| Gas tank | Heritage Softail |
| Oil tank | H-D |
| Front fender | Heritage Softail |
| Rear fender | Heritage Softail with modified struts |
| Headlight | H-D |
| Taillight | H-D |
| Turnsignals | H-D |
| H-D | Speedo |
| Seat | H-D Spring Seat |
| Foot controls | H-D Nostalgic Series |
| Pass pegs | H-D |
| Other | Oil tank and headlight rim painted to match body colors; stainless braided brake lines |