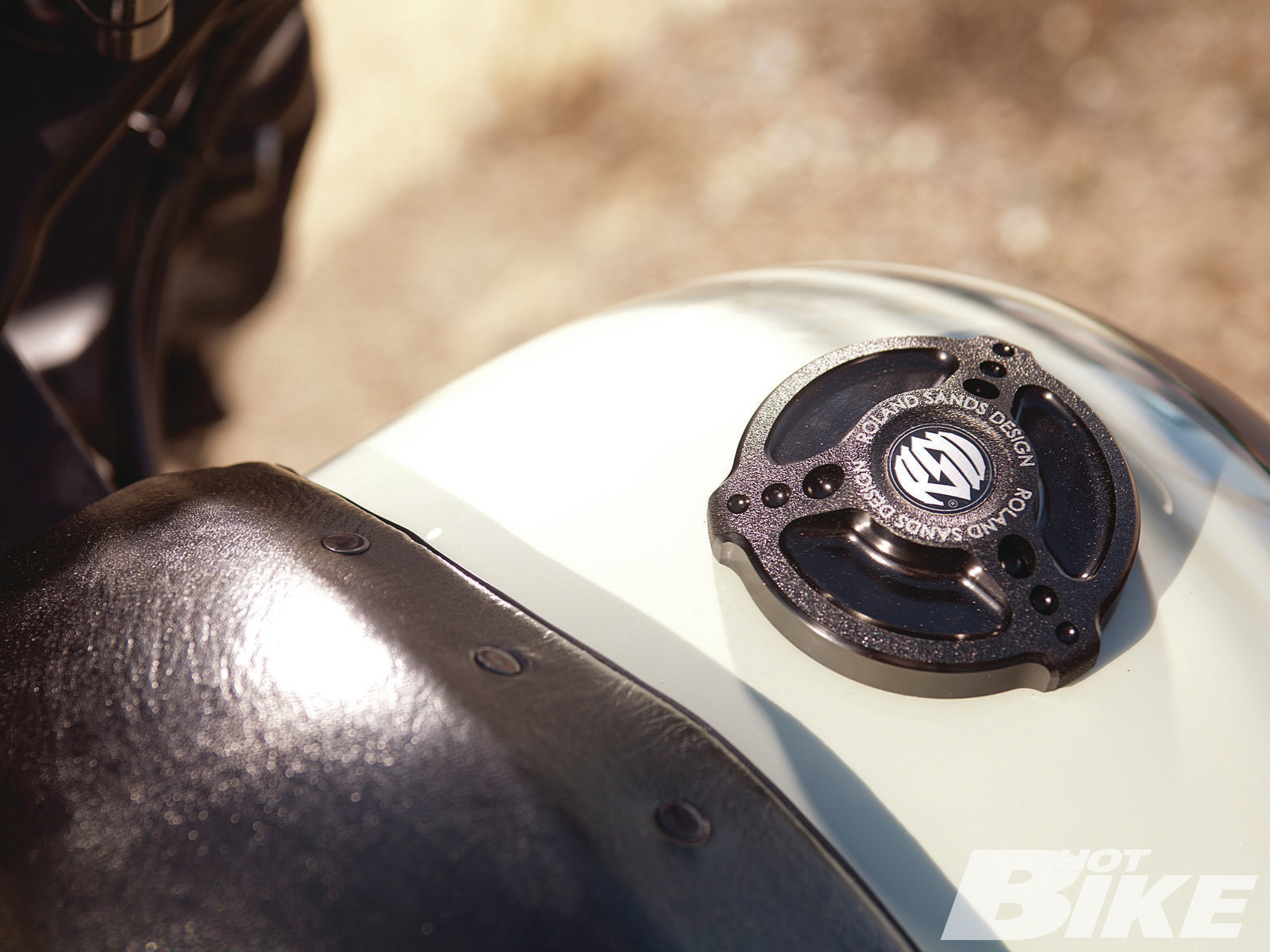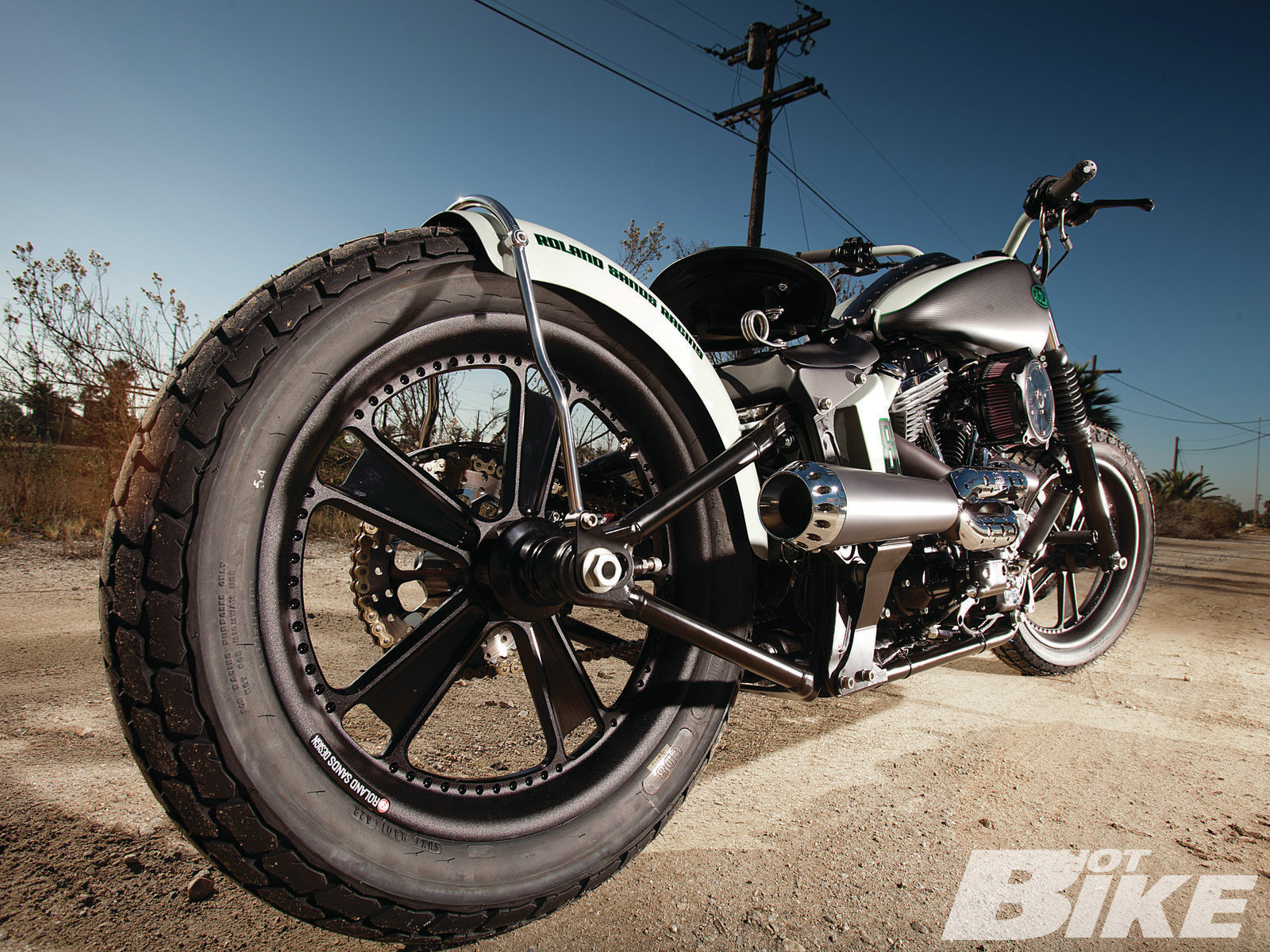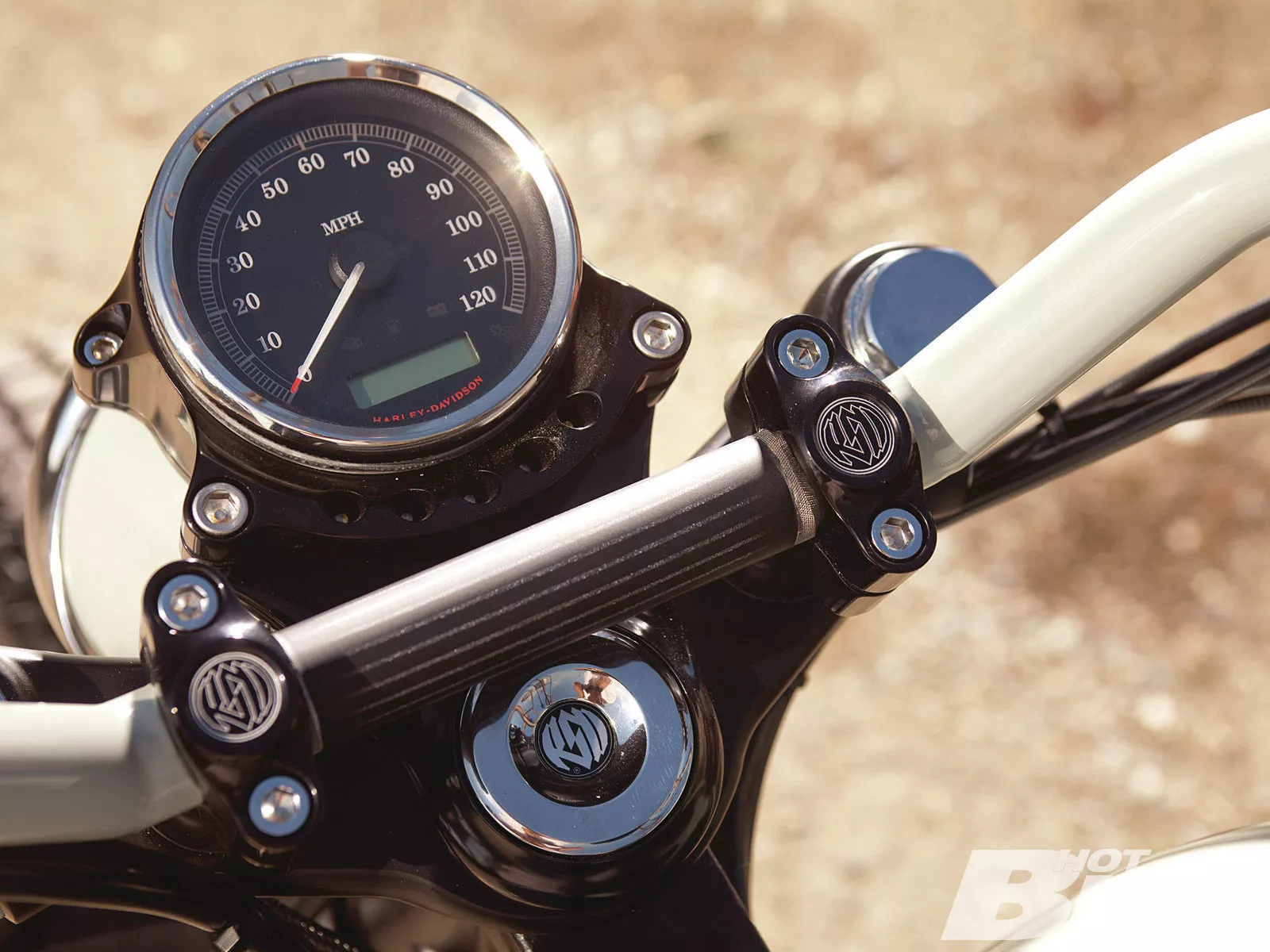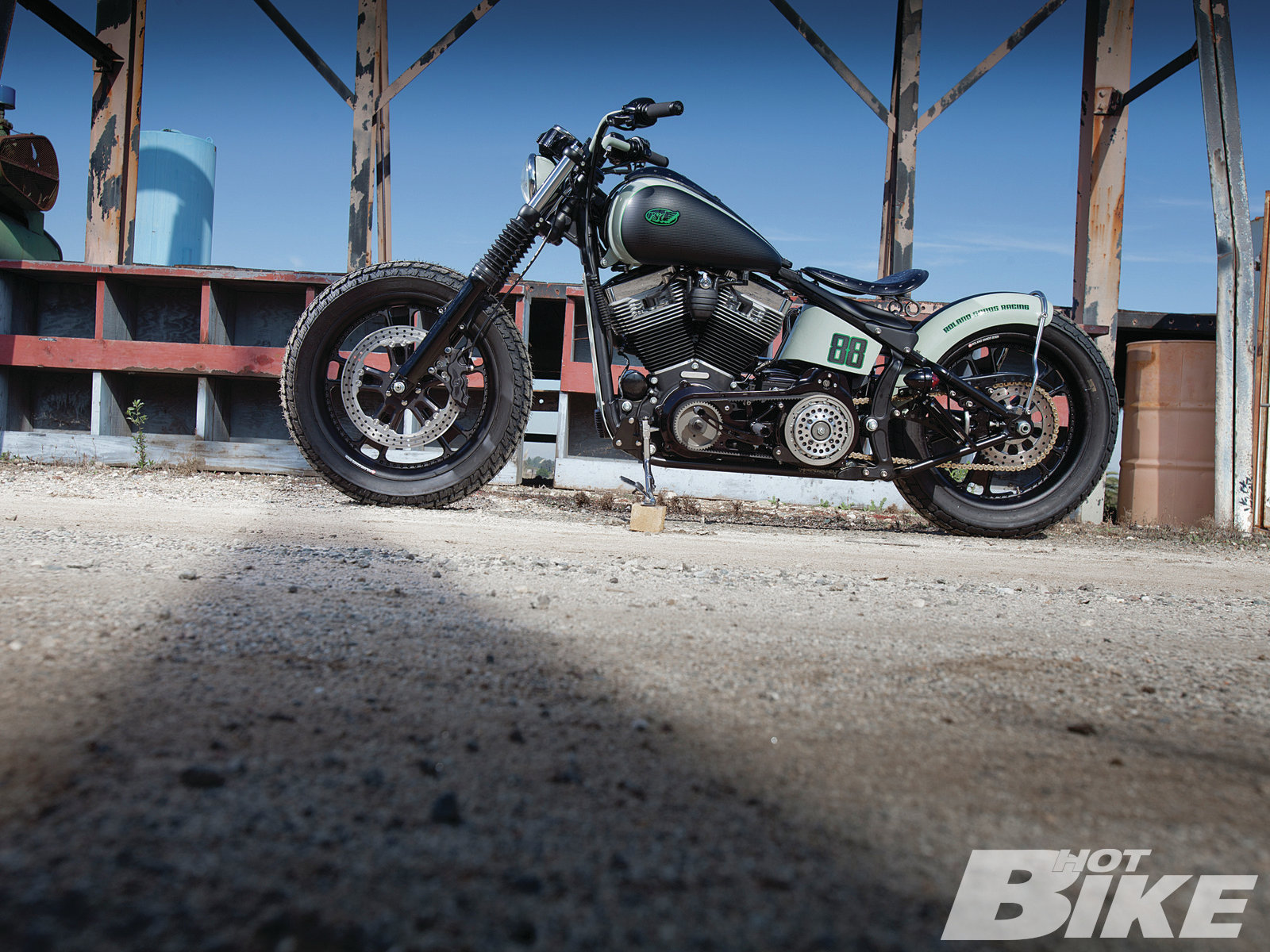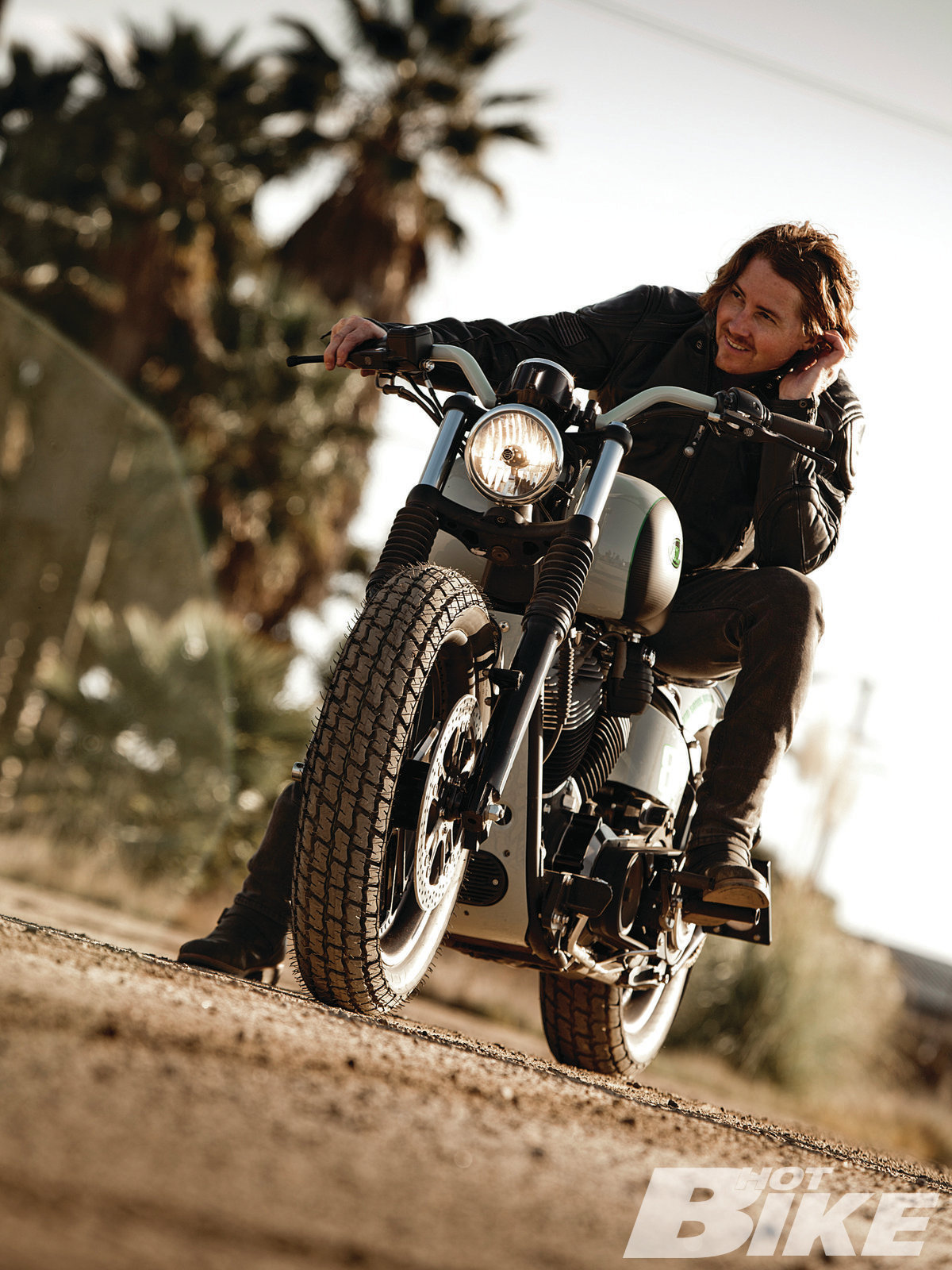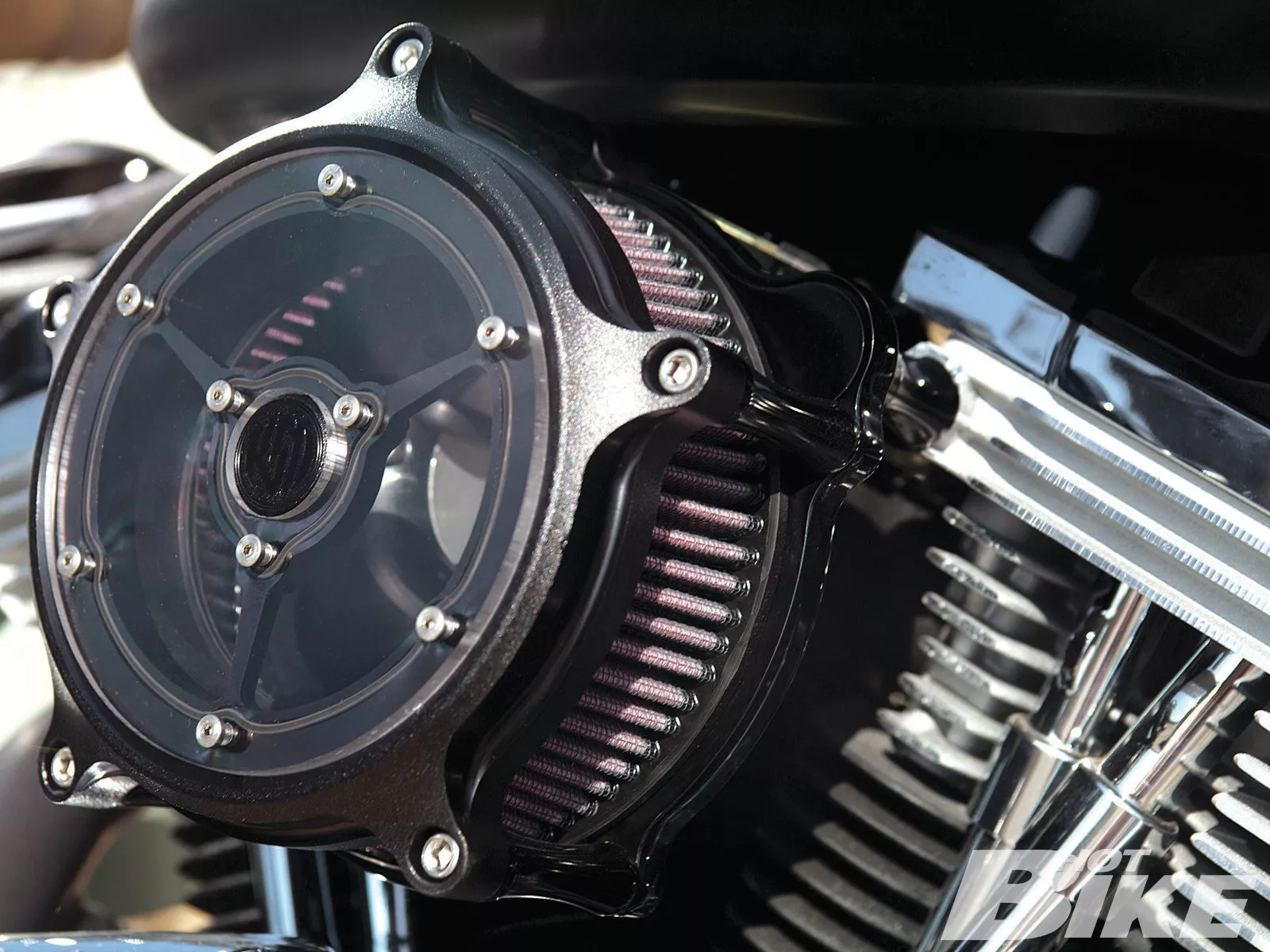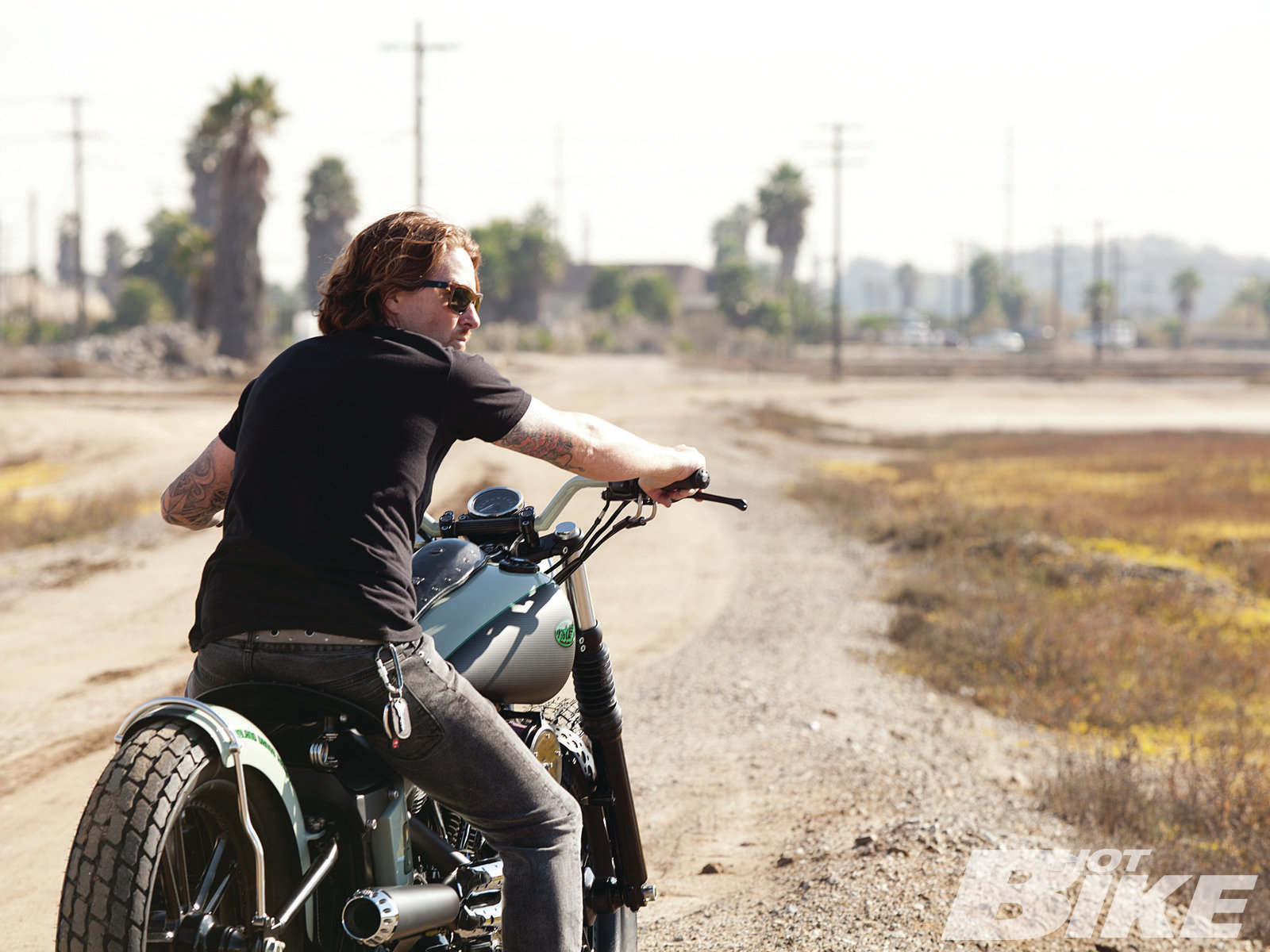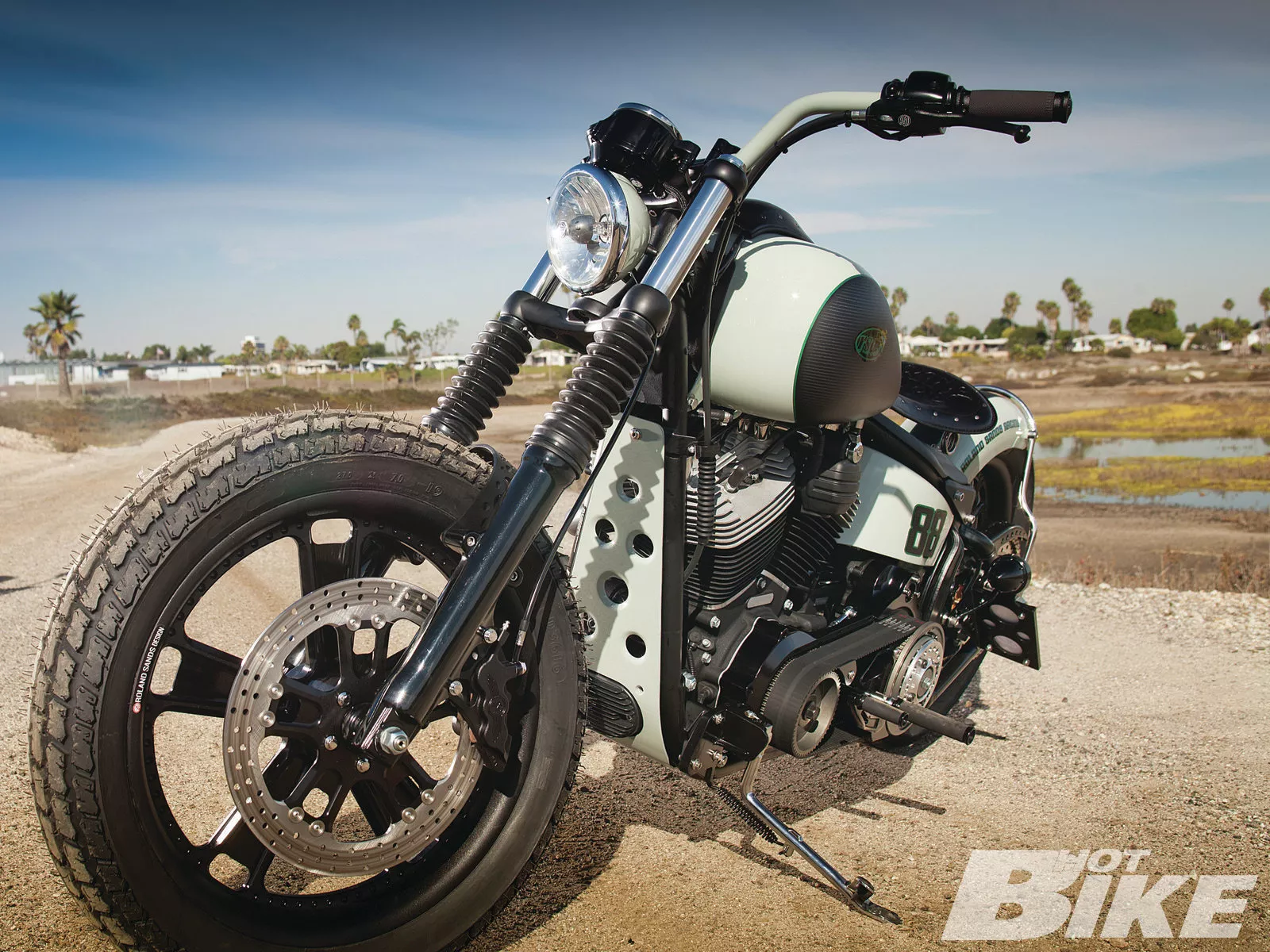 There's the wheel and there's the reinvention of the wheel. To take something that's already constructed, let the creative juices flow without boundaries, and flavor it up with your own identity is a beautiful thing. Why eat a ham and cheese sandwich with two slices of Wonder Bread and Kraft Singles when you can spice up the traditional fare with sun-dried tomatoes, prosciutto, buffalo mozzarella, pesto, olive oil/balsamic vinegar, or whatever the hell else your heart desires? That's the beauty of creativity. This is Roland Sands Designs' (RSD) modus operandi: building stock bikes into intricate, functional rolling sculptures.
Take this 2011 Softail Blackline for instance—if you would have even recognized it as that. It's not a ground-up custom, no. But that's the simplistic brilliance of what RSD is capable of creating with its now-vast parts line, something that looks completely one-off; however, all the parts strewn about this motorcycle are bolt-on goods. No frame-cutting or TIG-welding needed, which is appealing to garage bike builders around the globe with a passion to wrench on their own rides. "We consider this style of bike building a great middle ground for guys who want to build their own bikes but don't have a garage full of fabrication and machining equipment," Roland commented.
Not that Roland doesn't enjoy cutting up a perfectly good Harley, taking torch to metal or Sawzall to gooseneck, because his repertoire definitely reflects the opposite with the laundry list of radical customs created since the company's inception in 2005. For this particular project, Roland likes the fact that this post-op Blackline features some of RSD's hottest, and soon-to-be-hot parts, because he's more interested in educating the public of how drastically a stock Softail can change visually with RSD parts. "This bike really represents where you can get with a Blackline relatively easy without any major modifications. Our major mod to the bike was the rear fender. The wheels and tires make a huge impact on the way that bike looks. Omitting the front fender, direct mounting the rear fender and having it hug that [rear] tire really tightly, along with the spring seat, that just changes the overall look of the bike. It's weird because it looks so different but it really isn't that far away," Roland explains.
Softails aren't usually high on the list for dirt track conversions, which is probably why RSD decided to use the Blackline as the platform for this build. Pushing the limits is what put the company where it is today. Why stick to the norm? That's no fun. "Nobody's really done the flat track version [of a Softail] and we wanted to stick with the stock tank because we wanted to keep it Blackline. We wanted to show what could be done with the Blackline without throwing a bunch of crazy sheetmetal at it. It was more like, 'Let's see what we can really do,'" Roland explains. Roland was adamant about keeping the stock Blackline tank so people could easily identify that what they were looking at was indeed a Blackline under all that gear. RSD also retained the stock frontend, triple trees, and made modifications from there.
Simple installations of the RSD handlebar and riser assembly along with RSD's Sportster gauge and headlight mount incorporated the stock Blackline gauge and a factory Nightster headlight. Hard to believe stock parts could look so much different. Also appearing on the Trackline are a slew of covers from RSD's Clarity line: timing, air cleaner, and especially the cam cover, which exposes the gears and somewhat reminiscent of an H.R. Giger painting with its mechanical glory. The Clarity line in this case has also been treated to RSD's newest finishing treatment, Black Ops. It's more of a matte, industrial type of black finish that seems to be taking off amongst the Harley crowd, according to Roland. Other off-the-shelf RSD parts on the motorcycle include the Nostalgia Rocker Box covers and top motor mount for a bit of contrast, a Tracker fork brace for keeping the frontend wobbles down, and Tracker 2-into-1 exhaust pipe, which has been a huge hit since its release a couple years back. If you've noticed, the RSD brand likes to categorize its products into different lines, i.e. Clarity, Nostalgia, Tracker, and so on. These organizational subtleties allow certain products to cater to multiple individuals' tastes. Most people wear matching outfits, right? Bikers aren't any different. "We prefer to create designs that work in harmony while not being so overtly obvious, you won't see a line of skull covers, or Maltese cross covers from RSD. Our designs tend to flow with the rest of what a guy chooses to put on his bike, whether it's an RSD part or not," Roland says.
<div class="st-block quote text-
Notice: Undefined index: st_text_align in C:laragonwwwhotbike-importblocksquote.php on line 1
">
We wanted to show what could be done with the Blackline without throwing a bunch of crazy sheetmetal at it.
Being that Roland was a world-champ racer, it's evident that the sport bike world influences creativity and design. "We're trying to take the best of both worlds and put that into all our products. If we're going to design something sleek, we still want to make it comfortable. If we're going to design something structural, we're going to want to make it lightweight." The perfect balance of yin and yang definitely plays a part when creating/designing the next big project or product.
Since the October 2010 opening of the Roland Sands Design Center in Los Alamitos, California, we have looked forward to a lot of exciting things coming down the pike for RSD. The almost 7,000-square-foot facility is open to the public for lookie-loos to witness the inner workings of the well-oiled machine. The facility also allows the RSD posse to focus more on the concept, design, prototyping, development, real-world testing, and marketing of every RSD product with Performance Machine still handling the engineering, testing, manufacturing, sales, shipping, and warranty duties. RSD also released its own apparel line, which includes eight sexy and functional jackets in multiple colors, three styles of rugged riding gloves in different color variations, quality-crafted wallets and belts, and much more. The future looks bright from all aspects of the Roland Sands and company product line. "Our brand is stronger than ever so I feel like we've done the right things. People like what we're doing. Life is good. I have the freedom to do what I want to do, be creative, and do the projects I want to do with who I want to do them with," Roland says. It doesn't get much better than that… HB
| | |
| --- | --- |
| ### Specifications | |
| Bike Owner | Roland Sands Design (RSD) |
| Shop Name | RSD |
| Shop Phone | (562) 493-5297 |
| Shop Website | rolandsands.com |
| Year/Make/Model | 2011/H-D/Blackline Custom |
| Fabrication | RSD |
| Assembly | RSD |
| Build Time | One month |
| Engine | |
| Year/Manufacturer | 2011/H-D |
| Type/size | Twin Cam/96ci |
| ** | ** H-D |
| Cases | H-D |
| Cylinders | H-D |
| Heads | H-D |
| Rocker Boxes | RSD |
| EFI | Vance & Hines Fuelpak |
| Air Cleaner | RSD Clarity Air Cleaner-Black Ops |
| Exhaust | RSD Tracker 2-into-1 |
| Transmission | |
| Year/Manufacturer/Type | 2011/H-D/Six-speed |
| ** | ** H-D |
| Clutch | PM |
| Primary Drive | PM belt drive-modified |
| Frame | |
| Year/Manufacturer | 2011/H-D |
| Rake | Stock |
| Stretch | None |
| Suspension | |
| ** | ** H-D/Progressive spring kit |
| Length | Stock |
| Triple Trees | H-D |
| Manufacturer Rear | Progressive 422 Series Shocks |
| Swingarm | H-D |
| Wheels, Tires, and Brakes | |
| Manufacturer Front/Type | RSD/Judge |
| Size-Height/Width | 19×3 inches |
| Tire/Size | Dunlop 27×7-19 CD5 |
| Caliper | PM six-piston-Black Ops |
| Rotor | 13-inch RSD Judge-Black Ops |
| Manufacturer Rear/Type | RSD/Judge |
| Size-Height/Width | 19×3 inches |
| Tire/Size | Dunlop 27.5×7.5-19 |
| Caliper | PM Sprocket Brake |
| Rotor | PM Sprocket Brake |
| Finish/Paint | |
| Color | Gloss Mint, Matte Black, Clover Green |
| Painter | Chris Wood/AirTrix |
| Graphics | Chris Wood/AirTrix |
| Accessories | |
| Front Fender | No fender, RSD Fork Brace |
| Rear Fender | Narrowed RSD Vintage rear fender |
| Fender Struts | RSD |
| Gas Tank & Cap | H-D/RSD Tracker gas cap-Black Ops |
| Oil Tank | Stock |
| Handlebars | RSD |
| Hand Controls | Stock |
| Foot Controls | PM Countrour mid-controls |
| Headlight | H-D Nightster lamp w/ RSD |
| Taillight | RSD Tracker Tag Bracket |
| License Mount | RSD |
| Seat | RSD Springer Seat/Mauricio Aguilar, Azteca Leather |