Where do you go when you've already had a Trask Assault bike? The things have mega-motors upgraded with Trask Turbo kits, full custom parts, and so forth. You can't keep moving in the same direction; anything with more power belongs at a dragstrip more than a street. Or does it?
Dan Davies from Chicago loved his first Trask Assault bike so much that he just had to have another one. Rather than keep going with what they'd done in the past, Trask Performance took Dan's latest project in a different direction without losing all of the crazy muscle for which the Assault series machines are known.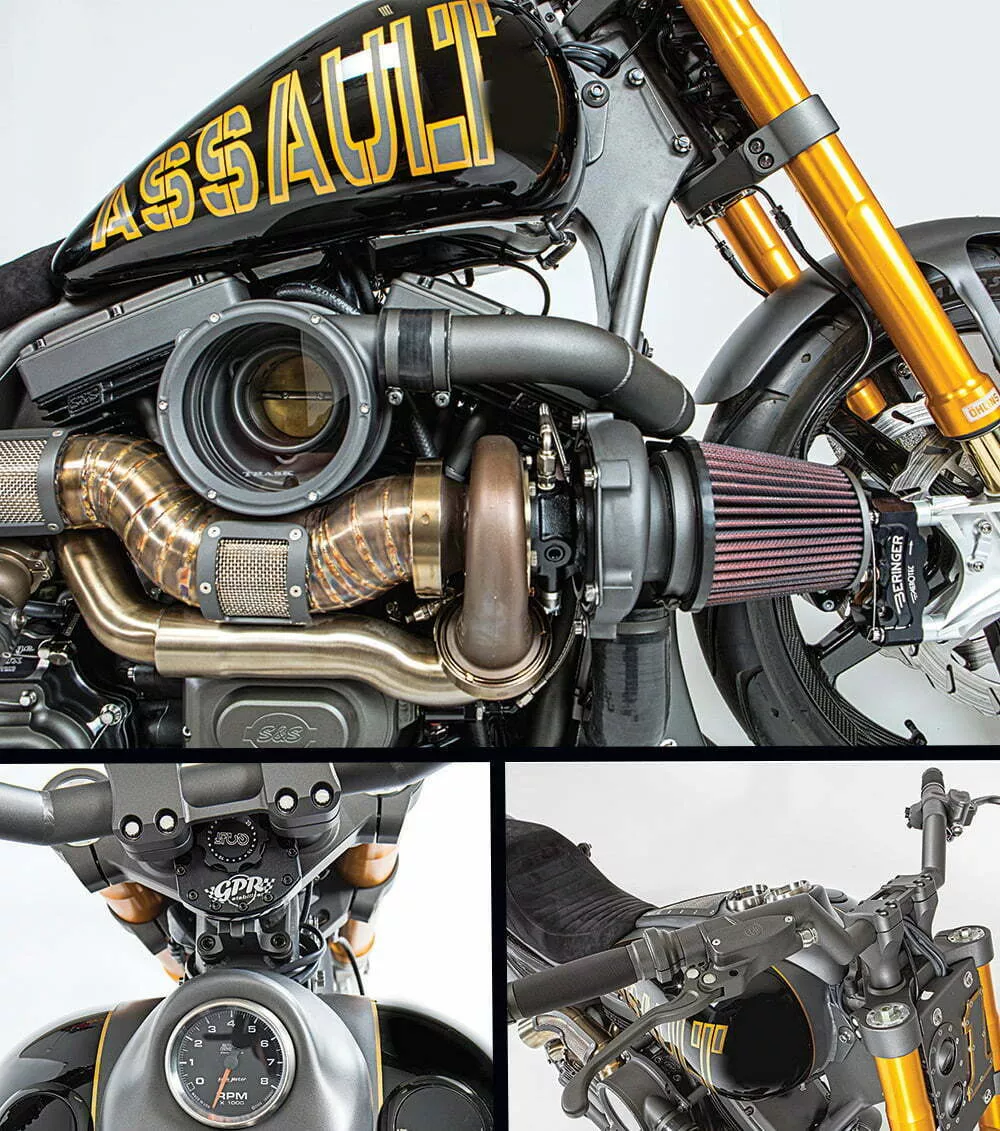 "The timing was perfect because we were champing at the bit to have an excuse to build an FXR with our spin on it," Nick Trask told us. "Dan laid out his stipulations: He wanted a bike he could ride fast, grudge race if need be, and make a statement wherever he went. We put our team on it and went to work, completing all the fabrication, machining, and assembly in-house."
The goal here was to design a bike that handles like a dream, stops on a dime, and has smooth power that doesn't stop pulling until you say so. Centering a project like that around a BBC FXR chassis was perfect. This bike was built to race but with daily riding reliability. What else would you expect from an S&S T143 powerplant cradled by a modified FXR frame and mated to a Trask Performance custom-built turbo kit and high-flow fuel system?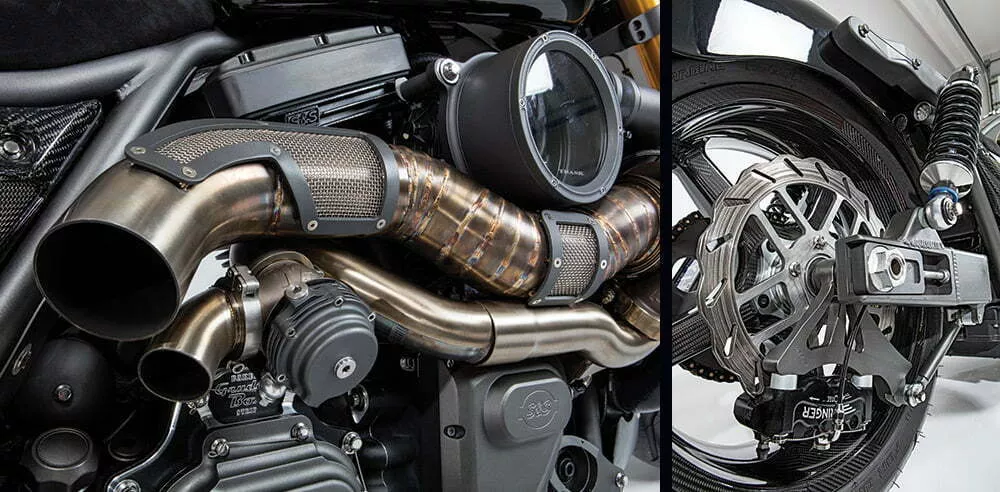 Obviously, the rest of this badass ride is centered around that killer combination of power and handling. Trask Performance supplied generous heaps of performance enhancement throughout Dan's FXR. Öhlins forks and a custom-built JRI shock set make for deep lean for serious canyon carving, while a Baker Drivetrain transmission and clutch transmit all of that raging power to the chain drive and back wheel. Trask chose BST carbon-fiber hoops front and rear to keep weight down; there was no skimping done anywhere on this awesome piece of machinery.
What all of this adds up to is a high-end performance bike with as much power as you could ask for without stealing the Millennium Falcon. Trask Performance wasn't shy about building this masterpiece, and the team is even less bashful about discussing the numbers: The custom-built Trask turbo system and high-flow fuel system, combined with the S&S T143 motor, reportedly produces 300-plus hp and 280 pound-feet of torque, providing the big power we all love. For as much as the shop loves building custom baggers, this Assault FXR build was a refreshing change of pace, and if they had to do it again, they wouldn't change a thing!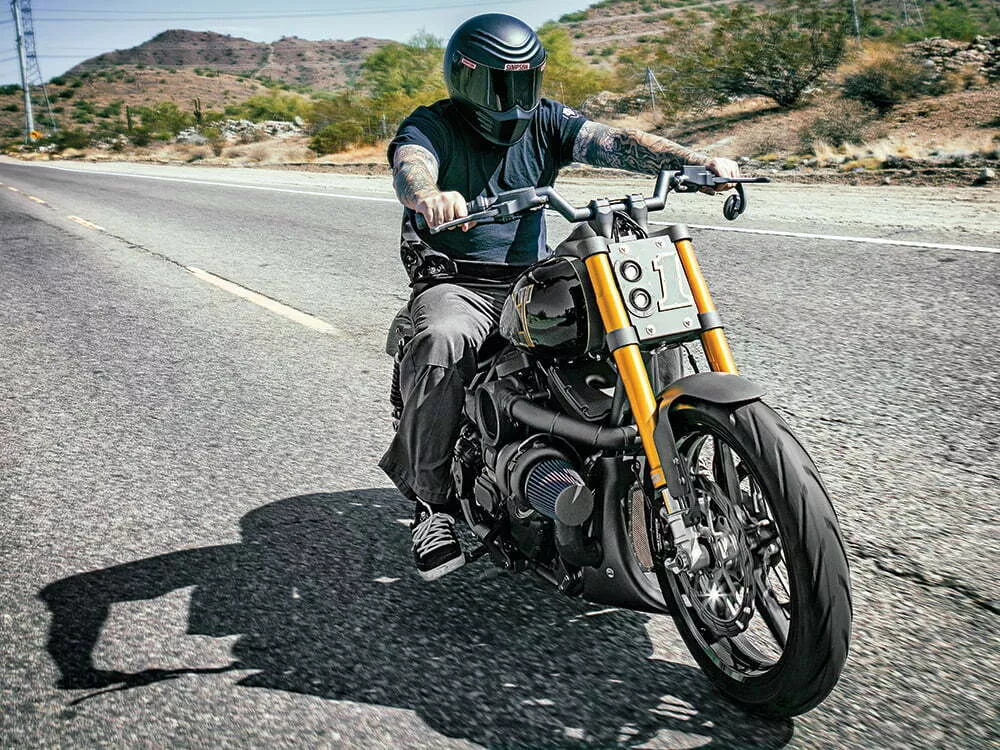 | Specifications | |
| --- | --- |
| General | |
| Owner | Dan Davies |
| Shop | Trask Performance |
| Shop Phone | (623) 879-8488 |
| Website | traskperformance.com |
| Year/Make/Model | 2017/Trask/FXR Assault |
| Fabrication | Trask |
| Build Time | 6 months |
| Engine | |
| Year/Type/Size | 2017/S&S/T143 |
| Builder | Trask |
| Cases | S&S |
| Cylinders | S&S |
| Heads | S&S |
| Rocker Boxes | S&S |
| Cam(s) | S&S 635 |
| Throttle Body | 70mm S&S Throttle Hog |
| EFI Controller | ThunderMax |
| Exhaust | Trask Custom High Output Turbo System |
| Transmission | |
| Year/Manufacturer/Type | 2017/Baker Drivetrain/GrudgeBox with reverse shift pattern & electronic shift interrupt |
| Gears | 6-speed |
| Clutch | Baker Drivetrain King Kong |
| Primary Drive | Solid sprocket, chain drive |
| Frame | |
| Year/Type | FXR/2017 Modified BBC |
| Rake/Stretch | Stock |
| Suspension | |
| Front End | Öhlins |
| Length | Stock |
| Triple Trees | Kraus |
| Swingarm | Macintosh/Brock's Performance |
| Rear Shocks | Custom built by JRI |
| Wheels, Tires, and Brakes | |
| Front | |
| Builder/Size | Brock's Performance Carbon Fiber BTS/19 in. |
| Tire/Size | 19 in. |
| Calipers | Radial Beringer |
| Rotors | Trask |
| Rear | |
| Builder/Size | Brock's Performance Carbon Fiber BTS/17 in. |
| Tire/Size | Shinko/17 in. |
| Caliper | Low-Mount Beringer |
| Rotor | Trask |
| Sprocket | 530 chain-flat |
| Finish/Paint | |
| Manufacturer | Specialty Coatings |
| Colors | Automotive Paint & Cerakote |
| Paint/Graphics | Specialty Coatings |
| Powdercoating | Specialty Coating |
| Accessories | |
| Front Fender | Carbon fiber |
| Rear Fender | FXR sheet metal modified by Trask |
| Gas Tank | Dyna EFI Tank modified by Trask |
| Dash | Custom fabricated by Trask |
| Gauges | Autometer |
| Handlebars | Trask V-Line Moto Bars |
| Grips | Trask |
| Mirrors | Joker Machine |
| Hand Controls | Performance Machine Contour |
| Foot Controls | Harley-Davidson |
| Pegs | Trask |
| Headlight | Dual Vision X |
| Taillight | Laser Star Bullets |
| License Mount | Trask Side Mount |
| Seat | Guy's Upholstery |