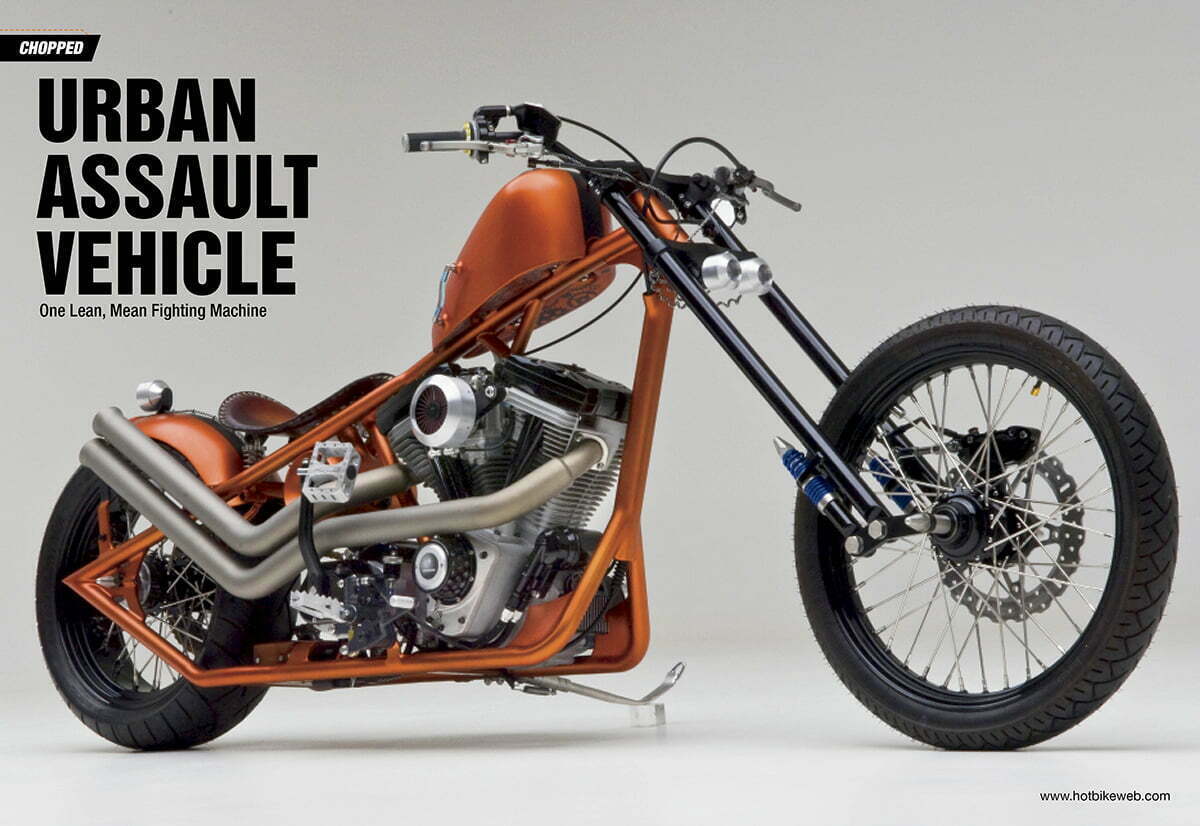 Obviously, Johnathan Martinez's Urban Assault Vehicle is a far cry from the EM-50 urban combat RV featured in the 1981 movie Stripes. For starters, Bill Murray has never stolen it for a drive through Czechoslovakia. At least, not that I know of and I'm pretty sure that would have made the news.
No, his take is a 2012 molten candy orange rigid created for Martinez by Kirk Taylor's shop, Custom Design Studios. The specs say it took Kirk, Mike Miller, and Johnathan himself a year to build. What it doesn't tell you is how Johnathan dreamed it up a decade ago and spent the span of time gathering together the parts. Nor does it say that Ephraim at Kustom Culture was a good enough guy to let Martinez pile them up in a space at his shop, even though he was.
More importantly, Ephraim encouraged and mentored Johnathan with the build. That eventually led Martinez to Kirk Taylor. He'd run into Johnathan at several shows, liked his ideas, and decided to take on the biker's Tetris project that is turning a parts pile into a sweet ground-up chopper. That meant a lot of sweat equity getting paid into this machine. Sometimes making the dream real means making parts work together that aren't a great fit. Kirk elaborated on that for us.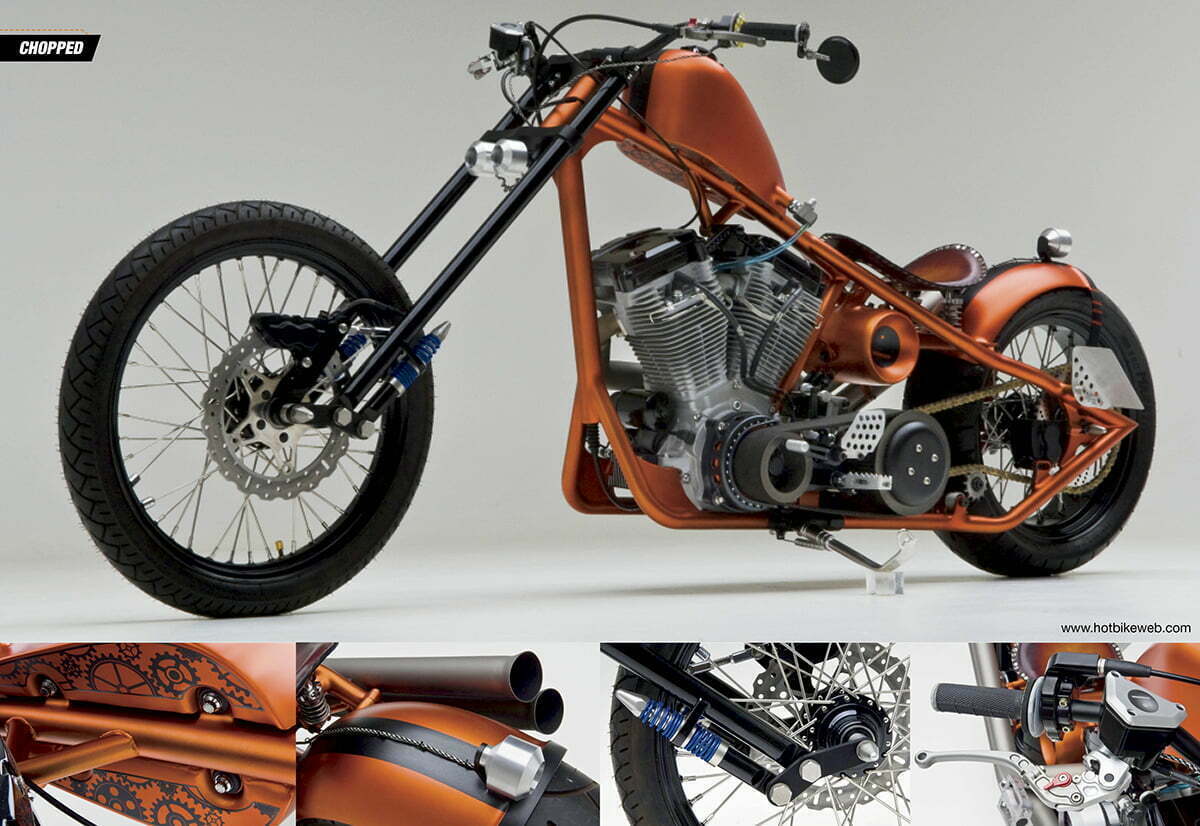 HB: Why a chopper?
KT: Johnathan had dreamed up this bike 10 years ago. He drew it up at the height of the chopper craze on a manila folder. With patience and saved money, he accumulated all the pieces. The amazing thing was, as I was finishing it, he showed me the picture for the first time. The only thing even slightly different was the pipe angle, which I thought was pretty goddamn cool. When that much time passes, your vision usually changes but it didn't here. His vision of the bike stayed crystal clear throughout.
HB: This isn't exactly a bolt-together catalog chopper from that era, though.
KT: A lot of the parts were handmade or modified to fit properly and look good together. The West Coast Choppers pipes had to be cut and redone in like eight places because they hit the points cover. The rear pipe went under originally and I flipped 'em. Russell Mitchell at Exile hooked him up with a beltdrive. We made it and the mid controls fit. See the oil bag? It was a Phil Dodge blank. I had a lot of fun making that fit. The thing has a weird angle and the rear seat post was kicked way back. That seat pan was a West Coast blank. We cut it in the center for quick access to the oil cap. Its tail and head are also handmade. Speaking of the seat, Duane Ballard used California-compliant dyes on the seat but they won't stand up to the sun so he's getting new ones.
<div class="st-block quote text-
Notice: Undefined index: st_text_align in C:laragonwwwhotbike-importblocksquote.php on line 1
">
Johnathan had dreamed up this bike 10 years ago
HB: I like how the bars sit in relation to the top of the tank.
KT: We took a set of bars and clip-ons, then put them on the Jerry springer frontend. One cool thing about those frontends is the Chevy big-block valve springs. The handlebars are flipped and locked in the angle we wanted. They've got CRG roller click levers off of a CBR600. Then there's the Joker Machine quarter throttle. There's a lot of cool stuff on it. A lot was adapted like those levers."
HB: How does it handle?
KT: His daily rider is a Triumph Thruxton. You'd expect him to hate a chopper after riding the Trump but after his first 10 miles, he was like, "It's exactly what I expected it to be." He's a union electrician by trade so he wanted a remote start and the latest ignition to go with it. That had problems so we talked him into a kickstart only with a Dyna dual fire ignition instead. The bike runs nice now because of that. The kicker pedal is a Baxter motocross type.
HB: Which of those challenges gave you the most grief?
KT: Making the pipes fit. Making them look like they were supposed to be on there. And the rear fender. It was an F-ed up blank I had to re-cut to follow the arc of the wheel. I had to re-cut in like 16 places. Making it look good and keeping usable was a hard but it all paid off in the end."
HB: So where's the car part? It's your signature move, Kirk. Where is it?
KT: We always like putting a car part on our bikes [laughs]. One's the top motor mount. We created it from the steering shaft on a car. Cars weren't the only thing we borrowed from, though. There's also a Le Mans pop-up fuel cap from a boat I believe Mooneyes sells now. The wire looms on the taillight are fishing line loops from a fishing rod. We also used Fender guitar sleeves for the rear fender wiring because they're black with chrome tracers. Make sure you look under the gas tank too. It's got gears like a Swiss clock.
HB: Tell us about your personal style when it comes to bike building.
KT: I like traditional. I like classic chopper lines combined with maintaining practical riding. That's because I grew up in the machine shop and I've been around motorcycles since the early '70s. Without keeping myself locked in, I'm kind of doing what Roland's doing—introducing sportbike stuff to the V-twin world. Rigids and rubbermounts are me though. The sport bike stuff is much cheaper and offers great handling. I'm a gearhead who loves cars too, and as you pointed out, I like to put a piece of them on our bikes. It's like an homage to your roots if you want to get all artsy about it. It's nice to go around the world and see what other people are doing. I got 'frisco style in my blood but it's nice to introduce other aspects.