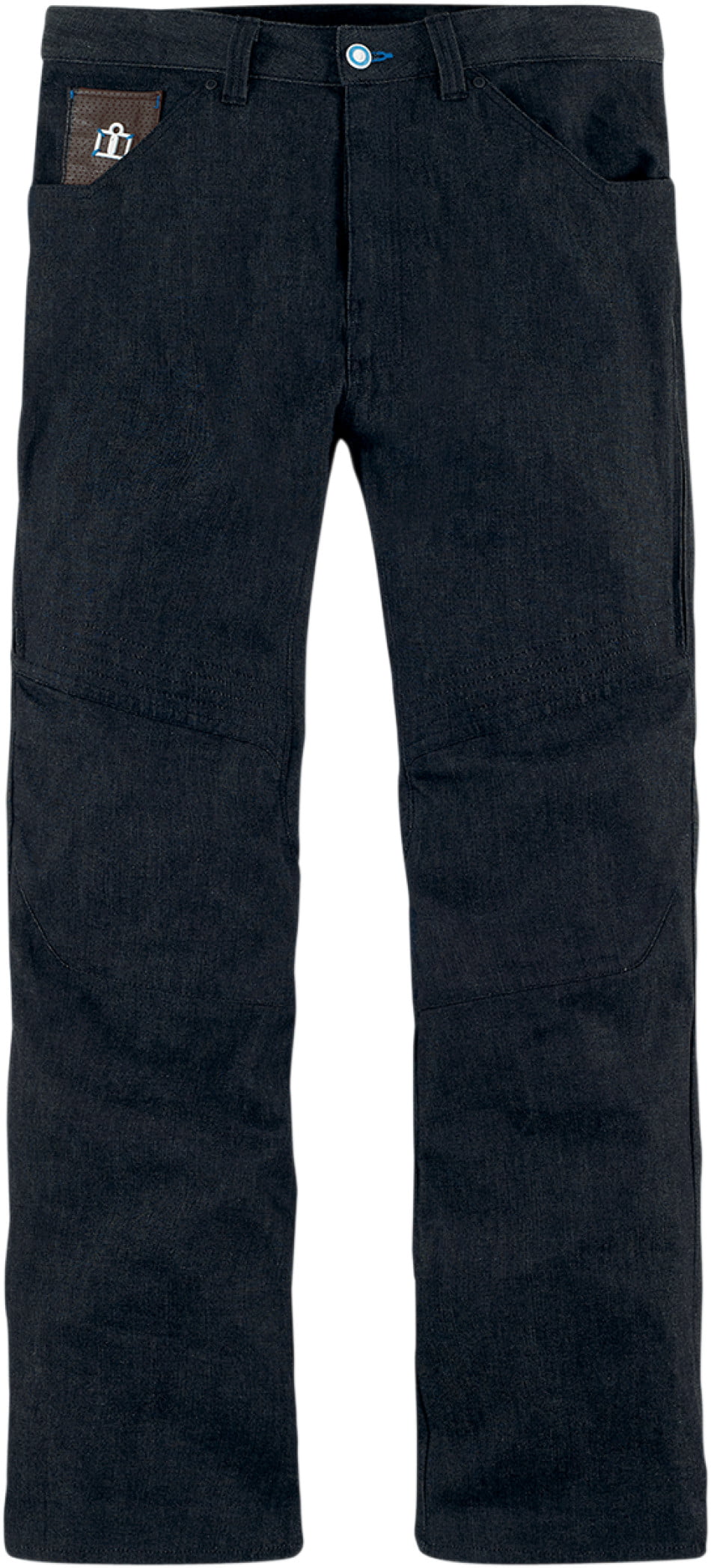 Who doesn't appreciate the protection offered by armored riding pants? But come on. Let's face it: They're ugly and usually uncomfortable. Most prefer to ride in jeans. Comfortable and cool, denim is rugged enough to provide a sense of security while casual enough to walk around in once the bike is on the sidestand.
Clearly, though, that sense of security is a myth; your trusty Levi's aren't going to do much to save your hide if you hit the asphalt. The past few years have provided another alternative, however. Icon is at the forefront of stylish motorcycle wear and offers plenty of apparel geared toward riders who don't want to look like a riding billboard or some kind of cartoon superhero. And the company's riding jeans are designed to take the punishment and, in the event of peril, help you survive.
Icon's Hooligan jeans are fashionably cut: slim but not tight, with a slight bend in the knee and plenty of room in the crotch. The 95-percent denim/5-percent spandex blend stretches just enough to keep from pinching in the creases. The Hooligans feature Kevlar-reinforced knees and add CE-approved kneepads for extra protection. Double and triple stitches keep the seams from splitting, and the pockets are deep and roomy. The Hooligans come in indigo blue or a cool, steely gray color for a suggested retail of just $120.
For those who want to wring every possible weekend out of their riding season, Icon also offers its Insulated jeans, which come with a zip-out thermal liner. With the liner in, they're cozy; without the liner, they are comfortable and cool and not at all bulky. The soft liner isn't terribly thick, so these should never be mistaken for cold-weather riding pants; still, these jeans should manage to keep the chill at bay from Bike Week to Biketoberfest and beyond. The cut is similar to the Hooligan's, but because they're made of pure denim, Insulated jeans feel more natural and organic. They feature the same copious pockets, Kevlar-reinforced knees, and that zippered access pocket for armor removal (and summer venting). Plus, the dark indigo wash looks crisp and contemporary. For $150, you get riding jeans that are as cool in August as they are warm in November.