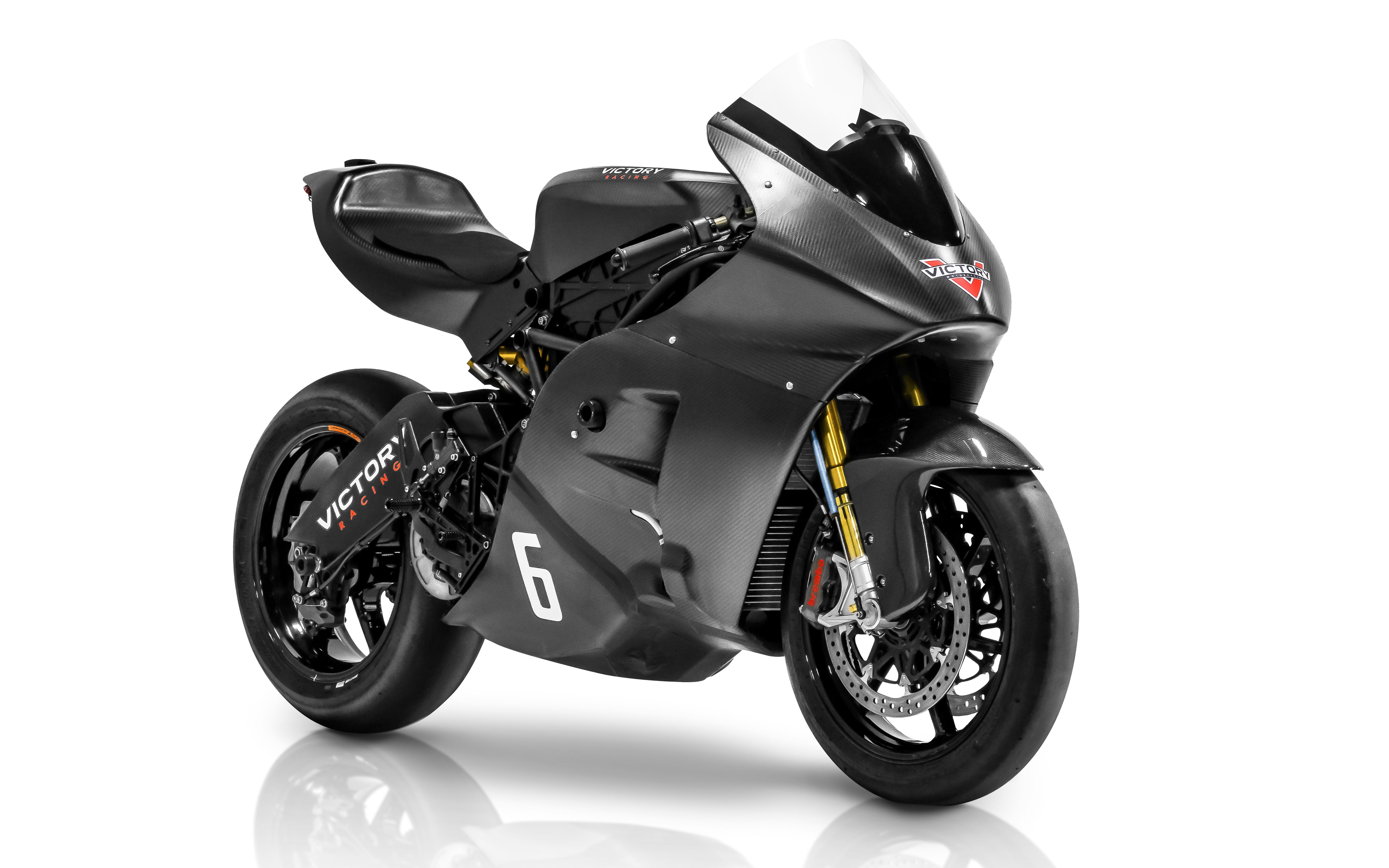 Victory Motorcycles, a brand that delivers Modern American Muscle by producing motorcycles with head-snapping acceleration, power and handling, is returning with the Victory Racing team to compete in the Isle of Man TT Zero race with an all-new electric race bike called the Victory RR.
"One way we continuously push ourselves in performance is through our Victory Racing initiatives," says Alex Hultgren, Director of Marketing for Victory Motorcycles. "The Isle of Man TT is one of the most challenging motorcycle races in the world, so of course we have to be there."
Victory's international R&D development program is well underway and the Victory RR bike serves as a test bed for technology that will be used in the brand's future products.
According to Brian Wismann, Victory Racing's team manager: "Our electric Empulse™ RR race bike placed third on the podium in the TT Zero race last year, which we were thrilled with. Using the data we gathered on our laps of the TT course has helped us to develop a new battery module as well as improving the powertrain. We feel like we can return to the TT with more performance as well as being able to test this technology for our future products."
"This year with a new machine and new technology behind us we continue to have high expectations," Hultgren adds. "We are working to develop the best platform for our racer, William Dunlop, who is familiar with the view from the podium."
"The newly developed battery leverages the lessons learned from our entry in last year's TT Zero event," Wisemann says. "The battery is a ground-up new design with the help of our technical partners at Brammo and necessitated a big change in the chassis design – from an extruded aluminum twin spar to a steel trellis frame. The biggest difference in the battery itself is an improvement in both the overall energy / capacity we're carrying onboard the bike, as well as a marked improvement in the energy density of the battery itself. As you know, lithium-ion battery technology is improving every year and with the Victory RR we are leading the way to batteries that will provide more performance, greater range and less cost in future vehicles."
Some enhancements have also been made to the electric motor. Developed in partnership with Parker Hannifin, the motor is called the Parker GVM. It boasts world-class specific power (the power to weight ratio), producing a peak of over 170hp from a package that is only eight inches in diameter and five inches long. With peak efficiencies topping 97 percent, it is clear to see why Victory gets excited about the potential of this powertrain for future products.
"Compared to the electric motor we used in the TT Zero event last year, this year's version features an even further optimized winding configuration based on the data gathered from last year's bikes," Wismann says. "Coupled with the increased energy on board in the battery, William Dunlop will have access to more of the power available from this motor than in 2015."
The first practice for the TT Zero is scheduled for Friday June 3 at 8:40 p.m. A second practice takes place on the Monday June 6 at 4:25 p.m., and the race itself begins Wednesday June 8 at 4:20 p.m.
Visit www.victorymotorcycles.com/en-us/isle-of-man for more information about Victory Racing at the Isle of Man TT. Learn more about Victory Motorcycles at VictoryMotorcycles.com or follow on Twitter and Facebook.
ABOUT VICTORY MOTORCYCLES
Victory Motorcycles designs, engineers, manufactures and markets a full line of cruisers, baggers and touring motorcycles. Every Victory model delivers industry-leading performance, comfort, style, storage and reliability. The first Victory was produced on the Fourth of July, 1998, in Spirit Lake, Iowa, where every Victory motorcycle continues to be produced today. Information about Victory motorcycles, apparel and accessories is available at www.victorymotorcycles.com and on Facebook.
ABOUT POLARIS INDUSTRIES
Polaris Industries Inc. (NYSE: PII) is a global powersports leader with annual 2015 sales of $4.7 billion. Polaris fuels the passion of riders, workers and outdoor enthusiasts with our RANGER, RZR and POLARIS GENERAL side-by-side off-road vehicles; our SPORTSMAN and POLARIS ACE all-terrain off-road vehicles; VICTORY and INDIAN MOTORCYCLE midsize and heavyweight motorcycles; SLINGSHOT moto-roadsters; and Polaris RMK, INDY, SWITCHBACK and RUSH snowmobiles. Polaris enhances the riding experience with parts, garments and accessories sold under multiple recognizable brands, and has a growing presence in adjacent markets globally with products including military and commercial off-road vehicles, quadricycles, and electric vehicles.