The Harley-Davidson Motor Company turns 115 years old in 2018, and to celebrate such a momentous occasion, Harley is throwing one killer shindig throughout the Milwaukee area from August 29–September 2. There are so many activities going on throughout the week that it's crucial to prioritize what events make sense for you. Here's a hit list of things we're looking forward to that we can realistically make happen. To make things even easier, you should probably grab one of Harley's event packs here. So much to do, so little time…
Flat Out Friday
Anytime Dr Pepper syrup is slathered on a concrete oval track with tricked-out Harleys banging bars for the coveted checkered flag, you have a recipe for success and great times. There's also free motorcycle street parking surrounding the arena, so don't worry about walking miles to get to the entrance. Get there early because the pre-race street party has everything you need, including live music, to keep you entertained until race time. You'll need special tickets for the races, though, which you can grab here.
H-D Beach Brawl presented by The Race of Gentleman (TROG)
On Saturday September 1 from noon–7 p.m. watch bikes tear through the sand on the shoreline of Lake Michigan for the first time in more than 100 years. And this is a free event! Stop by the Lake Michigan shoreline at Bradford Beach on Friday to see the racers prepping and practicing. Or just hit the races on Saturday to get an eyeful of vintage and new bikes battling it out on the oval, paying tribute to the early days of racing. Bring your board shorts and appetites, too, since the beach is open for swimming, while food and beverage will be flowing from the tiki bars all day.
If you want a chance to participate in the race on Saturday, September 1, check out the race class requirements and enter your bike here.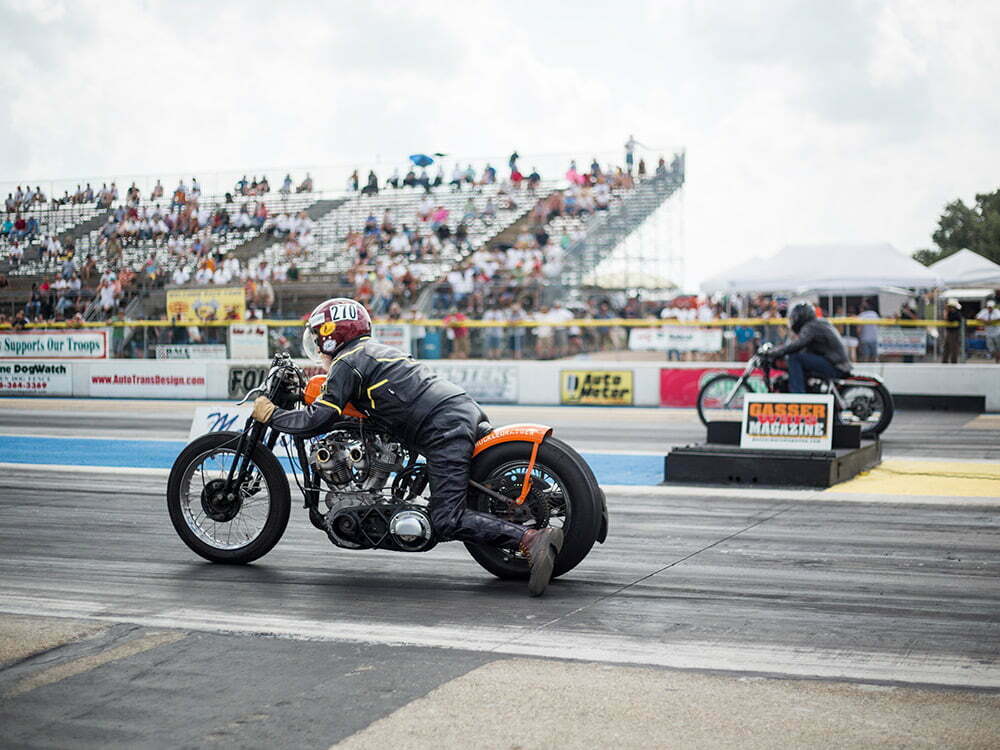 Run What You Brung Drag Racing
If you think your bike has the chops to beat any other Harley on the road, take it to the ultimate proving ground at the Great Lakes Dragaway Run What You Brung Drag Racing event on Friday, August 31, from noon–10:30 p.m. Harley riders from around the world will twist the throttle and race side by side at the iconic "biggest little track in the world" for bragging rights and good times. And you can race as many times as you want! Also, the Twin Stunts All-Harley Show will have three performances throughout the day to keep you entertained when you're taking a break. Get tickets here, or sign up to race here.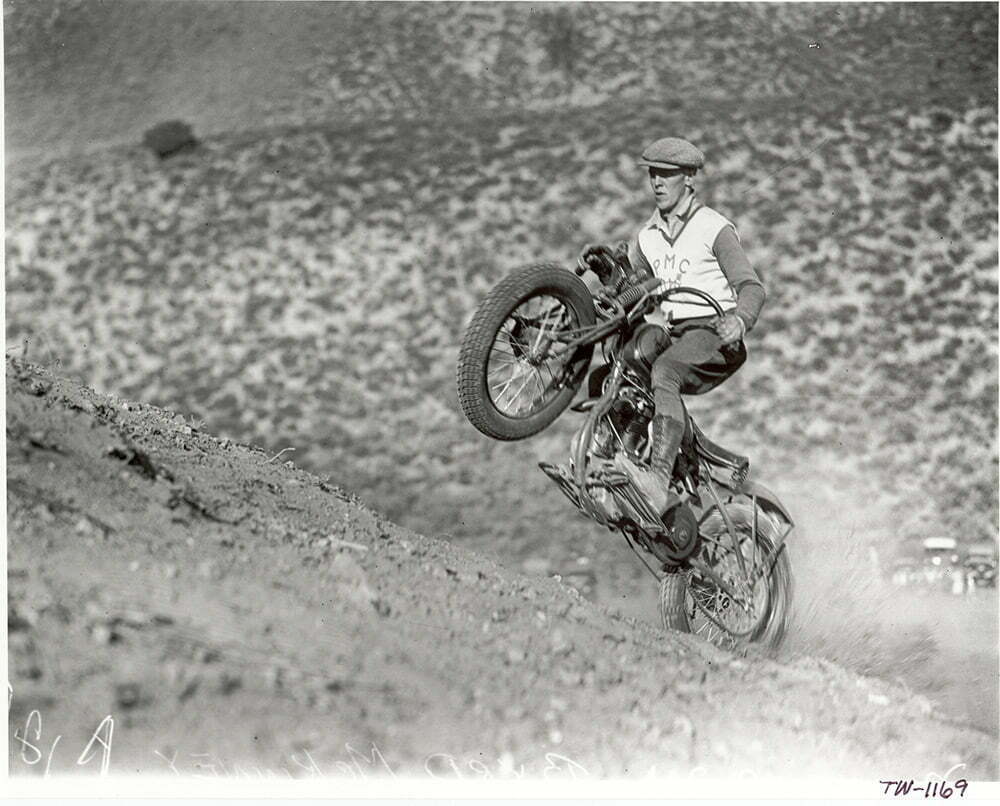 Hill Climb
On Saturday, September 1, from 9 a.m. to 2 p.m., take a ride up to Little Switzerland to watch some vertical racing action as racers scale the front side of the ski hill, competing for time and distance and, of course, the prize purse of $8,500! All ages are welcome. Race spectators: $10 general admission ticket (kids 12 and under are free); $25 VIP ticket (must be 21 to enter) includes access to indoor air-conditioned chalet, special viewing area on the deck, and one drink ticket (beer, soda, water). General admission and VIP tickets for Saturday, September 1, are available here. If you're so inclined to try your luck at the hill climbs, sign up to take part here.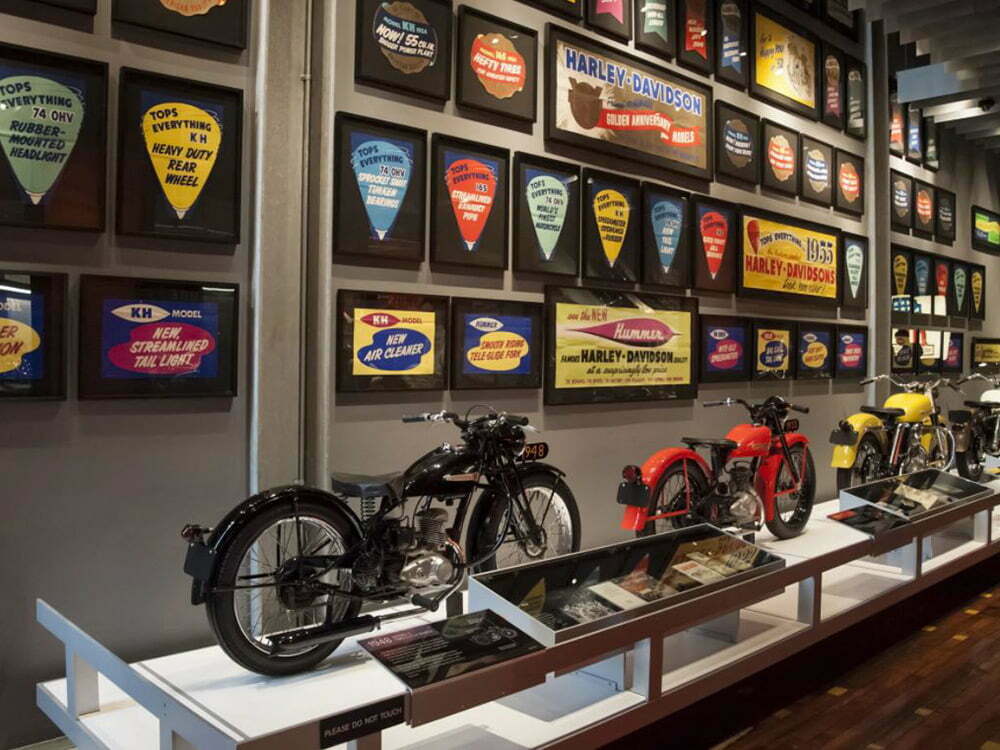 Museum
But the museum campus location alone is literally ground zero for the Harley-Davidson 115th Anniversary Celebration activities. And there are a lot of great things going on with live music all weekend long, custom bike shows, stunt shows, art exhibits, and so much more. And, of course, so many great artifacts from the early days of H-D all the way to the present day with everything in between will be on display inside the museum. All HOG members enjoy complimentary admission to the Harley-Davidson Museum with a valid HOG membership card and photo ID. General admission museum tickets are available for purchase the day of your visit (August 29–September 2). Free motorcycle parking is available but is on a first-come, first-served basis, so get there early!
Street Parties/Concerts
There are so many street parties and concerts, we picked a few where you just might see the Hot Bike editors rocking out. Otherwise, check the event schedule street party/concert listing here for venues and their locations, and we'll leave it up to you to decide where you toss 'em back, responsibly, of course.
Party in the Park – Rotary Performance Pavilion, 1190 N. 70th St., Wauwatosa
The Wauwatosa Village welcomes Harley-Davidson. Come experience four nights of local entertainment, food and beverages at this centrally located park in the heart of Wauwatosa. Designated motorcycle parking is available throughout the area and discounts at outdoor concessions and area Village businesses are available to H-D Rally Pack wristband holders. There will be live music from around 5:30 p.m to 11 p.m. nightly from Aug. 29-Sept. 1.
Motorcycle Alley – S. Fifth St. south of W. Virginia St.
Take a stroll down Fifth Street from August 31–September 1 from noon to midnight to check out live bands, beverages, vendors, BMX/skate demos, and motorcycle-only parking.
Brady Street Experience – E. Brady St. between N. Marshall St. and N. Farwell Ave.
Brady Street, or "mini-Sturgis" as the locals call it, goes from 4 p.m. to midnight on August 31–September 1. This eight-block stretch of Brady Street will be your playground with several side street parties showcasing amazing drinks, dining, and entertainment. On Sunday, September 2, from 10 a.m.–2 p.m., make sure to head down to Brady Street to enjoy a Biker Brunch hosted by local restaurants and pubs.
Milwaukee Motorcycle Film Festival – Oriental Theatre, 2230 Farwell Ave.
Are you a motorcycle film buff? Looking for solace in a quiet theater away from the grind? Check out the Milwaukee Film and Harley-Davidson Motor Company's four-film series celebrating past and present motorcycle culture. Held at Milwaukee's historic Oriental Theatre, a mix of classics and documentaries combined with archival footage from the Harley-Davidson Museum will provide a truly unique weekend experience. Tickets available online.
August 31
12 O'Clock Boys: 7 p.m.
Psychomania: 9:40 p.m. (shown in 35mm)
September 1
The Wild One: 3 p.m.
Sugar and Spade: 5:30 p.m. Live accompaniment from Rocco DeLuca and Q&A with "Spade" George and Austin "Brown Sugar" following the film.
"Bikes on Broadway" – Historic Third Ward Street Party – N. Broadway between E. St. Paul Ave. and Catalano Square Park
Stop by the Historic Third Ward on Saturday, September 1 from noon to 10 p.m. to visit the vibrant neighborhood of shops, galleries, restaurants, and the Milwaukee Public Market. Ample free motorcycle parking is available on city streets throughout the neighborhood all weekend. Enjoy a festival atmosphere including live music in Catalano Square, outdoor food and beverage, and more!
Lady Antebellum and Darius Rucker with Russell Dickerson – American Family Insurance Amphitheater, 200 N. Harbor Dr.
Are you a country music fan? You'll definitely be right at home listening to the aural delights of Lady Antebellum and Darius Rucker with Russell Dickerson. Harley-Davidson 115th Anniversary Rally Pack wristband holders receive complimentary gear check (one jacket and helmet per person) and access to private pre-show gathering area adjacent to the amphitheater to socialize with friends (first come, first served). All riders attending the show receive complimentary motorcycle parking (first come, first served). See full benefits at h-d.com/115pack. Concert tickets are available here.