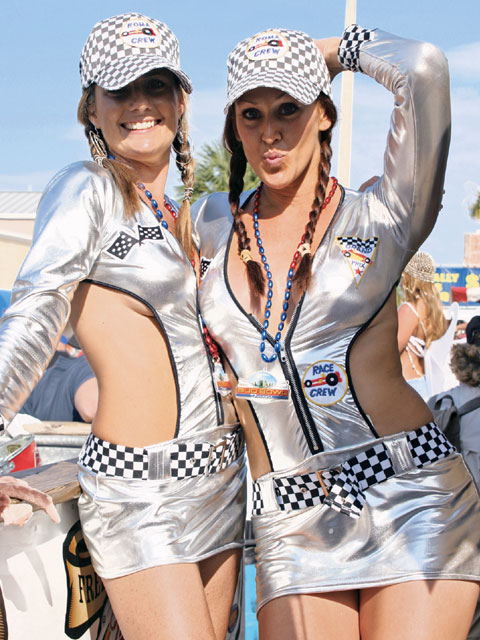 Racing's only a third of the Daytona spectacle; uninhibited mayhem and custom scoot shows are the other two, and while you can see sleek slaw-slingin' vixens duke it out in only one place, you can catch a few different bike shows throughout Bike Week on various days. From mild to wild, vintage to state-of-the-art, there's plenty to see if you're in the right place at the right time.
Wednesday March 7, 2007
Harley-Davidson Ride-In Show: Ocean Center (east side); 8 a.m.-4 p.m.
Thursday March 8, 2007
Second Annual IMBBA Show: Daytona International Speedway; time TBA.
Friday March 9, 2007
16th Annual Boardwalk Classic Ride-In Show: Corner of Main St. and Ocean; 8 a.m.-4 p.m
Saturday March 10, 2007
The Rat's Hole Show: Daytona Lagoon Water Park, 601 N. Earl St.; two blocks north of Main St. near Earl and North Wild Olive Ave. Time TBA.
The 16th Annual Boardwalk Classic Ride-In-Show
If you missed out Wednesday and Thursday, you can still catch the Boardwalk show at the beach. There'll be lots of great customs to see, and admission is free to spectators. Registration starts at 8 a.m. and goes to 11 a.m. The show itself goes until 4 p.m.
2nd Annual IMBBA Show
In '06 there was a new show at the Speedway. It's back again, and this time it's personal. Last year, the inaugural IMBBA (International Master Bike Builder's Association) had more than 80 scoots competing in various classes, with food and live music to set the mood.
Last year during bike week, IMBBA hosted its 1st Annual Bike Show. Look for this year's to be even bigger.
The Rat's Hole Show
For years this world-famous bike show was held at the local auditorium, but in recent years it was moved to the Daytona Lagoon Water Park, which is a lot more spacious. Karl "Big Daddy Rat" Smith started the Rat's Hole more than 30 years ago in an A&P; parking lot. Since then it's grown into a major event with more than 400 show-quality rides to ogle. Since Karl's passing in '02, his son Ted has carried the torch, and you can see Rat's Hole shows during Daytona and other events throughout the year.
Harley Ride-In-Show
Every year Harley-Davidson hosts its own Daytona Beach ride-in show at the Ocean Center. You can register your Harley between 8 a.m. and 11 a.m. on the 7th, and judging will take place following. The $10 entry goes to the Muscular Dystrophy Association, and there'll be 16 classes with a cash prize and trophy in each.