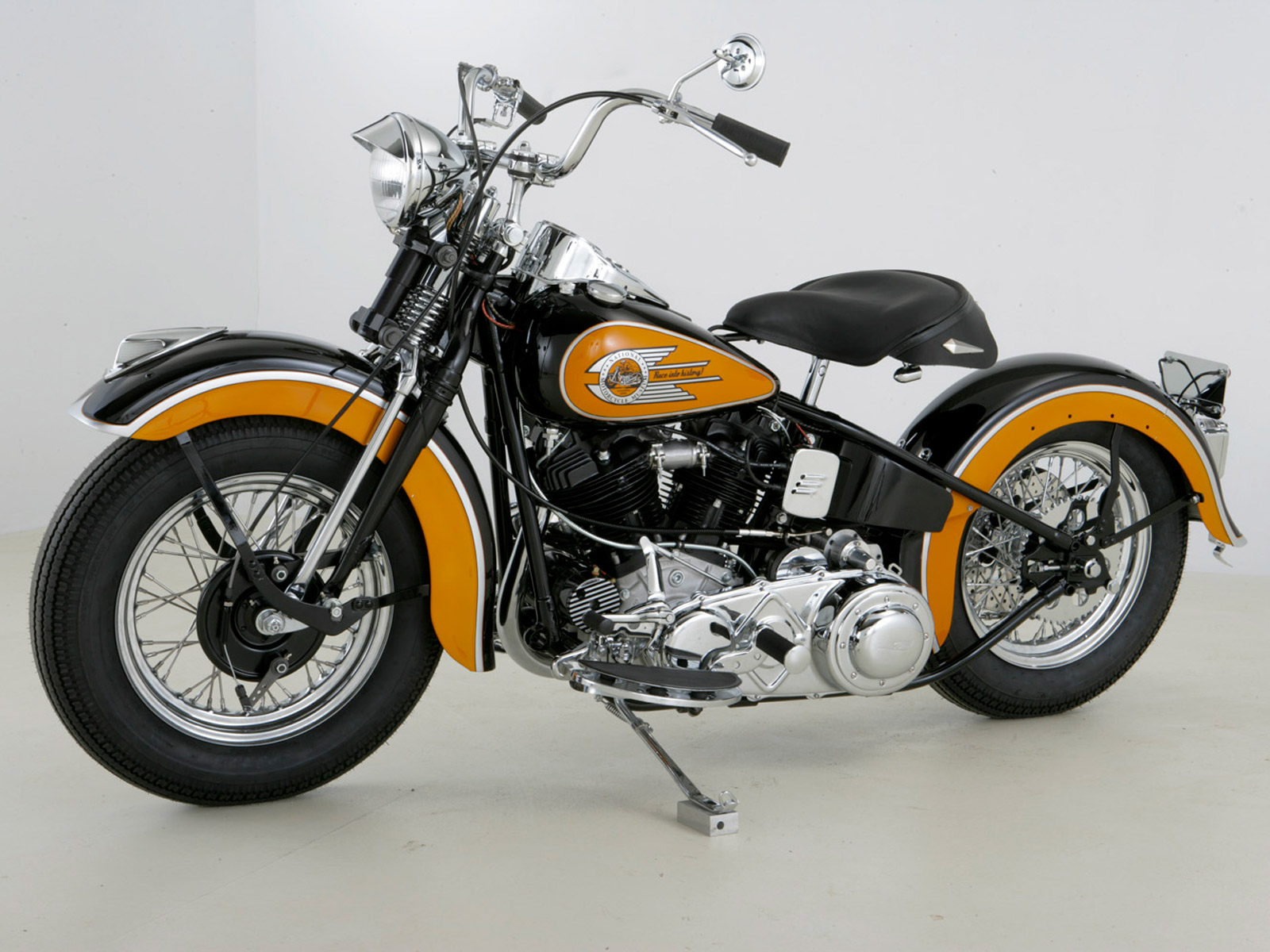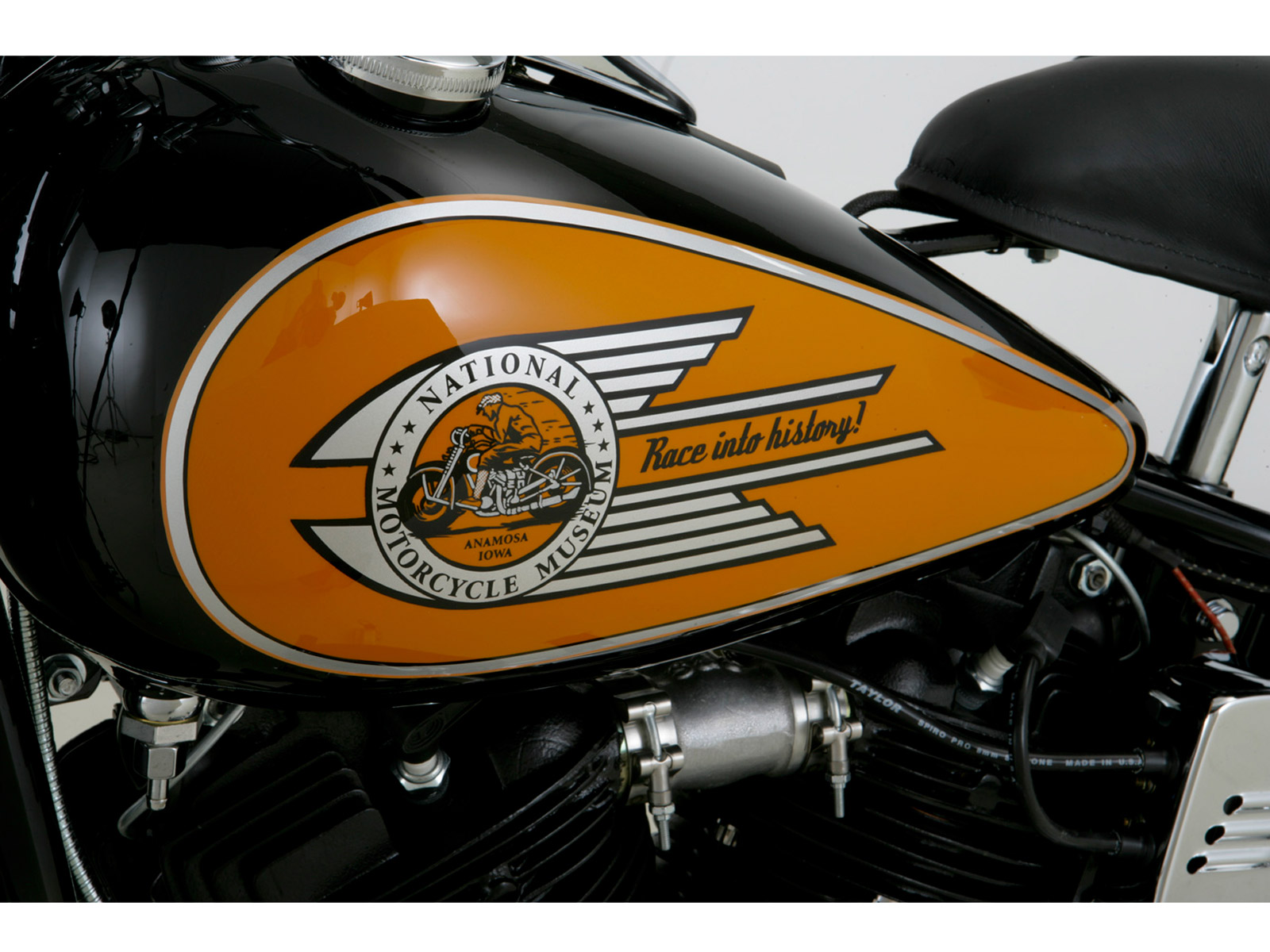 ANAMOSA, Iowa - Cool, original Knucklehead style with 21st century performance. That sums up the 2011 National Motorcycle Museum Fundraiser Bike, and you could win it!
The price is through the roof on real antique Harley-Davidson Knuckleheads, one of HD's most lasting all-American designs. So why not bring together a forged and TIG-welded V-Twin Manufacturing replica frame and chrome springer front end, a Baker 4-speed and Tech Cycle enclosed belt primary, some authentic tin, removable leather bags and a windshield. Then drop in a 93 cubic inch S&S; Knucklehead motor; the best of all worlds! Fit a strong rear disk brake from PM, a hot electronic ignition, add some chrome and a House of Color glossy black with orange paint job by JC Hetz Studios. All that's left is to jab the electric starter button and take it for a spin, if you win.
You can donate to win for just $5 a chance or six for $25. Send your check to: National Motorcycle Museum, PO Box 405, Anamosa, Iowa, 52205. Go to www.nationalmcmuseum.org and download the order form to mail back with payment, or use an electronic check on the website. Iowa law prohibits the use of credit cards, but it's still easy to enter. Last option, call 319-462-3925 and tell the Museum staff you need some entries for the Knucklehead.
John Parham, President of the Board for the Museum offers, "I'm really proud of our fund-raiser bikes over the years, and the great support we've had, all the donations our friends have made to win the bike. This new black and orange Knuck may be our best yet, so I hope you enter to win. Thanks again for all your support." The bike was designed and built by J&P; Cycles® Bike Builder Kody Wisner. J&P; Cycles® sponsored with the build hours and many of the fine parts.
The bike will be featured as a build project in Hot Bike Magazine this summer, so be sure and pick up a copy to follow the process. In a hurry? Parts lists will be available should you want to go to the J&P; Cycles® catalog and build your own Knucklehead. The drawing is December 30, 2011 and you need not be present to win.
Cruise into the National Motorcycle Museum, located at 102 Chamber Drive in Anamosa, Iowa, and experience the extensive line of over 300 motorcycles from around the world as well as thousands of photographs, posters, postcards and pieces of motorcycle memorabilia, plus a fabulous collection of antique toys. Admission is $8.00 while children 12 and under are admitted free when accompanied by an adult. The Museum's winter hours are Monday – Saturday 9 a.m. to 5 p.m. and Sunday 10 a.m. to 4 p.m. The National Motorcycle Museum is a not-for-profit 501 (c) (3) corporation. For more information, call 319-462-3925 or plan your visit to the Museum on the web at www.nationalmcmuseum.org.