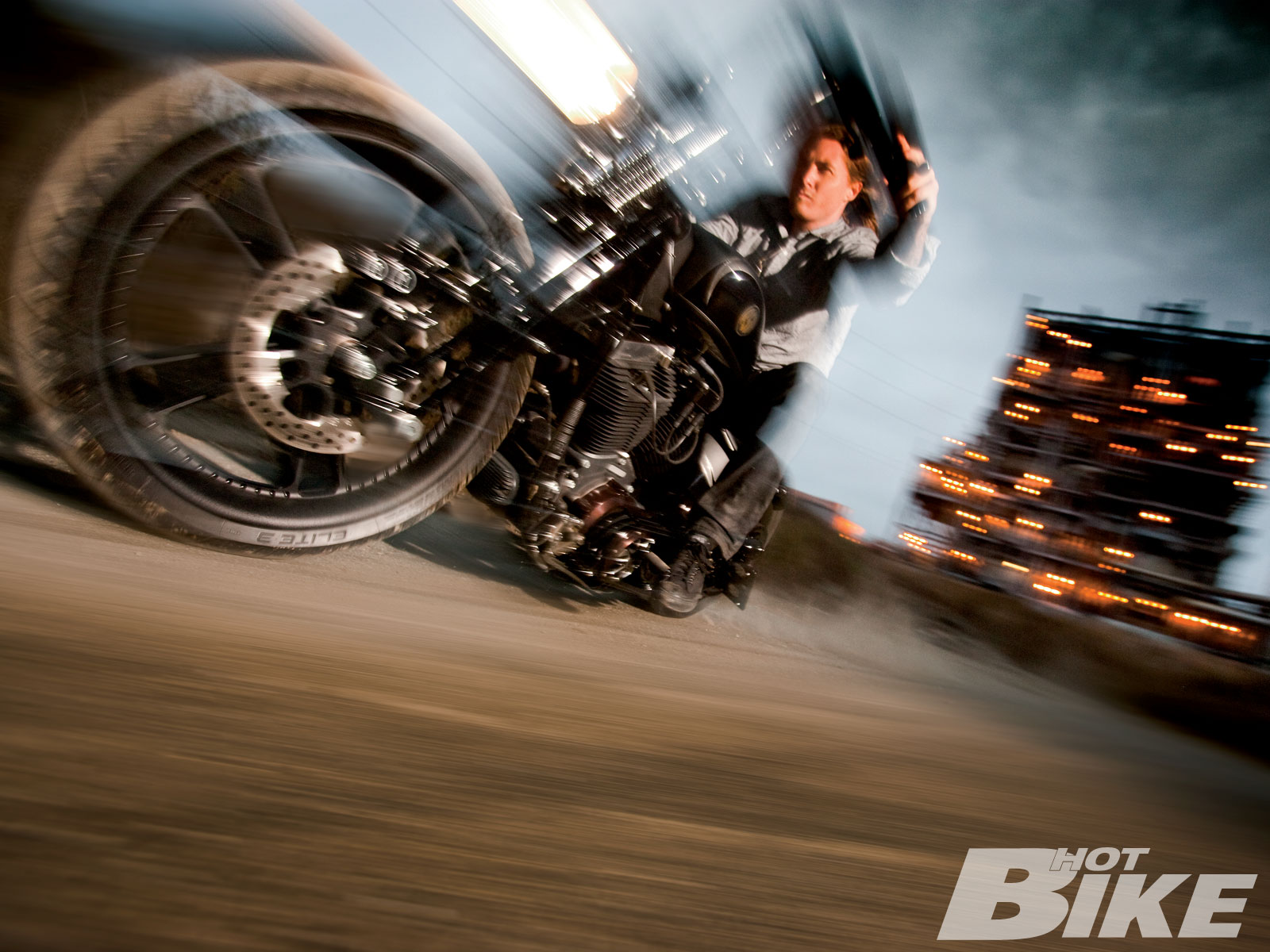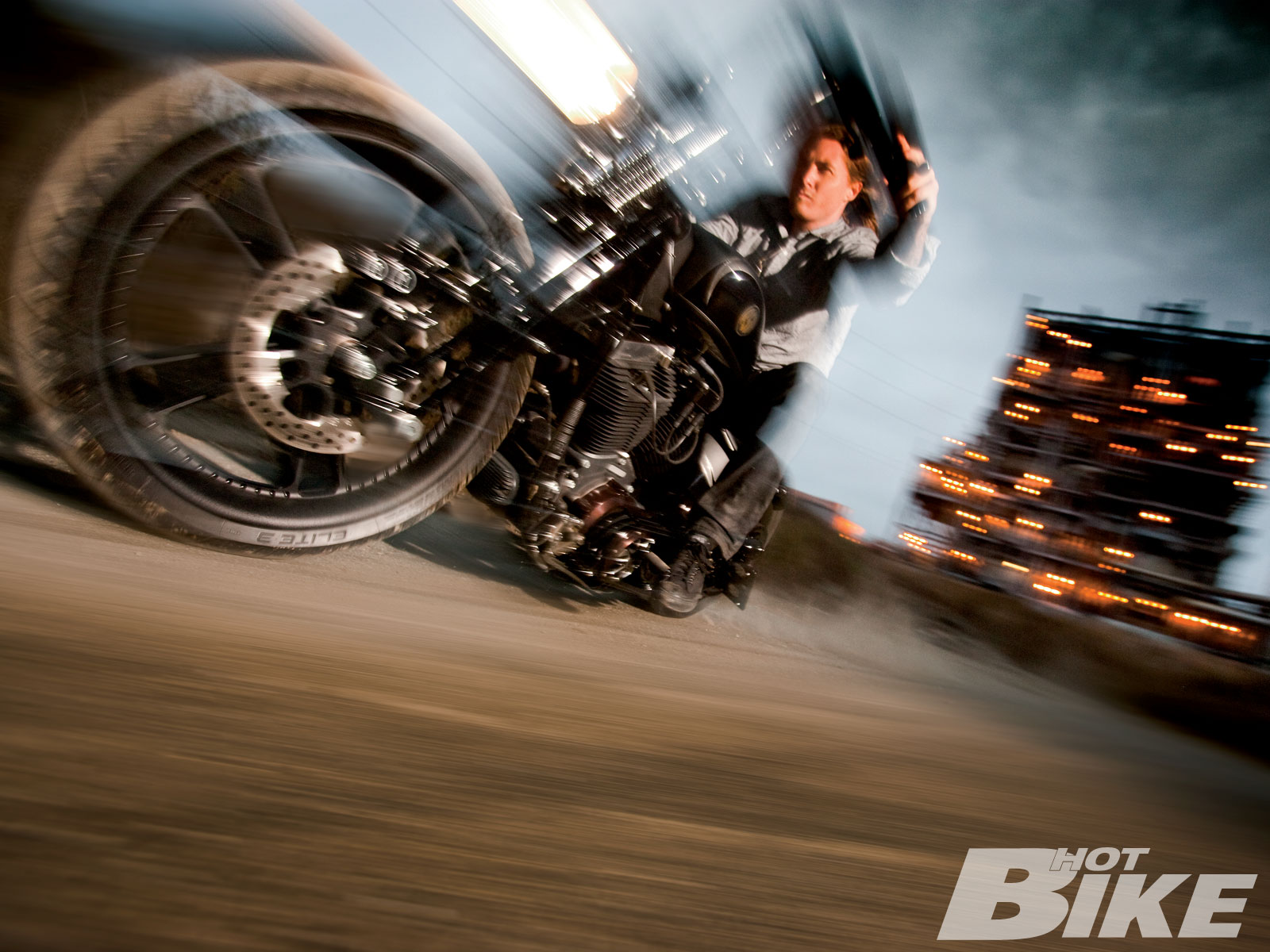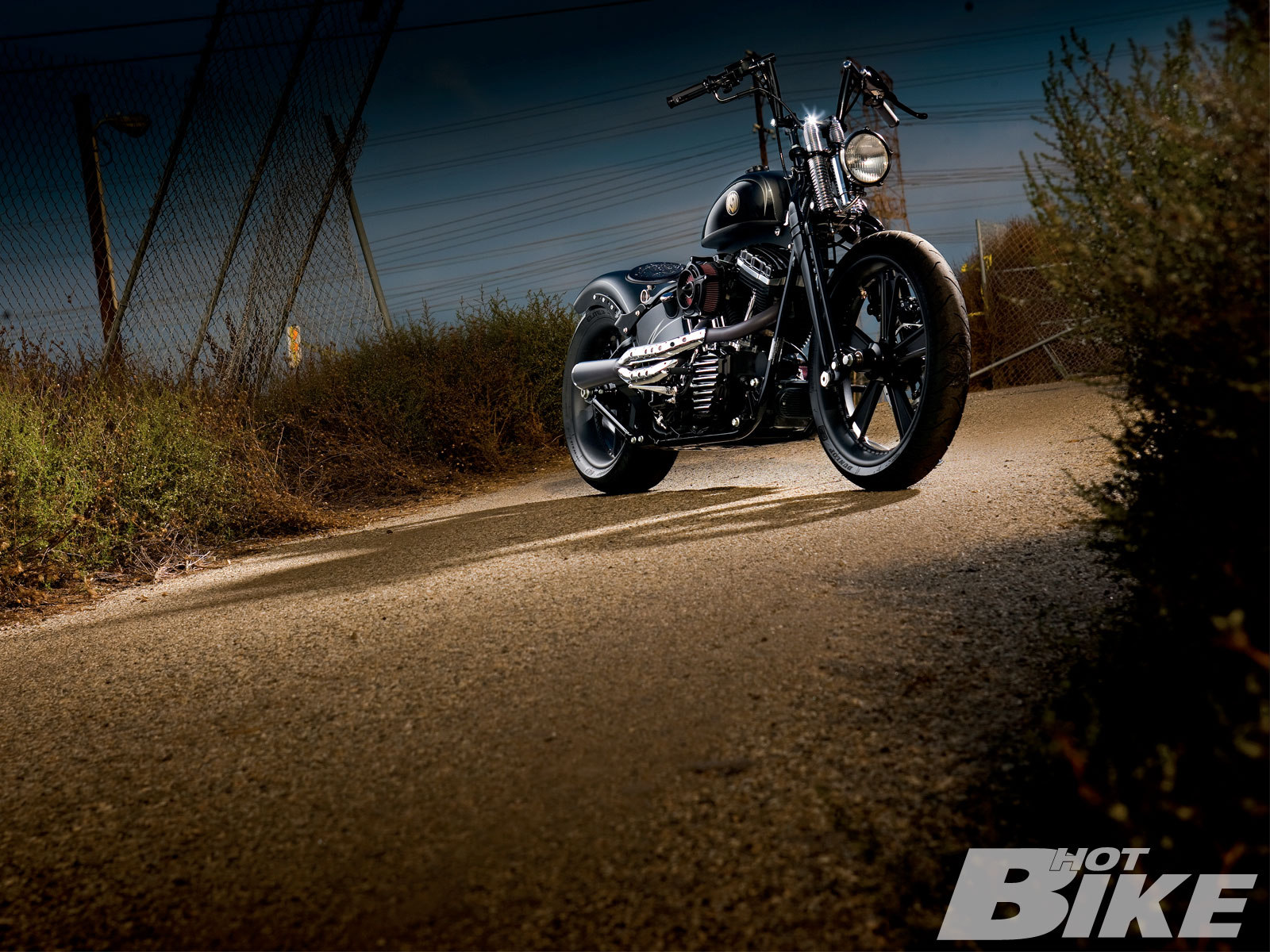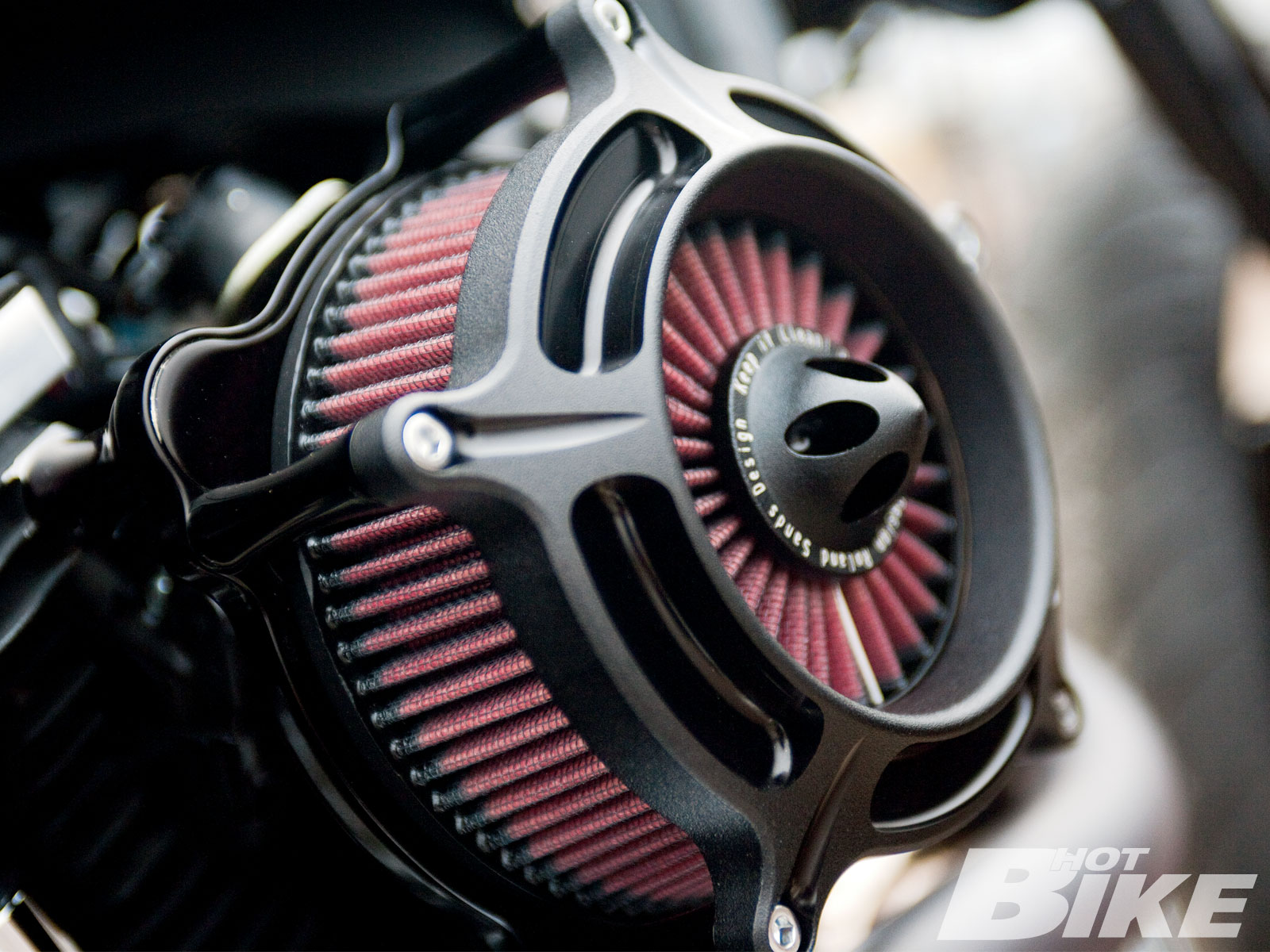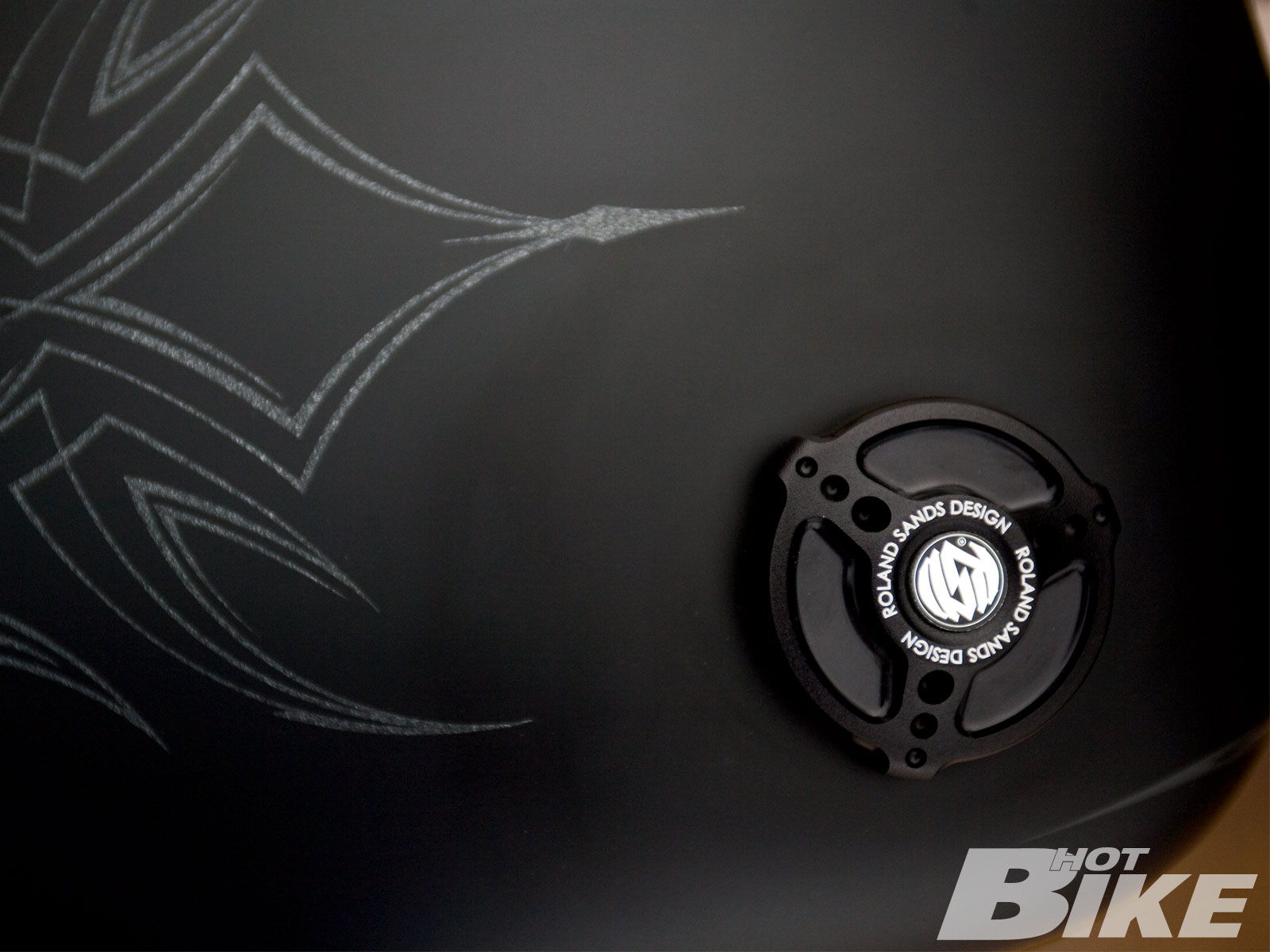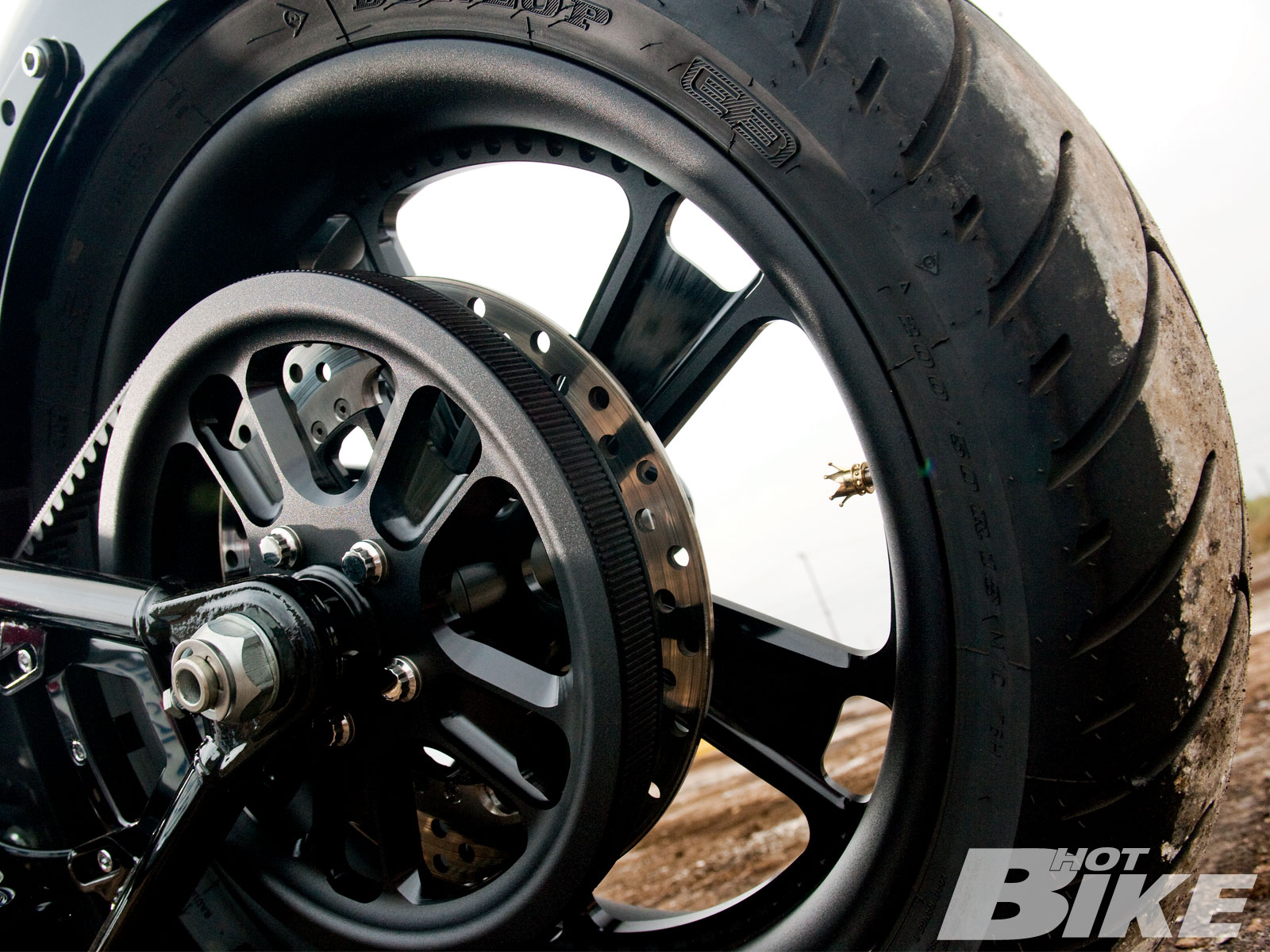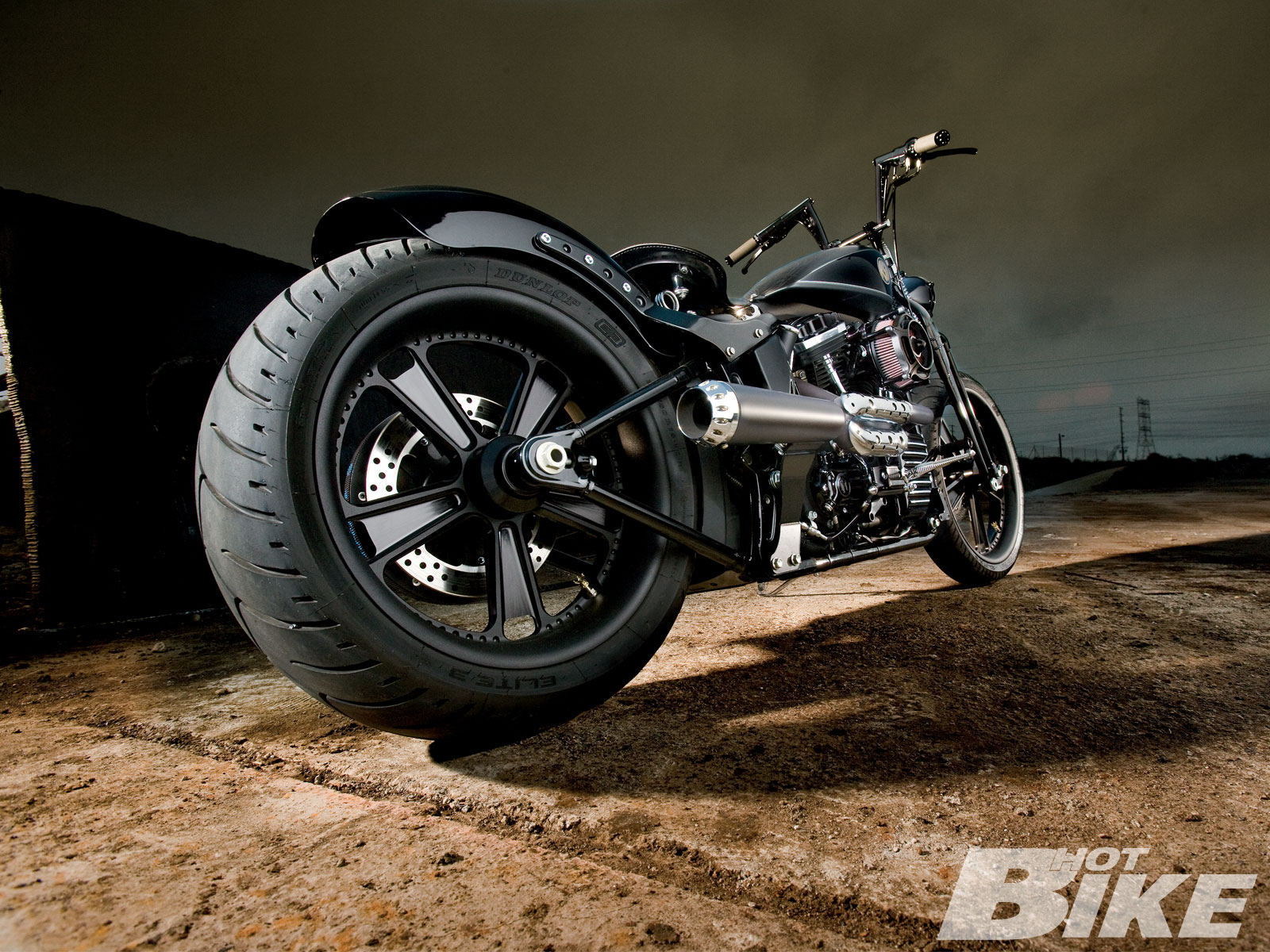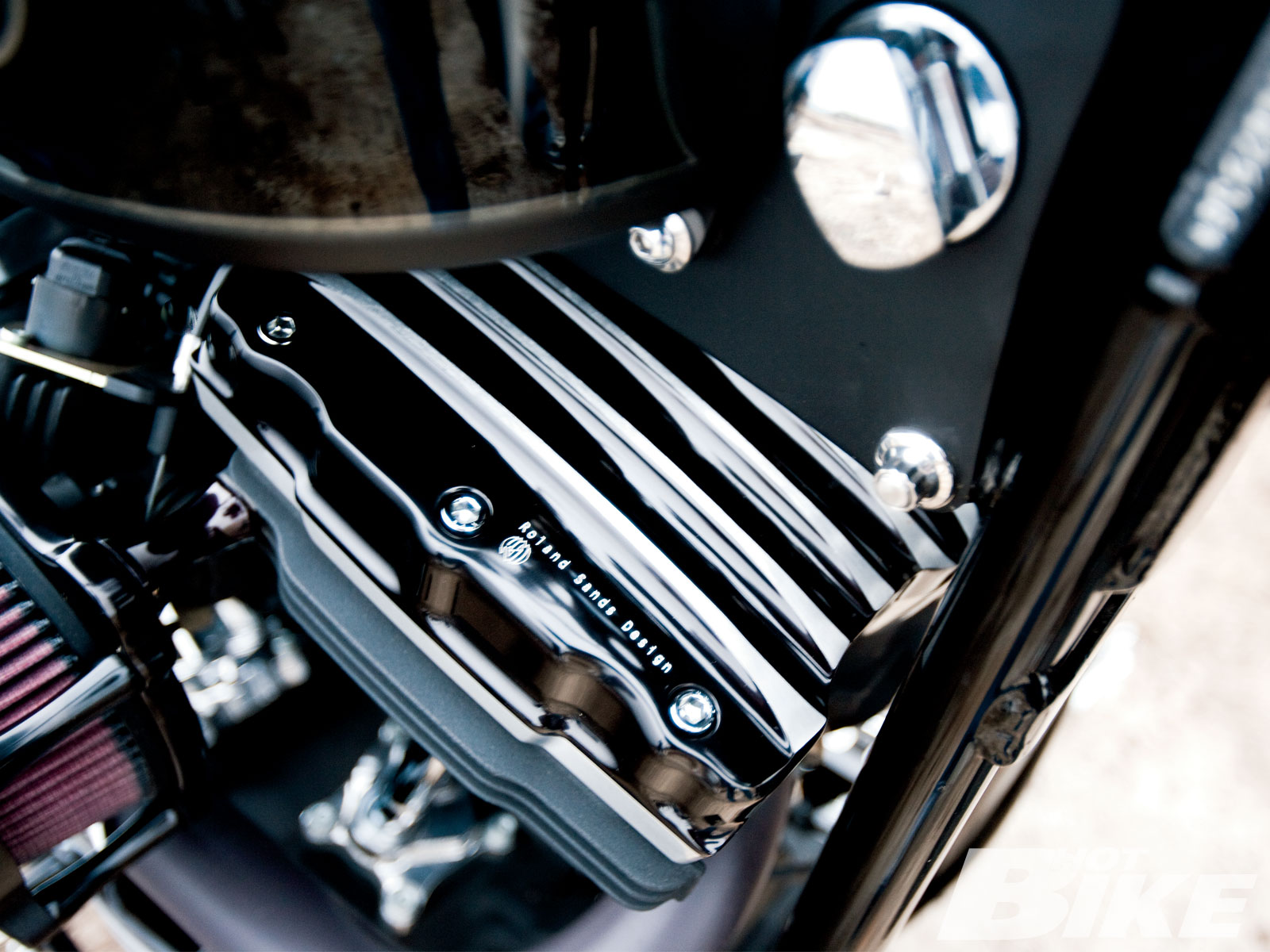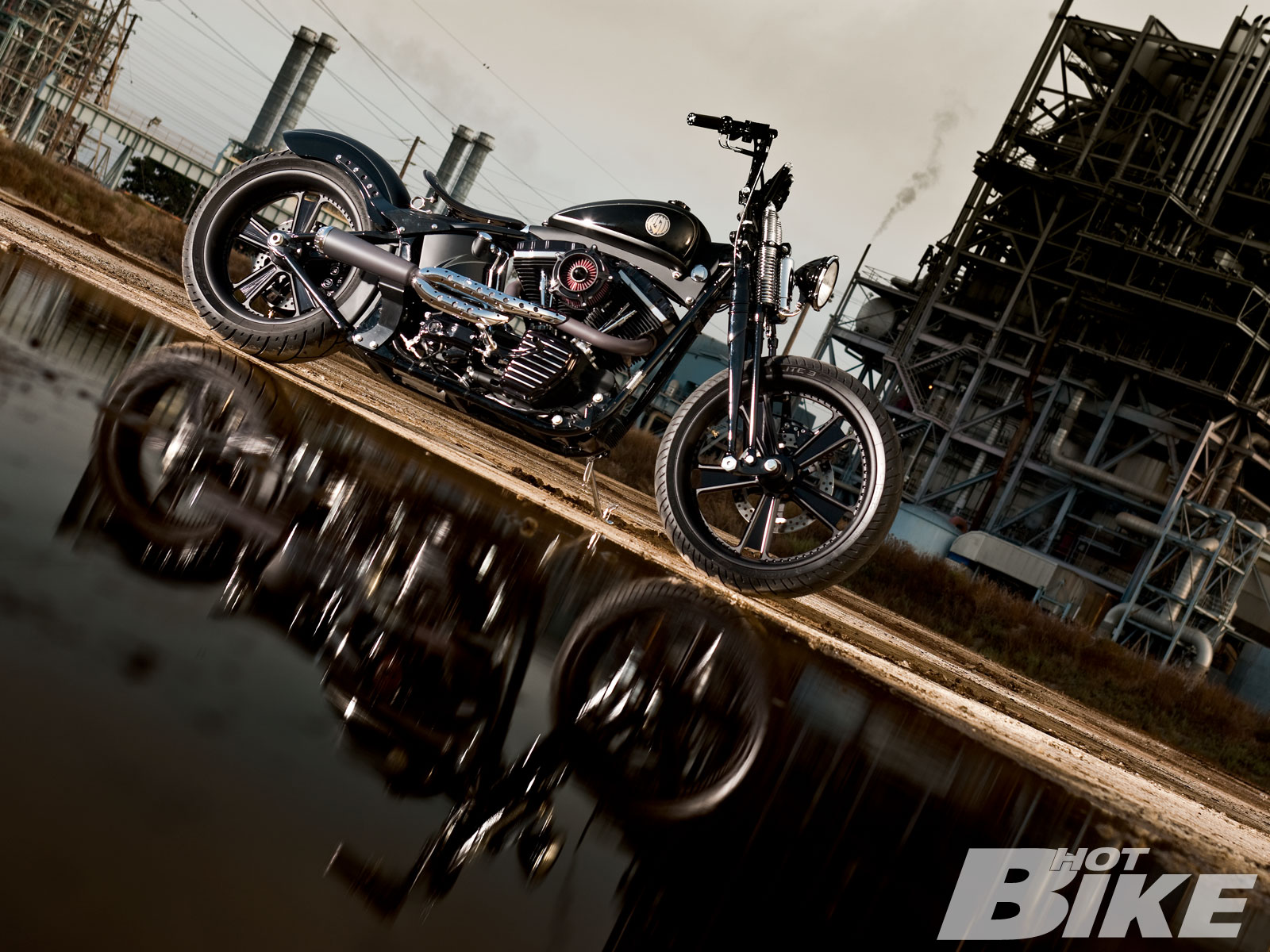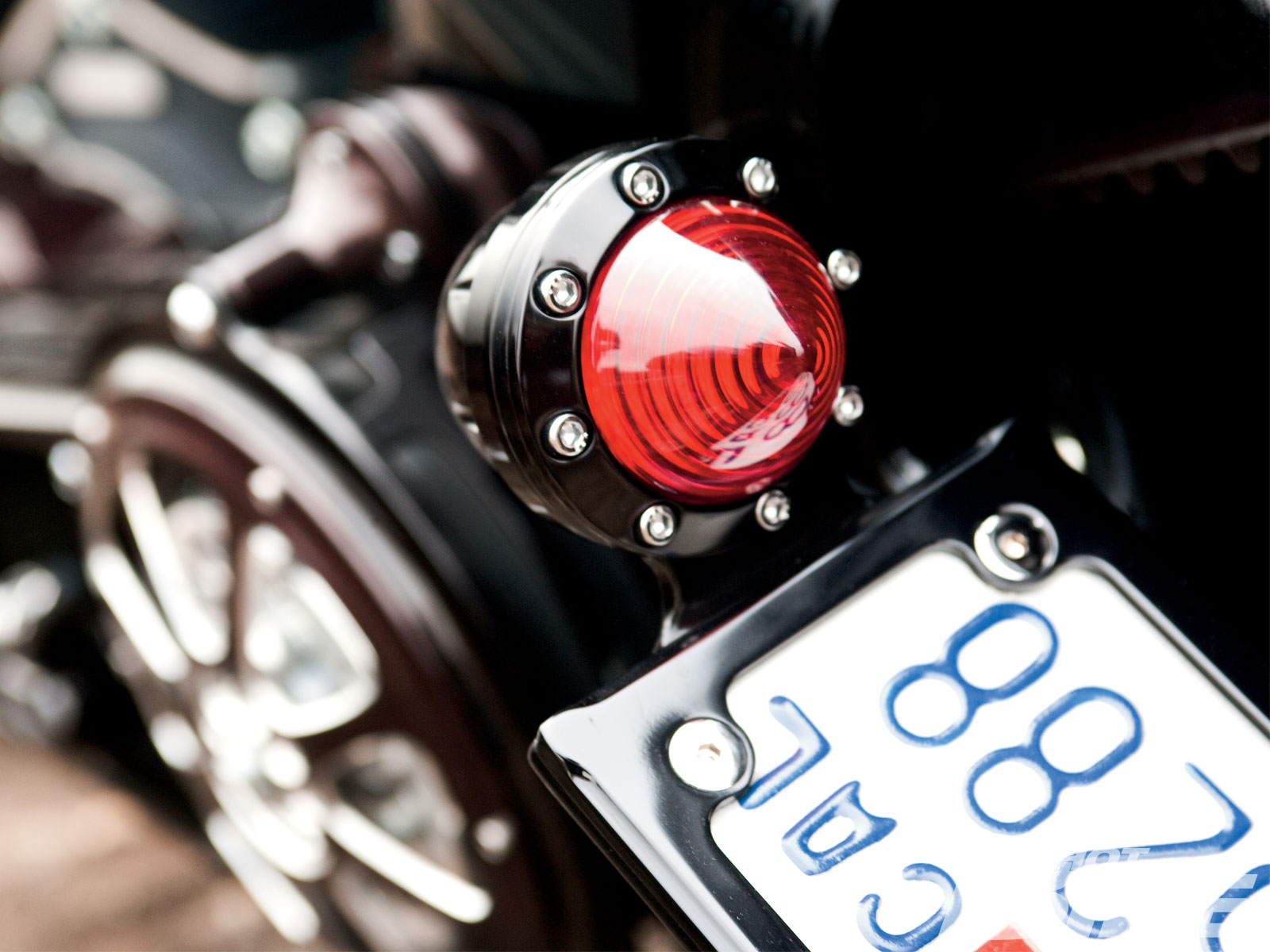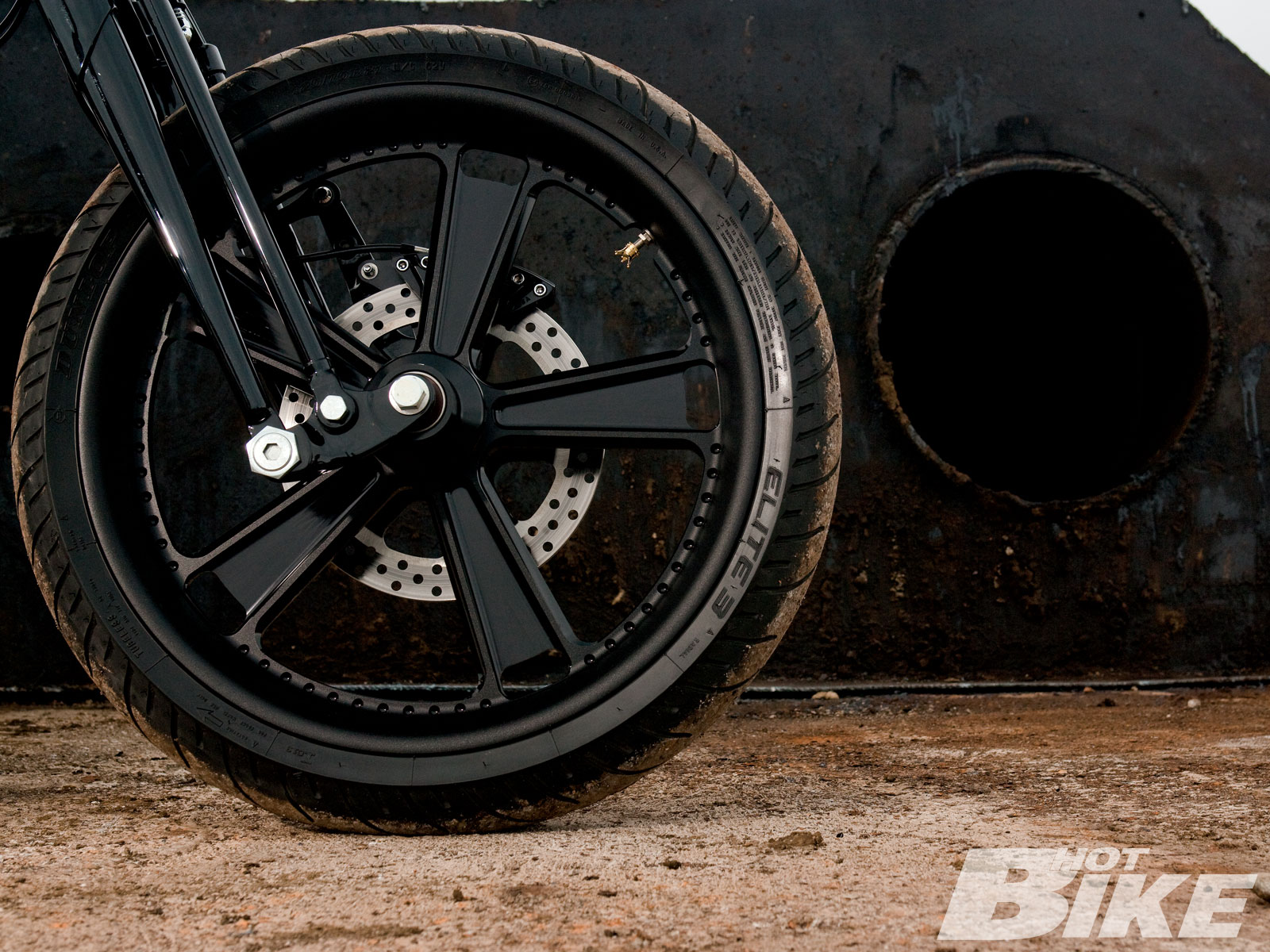 From Dunlop to Dunlop, just about every aspect of this '08 Cross Bones has been modified to stand out amongst any of its bone-stock brethren it may come across. Now when you see "modified" most of you might conjure up images of some leathered and weathered grease monkey with a cutting torch, tig welder, mallet, and shot bag going to town on this ride. But actually this bike has been modified in a rather manageable manner for even the most trepidacious wrench turner-it's all bolt-on.
Killing two birds with one stone, Roland Sands of Roland Sands Design (RSD) utilized this bike to fulfill the wants of his latest customer, but also to showcase some of his company's newest parts such as its new gas cap line, Turbine Air Cleaner, Contrast Cut Rocker box, Cam and Tranny covers, and most importantly the new Black Ops finish.
You might not be able to reinvent the wheel, but when it comes to giving the blacked-out look a new spin, Roland has achieved just that with Black Ops. We threw a few questions Roland's way to get his take on a little bit of everything.
HB: For those who don't know, please give a brief overview of your background in motorcycles and design.
RS: I was born a poor white child in Compton, California, in 1974. My parents were two overachieving hippy bikers with a dream and some good ideas. Together they started Performance Machine. I rode my first bike at 5-years-old and promptly broke my arm. I built my first custom, a Sportster flat tracker, when I was 16. I started road racing when I was 19, and about that same time I started designing motorcycle products. I won the AMA 250 GP National Championship in 1998. I built my first ground-up custom in 2002 and retired from racing after breaking 30 or so bones and became the VP of design at PM. I started my own brand, RSD, in 2005 and have been designing the majority of the product that comes from PM and RSD, as well as building more than 80 bikes for a diverse group of customers ranging from Ducati to Mickey Rourke.
HB: What is the story behind this bike? Why was it built? For a customer?
RS: This bike was built for a hard-riding guy named Aaron Presher. He wanted a low blacked-out bike. This was the perfect bike for our newest finish, Black Ops.
HB: What exactly is the Black Ops finish? How does it compare in manufacturing (time, process, material) to Contrast Cut?
RS: We introduced Contrast Cut in 2003 and it's had a huge impact on the industry. Nearly every manufacturer out there now has its version of it, so it was time for something new. It's a proprietary finish and we're not going to reveal the process but, it's a very difficult finish to manufacture and it looks amazing. Gloss black and satin black with sort of a light texture for a rugged appeal. It's utilitarian while also being high class and very detailed. We like it.
HB: When you design a new product, how does the process begin. Where do you get inspiration from?
RS: Inspiration comes from all around. I look towards other industries, architecture, furniture, as well as art and general product design for ideas. There's so much inspiration out there, it's more about filtering out all the bullshit and maintaining what's core and bitchin' rather than hype.
HB: When a customer asks you to build him a bike, does he just let you do your thing or does he usually have specific requests? _**RS: **People come to us because they want something that works as good as it looks and that's what we supply. Customers mainly trust us on the core designs, but everyone wants to put their own style, color, and finish ideas together so that's what we do. We're down with crazy ideas as long as they don't look gaudy or fucked. We won't let that happen._
HB: Was there ever a customer request that you refused to meet or were hesitant to incorporate into a bike.
RS: I don't build bikes that don't work. Nothing more than a 240 rear tire. Nothing with stupid geometry or anything unsafe. So yes, I've had to say no a few times.
HB: What's wrong with the custom motorcycle industry these days? What's right?
RS: I think we are kind of back to square one. The age of decadence has come and gone. We are back to garage-built obtainable custom bikes. You can't depend upon a bunch of random millionaires to keep the motorcycle industry on its feet. Good products at fair prices and tons of creativity are what will pull us through. I'm loving the little triumphs, CBs, and café racers people are building; cheap, fun, and easy to build. What's better than that?
HB: You've raced, built, jumped, and designed motorcycles. Is there anything you haven't done on or with a motorcycle that you still want to do?
_**RS: **I did a backflip so that about sealed the deal. I'm good. No more broken bones for me thanks._
HB: If you had to ride only one motorcycle for the rest of your life, what would it be? Why?
RS: Probably a Ducati Multistrada. Dirt, SuperMoto, RoadRace, Touring…it confuses me how they did so much with one machine, but that thing kicks ass. Aesthetically it's OK, but it's all about the riding.
HB: The internet has become a safe haven for people to anonymously talk shit. What do you have to say to people who make comments on blogs or message boards that RSD is only successful because of PM?
RS: Yea that's funny. While people are busy talking shit, I'm head-down designing and building. I would say my parents and the team at PM have played a major part in my success. I would also say I've played a large part in the success of PM. I've designed roughly 90 percent of that catalog and spent a large part of my working career pioneering metal cutting design within the walls of PM. In the end, success is the best revenge so I just use the hate as fuel to create.
HB: With your racing background, one would think most of your Harley builds would be based on maybe Sportys or Dynas. But many of your bikes have been based on Softails. Why?
RS: It's been a pretty marketable bike as far as creating aftermarket parts, so we've paid a lot of attention to it. We're really breaking into doing more for the Dynas and Sportys now with some more affordable steel products and more variety, rather than just billet stuff.
HB: Describe your style in three words.
RS: Aggressive, clean, functional.
HB: You recently moved RSD into a new building. What do you see in the future for RSD?
**RS: **I have an amazing team of people here at the shop, so as a crew we are really capable of anything. We're doing a bunch of new products for new models, an apparel line, helmets, kind of everything that encompasses the motorcycle life as well as some things that don't. A new retail store will be in place by the first of the year, so we invite everyone to come out and check out the products, bikes, and apparel._
HB: What are you working on now?
RS: A high-performance Dyna, a KTM 530 Moto Café Racer, a Ducati Café Racer, a Super Moto Bike for Ben Spies, some furniture. I can't really talk about the other stuff but there's some cool shit coming.
| | |
| --- | --- |
| SPECIFICATIONS | |
| BIKE OWNER | Aaron Presher |
| SHOP NAME | Roland Sands Design (RSD) |
| SHOP PHONE | (877) 773-6648 |
| SHOP WEBSITE | rolandsands.com |
| YEAR/MAKE/MODEL | '08/H-D,RSD/Cross Bones, Wrecking Ball |
| FABRICATION | None |
| ASSEMBLY | RSD |
| BUILD TIME | Two months |
| | |
| --- | --- |
| ENGINE | |
| YEAR/MANUFACTURER | '08/H-D |
| TYPE/SIZE | TC/96ci |
| BUILDER | H-D |
| CASES | H-D |
| CYLINDERS | H-D |
| HEADS | H-D |
| ROCKER BOXES | RSD |
| EFI | H-D |
| AIR CLEANER | RSD |
| EXHAUST | RSD |
| | |
| --- | --- |
| TRANSMISSION | |
| YEAR/MANUFACTURER/TYPE | '08/H-D/Six-speed |
| CASE | H-D/RSD top cover |
| CLUTCH | H-D |
| PRIMARY DRIVE | PM |
| | |
| --- | --- |
| FRAME | |
| YEAR/MANUFACTURER | '08/H-D |
| RAKE | Stock |
| STRETCH | Stock |
| | |
| --- | --- |
| SUSPENSION | |
| MANUFACTURER FRONT | H-D |
| LENGTH | 1-inch under |
| TRIPLE TREES | H-D |
| MANUFACTURER REAR | Progressive Suspension |
| SWINGARM | H-D |
| | |
| --- | --- |
| WHEELS, TIRES, AND BRAKES | |
| MANUFACTURER FRONT/TYPE | RSD/Judge Black Ops |
| SIZE-HEIGHT/WIDTH | 21×3.5 |
| TIRE/SIZE | Dunlop/120/70-21 |
| CALIPER | PM |
| ROTOR | RSD |
| MANUFACTURER REAR/TYPE | RSD/Judge Black Ops |
| SIZE-HEIGHT/WIDTH | 18×5.5 |
| TIRE/SIZE | Dunlop/200/50-18 |
| CALIPER | PM |
| ROTOR | RSD |
| | |
| --- | --- |
| FINISH/PAINT | |
| COLOR | Gloss black, flat black |
| PAINTER | AirTrix |
| GRAPHICS | AirTrix |
| | |
| --- | --- |
| ACCESSORIES | |
| REAR FENDER | RSD 200mm Tracker Fender |
| FENDER STRUTS | RSD, Steel |
| GAS TANK & CAP | RSD Vintage tank/RSD Tracker Black Ops |
| OIL TANK | H-D |
| HANDLEBARS | RSD Vintage Shortstack |
| HAND CONTROLS | PM Contour |
| FOOT CONTROLS | PM Contour |
| FOOTPEGS | PM knurled |
| HEADLIGHT | RSD |
| TAILLIGHT | RSD |
| LICENSE MOUNT | RSD |
| SEAT | RSD Vintage Springer seat, |
| | Mauricio Aguilar Azteca Leather |