In Hot Bike's first 2017 issue, the Candy department was 'roided up to 70 items or so. We were bringing you the latest and greatest from around the custom motorcycle industry so you'd have plenty to work on in the weeks leading up to the official start of the riding season. Here's the first big chunk of products for you to feast on!
These bagger floorboards are extended 2-1/2 inches in front and are 3/4-inch wider and 2-1/2 inches longer in the rear. Instigator boards mount like stock boards using the stock hardware. These extended Instigator front floorboards go nicely with Accutronix new heel-toe shifters and brake arm kits. For the 1987–later FLH and FLT, the company also makes matching rear boards. These FLH floorboards are machined from 6061 T-6 billet aluminum. They are available in either a chrome-plated finish or in Accutronix Night Series finish wherein the parts are black anodized and machined again for contrast. The insert is a multidirectional slip-resistant black pyramid-top rubber. Made for '84–later FLH and FLT baggers and '86–later FLST.
(623) 516-9600 accutronix.com
Antigravity's new 20 Series Battery comes in an ultra-powerful Lithium-Ion version that weighs 11 pounds less than a lead/acid 20 Series Battery but has almost twice the cranking power. This battery is designed to turn over the largest of motors with ease offering 780 cranking amps.
(310) 527 2330 antigravitybatteries.com
The Monster Sucker 90 air cleaner kit features Ness' patented Big Sucker "hidden breather" technology and more filter surface area than any other kit on the market for maximum performance. Ness hidden breathers are O-ringed at the heads and exit out the mouth of the injector/carb to provide efficient engine breathing, eliminating the need for any external hoses or hardware. The inverted 90-degree style filter features a built-in inverted top to pull in air not only from all sides of the filter but also the front, resulting in more airflow. Each filter is constructed from synthetic material that is water resistant. Filters are reusable and do not require oil. Covers are forged from billet aluminum then CNC machined. Kits are available in standard (without billet cover), deep cut, 10-guage, or beveled styles. The 2017–later Touring model applications include throttle body cover.
Avon Grips, based in Kingwood, Texas, says its new Memory Foam Grips are the softest, most durable, chemical-resistant grip on the market today. A true vibration-dampening grip. The grips are available in small, medium, and large diameters for all Harley-Davidsons and most metric cruiser bikes. Chrome and black anodized aluminum ends are also available.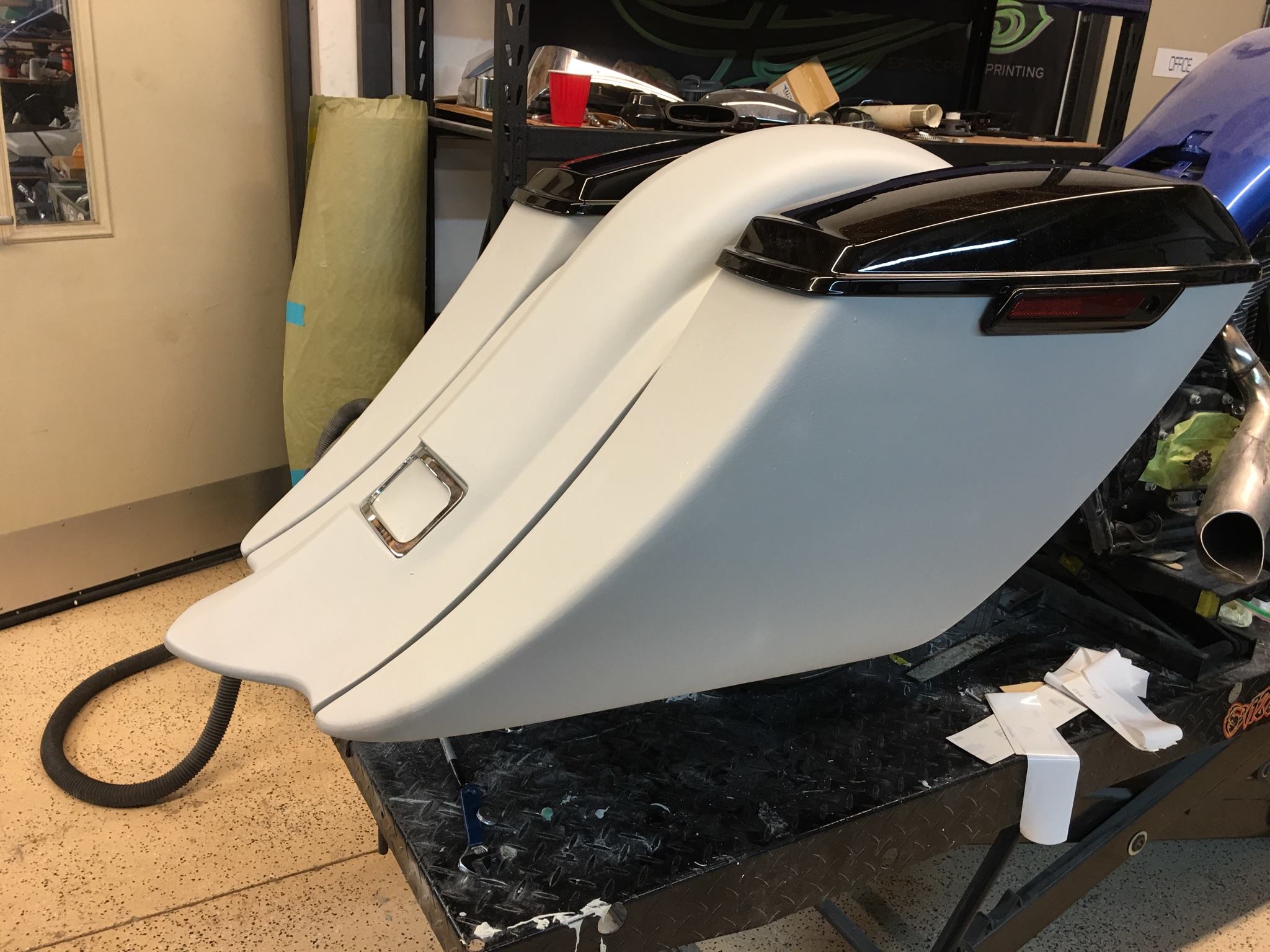 Made for Victory with OEM fitment, the Victory Lane Daytona Rear End Kit consists of saddlebags, rear fender, and side panels. This is the same setup as Azzkikr's Talladega rear end kit but with a smooth side without an accent. Made from high-quality fiberglass, the kit comes primed and almost ready for paint.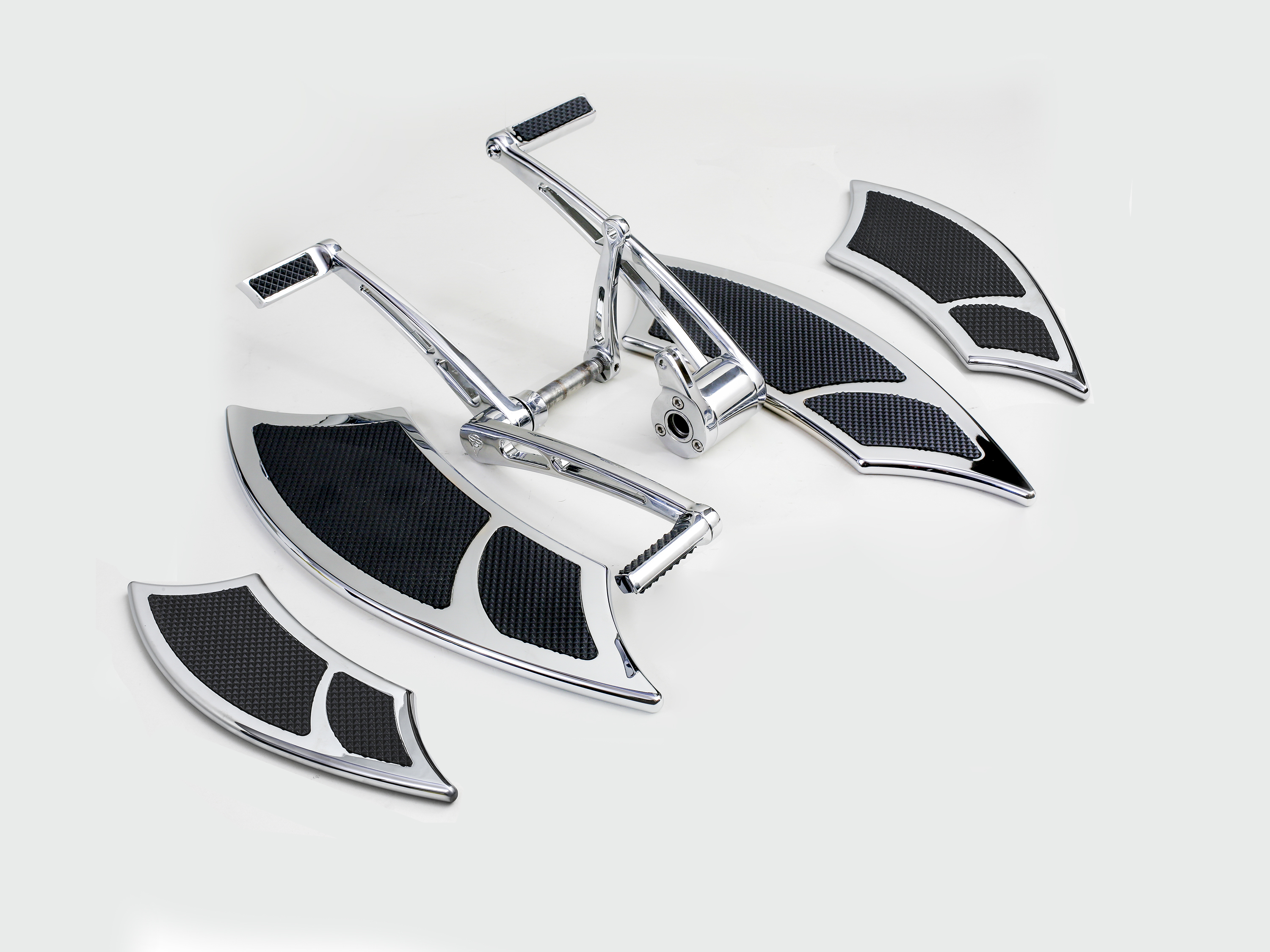 Bad Dad's Forward Controls are custom machined from 6061 billet aluminum and finished in your choice of black or chrome. This custom kit includes the entire shift arm and brake arm assemblies, custom inner shift arm, rider floorboards, and your choice of passenger floorboards or passenger pegs. Bad Dad offers several custom floorboard styles that can be mixed and matched with any of its forward controls. All of Bad Dad's custom billet parts are proudly machined in the USA.
(260) 407-2000 baddad.com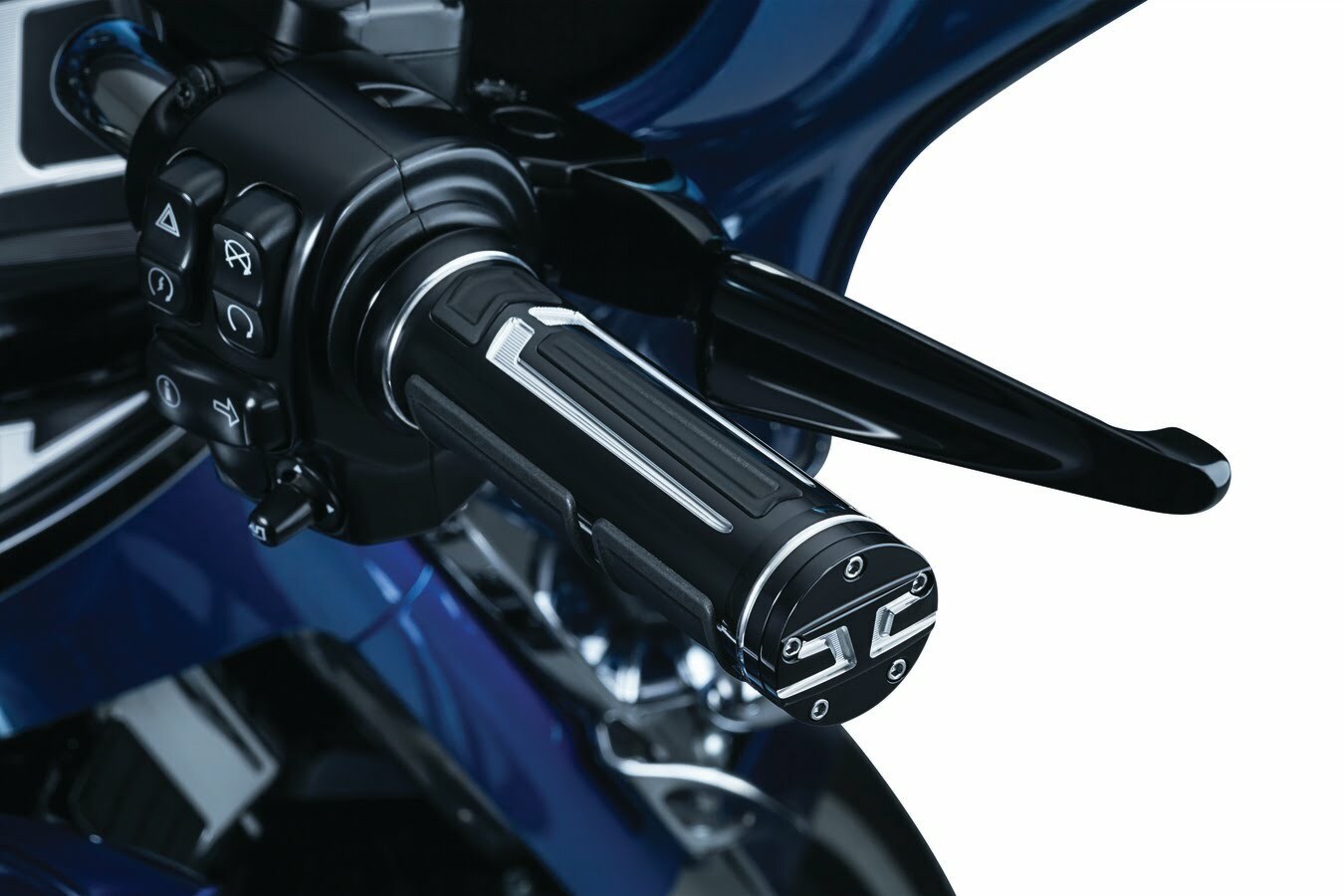 Bahn Grips are crafted from forged aluminum housings with premium rubber inserts for long-haul comfort without sacrificing style. Available in black anodized "tuxedo" or chrome finishes, each kit includes matching precision-machined end caps. Combine them with Bahn's mirrors and levers for a truly custom transformation. Available for '82–'17 H-D models with dual cable or electronic throttle control.
Baker Drivetrain presents the GrudgeBox, the new generation overdrive transmission featuring gears that are 40 percent wider than stock. Designed to be strong, reliable, and precise, this durable six-speed overdrive builder's kit can handle the most powerful 2007–later Big Twin motors (and 2006 Dyna models). The .92 overdrive sixth gear provides a 250-rpm reduction on the highway for improved fuel economy, reduced vibration, and less wear and tear on the rider.
Fatten up your hog with Big Boar Products Fat Tire kits for all Harley-Davidson models. Kits available include Softail (200, 240, and 300mm), FX Shovelhead (200mm), Sportster, (200mm), FXR (200mm), Dyna (200, 240, and 300mm).
(865) 458-8640 bigboarproducts.com
Want your bike to sound as good as it looks? Go with the established leader in exhaust technology, Big City Thunder. The patented line of Thunder Monster Baffles deliver a deep, throaty, hot-rod sound and improved performance.
(704) 847-1222 bigcitythunder.com