Trying to explain Yelawolf and his sound is a very puzzling affair. It's been called "Johnny Cash meets Outcast," but I see it to be much more complex than that. His lyrics touch on the basics of ground-level hip-hop and rap, but Yelawolf has evolved so much musically and lyrically since his breakthrough tracks from a decade ago. On his last album, Love Story, Yelawolf reached farther into his intellect and soul and pulled out some really deep and thought-provoking music.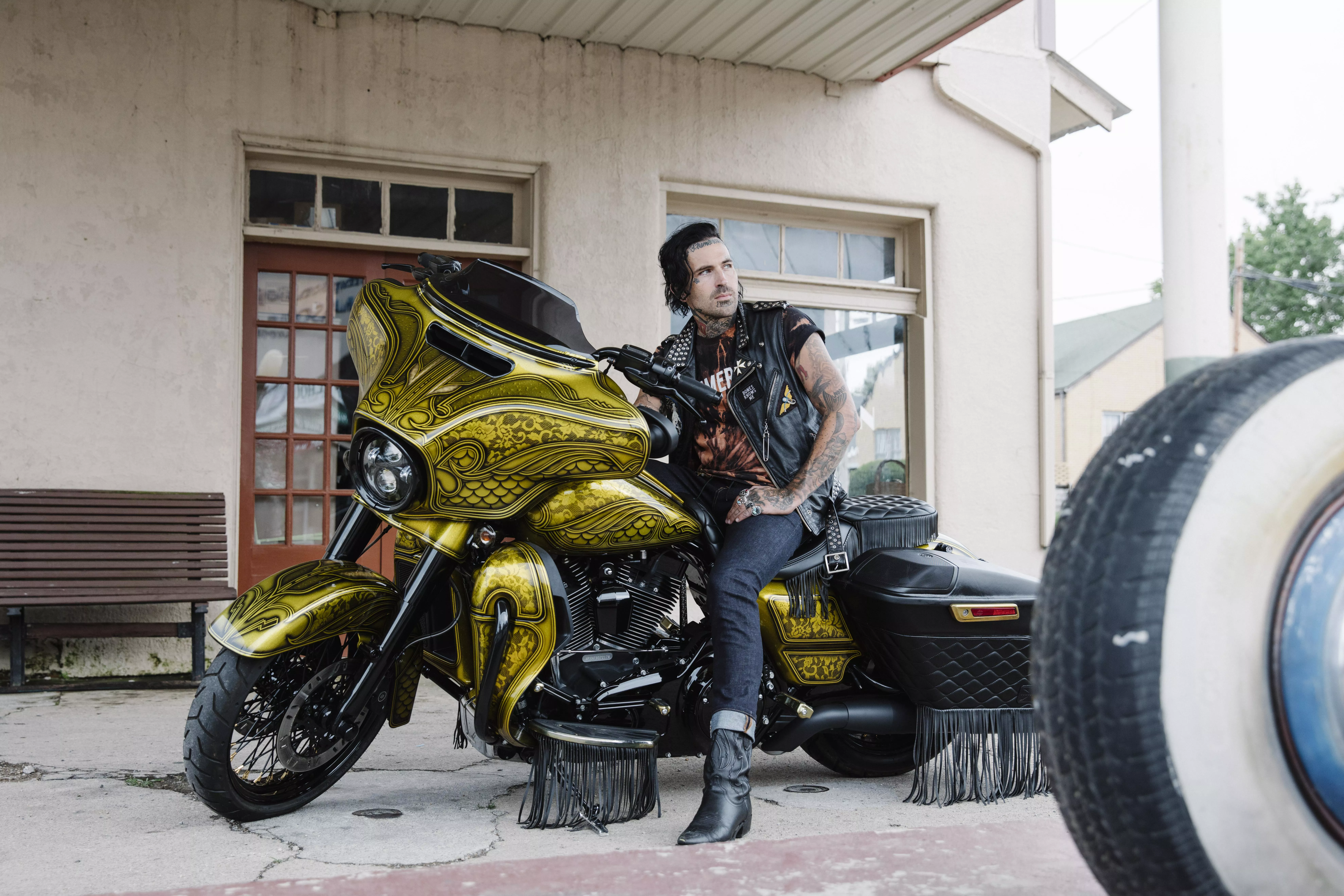 Using acoustic guitar and country Western loops as a basis to much of his music, it anchors his trademark sound well into the Deep South. But the tracks possess solid Southern rock undertones akin to Skynyrd and The Allman Brothers Band just as well. His live shows are less rap and more rock, especially when he has DJ Klever and guitarist Bones Owens in tow.
I met Yelawolf at Sturgis through a mutual friend and noticed right away that the guy was a Harley-Davidson brand enthusiast—and not just because the guy was covered head to toe in tattoos. I saw that the guy knew how to ride. He didn't ride like some skinny rock 'n' roll star at his first bike week, but he rode like a dude who has been on two wheels for a while on a myriad of motorcycles.
I got to sit down with him while he was in the middle of a tour promoting his new album titled Out of Control and dug a bit deeper into the cycling side of Yelawolf.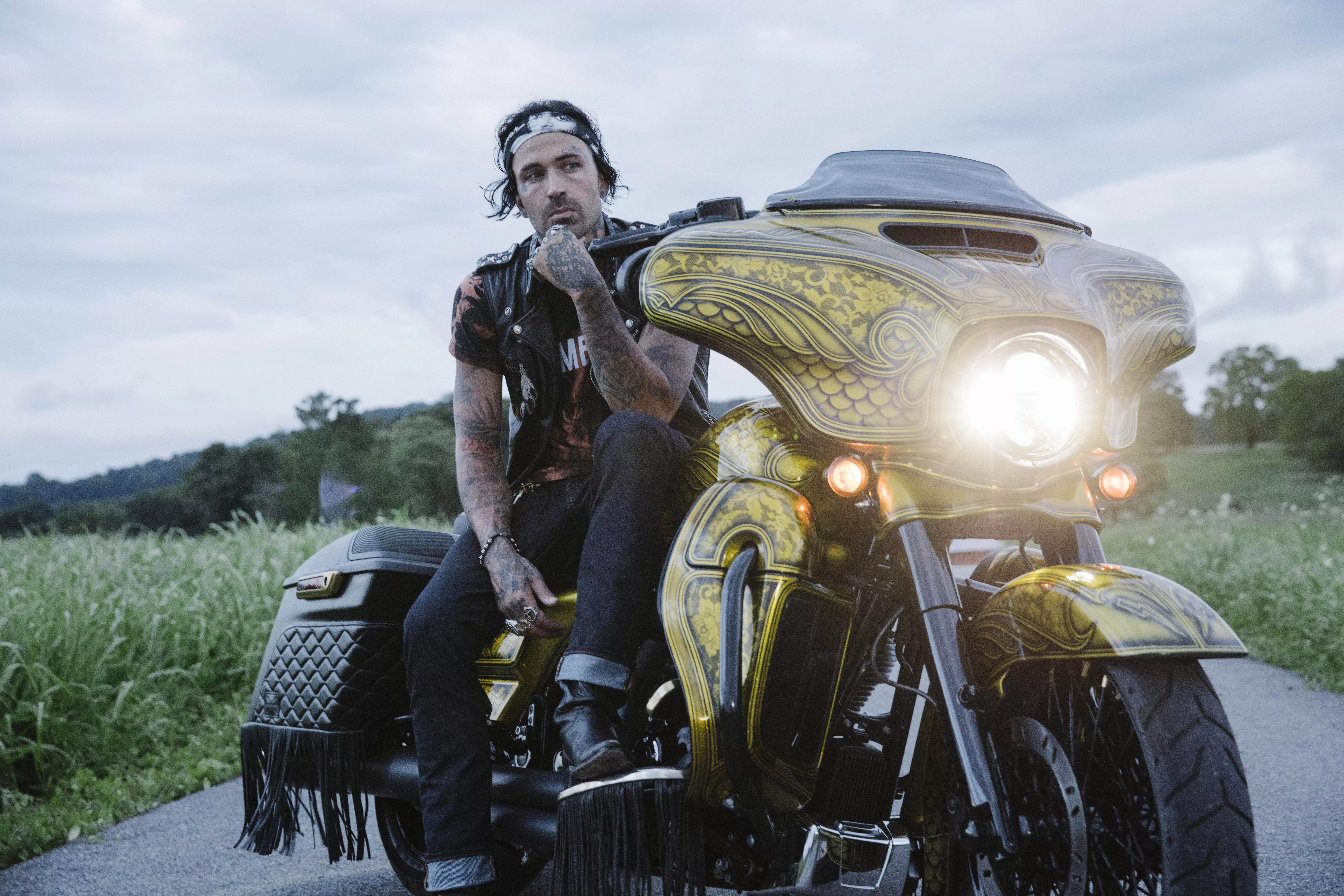 How long have you been riding bikes?
I used to sit on the tank of my mom's boyfriend Benni's bike and take long trips. He let me take the handlebars, riding the interstate and back roads. I was around five or six at that time. Crazy. I went on to ride bikes here and there until I bought my own Harley.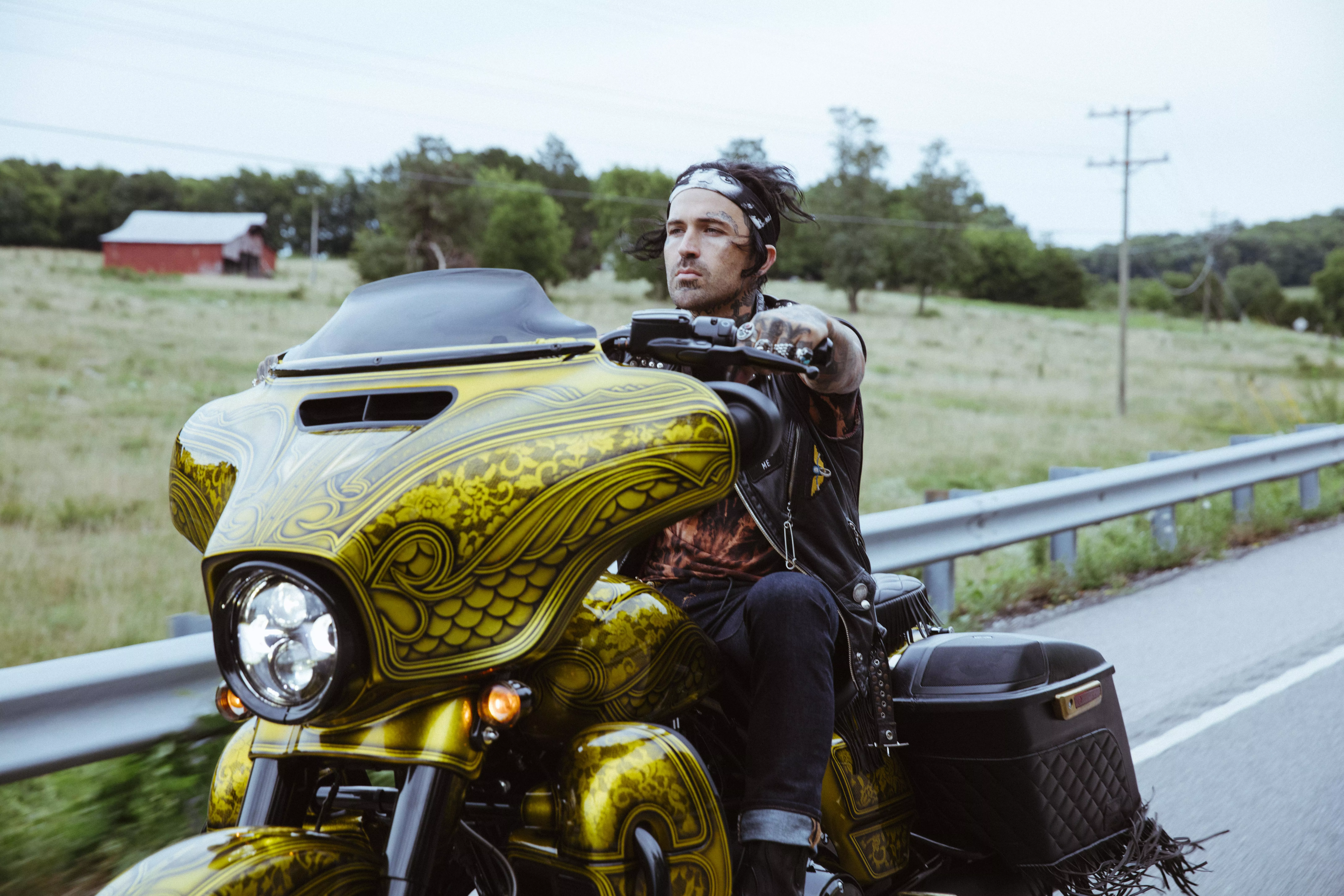 What do you like best about being on two wheels?
There's something about the responsibility you have as a rider that gives you a since of power. Solo riding is good for the soul. That forward momentum—it's a physical reaction to feel free. It's like stepping away from the world for a moment and focusing on nothing but your life. We're basically saving our own lives and risking them at the same time. I personally have the feeling like I cheated death every time I step off the bike. I guess like skydiving.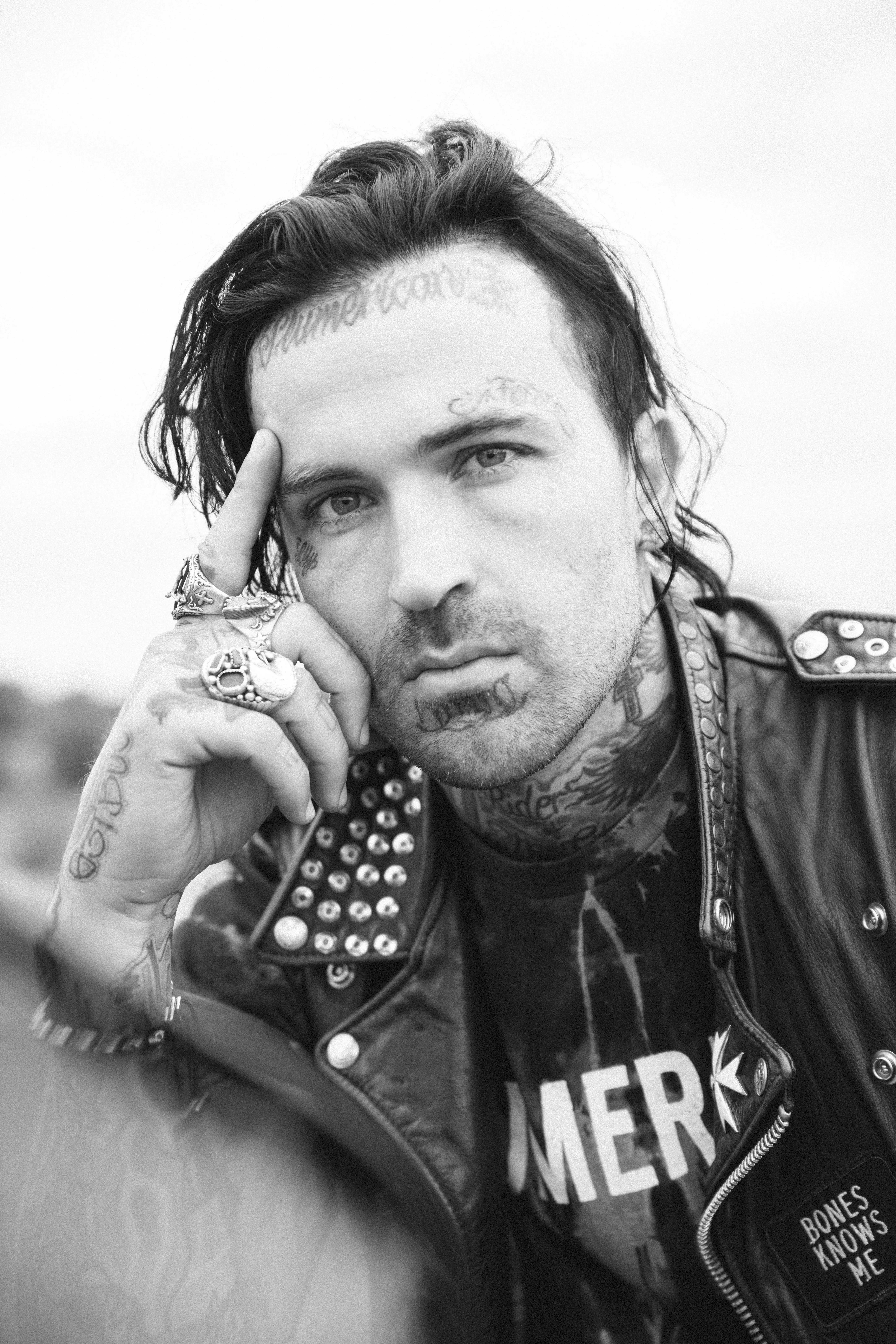 What was your first bike?
Indian Larry Tribute bike. A bobber. Straight pissing blood. The hardest-riding bike ever. Motherf—ker will rattle apart on you. It's a beautiful bike but a labor of love. And that "cheating death" thing is a little too close for my comfort. I don't mind the adrenaline of riding the edge, but I don't want my f—kin' pedals to fly off and my foot almost ripped off. It's been parked for a while, '80 Evo. She's a temperamental wild bitch. If that bike could talk, she'd walk through the door and shut the room down. Break your heart and take your money. Black and gold everything. Good Invader front wheel. Good spoke in the back. Whitewalls. F—king thing's a killer.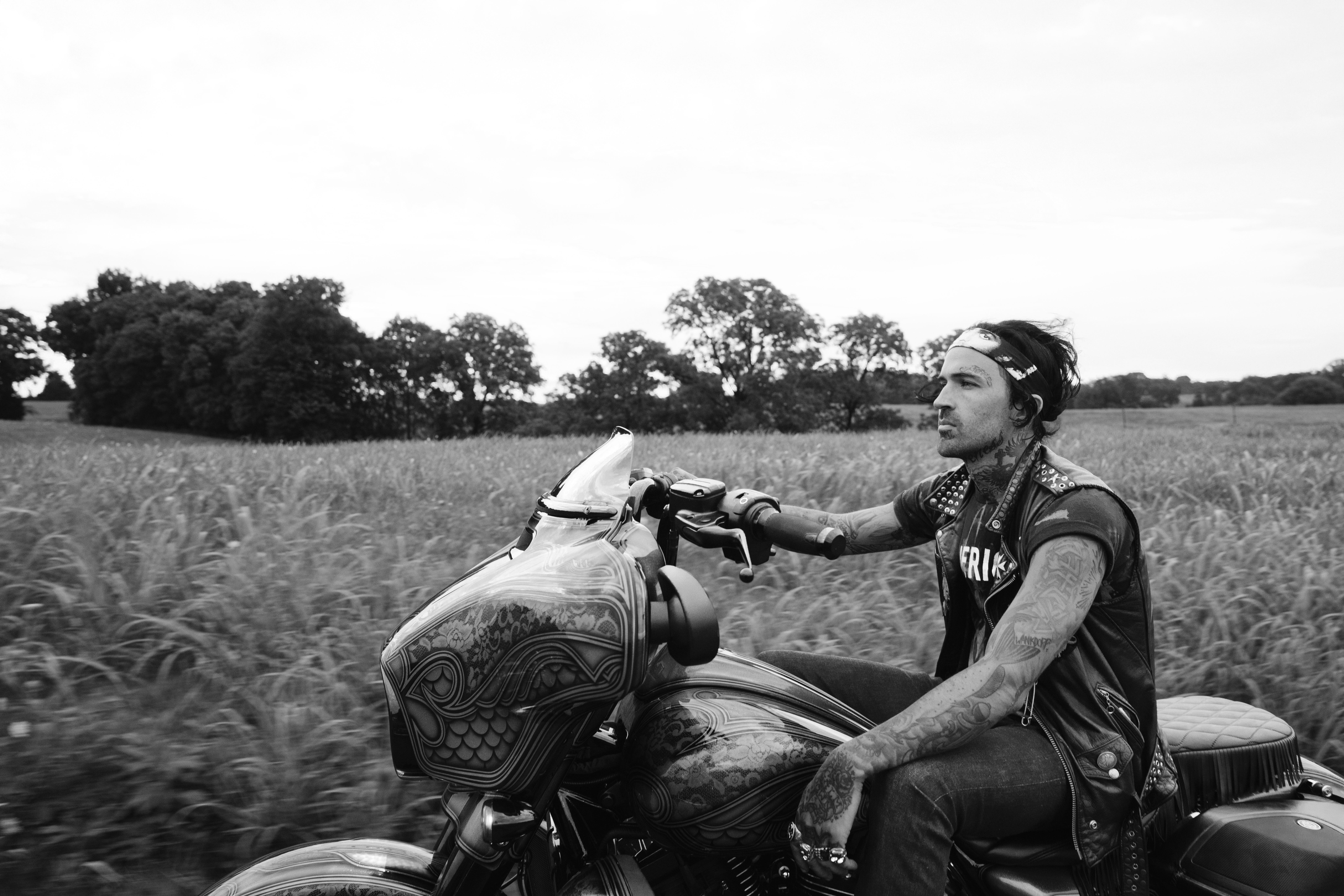 What bikes are currently in your stable?
My bobber, my '05 Deluxe—that I just sold to DJ Klever—my 1949 Indian—which was a gift from Danny of HardNine Choppers—and my 2015 Street Glide. Custom paint by my boy Roddy of Fly Low Customs, and all the leatherwork by Kyle Hix of HIX Design.
What got you interested in Harleys?
Mom. Life.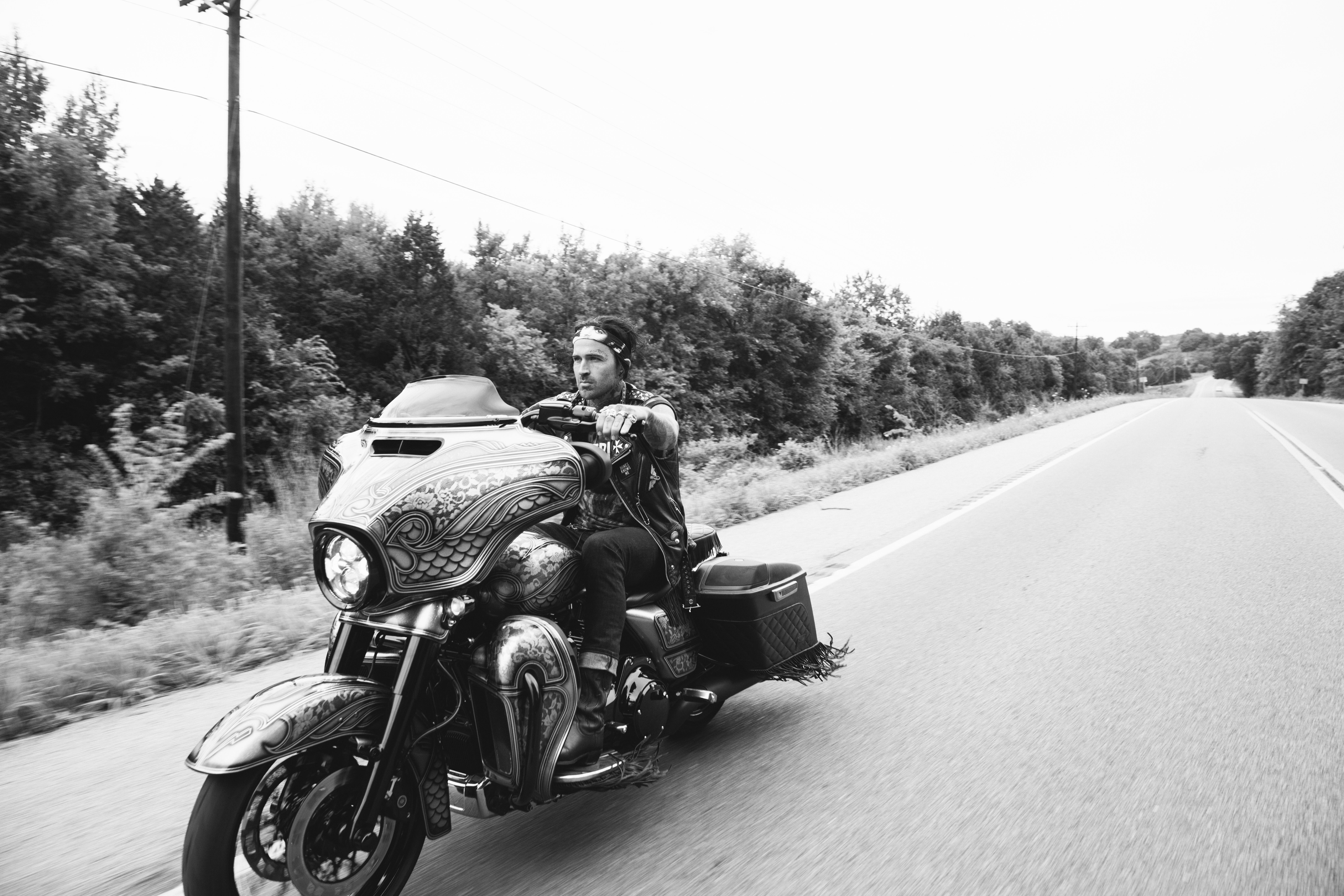 Tell us about your custom-bike experiences. How'd that start?
I've never been hands on. All my ideas are shared with the builder and painter. I'm an idea person. I have great concepts. But I'm unable to create them as of now. So I work with the artist. But no custom job of mine was given to the artist at free will. My design ideas are very specific. It's a collaborative effort.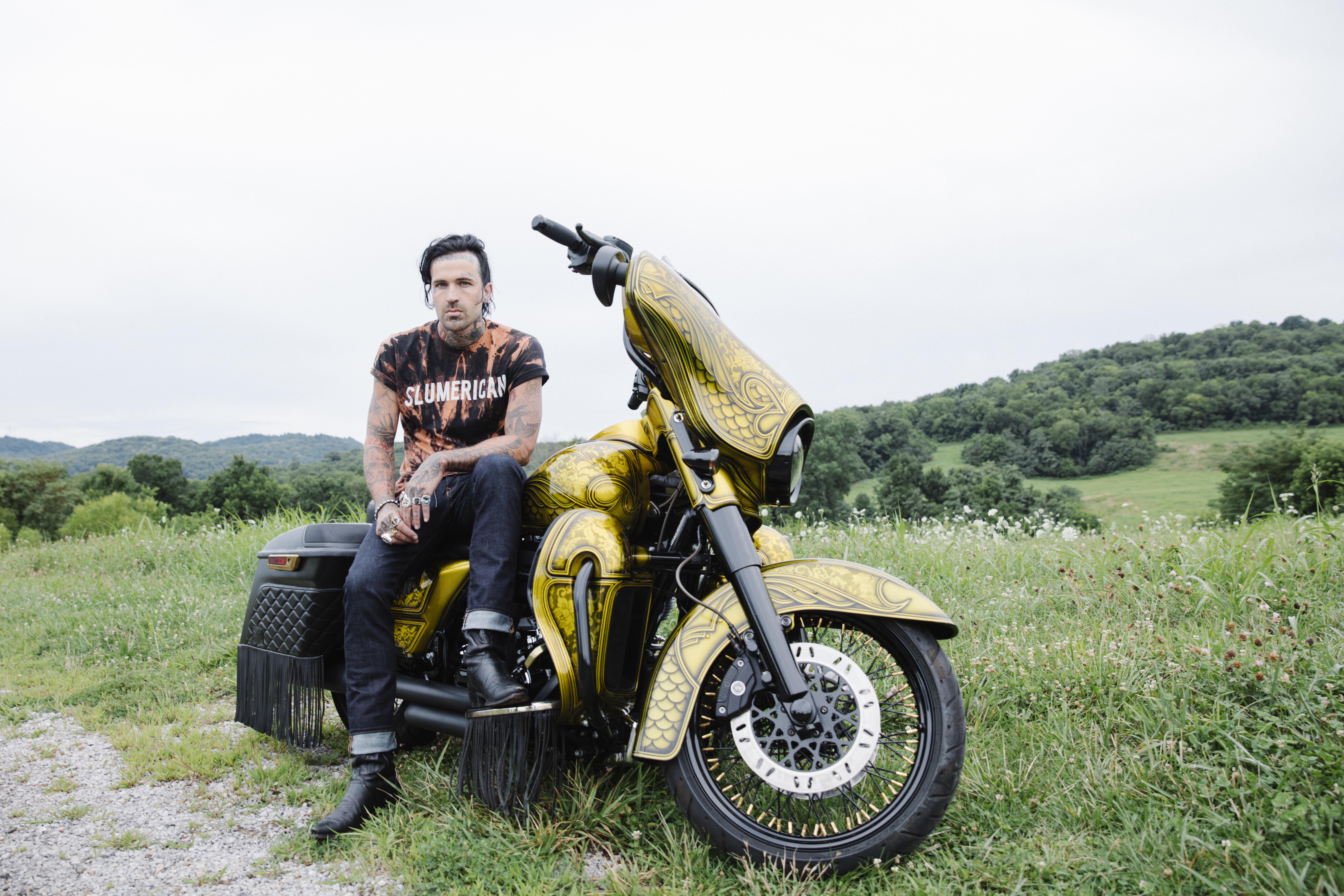 What style of bikes do you like most?
I like bikes that refract the owner's personality. I don't have a favorite style. A bike that has a story and a collection of scratches and miles is dope. Mike Wolf has the greatest personal collection I've ever seen. He's a rad person in general. His taste in bikes is a reflection of his personality. So that's why his bikes are so rad. I think no matter how much money you have, the custom thing is important. I saw my friend Bobby take a shake can of matte-black from Walmart and paint a showroom-floor-new Harley Sportster the next day after buying. Painted the whole f—kin' bike with house tape and a spray can. That's what I'm talking about. It looked great. Even when it was flaking off.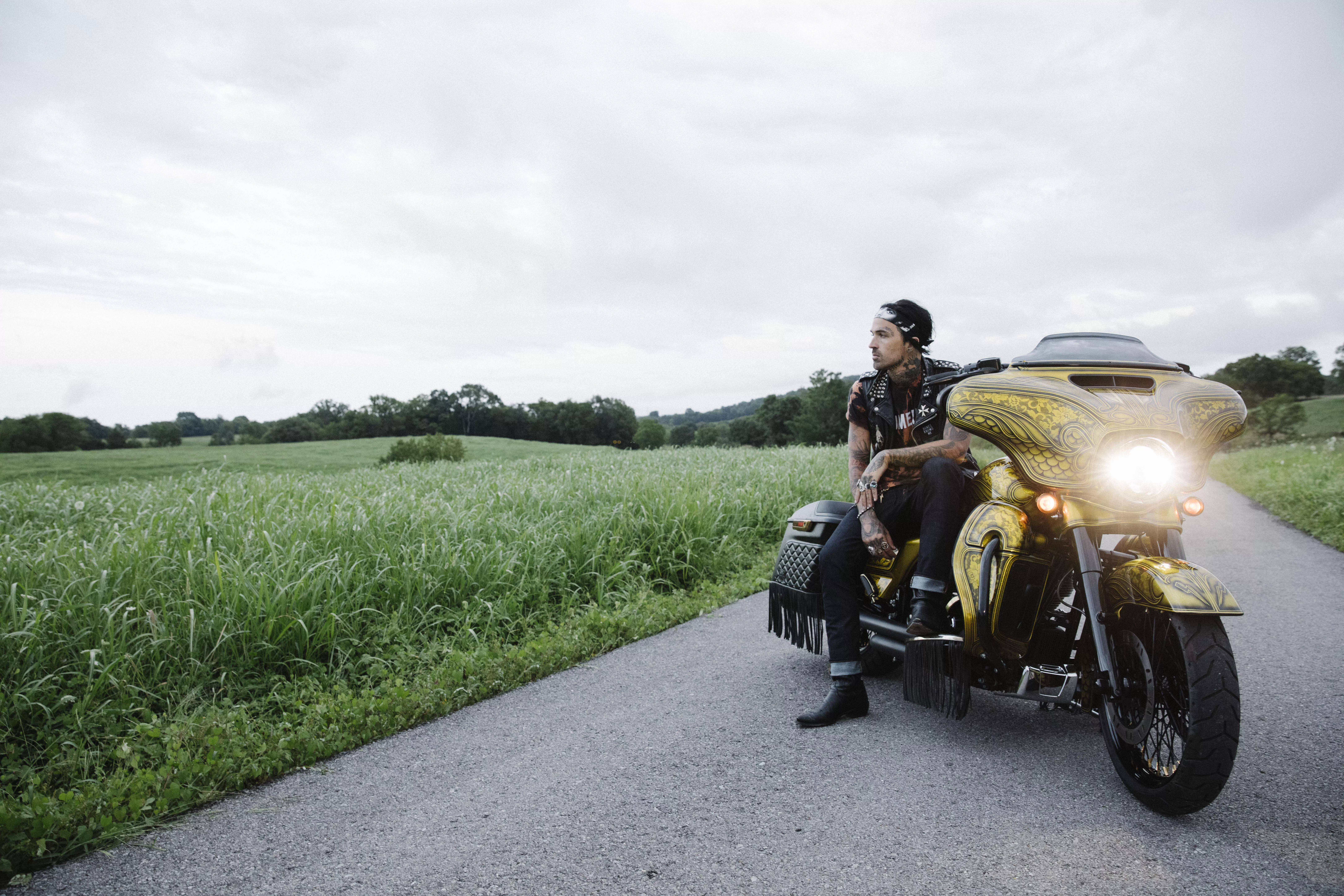 We know you have lived a few places and have toured coast to coast, but where is your favorite place to ride?
Alabama, hands down. It's my home, man. The smell of the river and the grass. The back roads I grew up walking, familiar places that I ride through. I think it just feels good to return to those same roads on my bike. It feels like an accomplishment.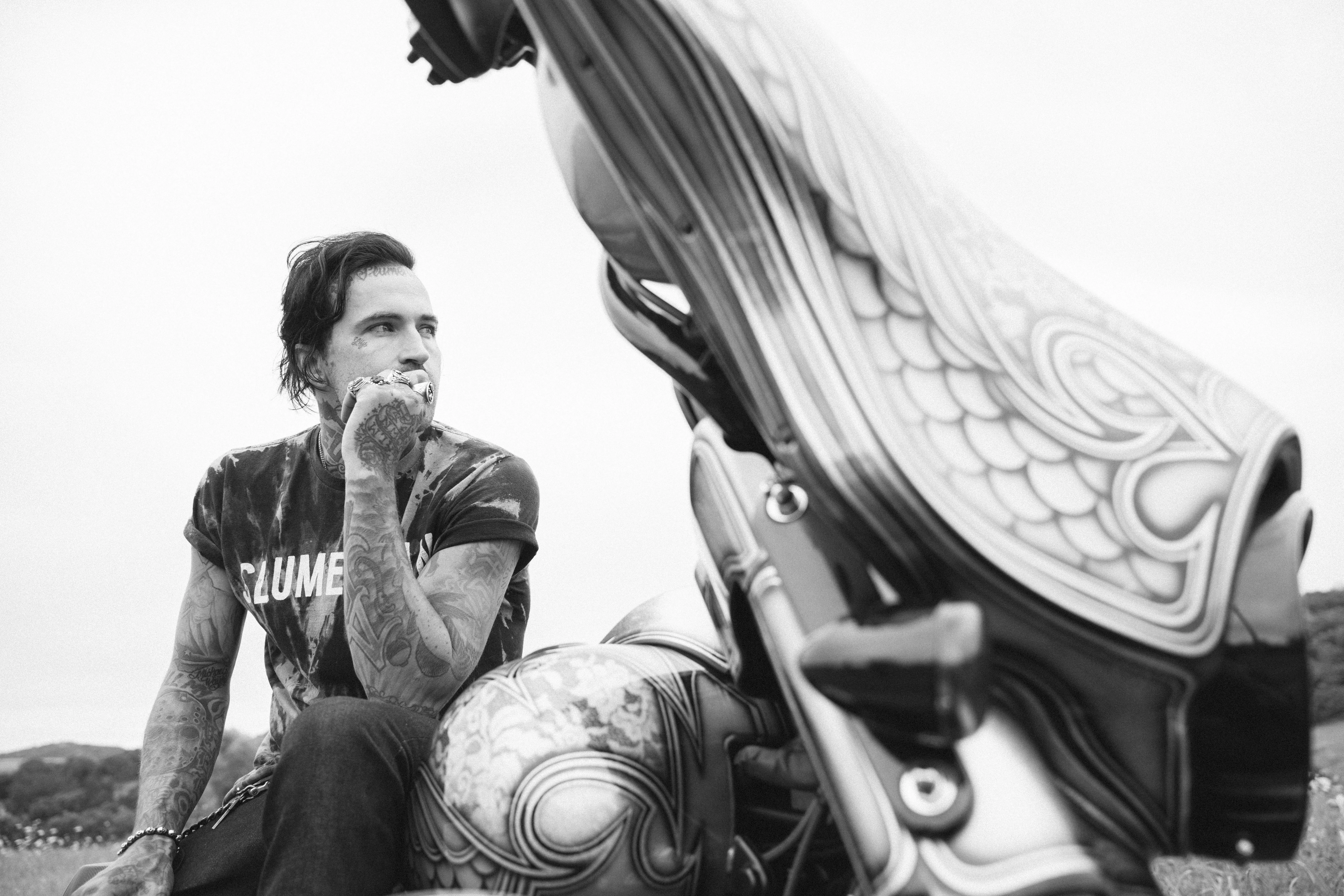 It seems that you are touring and recording constantly. With that said, do you still have much time to ride?
No [laughs]. Simple answer. F—king sucks. Trying to fix that, actually.
Do you have access to a bike when you are on tour?
We've been fortunate to have friends on tour across the world even to lend us bikes to ride. Switzerland was a trip. Danny of HardNine took us on the back roads. Opposite-side riding was nuts. Also Australia. Our friends at Saint took us on this gnarly trip to the outback. That was bonkers! I've been very fortunate. Bikers have a wealthy community. You just want everyone to ride. No fun alone.
We have heard that you are doing a few organized rides to support your next album. Can you tell us a bit about that?
Eh, it's definitely not to support my album. I do rides for the fans. So we can hang. So they can roll with me and I can roll with them. That's it. Period. It's a time to hang with them. Like-minded people. People who have been moved by the music. Believe in the brand. Slumerican is deep, man. We love getting out and being a family.
What do you want our readers to know about you as both a musician and a rider?
I'll kick the rearview mirror off your shit with a snakeskin boot if you cut me off! But I'll be your best friend if you just stay in your lane and out of mine. And that goes for riding my bike and my music.
Browse your little heart out over Hot Bike's latest custom stories.