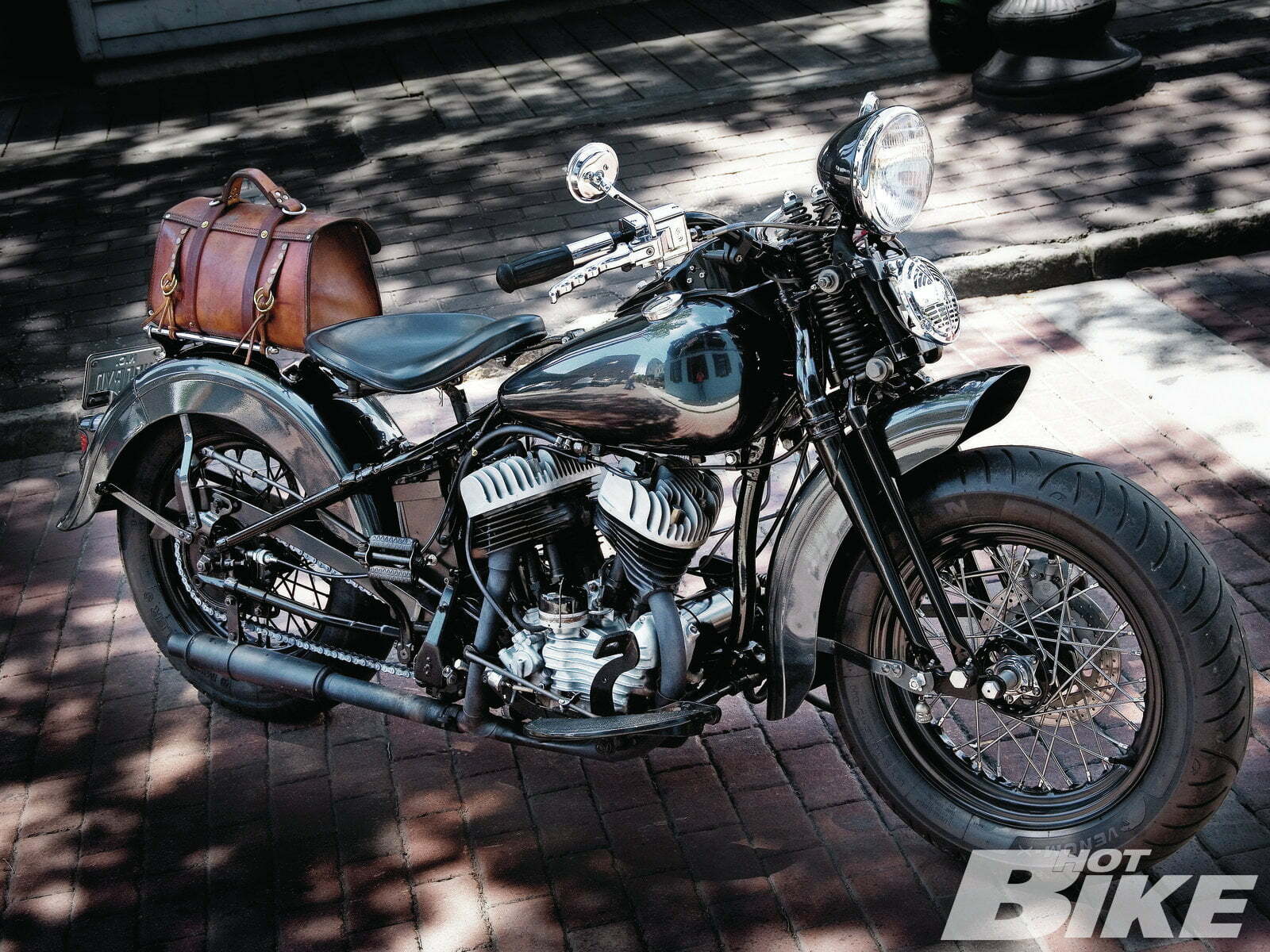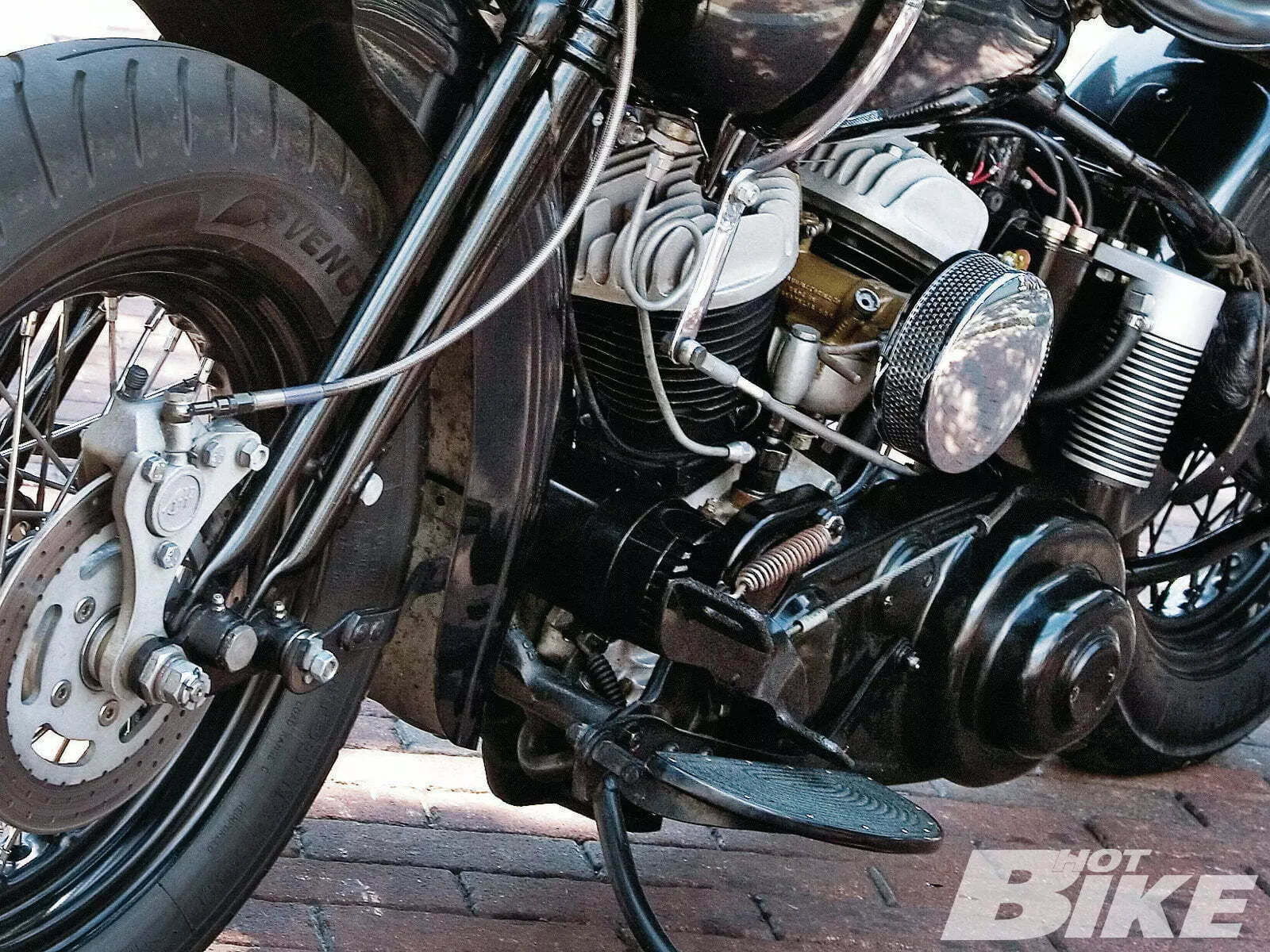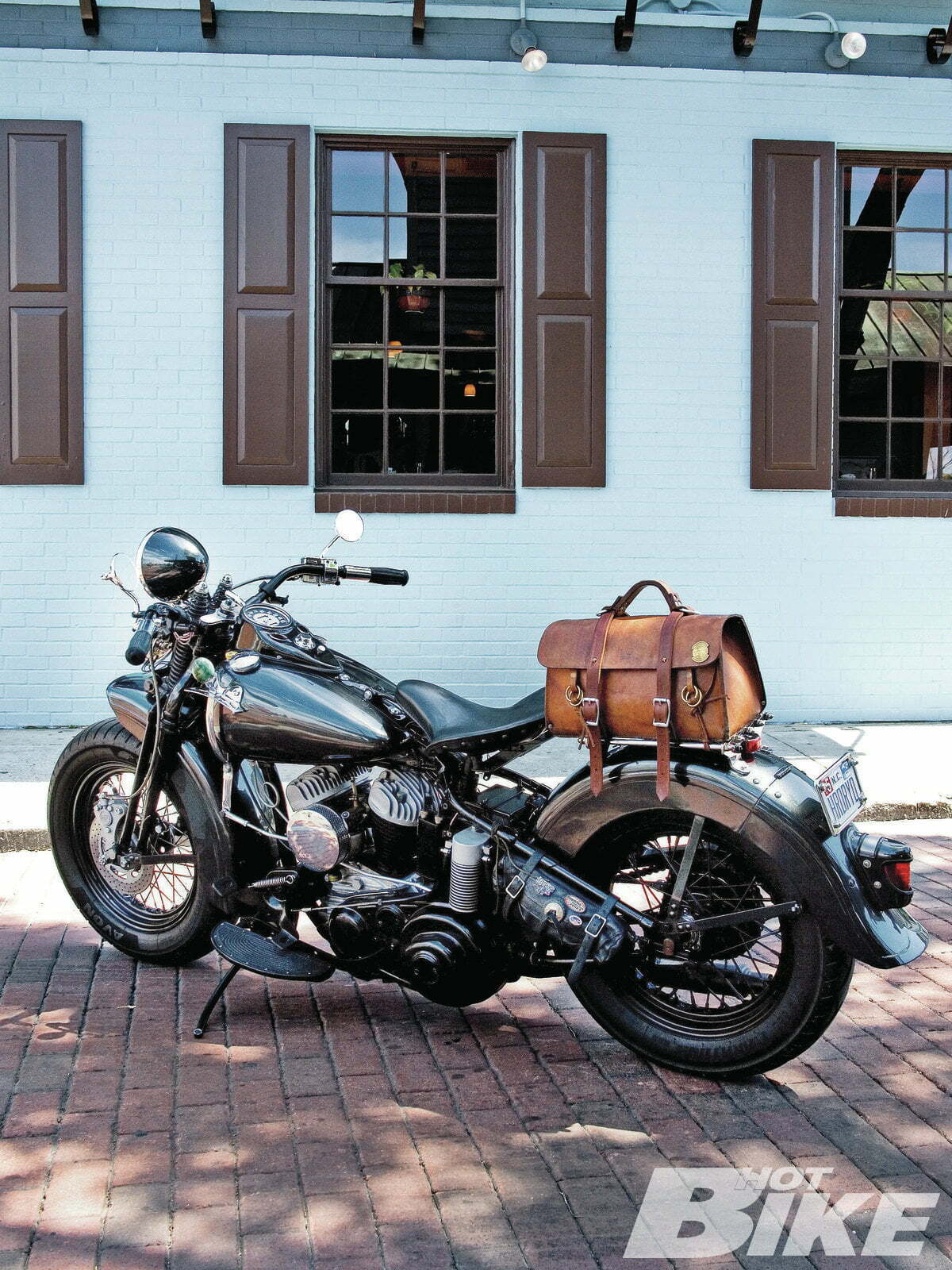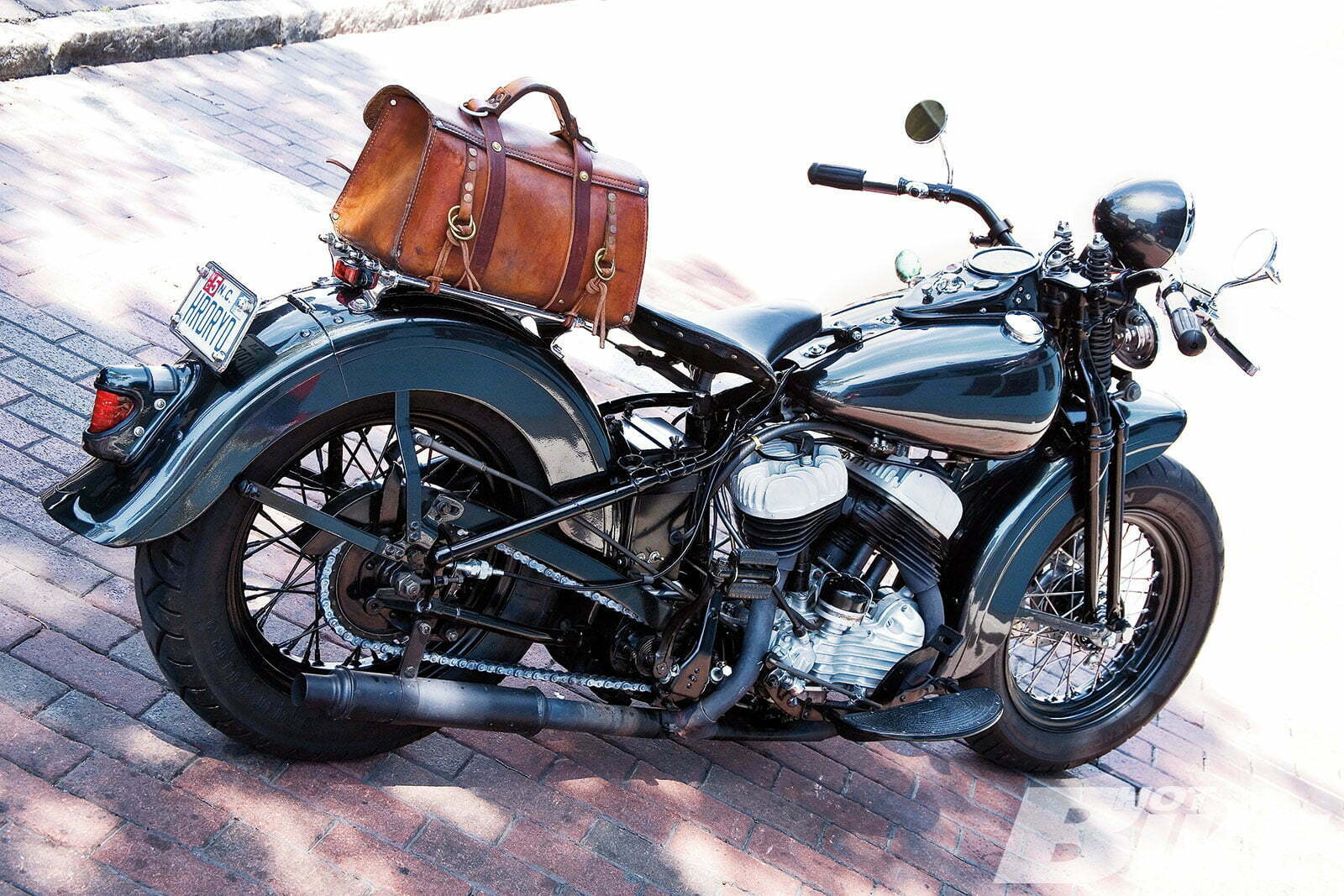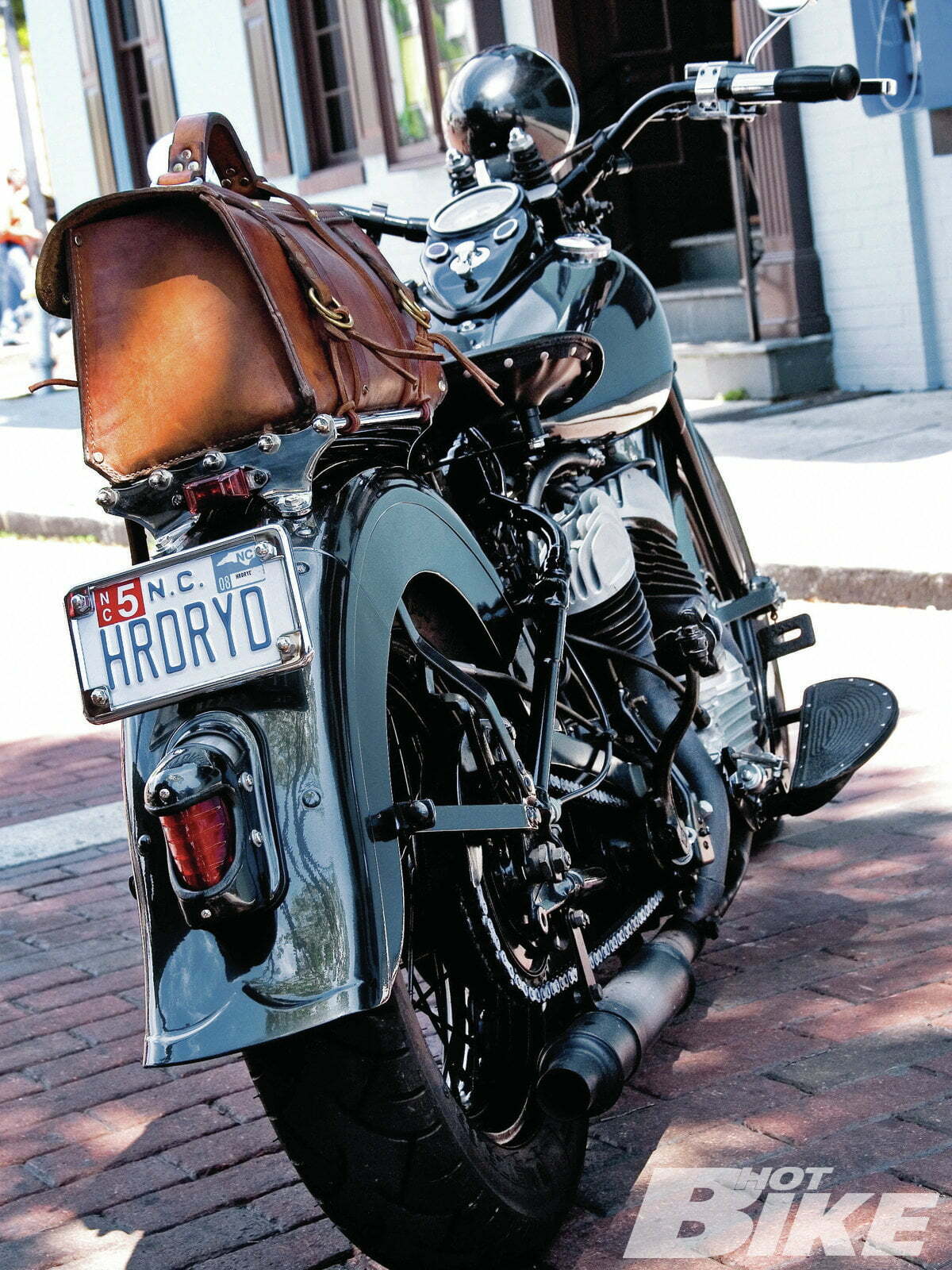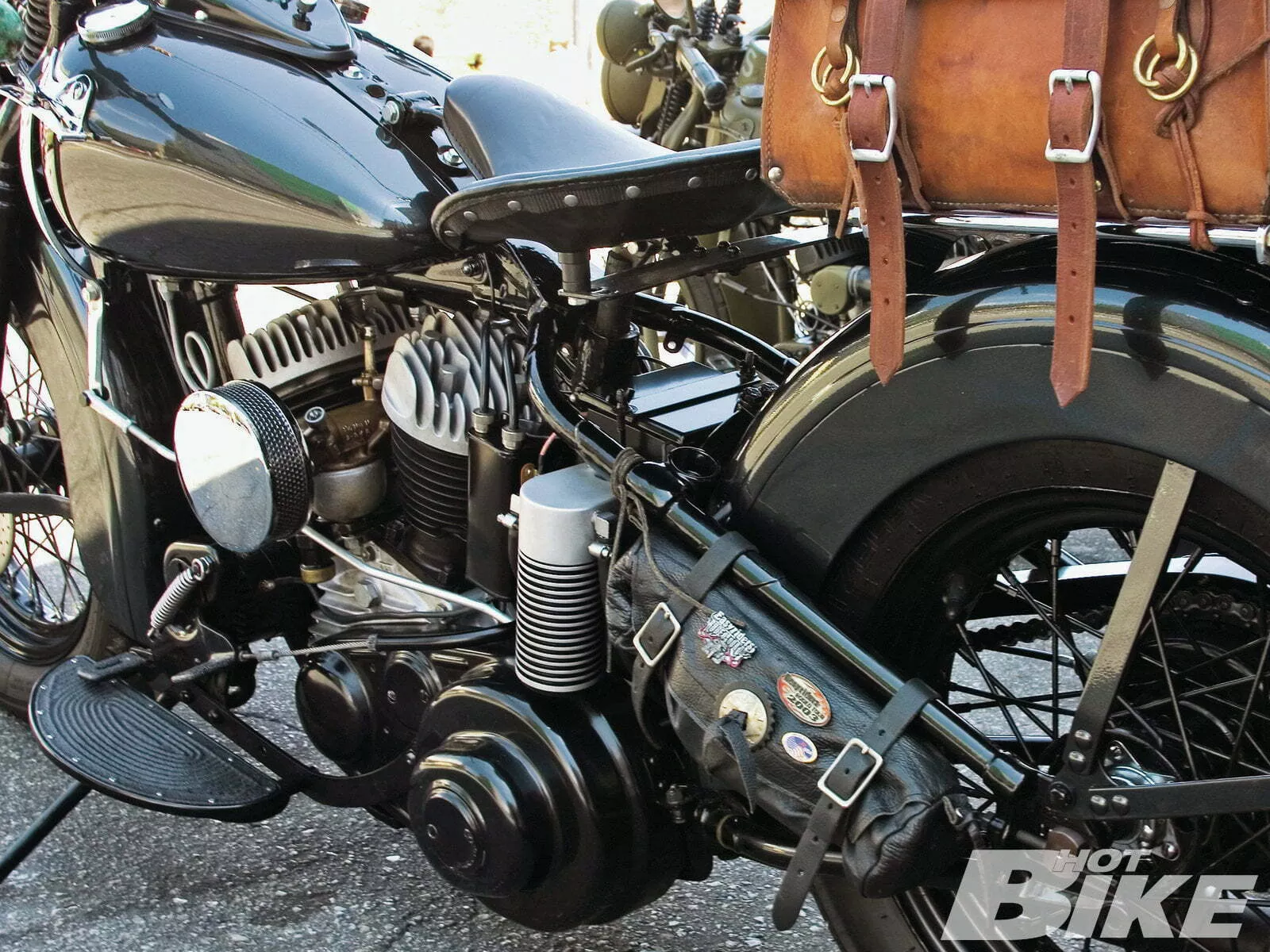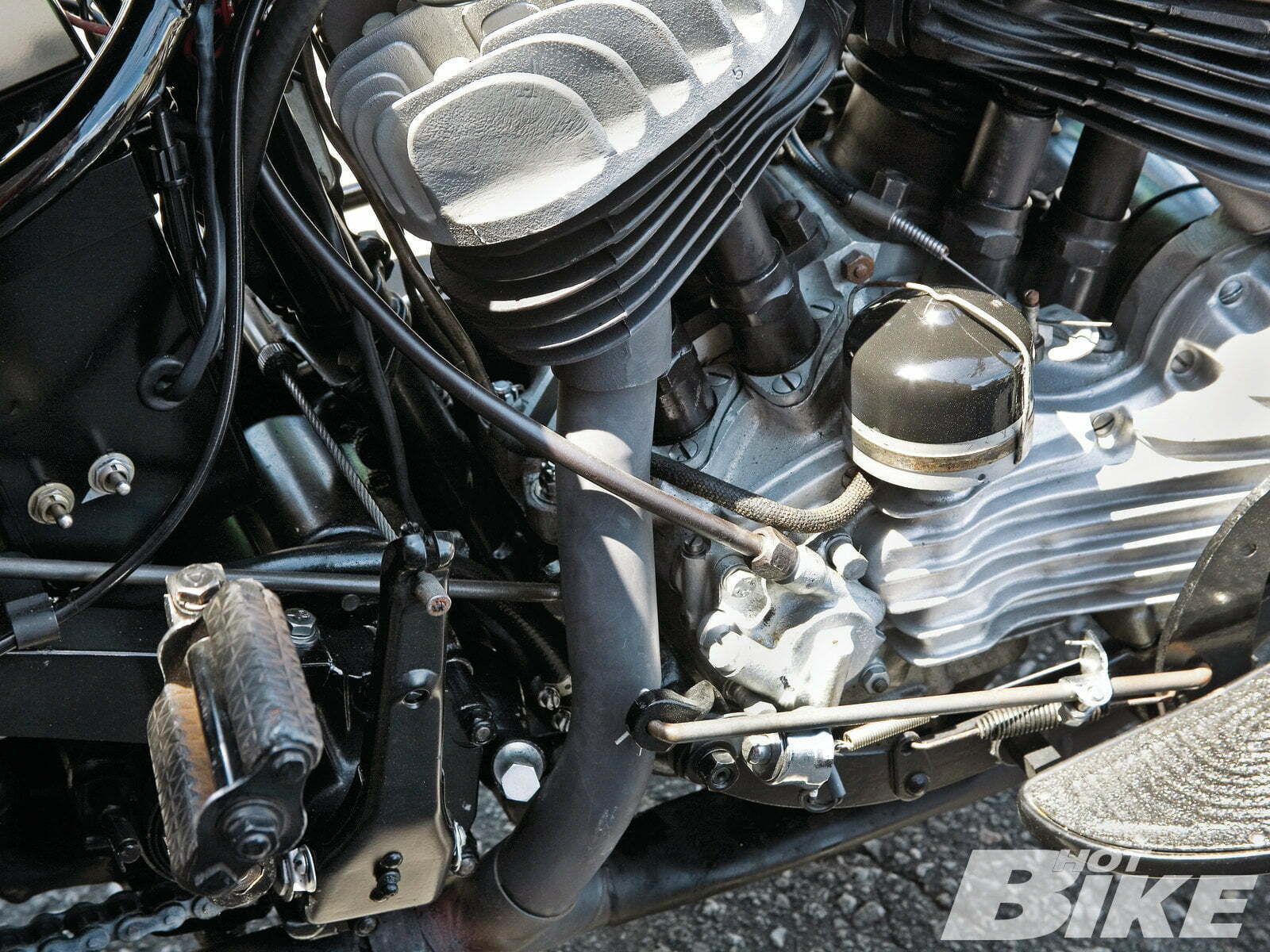 Classic
It's a common story how some projects start with a purely emotional decision and wind up coming home with you without too much thought about how you are really going to get it together. For Chris Lastinger, his decision came after discovering a new old stock, original created, cosmoline coated Harley-Davidson 45 Flathead spare military engine. Problem one, the left case was cracked beyond repair. It seems this particular motor was originally destined for installation in a Harley Servicar. Prior to Chris, two other locals owned it. At one time they both intended it for use in their own respective Servicars. "I had no idea what the motor was other than pretty," admits Chris, but he brought it home anyway.
Chris now had the motor assuming that it must be easy to build a bike around it, right? "Wrong! I soon found out that I had two problems," relates Chris. "First, in order to build a bike, I needed a clean title basket case, and second, I actually knew nothing at all about 45 Flatheads." A minor point but he did know about bikes and how to start researching his newfound project. Chris got his first bike in 1962, a 125 Honda Dream. In 1965 Chris purchased a complete 1955 Harley Davidson Pan Head Panamanian police bike for $75. He has been on Harley-Davidson motorcycles ever since.
The first order of business was to join the Antique Motorcycle Club of America and start learning about the bike. After joining the AMCA, Chris paid a visit to Dale Walkster at the Wheels Through Time Museum in Maggie Valley, North Carolina. Dale rolled out the red carpet and gave Chris a great start by giving him access to images and information that gave him a good idea of what the bike actually looked like. Next stop on the research road was Ed Rich at Asheboro Classic American Cycles, who pointed him in the direction of a useable basket case bike, allowing Chris to get down to the business of building the 45.
"I built what I knew I could," said Chris, "and I call it a 20/20 bike; at 20 feet and 20 mph it looks good. I just wanted to put some history back on the road, and with a parts list spanning 1939 to 2007, all I can really say about the bike is that, well, I built it." Most Harley enthusiasts, though, will recognize it as a 1947 Harley-Davidson Model WL 45 cubic inch flathead.
Starting off this 45s parts list are fuel and oil tanks from a 1946 Harley. The motor was assembled with 47 cases and everything else was donated by a 42 military bike except for the transmission, which is a 41 unit. In a bit of a twist, the front forks are actually from a Servicar, while the floorboards are original military but coated with LineX. The tail lamp came off a 46 and no-one knows where the fenders came from but the front one was shortened and trimmed 13 inches.
The creative details and finish on this bike really draw your attention in. A few of the more innovative details are the use of .45 caliber automatic bullet case heads as washers, tie wraps fabricated from small brass straps pirated from a '57 Chevy, and a ceramic egg shift knob donated by Chris's wife.
Metal surfaces were painted with PPG Midnight Pearl base and clear coat. Chris likes the look of the aluminum parts and admits that they have never been polished or gone over with a wire brush, instead he achieved the look by blasting it with walnut shells at very low pressure in a bead blaster. According to Chris this process takes forever but doesn't mess up the look of the metal surfaces. The shiny black surfaces are courtesy of Rustoleum and the flatter black surfaces are a Dupli-Color ceramic high-heat finish.
The detail work continues on with hours and hours of finishing time. The oil filter was originally highly polished aluminum but after a trip to the aforementioned blast cabinet and some black accent paint, it became a real stand-out on the bike. "It's still an eyesore," relates Chris, "but it's one of those things a ridden bike needs and Harley forgot."
Chris wanted the Linkert M-88 carb body to retain its brass finish but not be too polished and smooth. A bottle of Texas Pete Hot Sauce applied with a toothbrush achieved the look he wanted. And finally, a toothpaste polish was given to the head bolts and anything else painted shiny aluminum so they would dull down and match the finish of the other walnut blasted parts.
And then there is that great looking, but out of character, front disc brake that in a way looks as if it does belongs on the bike in the first place. "Yeah, I catch a lot of flack for that brake," relates Chris, "and I still remember going Superman over a VW in 1967 because my old '55 Panhead had no front brake. To this day I can still remember that lady's eyes when she made that left turn and heard my rear tire screaming totally locked up. Sure glad I'd taken the windscreen off that bike because I sailed right over the bars and the VW, all in slo-mo and nothing hurt till I hit the other side. It reminded me that helmets are actually good. But that bike sure looked cool!"
Chris admits that he gets mixed responses from old bike enthusiasts. The purists tend to look down their noses at it; the other side gives it a big thumbs-up. I think it deserves the thumbs-up, especially with the creativity it took to put it together.
Specifications
General
Owner: Chris Lastinger
Year/Make/Model: 1947 H-D WL
Fabrication
Build Time: Seven months
Engine: H-D
Year/Type/Size: 1947 Flathead 45ci
Builder: Chris Lastinger and H-D
Cases: 1947 H-D
Cylinders: 1945 H-D
Heads: 1945 H-D
Cams: All four of them 1945
Intake Manifold: 1947 H-D
Air Cleaner: Round, Daytona Flea Market
Carb: M-88 Linkert
Exhaust: 1950 H-D
Transmission: H-D
Year/Type: 1941 three-speed
Gears: H-D
Clutch: Barnett
Primary Drive: Chain 33-tooth motor sprocket
Frame: H-D
Year/Type: Solo
Rake/Stretch: Stock
Suspension: Pogo Seat
Frontend: Servicar Springer
Length: Stock
Triple Trees: Stock
Wheels, Tires, and Brakes
Front
Builder/Size: 16-inch H-D Star Hub
Tire/Size: Avon Venom 130-90
Calipers: After Market
Rotors: After Market
Rear
Builder/Size: 16-inch H-D Star Hub
Tire/Size: Avon Venom 130-90
Caliper: H-D Drum Brake
Rotor
Pulley: H-D sprocket
Finish/Paint
Manufacturer: PPG Base Coat ClearCoat
Colors: Black Pearl
Paint/Graphics: None
Accessories