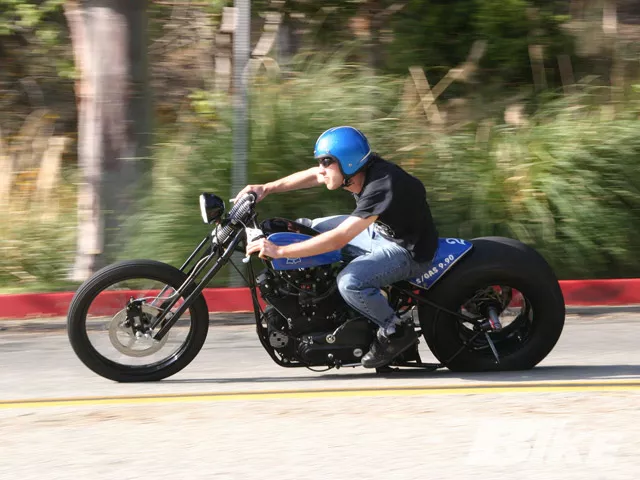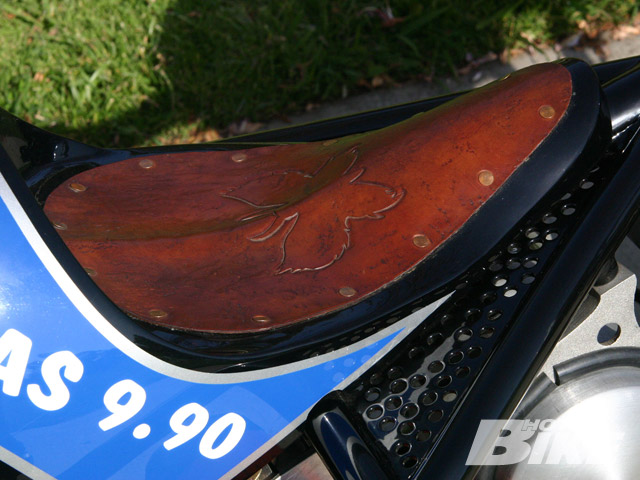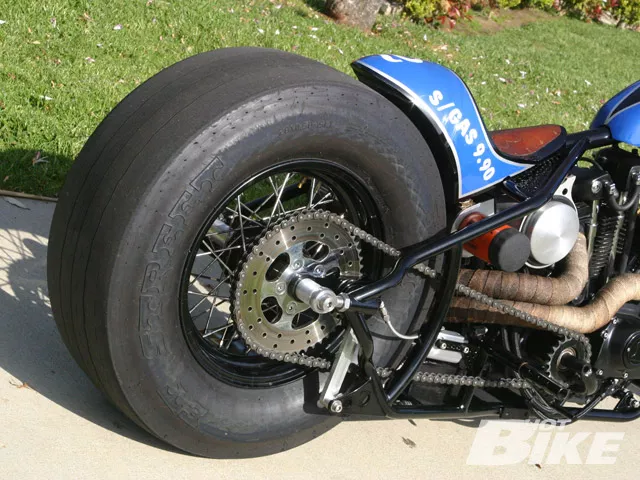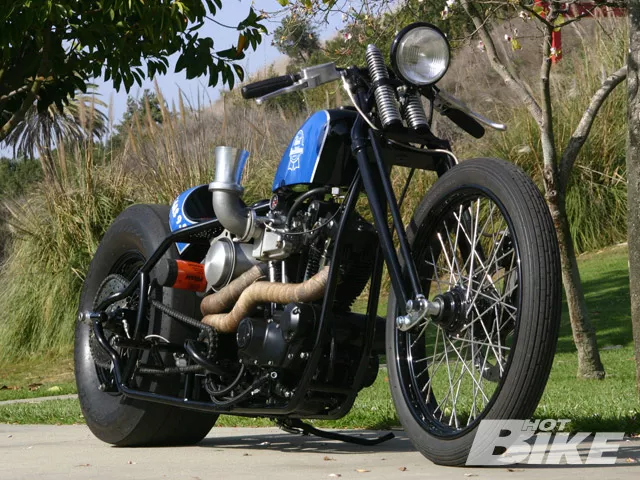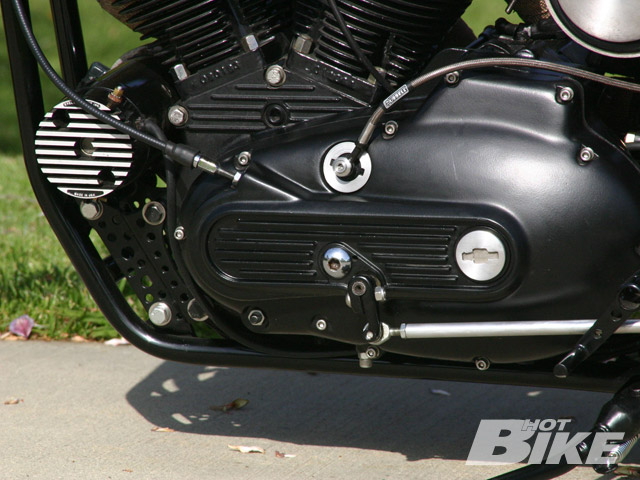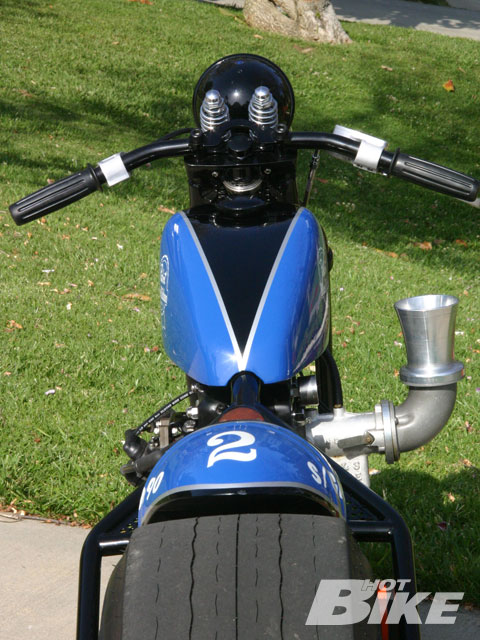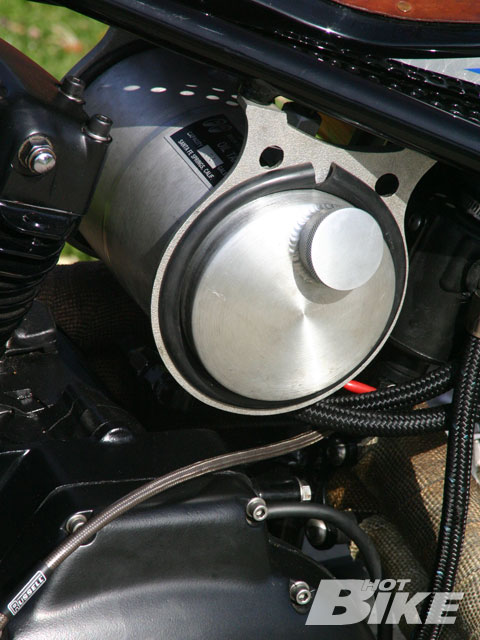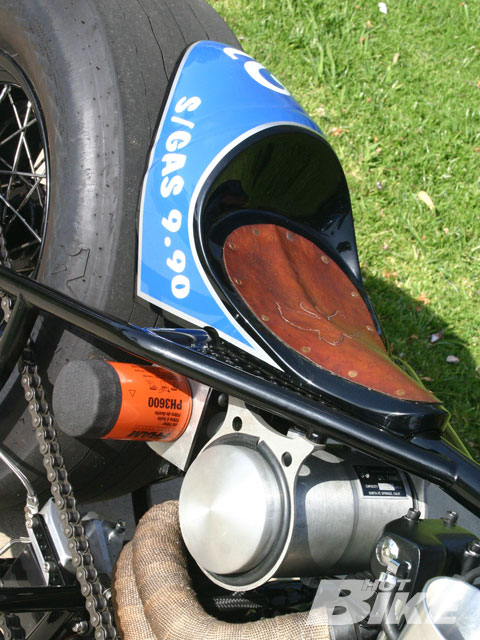 The 1960s mean different things to different people, even riders. For bikers it's about choppers, for racers it's the dirt track, Daytona, and drag racing. Drag racing is was what inspired this hot rod from Jeff and Jason Tiedeken at Metal Morphosis Cycles. Well, drag bikes and a tire. The two brothers had a shop in Minnesota with so much extra space they lent it out to friends. One buddy had a drag car and left his Mickey Thompson slicks there. It seems the local fuzz didn't like him raising hell on the streets and constantly bugged him about his racing tires.
Time passed until the five month rule went into effect-if it's been at someone's place five months, it's theirs. Jeff and Jason now had two drag tires. What they needed was a project.
Or two. The first slick went to a Suzuki GS550 with a single sided swingarm. "We had the tire and had the shop bike, so why not?" Jeff told us. "But for the other we thought, 'how cool would it be to do a `60s style drag bike?'"
The answer to that is this bike. It's an Ironhead Sportster with a magneto and done up like the old drag racers in HOT Rod Magazine. The boys even based it on bikes from old photos (of which they had plenty).
It's based around a 1984 Sporty mill. Yes, we know that's a little later than the `60s but the only other motor they had in hand pulled the old self-destruct trick, so they had to go with what was available. "Eighty four was the last year of the generator Ironhead," said Jeff. "They were only available that way for the beginning of the year, too. Ours is one of those."
When Metal Morphosis started this project, they wanted it to be a street bike that was fun to drag at the track. The operative word here being, "fun." That meant upgrading the motor but you can't just buy an Ironhead kit on the cheap, install it, and call it a day. So Jeff and Jason went to Dave and Matt at D&M; Customs. Turning to them was a good choice for Metal Morphosis; the D&M; guys are hardcore Ironhead motor guys with extensive knowledge of all kinds of Sporty-based race machines, from XR flat trackers to hill climbers.
While the boys had a motor worked out, the frame was another matter. Old Sportster drag frames are pretty hard to find nowadays, but a call to Paughco yielded a suitable candidate. It wasn't exactly made for a 10.5-inch car slick, though. "The front half of the frame's a Paughco but we fabricated the back to fit the tire, chain, and so on," Jeff continued. "We originally wanted a telescopic front end for it but then we thought a springer would be cooler." Not only that, they gave it adjustable rake. How? Heim joints between the forks and the bottom of the frame neck. They used more Heim joints at the back, too, in order to prevent the wheel from moving in the frame while coming off the line at the strip.
Both of these were neat tricks for the chassis but they weren't alone. Back in the 1960s, much as today, racers looked to cut bike weight wherever possible. One of the first casualties was the seat; since you were only going a quarter mile all you needed was a metal pan. Jason and Jeff wanted this to be a street ride too, though so that approach wasn't going to cut it. They compromised by cutting a `29 Ford headlight shell in half, then molded the pan into the bucket. It's not exactly a touring seat, but this isn't exactly a bagger, either. John and Mike at Roberti Customs finished the seat for the two brothers and under tight conditions. "It turned into our own Biker Build Off," Jeff joked. "We were finishing this bike when Russell called from Exile offering me a fabricator job in Cali. We had four days to pack up, get there, and have our bikes ready for Russell's 10th anniversary party." Roberti customs not only buffed, padded, and upholstered this bike's seat, they did it in a single day, without scratching the tail section's paint. What's more, they overnighted it to Metal Morphosis so they'd have a complete bike for the party.
A lot of custom work went into this bike but for the most part, the Tiedekens tried to use stock Sportster parts (or as close as they could get). What they couldn't find, they made, like the gas tank. They also created the bars and controls. Says Jeff, "Bar position was a problem. Old drag bars are meant for racing a short distance, not normal riding. We positioned them so you sit more upright instead of completely lying on the bike. It gives you a hunched, tough look when you're on the bike. You have to be in that position to control the back tire."
This also brings us to a big difference between strip and street: turning. Modern wide bike tires are made with a modicum of turning in mind. Drag tires? Not so much. "We kept the tire at 7-10 psi so you could turn with it. It's like sitting on a beach ball. You roll it in a turn," according to Jeff. "It's not good for the tire but then again, we're not putting much weight on it."
It took them two months to get the Pabst Blue Ribbon (PBR) bike finished but unfortunately you can't see it in person. Unless you're in Europe. Metal Morphosis gets a lot of interest from folks overseas and this machine made its way across the pond where its new owner tears up the road astride his beach ball.
SPEC SHEET
OWNER Jeff and Jason Tiedeken
SHOP Metal Morphosis Cycles
PHONE n/a
WEBSITE www.metalmorphosiscycles.com
YEAR/MAKE/MODEL '84 Harley-Davidson Sportster
FABRICATION Jeff and Jason Tiedeken
ASSEMBLY Jeff and Jason Tiedeken
BUILD TIME 2 months
ENGINE
YEAR/TYPE/SIZE `84/Sportster/1000cc
BUILDER D&M; Custom Cycles
CASES H-D
FLYWHEELS H-D
RODS H-D
PISTONS Wiseco
CYLINDERS H-D/Metal Morphosis
HEADS H-D/Metal Morphosis
VALVES Manley/XLR
ROCKERS ** H-D
**ROCKER BOXES H-D/Metal Morphosis
PUSHRODS Manley
PUSHROD TUBES H-D
CAMSW Andrews
LIFTERS Lightning
CARBURETOR S&S; L-series
AIR CLEANER D&M; Custom Cycles
IGNITION Dyna
EXHAUST Metal Morphosis
TRANSMISSION
YEAR/TYPE `84/Sportster
CASE H-D
GEARS Andrews 20/50
CLUTCH Carbon
PRIMARY DRIVE Good ol' chain
FRAME
YEAR/TYPE `06 Paughco/Metal Morphosis
RAKE 40 degrees
STRETCH None
SUSPENSION
FRONT ** DNA/Metal Morphosis
**LENGTH ** Stock
**TRIPLE-TREES DNA
REAR
SWINGARM ** None
**SHOCKS n/a
WHEELS, TIRES, AND BRAKESFRONT
BUILDER/SIZE Black Bike Wheel 21-inch
TIRE/SIZE Avon Speedmaster/3-21
CALIPER(S) PM
ROTOR Exile
REAR
BUILDER/SIZE ** Black Bike Wheel/15-inch
**TIRE/SIZE Mickey Thompson/10.5-inch
CALIPER Exile
ROTOR Exile
FINISH/PAINT
COLOR(S) Smurf Blue/Midnight Black
PAINTER Brian Irivan
GRAPHICS Brian Irivan
MOLDING No
ACCESSORIES
FRONT FENDER No
REAR FENDER `29 Ford Headlight/Metal Morphosis
GAS TANK Metal Morphosis Sportster
OIL TANK Moon Eyes
GAUGES On a drag bike???
HANDLEBARS Metal Morphosis
MIRRORS See 'gauges'
HAND CONTROLS P.M.
FOOT CONTROLS Metal Morphosis
FOOTPEGS Metal Morphosis
HEADLIGHT Bates
TAILLIGHT LA Choprods
TURN SIGNALS Hands
LICENSE MOUNT Metal Morphosis
**SEAT John and Mike at Roberti Customs