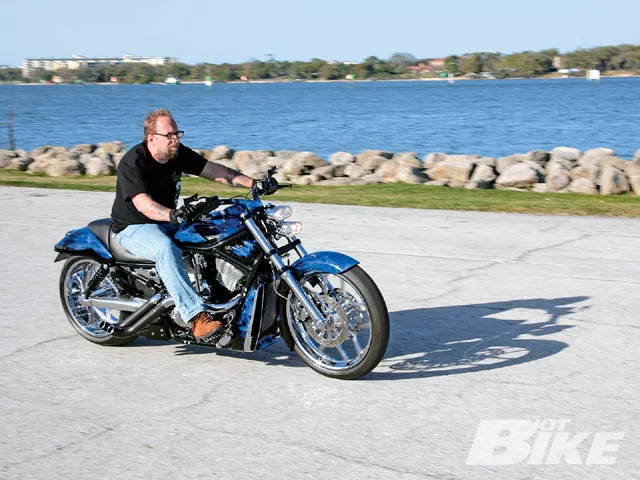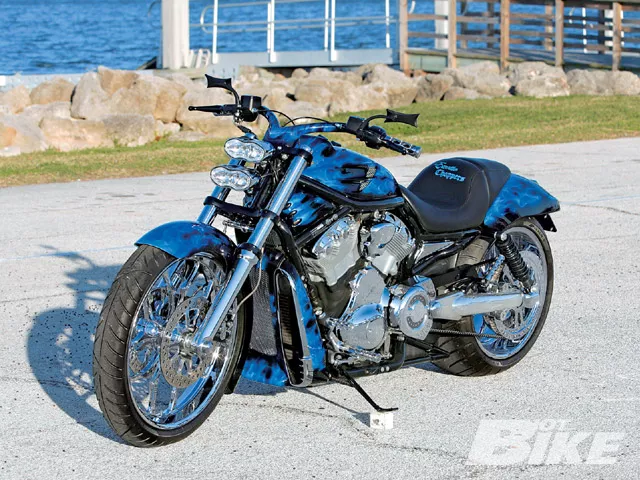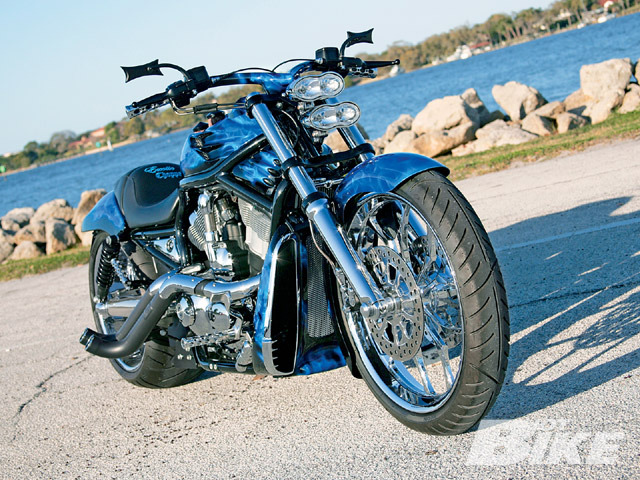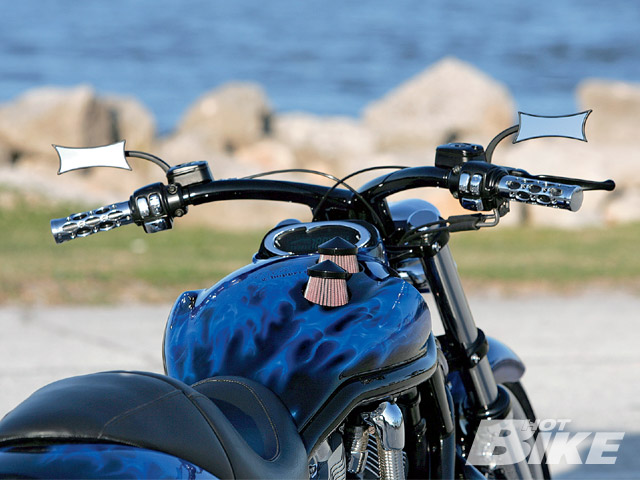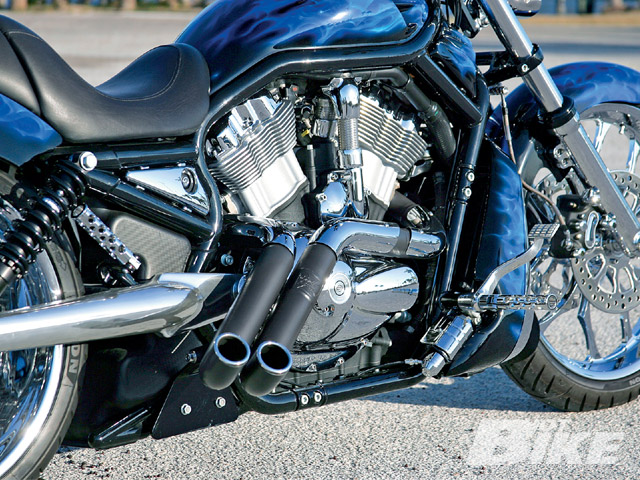 _ With a company name like Exotic Choppers, you would think shop owner Paul Kokesh wouldn't go anywhere near a V-Rod or anything that wasn't a true traditional chopper for that matter. Actually, Paul kicks out more than just chopper builds from his Orlando, Florida, shop. In fact, his shop might be as well-known for it' wild bolt-on and custom intake and exhaust systems as it is for bike builds. However, knowing that in order to survive in the custom motorcycle industry you need to be diverse and stay on top of the trends via parts or bike builds, Paul saw more and more V-Rods on the road and decided it was time to tackle one of his least favorite bikes in the H-D lineup._
I never thought the day would come when I would have said, 'Now that's a good looking V-Rod,' much less own one. My new found admiration for V-Rods stems from one of our customers who wanted to trick his Rod by slamming it to the ground, adding a 240 kit, an Exotic Choppers exhaust system, as well as a few other little things. He said he wanted to completely do the bike over in a big way but still maintain a simple and clean theme. I thought it over for about a week and came up with basically what you see here. I say, basically because this is not the customers Rod, it's one of my shop bikes. Being unsure of my complete vision, the customer decided to hold off on a complete tear down and decided to remodel his Rod in stages. After test riding his newly slammed Rod, I was amazed how smooth the drivetrain was, not to mention the great handling and power. I was so psyched to do the complete project that I started looking for a used V-Rod. I found a decent, very low mileage 2005 VRSCB. The previous owner had all of the motor/ transmission covers swapped out for chrome ones rather than the usual polished ones for a B model. My thought was, perfect!
I wanted to stuff a 300 tire in the back so I widened the swingarm 3 inches, cut off the cast-in brake anchor and plated it in flat aluminum to run a drive side brake since there wasn't a kit available for V-Rods. I tweaked an HHI brake setup and machined a custom brake anchor. I also machined a new axle with adjusters, pivot shaft and spacers. The shocks are custom made to my specs by Works Performance. They look and ride great. I still wanted to maintain the looks of a traditional V-Rod, as its purpose was to be a model for some of our new Exotic Choppers V-Rod products. I ordered a 2008 Night Rod Special fender which, with some work, turned out to be a perfect fit for a 300. It allowed for 3/16-inch to spare on either side. It took five minutes or so to body hammer the mounting area of the fender since the fender and mount area on the frame changed slightly in 2007. The passenger seat needed to be 2 inches longer and 1 inch wider. The driver seat needed to be one inch wider towards the back. We sent the seat to Mark Thrasher who does all of our seats. The Cutting Edge Illusions air box cover (faux gas tank) was a perfect choice since it utilizes a Dakota Digital gauge cluster, which cleaned up the bars nicely. With V-Rods not having a traditional air cleaner, I wanted to do a throwback look. I fabricated a base plate to the downdraft throttle bodies and twisted up some ram tubes offset to the right side of the bike, as tradition has it. I topped them off with two K&N; cone filters with billet caps I spun up on the lathe. I popped two holes in the air box cover allowing them to peek through.
The frontend was lowered 2 inches and features chromed sliders, powdercoated slider seal covers and triple trees. I had never seen a 21-inch wheel on the front of a V-Rod so that became the obvious choice. I used a wide 21-inch rim with hubs I machined to fit a V-Rod. I despise the factory front fender set up so I took a six inch wide, 21-inch universal fender, dimpled in the area by the upper fork sliders and welded in stand off perches to get it mounted. I added a Harley-Davidson custom radiator cover, upper neck frame covers and about $500 worth of miscellaneous chrome covers from Harley.
The paint was done in house. I like the paint scheme to flow into a few parts aside from the usual gas tank (or air box in this case) and fenders. I painted the handlebars, upper neck frame covers and all three radiator covers. In my opinion, it makes the paint blend and flow, adding movement even when the bike is sitting still. The paint is a black base with candy blue true fire; nothing loud but just enough to make it mean.
The first time the bike was shown was at the Daytona Beach Boardwalk Bike Show. There wasn't a V-Rod class, subsequently resulting in the only V-Rod there mixed among the other customs and Softails. The bike pulled a First place trophy in its class. The trophy really wasn't what was important to us. The comments, reactions, and appreciation from the passing spectators are what really count. It's a great feeling to hear, "I don't even like V-Rods, but I love this one," and "Now that's what a V-Rod is supposed to look like!" It makes doing my job and these events just that much better. I really enjoyed working on something other than Softails, Sportys, pro-streets or choppers. Most builders have a niche or style they follow. We just can't do that here at Exotic Choppers. I like a challenge and change of pace.
Specs
| | |
| --- | --- |
| BIKE OWNER | Paul Kokesh |
| SHOP NAME | Exotic Choppers, Inc. |
| SHOP PHONE | (407) 253-1233 |
| SHOP WEBSITE | www.ExoticChoppers.com |
| YEAR/MAKE/MODEL | 2005/HD/V-ROD |
| FABRICATION | Exotic Choppers |
| ASSEMBLY | Exotic Choppers |
| BUILD TIME | 45 hours w/fabrication time/paint time |
| | |
| --- | --- |
| ENGINE | |
| YEAR/MANUFACTURER | 2005/H-D |
| TYPE/SIZE | 1130 cc |
| BUILDER | H-D |
| CASES | H-D |
| CYLINDERS | H-D |
| HEADS | H-D |
| ROCKER BOXES | H-D |
| EFI | H-D |
| AIR CLEANER | Exotic Choppers |
| EXHAUST | Exotic Choppers |
| | |
| --- | --- |
| TRANSMISSION | |
| YEAR/MANUFACTURER/TYPE | '05/H-D/Five Speed |
| CASE | H-D |
| CLUTCH | H-D |
| PRIMARY DRIVE | H-D |
| | |
| --- | --- |
| FRAME | |
| YEAR/MANUFACTURER | '05/H-D |
| RAKE | Stock |
| STRETCH | Stock |
| | |
| --- | --- |
| SUSPENSION | |
| MANUFACTURER FRONT | H-D/Lowering Kit |
| LENGTH | -2 inches under |
| TRIPLE TREES | H-D |
| MANUFACTURER REAR | Works (custom made) |
| SWINGARM | H-D/Exotic Choppers |
| | |
| --- | --- |
| WHEELS, TIRES, AND BRAKES | |
| MANUFACTURER FRONT/TYPE | Weld Racing/Recluse |
| SIZE-HEIGHT/WIDTH | 21×3.5 |
| TIRE/SIZE | Avon 120/21 |
| CALIPER | H-D |
| ROTOR | Weld Racing/Recluse |
| MANUFACTURER REAR/TYPE | Weld Racing/Recluse |
| SIZE-HEIGHT/WIDTH | 18×10.5 |
| TIRE/SIZE | Avon/{{{300}}} |
| CALIPER | HHI/Exotic Choppers |
| ROTOR | Weld Racing/Recluse |
| | |
| --- | --- |
| FINISH/PAINT | |
| COLOR | Black Base w/Blue True Fire |
| PAINTER | Paul @ Exotic Choppers |
| GRAPHICS | Paul @ Exotic Choppers |
| PLATING/POLISHING | Meclec |
| POWDERCOAT | Exotic Choppers |
| | |
| --- | --- |
| ACCESSORIES | |
| FRONT FENDER | Exotic Choppers |
| REAR FENDER | H-D/Exotic Choppers |
| GAS TANK & CAP | Cutting {{{Edge}}} Illusions |
| OIL TANK | H-D |
| GAUGES | {{{Dakota}}} Digital |
| HANDLEBARS | Exotic Choppers |
| MIRRORS | Arlen Ness |
| HAND CONTROLS | H-D |
| FOOT CONTROLS | H-D |
| FOOTPEGS | V-Twin |
| HEADLIGHT | Exotic Choppers |
| TAILLIGHT | Smoked LED |
| LICENSE MOUNT | Exotic Choppers |
| SEAT | Mark Thrasher |