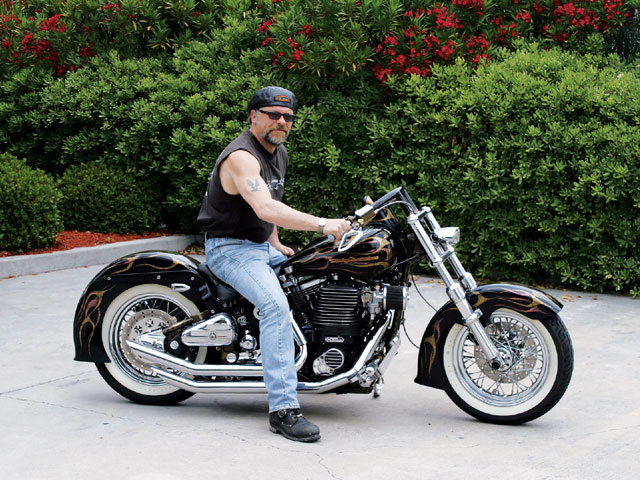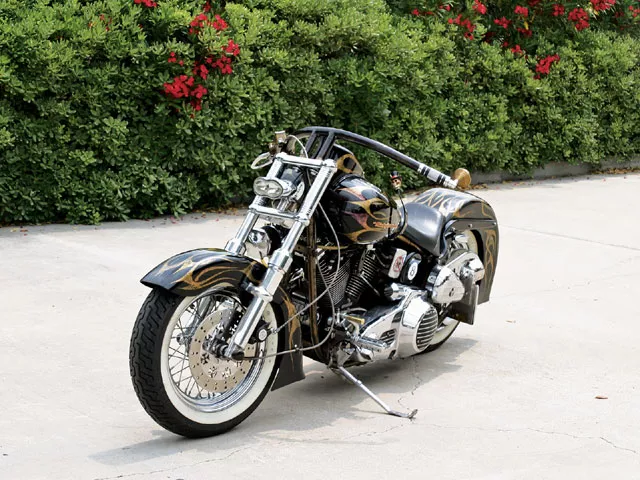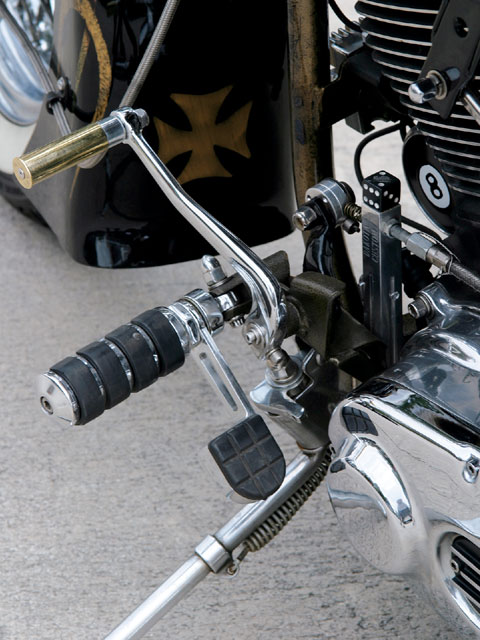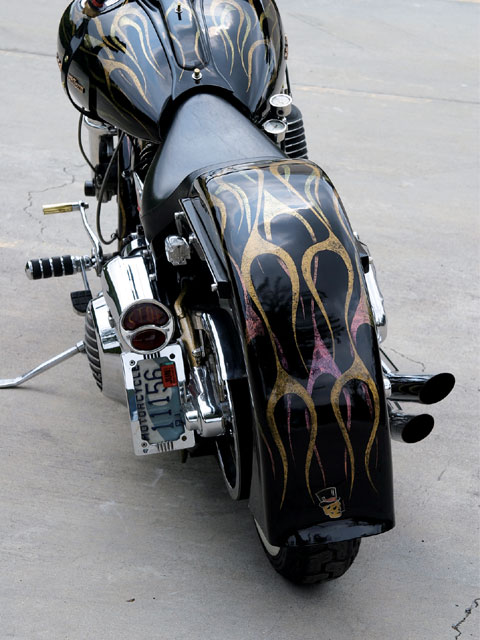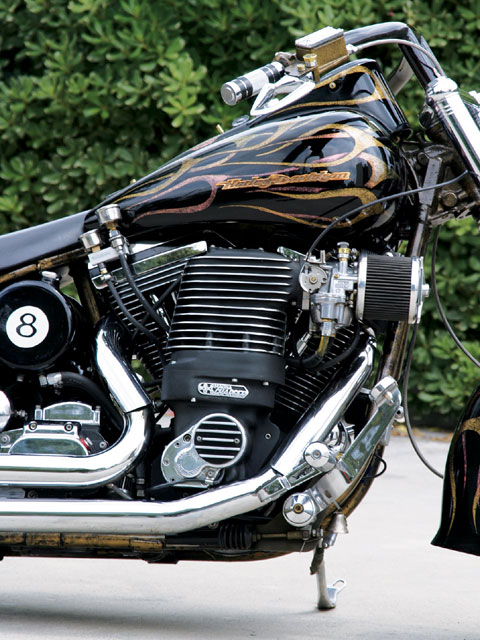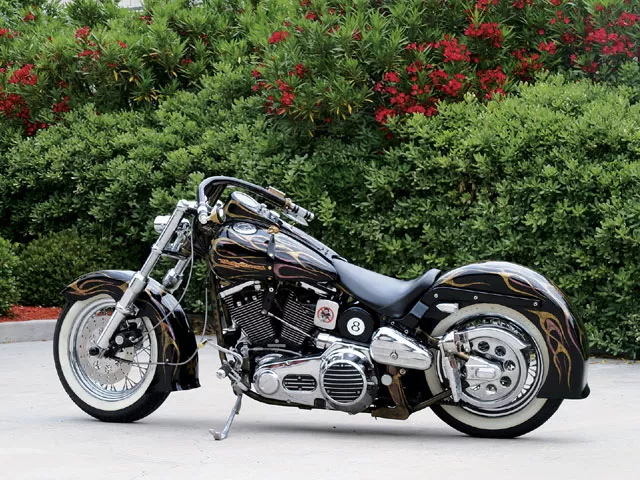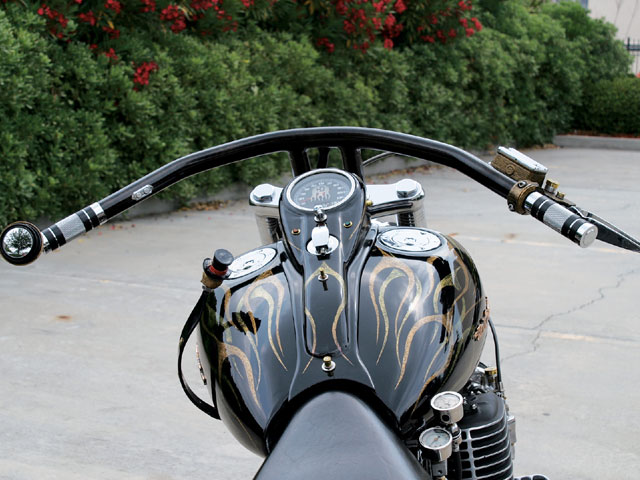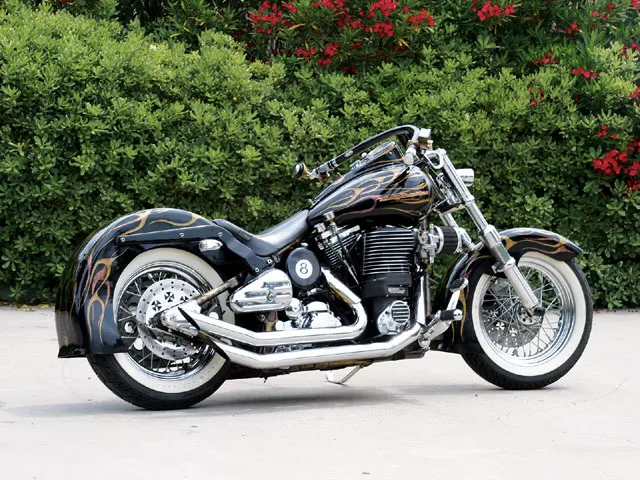 I purchased this Softail brand-new in 1987. I traded in a '72 Ironhead Sportster and sold my '58 Panhead to come up with the cash. While I cut my teeth fixing Harleys with those two bikes, I wanted to do more riding and less wrenching. Over the years there have been six different versions of this bike-it's kind of like a rolling business card for my shop, Dakota Customs.
Because I have a full-time job, what began as a hobby has evolved into a second business through word of mouth. I do two to three ground-up customs or restorations a year. All welding, fabrication, paint, machining, and motor work are done in-house. I prefer to use factory bikes as the platform for several reasons: They hold their value, are easier to insure/register, parts availability, reliability, and the high probability H-D will be around long after the current mix of motorcycle companies has come and gone. The styles of bikes that I build today are reflected with this bike. They have a lowered center of gravity, wider bodies, modified H-D engines, standard rake and trail, with matched tires for handling, handmade bars, and of course flames. I'm glad to see the trends headed towards old school bobbers and lowriders versus the current epidemic of cookie-cutter fat-tire long bikes that don't handle for crap.
The blower was installed two years ago to give the engine a little boost, which added 45 hp. Dyno tuning is critical to this setup to maximize output because of the numerous variables that come with supercharging engines. The blower was selected versus a turbo because of the cleaner look without the plumbing nightmare.
To make things more interesting, the one-off foot clutch, tank shifter, and handlebars were added last year. Adding the tank shifter was like learning to ride all over again, which was exhilarating. The setup makes you pay more attention to what you are doing (no left foot down, and so on), and gives you more of a sense of interaction with the machine. I wouldn't recommend it for rookies, foot draggers, or people who can't walk and chew gum at the same time. For experienced riders it does add another dimension to every ride, and it looks cool, too.
| | |
| --- | --- |
| SPEC SHEET | |
| Owner | Bob Descoteaux |
| Hometown | Glocester, RI |
| Year/Model | '87/FXSTC |
| Builder/Assembly | Owner/{{{Dakota}}} Customs |
| Engine | H-D 1340 (80ci), Magnacharger |
| Cam | Andrews {{{EV}}} 43, modified |
| Carb | S&S; Super E |
| Valve train | Crane |
| Ignition | Crane HI-4 programmable |
| Pipes | 2 inches with torque cones |
| Transmission | H-D five-speed |
| Gas Tank | Six gallon stretched with aircraft caps |
| Front Fender | Modified Ness |
| Rear Fender | Modified Ness |
| Front Suspension | H-D, White Brothers, Dakota Customs, 2 inches under |
| Rear Suspension | H-D, Dakota Customs, 2 inches under |
| Wheels | H-D factory spoke |
| Tires | H-D gangster white walls |
| Other | Handlebars, tank shifter, foot clutch assembly, taillight, oil tank are Dakota Customs, as well as new paint and sheetmetal. |