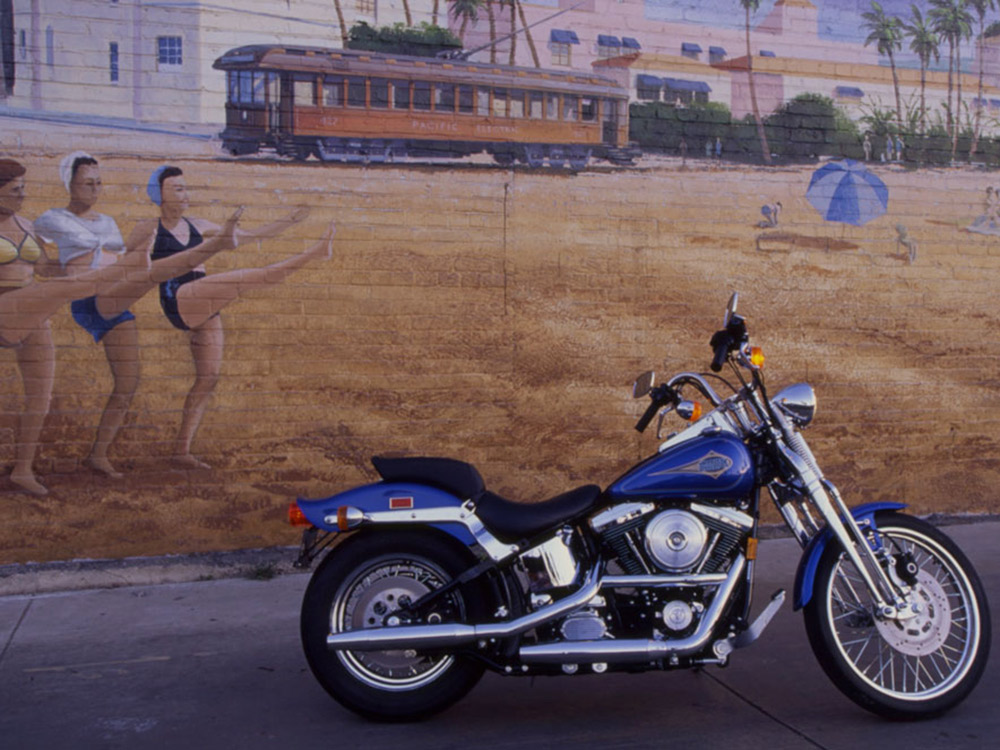 This article was originally published in the Spring 1996 issue of Cycle World's Big Twin magazine.
Let's see you try this on any other kind of motorcycle: Take a front suspension that was deemed obsolete 40 years ago, graft it onto an otherwise contemporary motorcycle, then try selling the idea to your company's marketing people—not to mention the buying public. You'd be in the unemployment line faster than you could say. "Hey, I was only kidding."
But in designing the Springer Softail, which made its debut in 1989, that's exactly the tactic Harley's engineers used. They borrowed a front-suspension design the company had abandoned in 1949 in favor of telescopic forks, and mated it to a late-Eighties' Softail chassis. The bike that emerged from that midnight meeting of old and new has become one of Harley's most popular models. And since last year, it even has a stablemate in the FXSTSB Bad Boy.
Unquestionably, this method of designing a new model could fly only at Harley-Davidson, where ideas never grow too old to resurrect. Besides, H-D has done a lot more than just bolt an old front end onto a late-model motorcycle. The company completely re-engineered the original fork when developing the '89 Springer, updating it with modern technologies of suspension, metalurgy and manufacturing. So, despite it being more than half of a century old, the Springer concept actually works quite well.
Under most circumstances, anyone who has ever ridden a conventionally forked Softail wouldn't detect much difference between its front suspension and the Springer's . Only the up-and-down movement of the coil-spring package—clearly visible between the handlebar risers—and the absence of front-end dive during light braking generally tip you off. The ride is firm but not abusive, the steering precise and easy, and the overall handling quite nimble for a bike of this length, weight and front-end design.
In overall ride quality, the Springer fork closely matches that of the Softail suspension living at the other end. Neither offers as much travel as its more-conventional counterparts, but the ride is balanced, even if it can be rather choppy. When you travel on a Springer, you usually arrive at your destination with a pretty good sense of the texture of all the roads you passed over along the way.
Otherwise, the nostalgic front end forces no significant performance compromises. The bike bends into corners of all speeds with ease and poise, and even arcs around fast corners with unexpected competence. No wiggles and wobbles, nothing dragging on the tarmac. Only rough or undulating pavement ever upsets the Springer in corner, and that, again, is due more to shortage of suspension travel than shortcoming of chassis.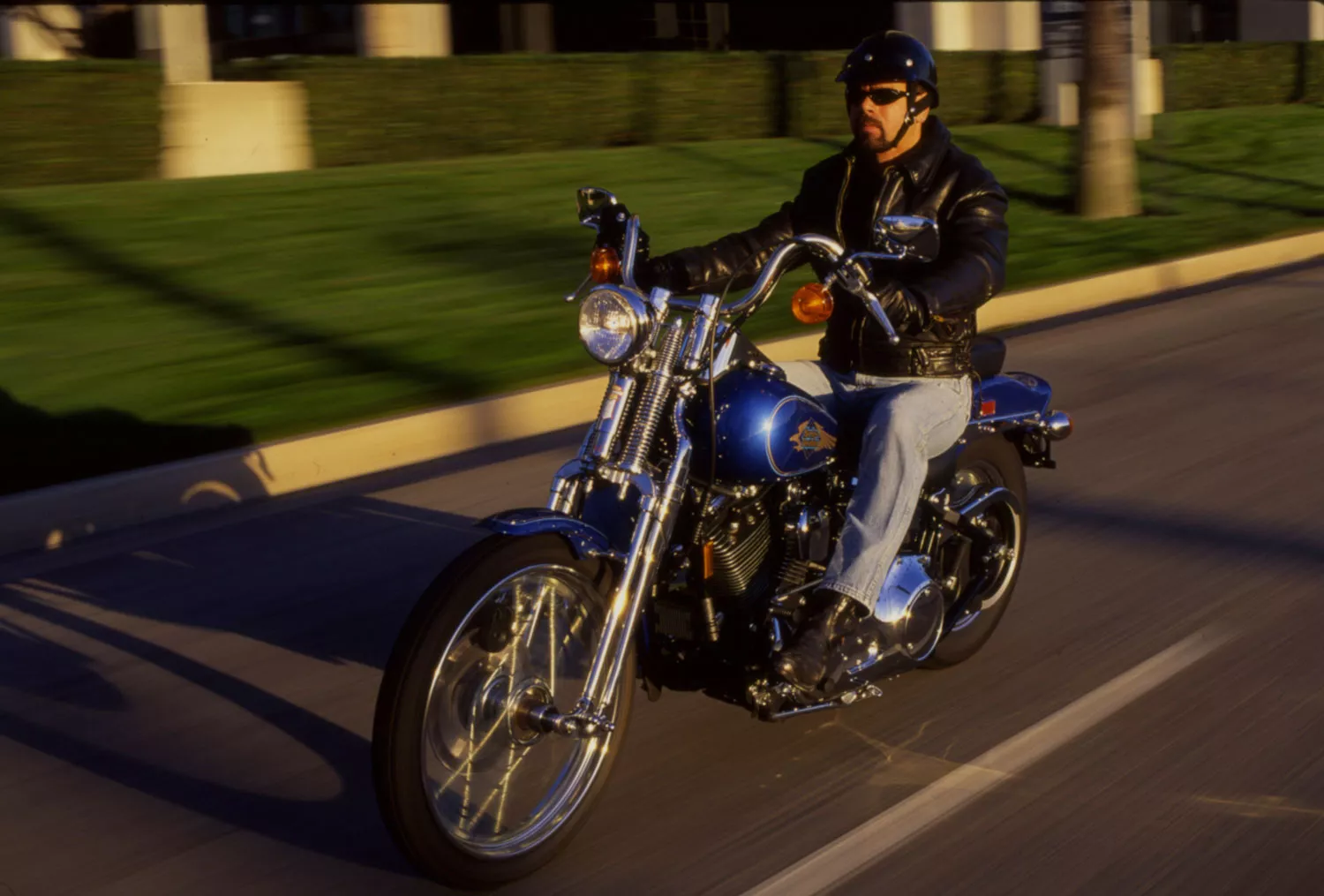 Helping to mitigate the often-coarse ride is an excellent seat and good cruiser-style ergonomics. The seat is very low, just 26 inches, and nicely contoured to distribute the rider's weight across most of the buttocks. The Ape Hanger handlebar puts the rider's hands in a natural location, while the forward-mount foot controls keep the knees from having to assume a lot of bend. All this makes for a pleasant riding position, especially if you have something—or someone— on the passenger seat to lean against at higher speeds.
But they probably won't be high for too long. The solid engine mounts required by its under-engine rear suspension system cause the Springer—all Softails actually—to vibrate more than the rubber-mount models in the Harley line. The engine is comparatively smooth at idle and lower rpm, but starts emanating much more vibration up around 65 mph. Still, even at its worst, the shaking is less-intrusive than it was on Softails of two or three years ago.
Part of that added smoothness exists because Softails have slightly taller overall gearing than they did until 1995, and that has helped move peak vibration a little farther up the road-speed scale. It has hurt acceleration slightly in the process, however. The Springer rumbles steadily up through its five-speed transmission (which is quieter this year thanks to the fitment of the higher-contact-ratio gears that debuted on select 1995 touring models), and certainly more briskly than just about any four-wheeler besides a few serious performance cars, but it's no stoplight racer. This big V-twin is an engine meant for relaxed cruising and easy acceleration.
The 1996 model year also has brought all Softails, including the Springer, several other refinements and changes. The speedometer is now electric, for example, and has an LCD digital odometer/tripmeter. The handlebar switches were redesigned, too, to give them more-modern, rounded shapes and locate the horn button more conveniently right next to the left handgrip, where it's easier to reach when that bluehair in a Cadillac tries to cut into your lane.
But somehow, even though "modern" is a legitimate word to use in any discussion of the Springer Softail, it somehow seems inappropriate. Sure, the bike performs as capably as any other current Harley—even better than some, in fact. And despite its front end, which has roots that go back beyond the days of The Great Depression, the Springer does not act like a curious old antique that just rolled out of some 1930s time capsule. And that's what makes this bike so charming and attractive and fun to ride. Its period-piece front suspension simply puts the finishing touches on the basic Softail package, a concept that already draws so heavily on Harley history with its nostalgic, hardtail-look rear suspension.
So, the Springer proves beyond a shadow of a doubt that you can have a full measure of good-old-days nostalgia and contemporary function all in the same machine.
But only if it's a Harley-Davidson.