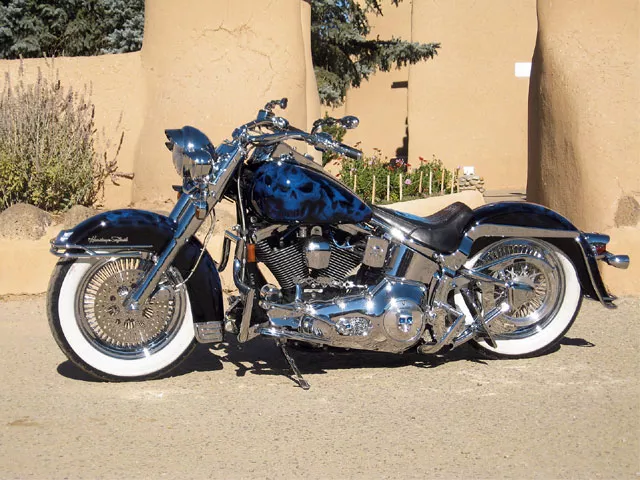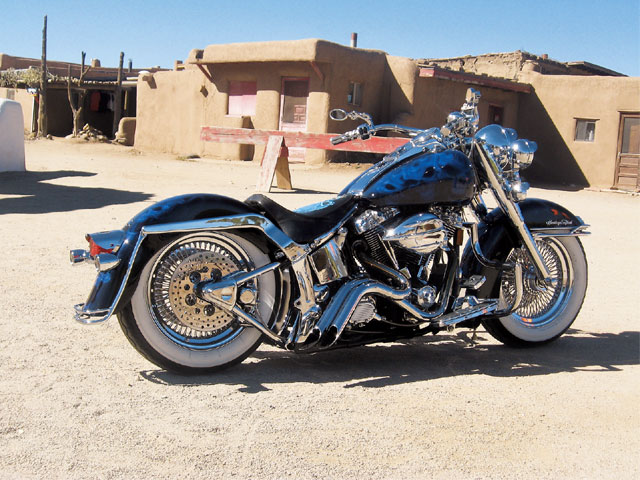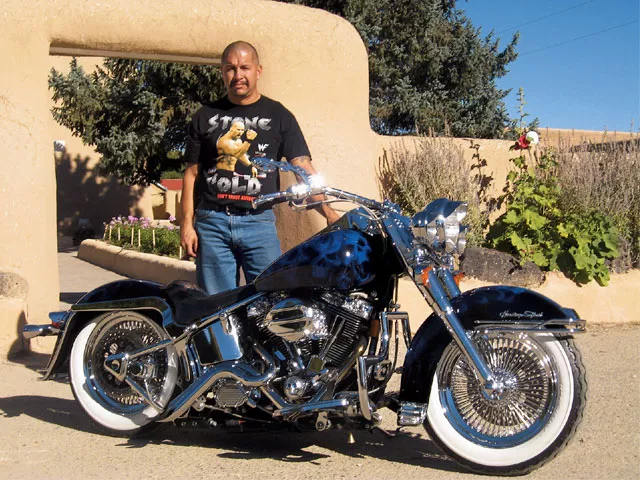 Here at HOT BIKE, we get a lot of rides-Harleys, hogs, whatever you want to call them-submitted by our readers. Pick of the Pen is an opportunity to dedicate a few pages to our favorite readers-submitted bike each month. This month's Pick of the Pen comes to us from Joseph Vigil of Rancho de Taos, New Mexico.
As far back as I can remember, I have always wanted to own a Harley- Davidson. I had always been interested in Harleys, but I had never been on one. I spent time helping my cousin Gilbert with his Harley. My first ride was when I was 17. I had to ride Gilbert's Harley home from a bike show because the show finished early. I decided right then and there that I would own my own Harley someday.
A few years later I finally bought my '98 Heritage. My family enjoyed our new toy. My wife and kids loved to ride with me all the time. There was always a fight over who got more time on the bike.
I am constantly buying new pieces of chrome for my baby. The first piece I bought was a set of exhaust pipes. My wife is always telling me to open a store with all the chrome pieces that I have replaced with new chrome.
A few years ago I decided to give my baby a boob job. I ordered a set of new seven-gallon stretched tanks and fenders. I sent them all to Al Danny Martinez Custom Paint in California to get painted. As you can see, he did a wonderful job. The skulls were exactly what I was looking for. I had my seat custom made by Brad Martin in Taos, New Mexico. I also had a custom shift linkage made. Putting everything together wasn't an easy job; I was lucky to have my cousin Gilbert. Together we worked many hours to create my masterpiece.
For the last year and a half, I have been entering my Harley in shows around New Mexico and Colorado. Gilbert has continued to support me during every bike show. I have many plaques, buckles, and trophies from these shows. The best part of the shows is meeting new people and talking to different bike builders.
| | |
| --- | --- |
| SPEC SHEET | |
| OWNER | Joseph Vigil |
| HOMETOWN | Rancho de Taos, New Mexico |
| YEAR/MODEL | '98/H-D Heritage Softail |
| BUILDER/ASSEMBLY | H-D |
| ENGINE SIZE | 80ci |
| PIPES | Martin Bros |
| TRANSMISSION | H-D |
| GAS TANK | 7-Gallon Stretched |
| FRONT FENDER | H-D |
| REAR FENDER | H-D |
| FRONT SUSPENSION | H-D |
| REAR SUSPENSION | H-D |
| WHEELS | {{{100}}} spoke Wire Wheel |
| TIRES | Avon |
| HANDLEBARS | Chubby |
| SEAT | Brad Martin |