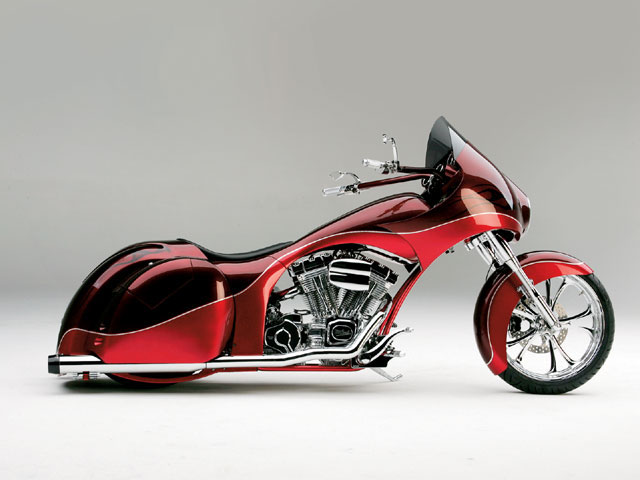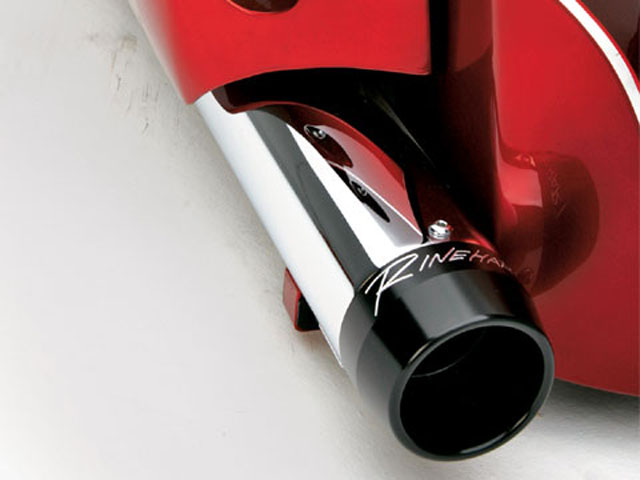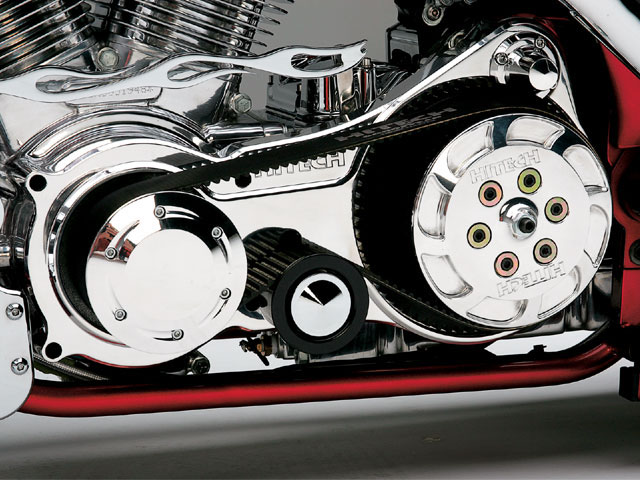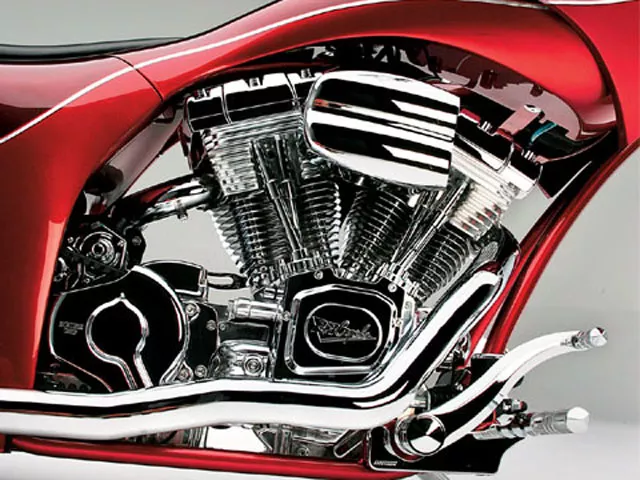 As you flip through HOT BIKE, you'll see pics ranging from slightly customized Harleys to full-blown, ground-up customs and everything in between. Lately, we've been on the search for more Harley-based bikes to feature; bikes to give you, the reader, inspiration for what you can do with that old Sporty that's been collecting dust in the side yard or even encouragement to pull the trigger on that new bagger you've been eyeballing at the dealership down the road.
Sure, you could start from scratch and build a groundup custom. But it's much more fun to cut, rake, and stretch the heck out of a Harley to the point that when you tell people "Oh yeah, this used to be a (enter H-D model of your choice)," their jaws drop and eyes pop.
That was the case with the '06 Street Glide you see here, or what's left of the Street Glide-about 12 inches of the frame, some of the motor and trans, and the headlight, according to Little Mike of MGS Customs.
"So it was time for the Artistry in Iron Show at Las Vegas Bikefest. It was our third invitation to the show, and we take this show very seriously," said Paula Stafford, AKA The Boss (well, unless you're talking to her husband Big Mike, then he'll tell you he's The Boss). "We like to build something specific for this show and not bring a bike that's been there before.
"As everyone knows, this is a very difficult time in the motorcycle industry. We really couldn't afford to have another piece of 'jewelry' for the showroom floor. We are trying to go with the flow, so to speak, and wanted to build a custom bike that fits the trends of today's market. If you go to any motorcycle gatherings or shows these days, you'll see a lot of baggers. We wanted to come up with a bagger that is done in pure MGS style-custom, clean, and radical. We decided we would buy an '06 Street Glide, tear it completely apart, and then do our thing. This was going to be a very expensive undertaking.
"We can't even express how grateful we are to so many people who are in this industry with us, who are so helpful. As Big Mike and Little Mike made phone calls to all our suppliers, everyone was more than willing to jump on board. I don't think they received one 'no.' For the next nine weeks, the shop became known as MGS Custom One Bike and focused only on what was a progressing concept on an MGS bagger," Paula stated.
As with most MGS bikes, this one started out as a sketch. Picking the bike up in July, the clock was ticking to turn that rough sketch into a rumbling and rolling rider. Just as quick as the bike was secured to the lift, it was stripped to the bone. The frame was sent over to Chariton, Indiana, where Gary Chipp and his Fat Baggers crew kitted the rear with one of their 300mm rear tire set-ups. The widened frame was then handed off to the Frame Doctor, Dr. John, who worked his magic cutting, raking, stretching, and radiusing the rest of the frame. Notice the sweeping curves in the downtubes; this was to be a constant element throughout.
With the frame complete and back at the shop, Big Mike was able to start on the sheetmetal. Every inch of the bodywork was cut, shaped, and welded out of sheets of steel. Mike worked relentless hours welding and grinding, only taking Sundays off. But the bodywork turned out flawless, with the sweeping lines from the downtubes mimicked across the bike from fairing to saddlebags. Once Big Mike had the bodywork complete there was only two weeks left before the show. It was given to Dave Little of Little Designs with little time to lay some color.
While the frame and body were at paint, Little Mike started to re-assemble the motor with components from R&R; Cycles and Horsepower Inc. R&R; supplied MGS with one of their Stage 5,95-inch kits, while Horsepower Inc.chipped in a 51mm throttle body to feed the souped-up motor. To help the motor sparkle like a gem, the cases, cylinders and heads were sent to DMP, where they were polished up for a mirror-like finish.
"We knew we'd have a goodlooking bike, but we wanted it to stand out. Little Mike just planted himself on a stool with the motor in pieces in front of him and began the painstaking task. After many hours of serious work with continual interruption, the motor was complete. It still has a little bit of the Harley look, but with a high-performance twist," Paula said.
With time running out before the Artistry in Iron event, final assembly was accomplished with more long hours, help from friends, and support from major players in the industry. Mike and Little Mike worked more long hours but had help from their good friend and electronics wizard Steve Bridgers. While Steve was "hooking" everything up, the Mike and Mike tag team was installing parts supplied from some of the leaders in the industry. It was one of those TV biker build off scenarios, where the last few bolts were tightened down in the final minutes. And while the bike didn't roll away with the Artistry in Iron title, it did help the MGS shop turn a new corner.
Typically known for their radical ground-up customs, this project has been a major influence in MGS taking on a new direction at the shop. Realizing they can no longer strictly focus on custom builds, they have now become a full service shop. But most importantly, this project has shown the MGS crew that there is a core group of aftermarket parts manufacturers that believe in everything they do, and are willing to support them through thick and thin. Paula, Big Mike, Little Mike, and the rest of the MGS crew would like to offer a big thank you to everyone who supported them through this project; without these friends in the industry, this project would have never come to fruition.
| | |
| --- | --- |
| SPEC SHEET | |
| BIKE OWNER | MGS Custom Bikes Inc. |
| SHOP NAME | MGS |
| SHOP PHONE | (661) 951-9878 |
| SHOP WEBSITE | www.mgscustombikes.com |
| YEAR/MAKE/MODEL | '06/H-D-MGS/ |
| | Custom FLHXI |
| FABRICATION | MGS |
| ASSEMBLY | MGS |
| BUILD TIME | Nine Weeks |
| | |
| --- | --- |
| ENGINE | |
| YEAR/ MANUFACTURER | '06/H-D |
| TYPE/SIZE | Twin Cam/95ci |
| BUILDER | MGS |
| CASES | H-D |
| CYLINDERS | H-D/R&R; Cycles |
| HEADS | R&R; Cycles |
| ROCKER BOXES | H-D |
| EFI | Horsepower Inc |
| AIR CLEANER | Cycle Visions |
| EXHAUST | Rhinehart/MGS |
| | |
| --- | --- |
| TRANSMISSION | |
| YEAR/MANUFACTURER/TYPE | '06/Baker |
| CASE | H-D/Baker |
| CLUTCH | Barnett |
| PRIMARY DRIVE | Hitech |
| | |
| --- | --- |
| FRAME | |
| YEAR/MANUFACTURER | '06/H-D-Dr. John |
| RAKE | 32 degrees, 6 degree trees |
| STRETCH | 6 inches out |
| | |
| --- | --- |
| SUSPENSION | |
| MANUFACTURER FRONT | Mean Street |
| LENGTH | 32 inches |
| TRIPLE TREES | Mean Street |
| MANUFACTURER REAR | Progressive |
| | Suspension |
| SWINGARM | Fat Baggers |
| | |
| --- | --- |
| WHEELS, TIRES, AND BRAKES | |
| MANUFACTURER FRONT | PM |
| SIZE-HEIGHT/WIDTH | 21×3.5 |
| TIRE/SIZE | Avon/120/70-21 |
| CALIPER | PM |
| ROTOR | PM |
| MANUFACTUER REAR | PM |
| SIZE-HEIGHT/WIDTH | 18×10.5 |
| TIRE/SIZE | {{{300}}}/30-18 |
| CALIPER | PM |
| ROTOR | PM |
| | |
| --- | --- |
| FINISH/PAINT | |
| COLOR | HOK Brandywine |
| PAINTER | Dave Little-Little Designs |
| GRAPHICS | Little Designs |
| POLISHING | DMP |
| | |
| --- | --- |
| ACCESSORIES | |
| FRONT FENDER | MGS |
| REAR FENDER | MGS |
| FENDER STRUTS | MGS |
| GAS TANK∩ | MGS |
| OIL TANK | Baker Drivetrain |
| DASH | MGS |
| GAUGES | {{{Dakota}}} Digital |
| HANDLEBARS | MGS |
| RISERS | MGS |
| MIRRORS | Wicked Image |
| HAND CONTROLS | PM |
| FOOT CONTROLS | Accutronix |
| FOOTPEGS | Accutronix |
| HEADLIGHT | H-D |
| TAILLIGHT | Cycle Visions/Lazer Star |
| TURN SIGNALS | Lazer Star |
| LICENSE MOUNT | Cycle Visions |
| SEAT | MGS/Danny Gray |