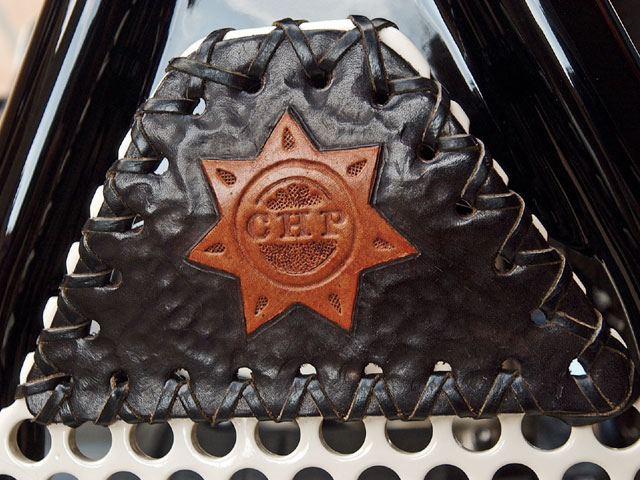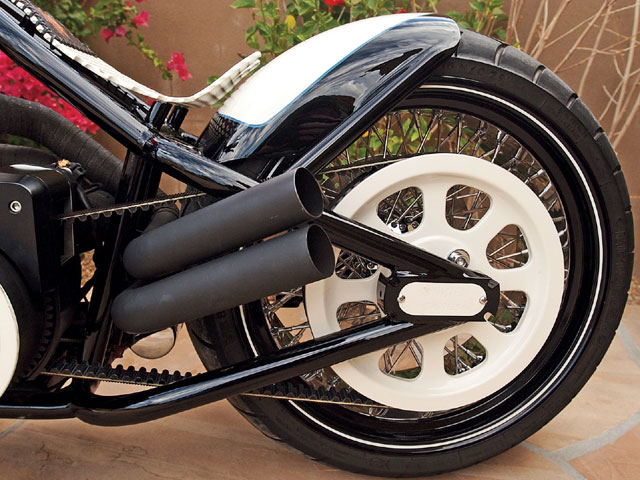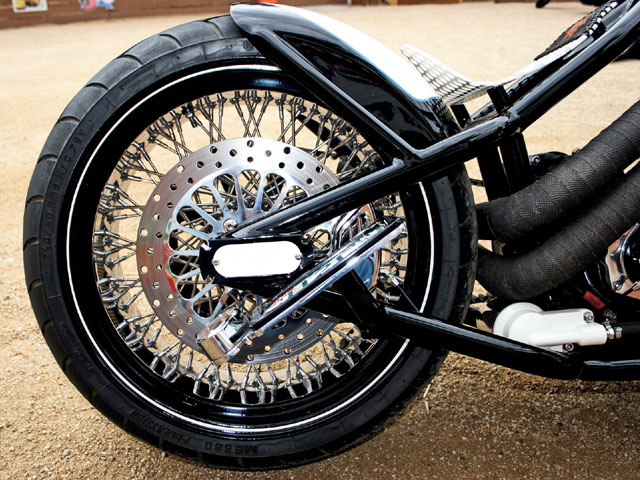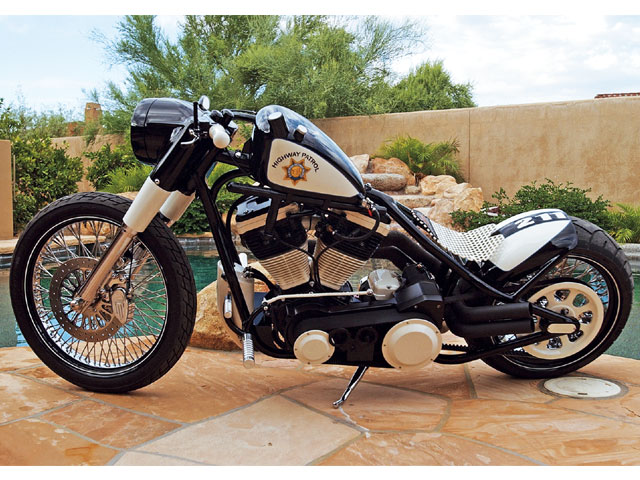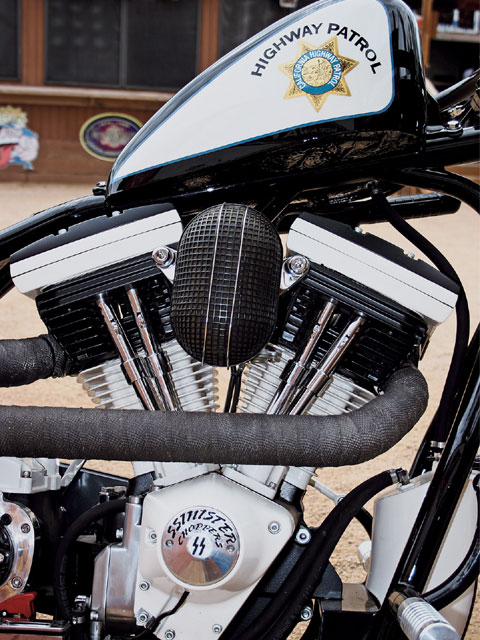 It wasn't another primer-colored mid-'70s Dodge Diplomat about to flip over on a pipe ramp jump, but owner and master fabricator John Stope of Ssinister Choppers hauling ass down the freeway on his way to Arizona Bike Week, with the bike featured here bouncing around on the trailer behind his truck.
You see, while en route to debut the bike at Arizona Bike Week, John had a little encounter with a "Grossman" lookalike from the California Highway Patrol after getting pulled over for doing approximately 90 mph. Knowing he was about receive a huge fine for his excessive speed, John thought he might as well use this bike to his advantage. John quickly made up a little white lie about the bike being built for a retired Highway Patrol Officer, and asked the officer if he wanted to take a look at it.
The officer was obviously amazed by the theme-based motorcycle, and turned from a letter-of-the-law ticket scratcher to a down-to-earth admirer, giving John a break on the ticket and sending him on his way. John eventually arrived in Arizona where he debuted the bike, receiving high marks from the viewing public.
Originally based out of Oregon, John opened the doors at Ssinister Choppers nearly 10 years ago. Since then, Ssinister Choppers has been committed to building some of the most creative bikes on the road today.
Knowing that he wanted to build a new bike to debut in Arizona, John decided to try his hand at a theme-based custom. Using the '77 daytime drama CHiPs as his motivation, John got to work on the bike by getting a hold of a Bare Knuckle Rigid frame versus one of the old spring mounted KZ 1000 models.
Being a former sculptor, John credits his success to his ability to visualize his projects in completed form, prior to even turning the first wrench. And as it turned out, John nailed this one.
John was able to implement actual items utilized in law enforcement as functional parts on the bike, such as the tank-mounted PR-24 nightstick, and the belt drive handcuff cover. A few of Ssinister Choppers' trademarks were added in, such as the front mounted contour oil bag, which receives its fluid from the tank mounted fill cap. In addition to receiving the traditional skunk-wagon black and white paint job, the seven point badge was added to the tank and it was given the title "211" (California Penal Code for Armed Robbery).
After completing the bike in just less than three months and debuting it at Bike Week, John enjoyed the Arizona climate so much that he packed his entire life up and moved the shop there. With Ssinister Choppers now based out of Phoenix, Arizona, John found himself in an environment that welcomed year-round riding.
After settling in, John took the bike out for a little afternoon ride, stopping by a local watering hole called The Hideaway. Before the first cocktail was even finished, John was approached by a gentleman who inquired about the bike, ask- ing "How much, and will you take a check?" John gave a quick smirk, returning the comment with, "You sure you can afford it?"
Well, little did John know he was face to face with Pat Perez, a professional PGA ranked golfer. And as it turns out, Pat did have enough money, because he now owns the bike and is good friends with John.
Even though Ssinister Choppers does not solely focus on building theme-based custom bikes, John did enjoy the project and all the attention it received when it was out on the road. Although he never did get a telephone call from Officer Francis "Ponch" Poncherello-maybe he was too busy selling lakefront retirement property in the midwest!
| | |
| --- | --- |
| SPEC SHEET | |
| BIKE OWNER | Pat Perez |
| SHOP NAME | Ssinister Choppers (SC) |
| SHOP PHONE | (602) 309-3352 |
| SHOP WEBSITE | |
| YEAR/MAKE/MODEL | '07/Low Down |
| FABRICATION | SC |
| ASSEMBLY | SC |
| BUILD TIME | Three Months |
| | |
| --- | --- |
| ENGINE | |
| MANUFACTURER | H-D |
| TYPE/SIZE | Evo/80ci |
| BUILDER | SC |
| CASES | H-D |
| CYLINDERS | H-D |
| HEADS | Re-worked H-D |
| ROCKER BOXES | H-D |
| CARBURETOR | S&S; |
| AIR CLEANER | Duag |
| EXHAUST | SC |
| | |
| --- | --- |
| TRANSMISSION | |
| MANUFACTURER/TYPE | H-D/Six-speed |
| CASE | H-D |
| CLUTCH | Primo |
| PRIMARY DRIVE | BDL |
| | |
| --- | --- |
| FRAME | |
| YEAR/MANUFACTURER | '06/Bare |
| | Knuckle Choppers |
| RAKE | Stock |
| STRETCH | Stock |
| | |
| --- | --- |
| SUSPENSION | |
| MANUFACTURER FRONT | H-D |
| LENGTH | 2-under |
| TRIPLE TREES | H-D |
| | |
| --- | --- |
| WHEELS, TIRES, AND BRAKES | |
| MANUFACTURER FRONT/TYPE | |
| SIZE-HEIGHT/WIDTH | 21×3.5 |
| TIRE/SIZE | Metzeler/{{{90}}}/90-21 |
| CALIPER | Wilwood |
| ROTOR | Duag |
| MANUFACTUER REAR/TYPE | |
| SIZE-HEIGHT/WIDTH | 18×8.5 |
| TIRE/SIZE | Metzeler/240mm |
| CALIPER | Wilwood |
| ROTOR | Duag |
| | |
| --- | --- |
| FINISH/PAINT | |
| COLOR | Skunk Wagon Black and White |
| PAINTER | Cunningham Customs |
| GRAPHICS | Aaron Dryer |
| POWDERCOAT | Class Act Powdercoating |
| | |
| --- | --- |
| ACCESSORIES | |
| REAR FENDER | Twisted/SC |
| FENDER STRUTS | Welded |
| GAS TANK∩ | Re-worked Sporty |
| OIL TANK | SC |
| HANDLEBARS | SC |
| RISERS | SC |
| MIRRORS | PM |
| HAND CONTROLS | PM |
| FOOT CONTROLS | PM |
| FOOTPEGS | Bare Knuckles |
| HEADLIGHT | H-D |
| TAILLIGHT | Pro-One |
| LICENSE MOUNT | SC |
| SEAT | SC |