Across the great Pacific Ocean on the islands of Japan, a pair of guys have been making waves, which have just started to break on the US coastline—not brat style nor bosozoku, but rather a style all their own. They just don't have a catchy name yet. Enter Cycle West.
Hiromichi Nishiyama, who goes by Hiro, and Takaaki Katori set up shop about six years ago and have completed more than 20 full custom builds. Last year, Cycle West won a special trophy from the Born-Free Motorcycle Show at the Mooneyes 2016 Yokohama Hot Rod Custom Show, awarding them an invite to the Born-Free show this year. That's where we caught up with them for an afternoon photo shoot.
We met the pair of builders in Costa Mesa, California, along with their American and Japanese friends, together creating this diverse, motley crew, of wide-eyed, happy bikers riding through Southern California. The Panhead was sitting outside a suburban house when we arrived.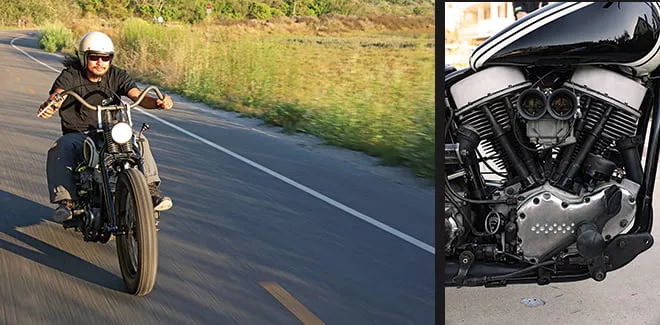 They've only built Harleys, switching between styles and bikes as they feel inspired. They have created a style that's often hard to spot, but that's partly because of their unique pairing. Hiro has worked at a Harley shop since his youth; Katori was a part of a group of local elementary school kids who used to visit the shop after school. Hiro left that shop and became a truck driver but later returned to motorcycling and opened his own shop. Naturally, Katori, who was working in a print shop at the time, started hanging around again. So, about five years ago, Hiro thought he might as well start paying him to help out. Katori is 17 years his junior, but the pair seem to make sense.
When Hiro described the shop's style, he said through a translator, "I have not changed, and I'm not limited to just this Panhead. I like to make things simple, balanced, and have a nice silhouette—that's important. I build things using my mind. Each piece adds to the balance and produces the entire silhouette."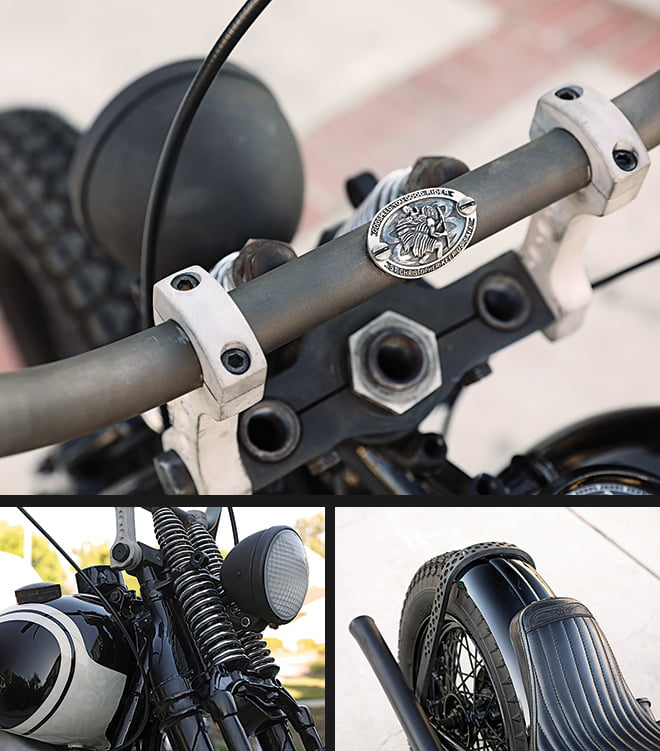 The customer of the Panhead had visited the shop to place a build order for his dream bike: a 1961 Harley-Davidson. He was born in '61 so he wanted a bike as old as him, but that was about the only instruction he provided—except that the gas tank had to be black. The rest of the style and design was up to Cycle West.
After being given those simple instructions, the Cycle West team began searching for parts, but they also had to find the bike itself. Using their LA connections, they found a 1961 bike with a cut and raked frame and long front end. Immediately, they returned it to the stock dimensions with detailed craftsmanship, closely resembling stock H-D construction.
Along with the chance to attend the show, the Born-Free award also included a specially created coin from Good Art HLYWD, which featured Saint Christopher, the patron saint of travelers and riders. The coin featured the words: "Godspeed you good rider, Saint Christopher keep us safe." The team curved the metal coin around the center of the handlebars and riveted it in place—much better placement than hidden away on a fireplace mantle. It fit the intended look of the bike precisely.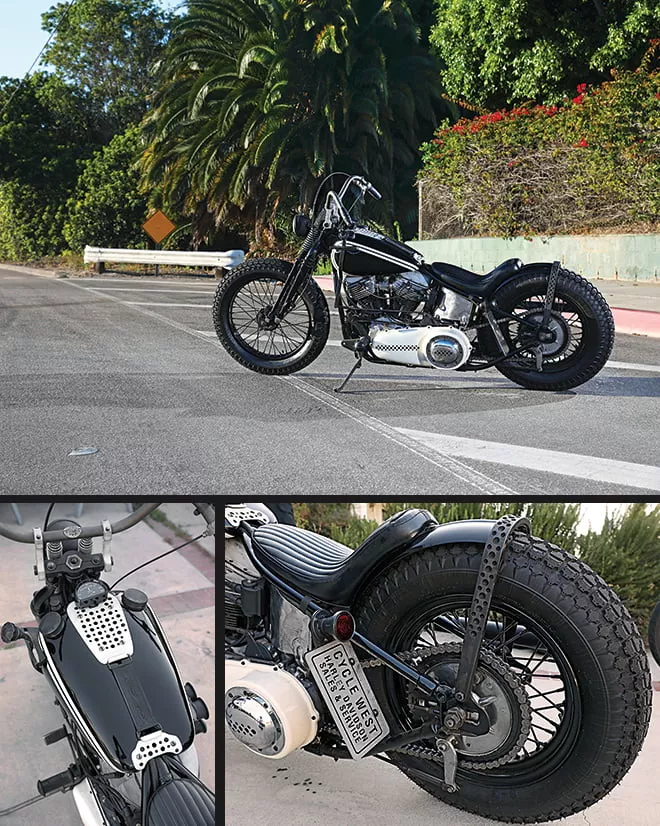 "We wanted a bike that fit the owner," Hiro writes. "We want him to feel cool when he gets on it, like a dirt-track racer or a Spartan warrior. The owner is speed freak, so I think he enjoys it. The Hi-Performance cam and S&S twin-throat carburetor make it very exciting to ride."
It took the team the next year to finish the project before they presented it to its new owner, Hashiba Kazuya, who is a craftsman himself. "He's a customer who runs the accelerator fully open," Hiro writes. "We believe the finished bike fits this image, has a racing atmosphere with a simple, clean design but with some muscle."
The internals of the Panhead are mostly stock, but it features an Andrews Hi-Performance cam and a trick S&S Two Throat carb with custom intake by Natural Steel Works. Hiro said the tuning was relativity simple and it runs strong with the current setup. The velocity stack and exhaust are custom built by Hiro and team.
After the sheet metal was trimmed and fitted, Hiro sent everything off to So Jake Leather, which sheeted the bottom of the seat and tank dash cover. He was working with 420 Kustoms simultaneously to ensure the graphics matched the leatherwork. "I wanted the tank graphics to work together with the rest of the bike," Hiro writes. The faint, flowing, and sparkling white graphics match that of the leatherwork, keeping a subtle theme throughout.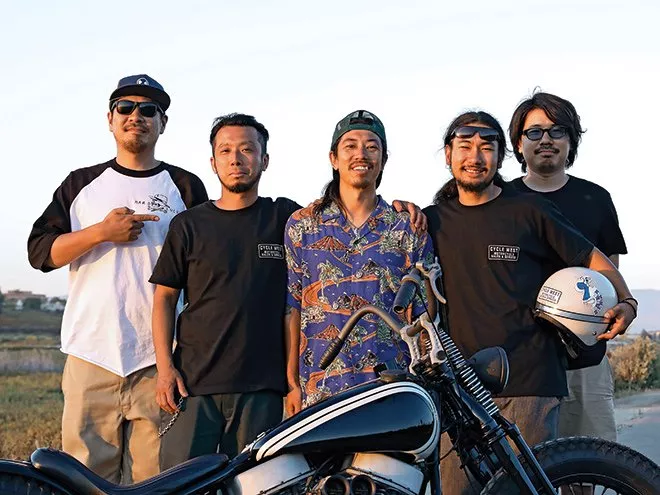 Along with the overall style and shape, the bike's finer details were in the appearance and combination of finishes. The aluminum parts, such as most of the engine, were sandblasted and left unfinished. Steel parts and screws were scuffed and feature a Parkerizing coating. A coating normally reserved for firearms. Parkerizing is a method of protecting a steel surface from corrosion and increasing its resistance to wear through the application of a chemical phosphate conversion coating.
Cycle West's Panhead style is raw while having a tight fit and finish—a simple, clean, and cut-down bike with a high level of craftsmanship that shines through a bare exterior. The team doesn't have a catchy name yet, but maybe that just keeps them from limiting their style.
| Specifications | |
| --- | --- |
| General | |
| Owner | Hashiba Kazuya |
| Shop | Cycle West |
| Website | cycle-west.blogspot.com |
| Year/Make/Model | 1961/Harley-Davidson/FL |
| Fabrication | Cycle West |
| Build Time | 1 year |
| Engine | |
| Year/Type/Size | 1961/H-D/FL |
| Builder | Cycle West |
| Cases | H-D |
| Cylinders | H-D |
| Heads | H-D |
| Rocker Boxes | Sandblasted H-D |
| Cams | Andrews |
| Throttle Body | S&S Twin Throat w/ intake built by Natural Steel Works |
| Air Cleaner | Custom velocity stack |
| Exhaust | Cycle West Megaphone |
| Transmission | |
| Year/Type | 1961/H-D |
| Gears | H-D |
| Clutch | H-D |
| Primary Drive | H-D |
| Frame | |
| Year/Type | H-D |
| Rake/Stretch | H-D 30°/No stretch |
| Suspension | |
| Front End | Big Twin/'74 Springer replica |
| Length | Stock |
| Swingarm | H-D |
| Rear Shocks | H-D |
| Wheels, Tires, and Brakes | |
| Front | |
| Builder/Size | Cycle West/19 in. |
| Tire/Size | Firestone/4.00-19 |
| Calipers | CCI Minidrum |
| Rear | |
| Builder/Size | Cycle West/16 in. |
| Tire/Size | Firestone/5.00-16 |
| Caliper | H-D |
| Pulley | H-D |
| Finish/Paint | |
| Manufacturer | PPG |
| Colors | Black w/ Pearl White |
| Paint/Graphics | 420 Kustoms |
| Plating/Polishing | No plating/polishing by 420 Kustoms |
| Accessories | |
| Rear Fender | H-D custom modified |
| Gas Tank | H-D custom modified |
| Dash | Cycle West |
| Gauges | Smith D Shape |
| Handlebars | HWZNBROSS |
| Grips | Silicone tape |
| Foot Controls | H-D |
| Floorboards | Triumph footpegs |
| Headlight | Tractor type |
| Taillight | Lucas 477 |
| License Mount | Cycle West |
| Seat | Custom built by So Jake Leather |