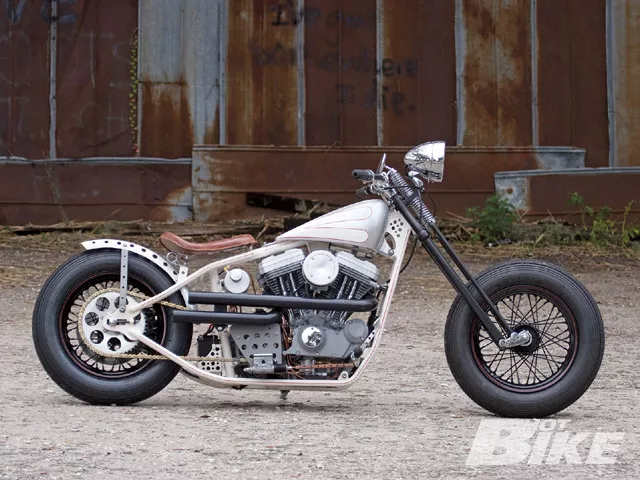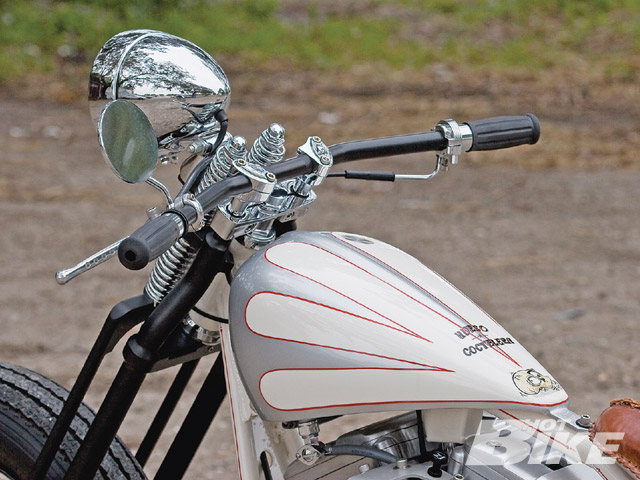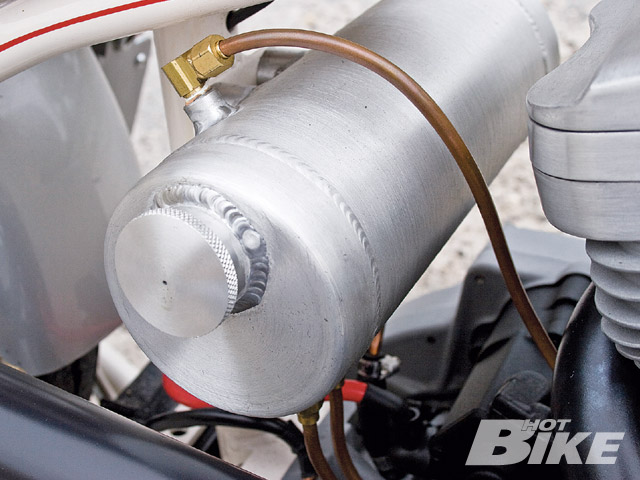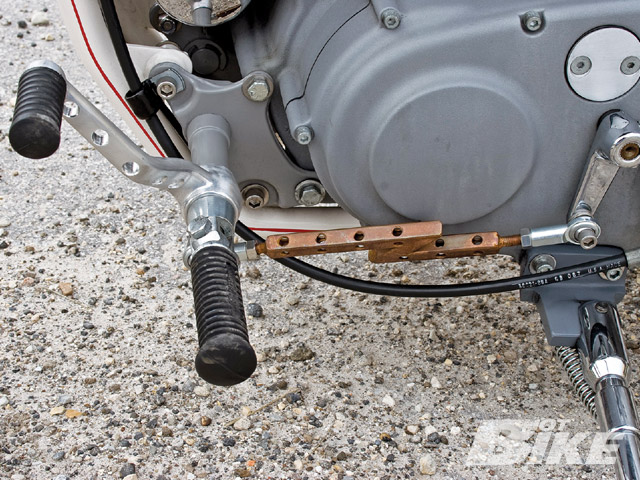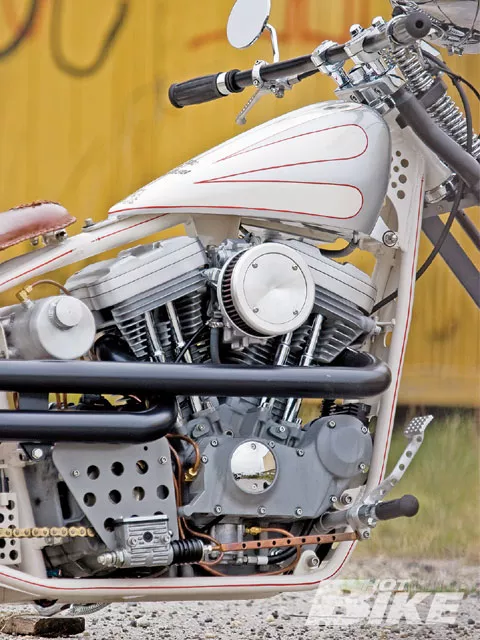 With the current state of the economy and extra dough being harder to find than a diamond in a rough, not many people can afford to splurge on a high-dollar custom. Not to dampen spirits, but plenty of folks are having to sideline their dream bike or bike-building hobby until the economy improves. Steve Carr, on the other hand, found a bright light at the end of the "economy tunnel" and built a cool, affordable bike on an average guy's budget. Plus, he did it on the side while concentrating on his main gig.
For Steve, the main concept for this build was to not only build a bike on a tight budget, but also show people what they could do when they're ready. Steve, who works full time as a communications manager, operates what he calls his side building habit out of his home garage in Pinellas Park, Florida. Like many other builders, Steve has plans to open his own shop soon, but he wants to avoid all the overhead costs right now.
When it came to this build, staying within a budget was as important to Steve as, well, not having a choice to do otherwise right now. So when he set out to build the custom before you called "Boneshaker," Steve wanted to show others what you could do for less than eight grand. "The bike had to be built on a shoestring budget," Steve said. "As we all know, times are really tough out there, and that's all the money we had to spare on this build." Since the bike was going to be for Steve's wife, Vicki, he wanted to incorporate the white and silver color scheme from her '94 Softail Heritage into the Boneshaker and also give it an industrial look.
Steve knew that the best, least expensive, most reliable way to get the bike done under $8K was to use a Sportster-based platform. Steve added, "After looking around for a while, I couldn't find the right bike to be a donor; it either had too many miles or it was too much money. Then one night at a local bike night at the Quaker Steak and Lube in Clearwater, Florida, I walked past this bike with a for sale sign on it. It was a 1999 Sportster 883 custom with 3,400 miles on it and it looked brand new. The guy was asking $3,200 for the bike. I asked no questions and bought the Sporty right there on the spot."
Back in his garage, Steve tore the bike down and sold the frame, frontend, tank, wheels, and seat from the donor Sportster for $1,000 knowing that he was going to fabricate some parts in their place, that brought the price tag of the project bike down to $2,200. Chosen for affordability and quality, Steve turned to Paughco for an '07 rigid frame with 35 degrees of rake, and he picked up a DNA Springer frontend bringing his tally to $1,700 for both. After getting a fuel tank from Salinas Boys for $400, Steve made the mounts to secure it to the frame and got started looking for inexpensive wheels. He picked up a set of 40-spoke, 16-inch front and rear wheels from Paughco and had them covered in rubber for about $500. "That got us a nice roller to get started with," Steve said.
To help keep cost under control, Steve didn't have to think twice about leaving the already-reliable 883 motor stock, but he did enhance its looks by giving some parts a brushed look. With some extra coin from the parts that were sold off the donor Sporty, Steve was able to install the Mikuni carb, Dyna ignition, custom battery box, taillight, and a set of Pipe Dreamz exhausts. Another $400 went for hardware, cables, chain, and some other small odds and ends.
Focusing on the fab work and dressing things up a bit, Steve concentrated on the smaller, finer details on Boneshaker, from the sheetmetal to the paint. He used the stock rear fender from the (old) Sporty, but cut and reshaped it to show off the Cheng Shin tire. The old headlight and handlebars from the doner were reused on Boneshaker to save some money. Steve then added some lightening holes to the rear fender, fender struts, and neck gusset. Since he didn't want any switches on the dash, Steve hid all the wiring in the frame and also mounted a custom switch box under the La Rosa seat, which he found for about $200. There were a handful of other miscellaneous parts that Steve saved money on by making himself like the shift rod, brake rod, and battery box.
Anxious to see the Boneshaker color-matched to Vicki's Heritage, Steve sent the frame and tins out for powdercoat and paint and had some subtle red pinstripes added to enhance the look for $1,600. After five months of patient work and money watching, the Boneshaker was completed for less than $8K. "To be honest," Steve said, "if a person can do their own paintwork or use swap meet parts, a bike like this can be built for even less money–it really depends on how thrifty they want to be."
In late 2008, the bike was featured on Speed channel's American Thunder and will go on to compete in several upcoming bike build-offs. "It goes to show that a custom bike does not have to cost $75K to be cool," Steve said. After an Army veterinarian saw the Sportster and had to have it, Steve decided to let it go to someone that had so much appreciation for it. "The new owner reports that he loves the bike," Steve said. "But the owner said he does have problems at gas stations all the time with questions and comments from admirers."
| | |
| --- | --- |
| SPEC SHEET | |
| BIKE OWNER | Captain Richard Kelly |
| SHOP NAME | Lightning Rod Motorcycles |
| SHOP PHONE | (813) 416-2666 |
| SHOP WEBSITE | |
| YEAR/MAKE/MODEL | '99/H-D/Sportster 883 |
| FABRICATION | Steve Carr |
| ASSEMBLY | Steve Carr |
| BUILD TIME | Five months |
| | |
| --- | --- |
| ENGINE | |
| YEAR/MANUFACTURER | '99/H-D |
| TYPE | Sportster 883 |
| BUILDER | H-D |
| CASES | H-D |
| CYLINDERS | H-D |
| HEADS | H-D |
| ROCKER BOXES | H-D |
| CARBURETOR | Mikuni 42mm HSR |
| AIR CLEANER | Cross Roads Performance |
| EXHAUST | Pipe Dreamz |
| | |
| --- | --- |
| TRANSMISSION | |
| MANUFACTURER/TYPE | H-D/Sportster |
| CASE | H-D |
| CLUTCH | H-D |
| PRIMARY DRIVE | H-D |
| | |
| --- | --- |
| FRAME | |
| YEAR/MANUFACTURER | '07/Paughco |
| RAKE | 35 degrees |
| STRETCH | Stock |
| | |
| --- | --- |
| SUSPENSION | |
| MANUFACTURER FRONT | '07 DNA Springer |
| MODIFICATIONS | None |
| TRIPLE TREES | DNA |
| MANUFACTURER REAR | N/A |
| SWINGARM | N/A |
| | |
| --- | --- |
| WHEELS, TIRES, AND BRAKES | |
| MANUFACTURER FRONT | Paughco |
| SIZE-WIDTH/HEIGHT | 16-inch/40-spoke |
| TIRE/SIZE | Cheng Shin/5.10×16 |
| CALIPER | N/A |
| ROTOR | N/A |
| MANUFACTURER REAR | Paughco |
| SIZE-WIDTH/HEIGHT | 16-inch/40-spoke |
| TIRE/SIZE | Cheng Shin/5.10×16 |
| CALIPER | Stock |
| ROTOR | Stock |
| | |
| --- | --- |
| FINISH/PAINT | |
| COLOR | White and silver |
| PAINTER | Attitude Custom Paint |
| GRAPHICS | Norm-T |
| PLATING/POLISHING | N/A |
| POWDERCOAT | American Powdercoat |
| | |
| --- | --- |
| ACCESSORIES | |
| FRONT FENDER | N/A |
| REAR FENDER | Stock, modified |
| FENDER STRUTS | Steve Carr |
| GAS TANK & CAP | Salinas Boys, Cole Foster |
| OIL TANK | Coyote-Gear/Steve Carr |
| DASH | N/A |
| GAUGES | N/A |
| HANDLEBARS | Stock |
| RISERS | V-Twin Mfg |
| MIRRORS | V-Twin Mfg |
| HAND CONTROLS | Young Choppers |
| FOOT CONTROLS | Stock |
| FOOTPEGS | Stock |
| HEADLIGHT | Stock |
| TAILLIGHT | Young Choppers |
| TURN SIGNALS | N/A |
| LICENSE MOUNT | Steve Carr |
| SEAT | La Rosa |