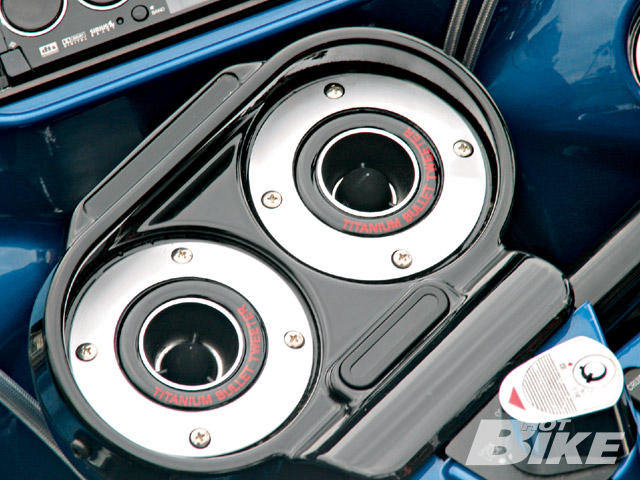 We all know baggers are the big deal right now, right? Well, nowhere was this more evident than at the Half Way Run in Fresno, California, this past October. I had heard about the run from some people I had recently met in my neighborhood, DeShawn and his aunt and uncle, Teri and Duane. Initially, I kind of shrugged off going on the run, as my wife was going to be out of town that same weekend and I had a long list of home maintenance chores I needed to burn up; most importantly, re-establishing the relationship between my lawnmower and backyard.
However, when Friday morning rolled around and I heard what sounded like a pack of 20 Harleys ripping out of my neighborhood, the thought of dropping everything I had planned and jetting up to Fresno was too hard to resist. I packed a fresh pair of boxers, a toothbrush, and my camera gear and hit the road. Before jumping on the freeway I stopped at the gas station to top off and that's where the first sign came to me that I had made the right decision. As I was filling up I saw Duane and Teri roll through the parking lot and pull into the Denny's next door. I finished filling up and headed over to say hi. As I rounded the corner, the parking lot was slammed with about 30 baggers, everything from Street Glides, Electra Glides, Road Kings, and a hell of a lot of Road Glides–I love Road Glides; this turned out to be my second sign things were going to be good. I met up with Duane and Teri and they introduced me to some of the group and we hit the road.
Bombing up the freeway, Fresno was a little over 250 miles north of our starting point off U.S. Route 99. About two hours into the trip we made a pitstop at Bakersfield Harley-Davidson, as one of the guys in our smaller riding group was having some technical difficulties. After several hours at the dealership, dyno tuning, shopping, B.S-ing, and making parking lot repairs, we were back on the road.
As the sun dipped below the horizon and we finally got closer to Fresno, we began to see more and more riders passing us or being passed by us, most likely headed for the same destination. Pulling off the highway and into the parking lot hotel, I was amazed by the sights and sounds coming from all directions; loud pipes, loud stereos, and loud paint. It was totally sensory overload and I loved it; best of all, this wasn't even the main event. The next day (Saturday) was the big meetup down the street at Fresno Harley-Davidson.
Early the next morning I got up and decided to cruise around a bit before things really kicked off. The night before must have been pretty hard on most people, as there were only a handful of bikes on the street. Stopping in at the dealership, I talked with some of the employees and they assured me that within a few hours there wouldn't be a place to park let alone room to barely walk. I was informed to get set up on the side road (a straight strip about 1/2 mile long lined with small industrial buildings), as this was where everything was going to take place.
Feeling I had some time to grab a quick bite, I met up with some of my group and we filled our bellies. By the time we made the one-mile ride back to the dealership, the place had gone from a sleepy, ghost town, to a hustling, bustling small city. The once desolate strip of industrial roadway was lined so tight, saddlebag to saddlebag, you could barely slide between bikes. Within minutes it became evident as to why they called this the halfway run. I met people from complete opposite ends of the state from as far south as San Diego and north of Redding, some guys even came east from Las Vegas. Eveyone had congregated towards the center of the state for one last group party before the winter chill set in up north.
Practically every bike I saw was done up from paint to motorwork, lighting, and more paint. It wasn't uncommon to see a Street Glide with a 124ci motor, a 23-inch front wheel, an audio/visual system that looked like a display rack at Best Buy, and dripping wet with candy paint. The mood was definitely go big or go home. Everything was taken to the extreme, even the riding. Guys and girls were tearing up and down the strip on their fully dressed Ultras throwing pipe scraping wheelies and laying down 30-foot white smoke laced snake trails.
Everyone was just there to have fun, meet up with old friends, and show off their newest ride. All afternoon the street and dealership were surrounded with bikes and swarmed with people just living in the moment. Unlike most rallies or major bike events, there weren't a ton of vendors or the typical flea market scene with people selling cheap leathers and exotic camel jerky; this was all about the bikes and showing what you got and just hanging out with new and old friends.