You spend many long nights on the internet searching all the many honey holes to come across these kinds of bikes. Then comes the race from California through 10 states to Buffalo, New York, to get this mint-condition 1989 FXRP. This one I trailered because of the cold weather, unlike some of the other FXRPs, which were ridden sight unseen across the country, wrenching and babying them all the way to get them home. This bike was well cared for, garage kept, and hasn't seen a bad day in its many years of being ridden. It started its journey as a New York police bike (Sgt. Bike)—paperwork like that is a big part of this bike's history.
This all-original FXRP was like none of the other ones I have purchased. When I saw this one I knew I had finally done it. It's all original paint and was the cleanest I've ever seen, from its perfect chrome, all the way to the factory bags that were flawless with their factory keys.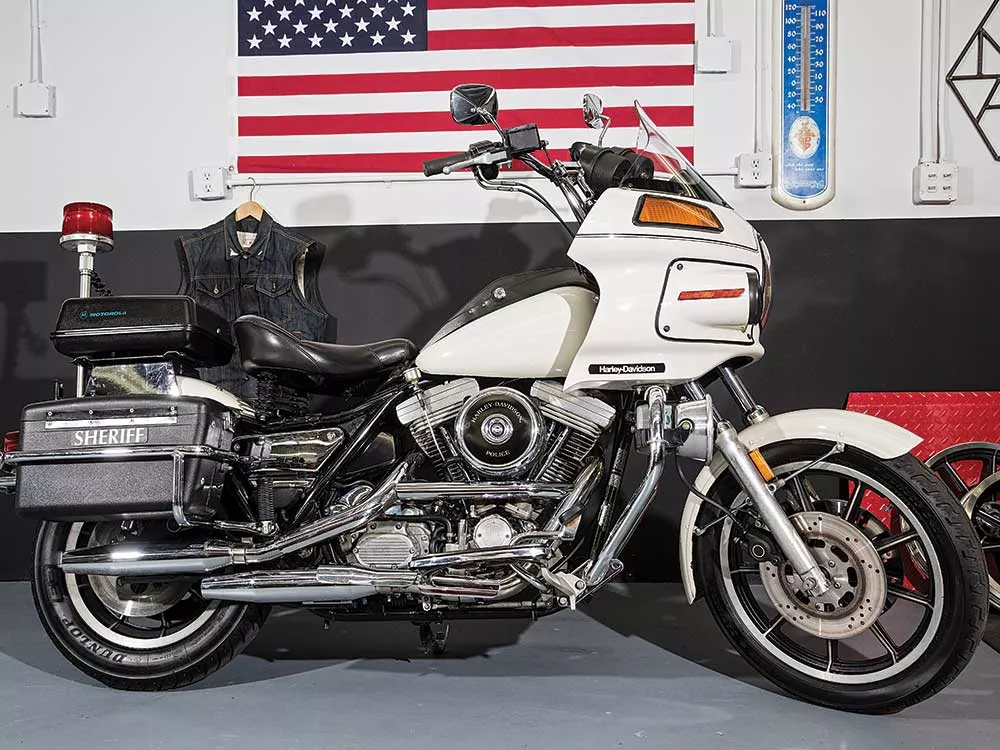 I couldn't wait to get this one back to California and get out on it and ride. My first ride was around 350 miles of pure twists and two-lane highways. It was everything I thought it would be: The handling was like a dream, and the motor was smooth and strong. I couldn't wait to show this one off. It's the perfect original factory FXRP that one could only dream of. This one is rare. You don't always find them all original, with all matching numbers in amazing condition. My hunt for FXRPs is still going strong—it's what I love to do. It's my passion of the chase to find theses true time capsules to share them with the motorcycle industry. Special thanks to AIP Speed for always being there for me.

My best friend Jack Cooksey wanted a 1994 FXRP for quite some time, but they were difficult to find in original condition. One day at my pad when he was getting ready to book a flight to Minnesota to get an FXRT he stumbled upon an ad in Washington for the exact bike he wanted, a 1994 FXRP. When he got to Washington and saw the bike, it wasn't as clean as he would have liked, and Jack almost walked away from the deal and flew home. Thankfully he didn't, and he rode the bike back to Southern California, about 1,200 miles.
The bike was an original matching-numbers Georgia State Patrol bike with a blue-and-silver paint scheme (Georgia State colors). Clearly the old man who had it all those years rode the hell out of it. It was original but a little weathered. Jack was torn between riding it as is and let it patina or do a full frame off restoration; there was no middle ground. He finally decided on the latter and we took it to AIP Speed but not before Jack ripped a couple wheelies out front. AIP is a well-respected family-run shop in Santa Clarita who built one of Jack's previous bikes and a lot of our friends' bikes as well.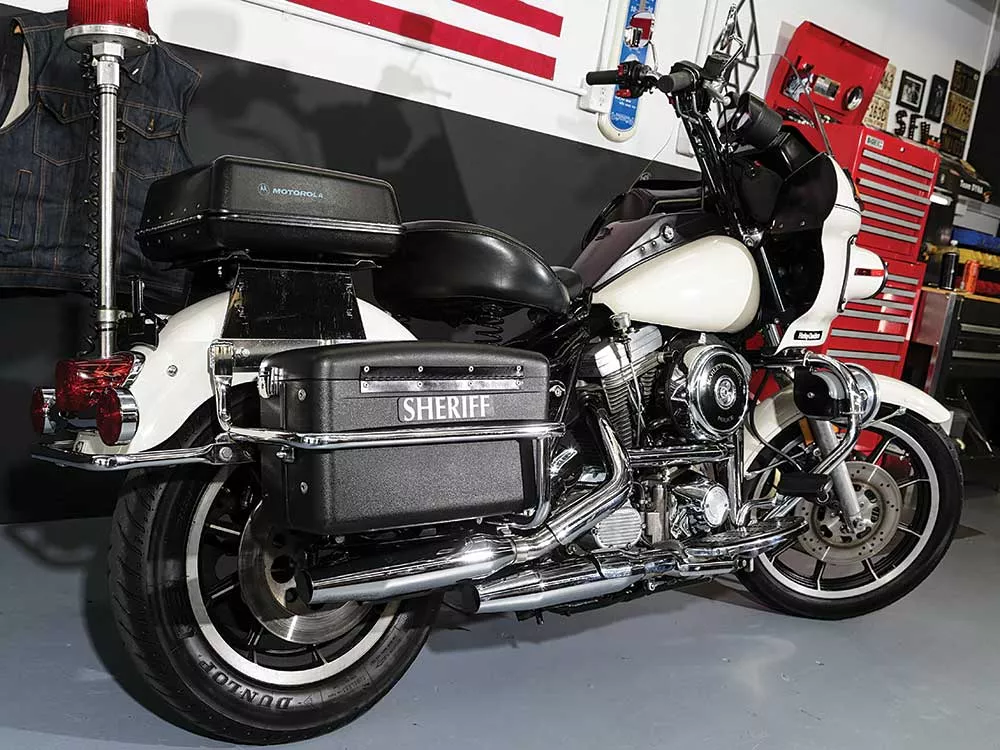 The bike was stripped to the frame, and off it went to powdercoat with every other part that could be done. Jack decided on an S&S 111 motor instead of rebuilding the stock 80 after some research and good reviews. The transmission was freshened up as well, and all bearings, bushings, motor mounts, and so forth we changed. It took a couple months, but it was well worth the wait. He had his dream bike, finally!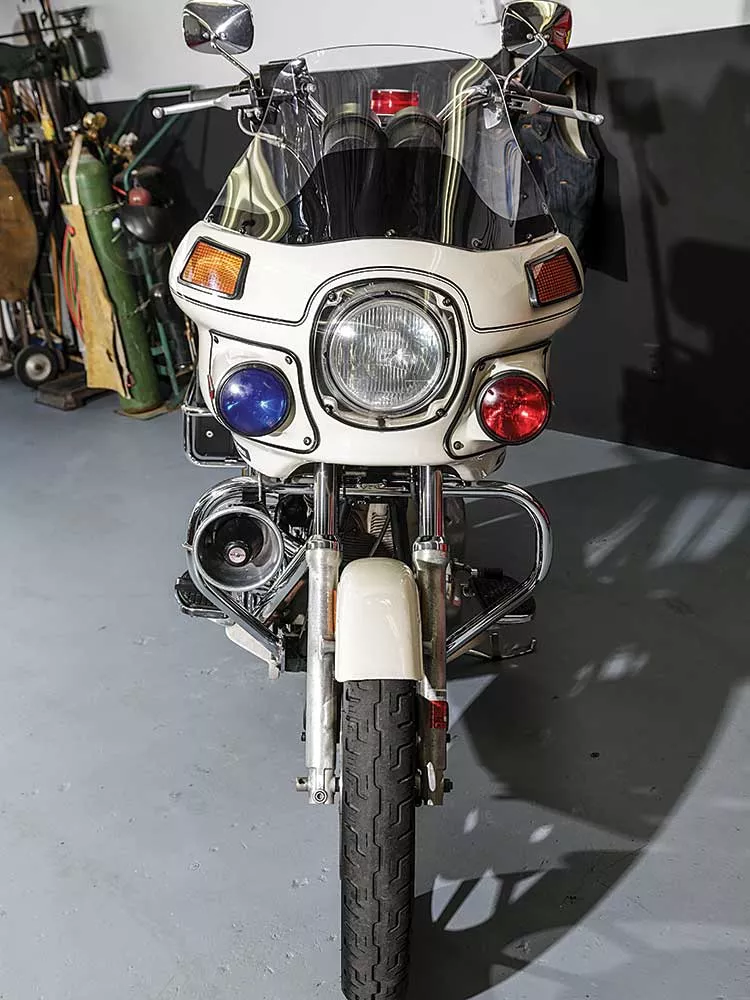 After a month or two, Jack had some important changes going on in his life and made a very difficult decision to sell the bike. I knew how much he had invested in it financially and emotionally like a lot of us do. It broke my heart. I purchased the FXRP from Jack, he sold my existing bike, and I was able to return the money to a friend within the month.
Around the same time, I changed the charging system, installed the Thunderheader with modifications, replaced the S&S "E" intake with a "G" along with a polished Mikuni 48, pulled all the motor covers and had them powdercoated since I was installing a Woods Performance W6H cam, and installed a Dyna 2000 ignition. A Rivera Primo ring gear reduction kit, and Weldon's Spragg 90 starter clutch were also put in. I went with Big Al's Nick Leonetti bend bars and the Bubba 10-inch pullback risers. The front end was rebuilt by Tony at 27 Cycles with Jimmy at Top Line Tubes doing the gold DLC coating, with Race Tech springs and its gold valves.

While at Race Tech I picked up their polished FXR axle adjusters. I had Performance Machine six-piston front calipers and also a PM rear, so I hit up Paul at Lyndall Racing Brakes for some crown-cut rotors and pads.
All in all, I'm really happy with how this build turned out. It's just the right combination of original, performance parts, and bling for my taste. The icing on the cake is that my best friend and I made it happen. HB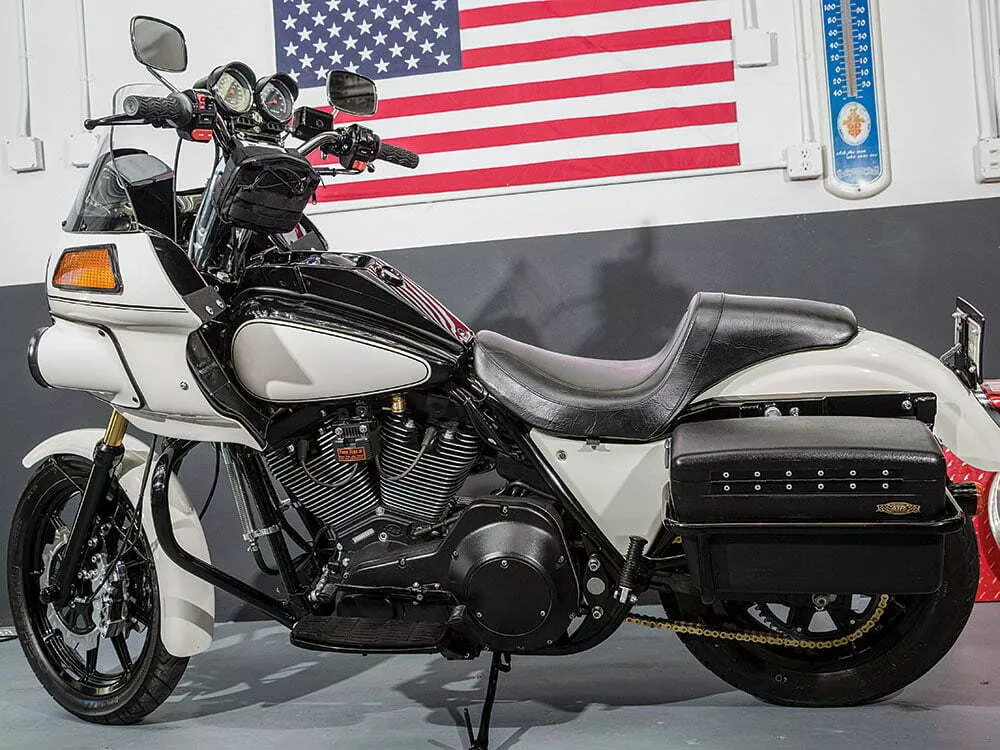 | Specifications | 1989 Harley-Davidson FXRP | 1994 Harley-Davidson FXRP |
| --- | --- | --- |
| General | | |
| Owner: | Jack Cooksey | Jesse Bradley |
| Shop: | Harley Garage (@teamdyna123) | Harley Garage |
| Shop Phone: | (818) 493-8322 | (818) 493-8322 |
| Year/Make/Model: | 1989/Harley-Davidson/FXRP | 1994/Harley-Davidson/FXRP |
| Fabrication: | H-D | AIP Speed, Jack Cooksey |
| Engine | | |
| Year/Type/Size: | 1989/EVO/1337cc | 2015/S&S/111 in. |
| Builder: | H-D | AIP Speed |
| Cases: | H-D | S&S |
| Cylinders: | H-D 8.5.1 | |
| Heads: | H-D | S&S |
| Rocker Boxes: | H-D | S&S |
| Cams: | H-D .495 | Woods Performance W6H |
| Throttle Body: | H-D CV carb | |
| Air Cleaner: | Factory H-D police issue | Rivera Primo |
| Exhaust: | H-D | Thunderheader |
| Transmission | | |
| Year/Type: | 1989/H-D 5-speed | 1994/H-D |
| Gears: | H-D | H-D |
| Clutch: | Wet, multiple discs, cable operated | BDL |
| Primary Drive: | Chain | H-D |
| Frame | | |
| Year/Type: | 1989/EF model FXRP | 1994/FXRP |
| Rake/Stretch: | Factory H-D | Factory H-D |
| Suspension | | |
| Front End | | Top Line Tubes, Race Tech internals, Speed Merchant adjusters |
| Length: | H-D 2 over | Factory length |
| Triple Trees: | H-D | H-D |
| Swingarm: | H-D | H-D |
| Rear Shocks: | H-D twin shock | Works Performance 13.75 in. |
| Wheels, Tires, and Brakes | | |
| Front | | |
| Builder/Size: | H-D/9-spoke mag/19 in. | H-D 9-spoke mags/19 in. |
| Tire/Size: | 90/90/R 19 | 90/90/19 |
| Calipers: | H-D | Performance Machine 6-piston |
| Rotors: | H-D | Lyndall Racing Brakes Crown Cut |
| Rear | | |
| Builder/Size: | H-D/9-spoke mag/16 in. | H-D 9-spoke mags/16 in. |
| Tire/Size: | 130/90/16 | 130/90/16 |
| Caliper: | H-D | Performance Machine 4-piston |
| Rotor: | H-D | Lyndall Racing Brakes Crown Cut |
| Pulley: | H-D Belt | |
| Finish/Paint | | |
| Manufacturer: | Factory H-D | Color Rite |
| Colors: | Birch White | Birch White/Black |
| Paint/Graphics: | Factory H-D | WW Custom Cycles |
| Plating/Polishing: | | Astro |
| Powdercoating: | | Ajax |
| Accessories | | |
| Front Fender: | H-D | H-D |
| Rear Fender: | H-D | H-D |
| Fairing: | H-D fairing Clearview windshield | |
| Bags: | H-D FXRP | |
| Gas Tank: | H-D | H-D |
| Dash: | H-D police issue | FXRP |
| Gauges: | H-D police issue | H-D FXRP |
| Handlebars: | 12-in. Bung King riser, sporty bars | Big Al's Nick Leonetti bend |
| Grips: | H-D | Dirt bike SDC 3/4 throttle sleeve |
| Mirrors: | H-D | H-D |
| Hand Controls: | H-D | H-D FXRP |
| Foot Controls: | H-D | H-D FXRP |
| Floorboards: | H-D | H-D FXRP |
| Headlight: | H-D | Moons MC LED |
| Taillight: | H-D | H-D |
| Turn Signals: | H-D | H-D |
| License Mount: | H-D | H-D |
| Seat: | H-D police issue | Mustang Fastback |