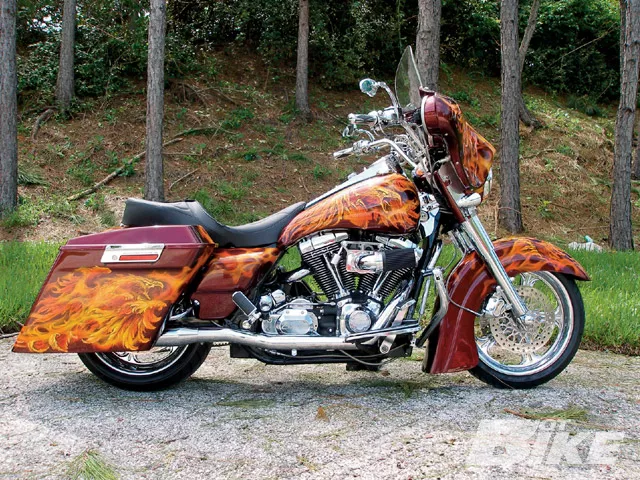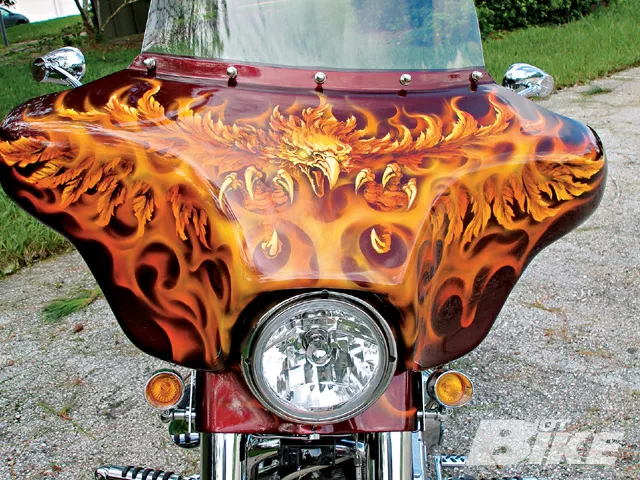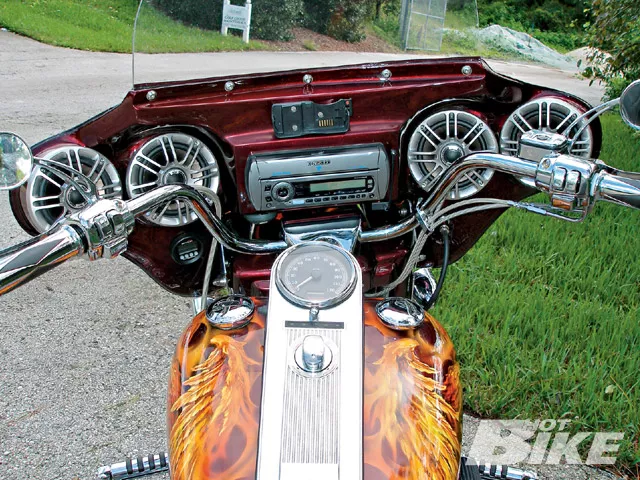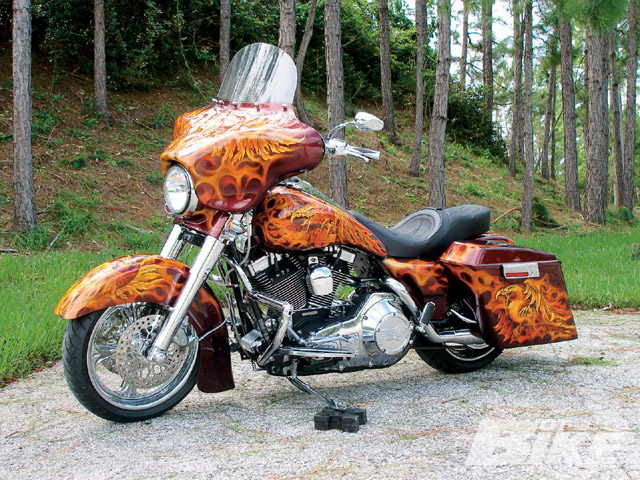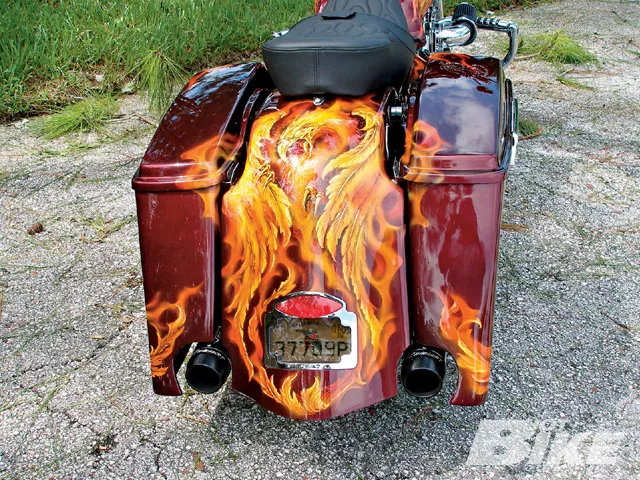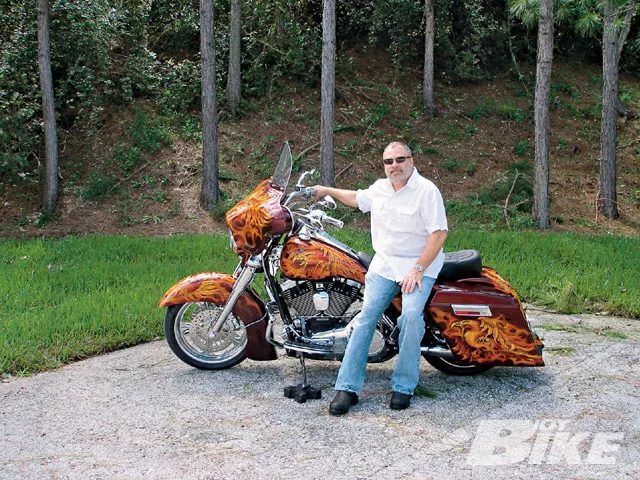 My name is Jeff Hosenpud and my day job is heart transplantations, but my hobby is riding and working on bikes in my garage. Having only ridden Softails over the past 10 years, and getting a little more seasoned in age, I decided I would like to soften up my ride.
I started the way anyone would, looking at magazines for ideas. I liked the low look of the stretched fender and bags for the rearend, the stretched tank and the big frontend and fender. I also wanted a fat tire on the rear and I still like the chrome look even though black is now the thing. I wanted a fairing mainly for a good sound system, but I also planned to include a GPS and radar detector for those long 90 mph freeway rides. I also considered the fairing a great canvas for my ultimate paint job and airbrush art.
The first big decision was what bike to start with. I wanted a Twin Cam engine as a platform because I had some experience rebuilding these. The next decision was the model. I planned on a stretched tank and found more options for the FLHR versus the FLHT models, I decided to start looking for a used Road King.
It took me about three months but I finally found a 2000 FLHPI (Road King Police Bike) that had 7,900 miles on it for a grand total of $8,100. It had been modified with drag pipes, cheap chrome covers and stick-on decals. The frame and the basic powdercoat on the engine was in pretty good shape and since almost everything else was coming off I figured it would work.
The first step was demolition. Everything came off, frontend, fenders, tires, bags, swingarm, shocks, belt, lights, handlebars, and foot controls. The next thing was to rebuild the engine. It was a stock 88ci. I usually bore the cylinders and send the heads out for porting and polishing, but these were among the few parts left on the bike that were fairly salt damaged. I ended up finding a set of 95 ci cylinders on Ebay that a guy bought new but never put on and I bought Screamin' Eagle heads. I used Andrews 37G gear-drive cams and stayed with flat-top pistons. Since I had been spoiled with a six-speed transmission on my Softail, I went with the Screamin Eagle six-speed gears but had to replace the mainshaft with a longer shaft to ultimately accommodate the wide tire kit, which I got from Fat Baggers Inc. (FBI)
I looked at a lot of stretched tanks but since I'm not a fabricator I was stuck with what was available. Then I found this little company called Bad Dad Motorcycles that make a stretched tank shroud, essentially two half shells of fiberglass that fit over an existing stock tank. You adhere the shells to the tank and then fit the seat between the two shells. Most people have to shave off a part of the extended shell to drop the seat in but I was using a fairly narrow seat, so I had to have my fiberglass guy actually add material to make a seamless appearing fit.
The fat tire kit (200mm) from FBI was pretty easy to install. You have to space out the inner primary cover, the left side foot rests and controls, and do some minor frame grinding to make sure the belt doesn't rub. You have a choice of fenders with the kit and they had one that worked well with extended hard bags I picked up.
After a fair amount of time fitting, grinding, sanding, all that was left was the paint. I am kind of partial to fantasy and myth. I decided that this bike theme was going to be the Phoenix, which was appropriate since this particular bike really rose from the ashes (or salt). I finally found an artist that had done stuff that was exactly what I was looking for. Cheri and Rod Fuchs run Angel's Custom Paint and Design out of Greenbrier, Tennessee. Cheri runs the business and Rod is the artist. They were great to work with and emailed lots of pictures throughout the process. After the birds were put in and detailed, the flames were overlaid. As is evidenced by the finished work, their paint job really made the project.
Other miscellaneous parts I added to this bike included a fairing from Invecta Motor Sports, a Drag Specialties' leather seat with embroidered flames and a driver's back rest, Wimmer air cleaner, RC components Venom 18X3.5 and 17X6.25 front and rear wheels with Avon tires, Harley chrome frontend, Azure headlight and Kuryakyn front turn signal lights, FBI taillight/license plate holder, Custom Chrome handlebar controls, Power Commander USB III, and Kuryakyn engine guard/highway pegs.
I love this bike and how it was reborn just like the Phoenix and at this point the bike will keep me alive if the wife doesn't kill me.
| | |
| --- | --- |
| SPEC SHEET | |
| OWNER | Jeff Hosenpud |
| HOMETOWN | Jacksonville, Florida |
| YEAR/MODEL | 2000/FLHPI Road King |
| BUILDER | Jeff Hosenpud |
| EXHAUST | Rinehart |
| TRANSMISSION | 6-Speed |
| GAS TANK | Bad Dad Motorcycles/Jeff Hosenpud |
| FRONT FENDER | Fat Baggers/Jeff Hosenpud |
| REAR FENDER | Fat Baggers/Jeff Hosenpud |
| FRONT SUSPENSION | H-D |
| REAR SUSPENSION | Fat Baggers |
| WHEELS | RC Components |
| TIRES | Avon |
| PAINTER | Angel's Custom Paint and Design |
| SEAT | Drag Specialties |