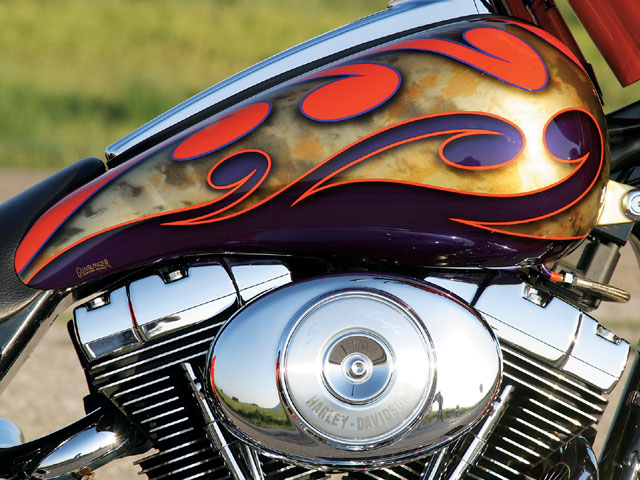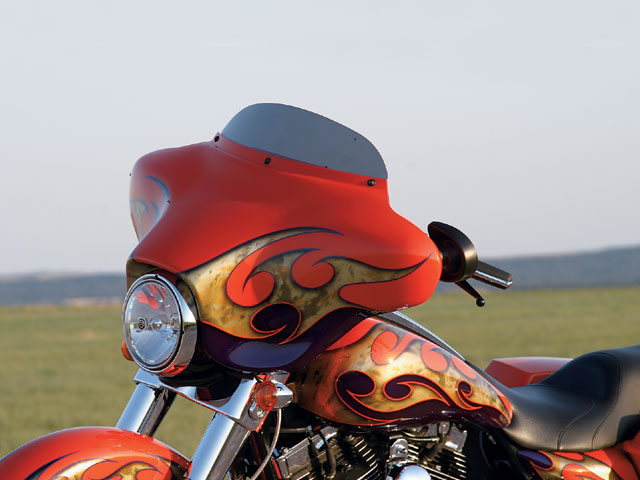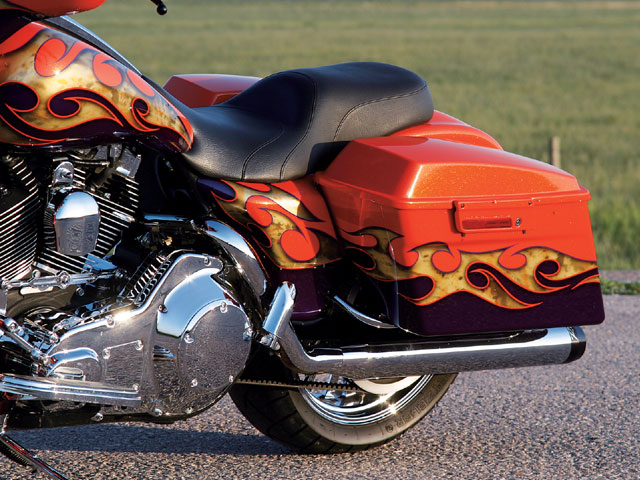 A little while back, in July of 2006, David Call came across a good deal on a leftover '05 FLH police bike that never sold. The bike had 35 miles on it. At the time, his shop, Gunslinger Custom Paint, had just received an invite from Bandemere Speedway in Golden, Colorado, to display a bike in downtown Golden at the Mopar Block Party during the Mile High Nationals. David and Rick Schmidt, his Boulder shop manager, jumped at the opportunity and used it as an excuse to get the FLH built.
David and his business partner, Jeff Theisen, have been in the auto body and paint business since they were 16 years old. They now own four Pearl Auto Body shops, as well as Gunslinger Custom Paint, which they opened five years ago. So David's got a little experience creating works of art out of bare metal. He also is no stranger to motorcycles-David grew up riding dirt bikes and got into Harleys in the late '90s.
Gunslinger began doing paintwork for Joey Perse a while back, and was eventually approached by a pretty big manufacturer of custom bikes to do paint for them. The slick paint jobs got noticed by one of the largest motorcycle manufacturers in the country, which ended up asking the Gunslinger crew to start throwing paint on a select number of bikes-they now do over 3,000 bikes a year. The evolution continued, and the culmination of the situation was that the Gunslinger guys began building their own custom bikes. David manages everyday body shop operations, so what he really loves now more than anything is getting his hands greasy and putting bikes together.
When Bandemere Speedway called, the guys were in a crunch and had only ten days to get the bike done. Gunslinger is also a distributor for FBI baggers-they build about 10-12 baggers a year, so they knew they wanted to turn the FLH into a highly-customized and rideable bagger, using some of the accessories FBI is known for.
They began by stretching the tank, and lowering, shaving, and extending the front fender. For the rear they went with a 200mm tire swingarm kit from FBI. Wheels were ordered from Performance Machine, along with a six-piston caliper and single-sided rotor for the front. In the rear they kept the brakes stock. With the tank stretched, they needed to get a seat made that would keep with the new flow of the bike, so they approached Dan Ballard of Bitchin' Stichin' in Denver. Dan's been doing seats for a long time, and came up with a cool seat design, using vinyl that simulates worn-out leather.
They sent the motor out to Gary, who threw on some 211 Screamin' Eagle cams and pushrods, tweaking it a little and wresting a bit more power out of the 88. The bike dynos at 82.4 hp and 84.4 torque at altitude with a Big Sucker air cleaner, Power Commander, and Rinehart pipes with performance baffles. The bike was lowered using an FBI kit, and to clean it up they removed the welds from the fender struts. Of course, it had to have a sick paint job. They went with a Sherwin Williams, Planet Color DC Orange and John Pugh and Rusty Byrd did the graphics. To finish it off, they added an aftermarket stereo system with an iPod adapter for uninterrupted and loud cruising. And that's what the bike is meant to do. It not only looks great, it's even sweeter to ride. The 200mm tire in the rear makes it sail along on the highway. Gunslinger has received a lot of attention with this ride. It's been on display at several shows under the Sherwin Williams banner, as well as at SEMA, Sturgis, and the Pomona Grand National Roadster Show, and it won the Best of Mile High Show. The guys at Gunslinger plan to continue their forte into the custom motorcycle world and next on their list is maybe some retro Softails, but regardless, keep an eye out, because whatever they do is gonna look great.
| | |
| --- | --- |
| SPEC SHEET | |
| GENERAL | |
| OWNER | David Call |
| SHOP | Gunslinger Custom Paint |
| PHONE | (303) 886-4165 |
| WEBSITE | www.GCPaint.com |
| YEAR/MAKE/MODEL | '05/Harley-Davidson/FLH |
| FABRICATION | Gunslinger |
| ASSEMBLY | Gunslinger |
| BUILD TIME | 10 days |
| | |
| --- | --- |
| ENGINE | |
| YEAR/MANUFACTURER | '05/88 |
| BUILDER | H-D |
| CASES | H-D |
| CYLINDERS | H-D |
| HEADS | H-D |
| ROCKER BOXES | H-D |
| AIR CLEANER | Screamin' {{{Eagle}}} |
| IGNITION | Power {{{Commander}}} |
| EXHAUST | Rinehart True Duals |
| | |
| --- | --- |
| TRANSMISSION | |
| YEAR/TYPE | Stock |
| CASE | Extended FBI |
| GEARS | Stock |
| CLUTCH | Stock |
| PRIMARY DRIVE | Stock |
| | |
| --- | --- |
| FRAME | |
| YEAR/MANUFACTURER | '05/Stock |
| RAKE | Stock |
| STRETCH | Stock |
| | |
| --- | --- |
| SUSPENSION | |
| FRONT | Gunslinger lowered |
| LENGTH | Stock |
| TRIPLE TREES | H-D |
| REAR | Lowered FBI kit |
| SWINGARM | H-D |
| SHOCKS | Stock |
| | |
| --- | --- |
| WHEELS, TIRES, AND BRAKES | |
| MANUFACTURER FRONT/TYPE | PM |
| SIZE-WIDTH/HEIGHT | 21×4.0 |
| TIRE/SIZE | Avon 21x90x90 |
| CALIPER | PM |
| ROTOR | PM |
| REAR | |
| MANUFACTURER REAR | PM |
| SIZE-WIDTH/HEIGHT | 200×18 |
| TIRE/SIZE | Avon 200mm 18 |
| CALIPER | Stock |
| ROTOR | Stock |
| | |
| --- | --- |
| FINISH/PAINT | |
| COLOR | OC Orange Planet Color |
| PAINTER | Gunslinger Custom Paint |
| GRAPHICS | John Puch/Rusty Byrd |
| MOLDING | Gunslinger Custom Paint |
| | |
| --- | --- |
| ACCESSORIES | |
| FRONT FENDER | Lowered, Shaved, Extended |
| REAR FENDER | FBI |
| FENDER STRUTS | Welds Removed |
| GAS TANK & CAP | FLH Extended Gunslinger |
| OIL TANK | H-D |
| DASH | Painted Gunslinger |
| GAUGES | Stock |
| HANDLEBARS | Stock |
| RISERS | Stock |
| MIRRORS | FLHX |
| HAND CONTROLS | Stock |
| FOOT CONTROLS | FLHX |
| FOOTPEGS | FLHX |
| HEADLIGHT | Stock |
| TAILLIGHT | FBI Flush Mount |
| TURN SIGNALS | FBI Flush Mount |
| LICENSE MOUNT | FBI Flush Mount |
| SEAT | Bitchin' Stichin' Dan Ballard |
| ELECTRICAL | Stock |