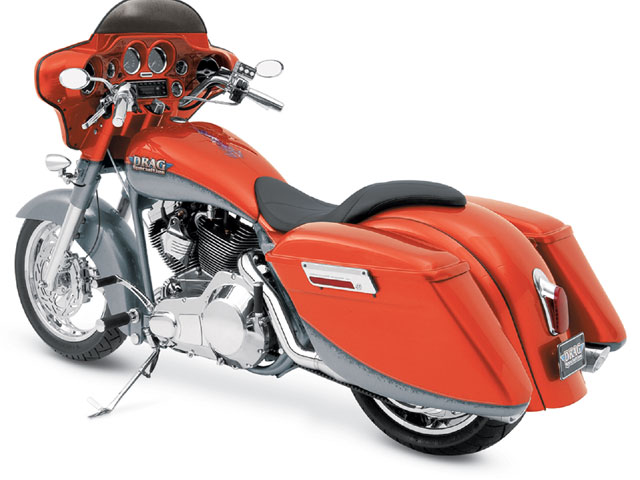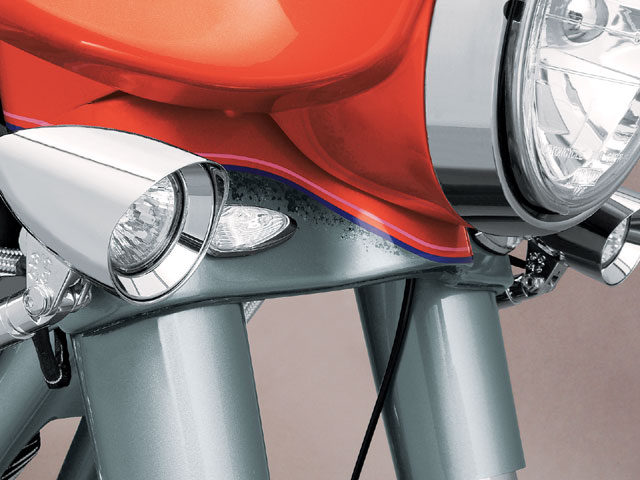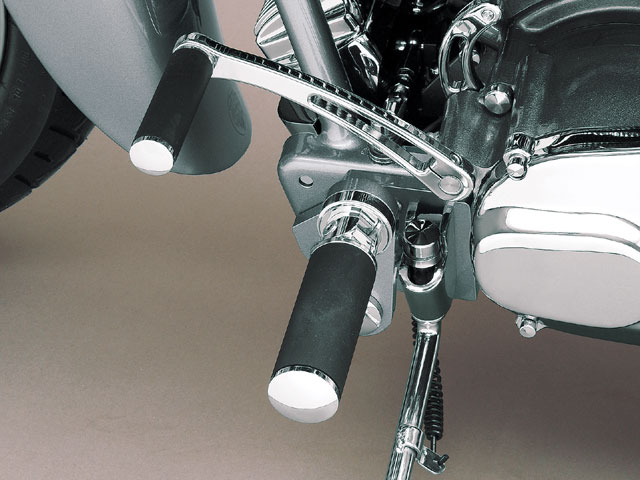 At Drag Specialties, there are a few different methods of bike building. One is to build a motorcycle from the ground up from their catalog (have you seen the '08 Fatbook? It's massive!). They start by piecing together the frame, wheels, tranny, and whatever other parts are needed to make two wheels roll down the road. In this particular case, they took a stock 2000 Harley-Davidson FLHTCUI and accessorized the hell out of it.
We talked to Tom Motzko, a longtime veteran with Drag Specialties, about why the company decided to customize a stock bagger as the mascot for this year's Fatbook instead of building a ground-up custom. He told us that they wanted to showcase to dealers all of the different options that their consumers had for upgrading their stock bikes, and what better way to do that than by providing an example with this build? Tom stressed that when customers walk up to this bike or see the parts list, they are overcome with the feeling of becoming a master builder, thinking to themselves, "You know what? I can do this."
"That doesn't mean that he [John Q. Customizer] has to spend an excessive amount of money for these wheels or those wheels, he could put something on that might be less expensive," Tom explained. "The idea is to get their excitement going and get their imagination going to show somebody that they can change their motorcycle and still make it usable."
Deciding who would piece together the Drag dresser was a no-brainer. Tank from Tuff Cycle was the perfect man for the job because "First of all, we've worked with Tank before. He's part of our team. He's part of our family. And he works well with us and we've done a couple of bikes with him before, so we kind of have a program down," Tom said.
Once the project began, there was the issue of how to proceed. The stocker was already too high off the ground, and Tom and Tank agreed on dropping it a bit. "It was one of those [bikes] that just had everything on it and was 4 miles off the ground. You'd get a nosebleed just from sitting on the thing, it was so high off the ground," Tom said.
Tank recalls the bike being a little too gaudy for his taste, so his vision was to strip the excess with kind of a less-is-more approach. "This thing was like a parade float when we got it. It was a road sofa, man! It had it all and the order was to clean it up. There was like a million miles of wire under there," Tank said.
He transformed the stock fuel-injected system by utilizing a Mikuni carburetion system instead. Then, Tank stretched the gas tank from the stock length and covered it and the rest of the sheetmetal in his signature two-tone paint combination. "I always two-tone motorcycles, I've been doing that for years. It gives emotion on a kickstand," Tank said.
Most of the components on this build are bolt-on items that the average rider can install in his/her own garage. The Bub "7-series" 2-into-2 True Duals are one of Drag's hottest items on the market and was a perfect fit for what they needed. The new Vance & Hines V02 VRAK Air Cleaner is a hot commodity because it fits both fuel-injected and carbureted models. The Headwinds light bar accentuates the fairing and is a nice addition to the overall appearance of the bike. The Progressive Airtail Handlebar Control Kit hasn't really been talked about, but it is a very viable product when it's used in conjunction with the Progressive Airtail system. It allows the rider to adjust the suspension height and dampening to his/her liking right from the handlebar.
Tom addressed the fact that there are a lot of installs that just aren't possible for the average guy to do at home, and that's why they made this bike so accessible-so folks can achieve a similar-looking bike simply by bolting on some of the parts showcased on the Fatbook bagger. "A guy is not going to stretch the gas tank in his garage, who's kidding who? But you know what he could do is maybe put on the seat or a dash or maybe even the air suspension, those kinds of things," Tom said.
Drag had a "menu" of parts they wanted to showcase, but at the end of the day that was also up to Tank. "Certainly any of the builders that we work with have their own opinion and we listen to them because they know in a lot of cases better than we do. We give them to some degree full rein on the bike," Tom said.
A wise decision, considering the bike builder is, after all, the one who builds the bike. We think we can all look forward to what Drag Specialties is going to reveal in the future, because so far they have not disappointed the masses yet.
| | |
| --- | --- |
| SPEC SHEET | |
| BIKE OWNER | Drag Specialties |
| SHOP NAME | Drag Specialties |
| SHOP WEBSITE | www.dragspecialties.com |
| YEAR/MAKE/MODEL | '00/H-D/FLHTCUI |
| FABRICATION | Tuff Cycle |
| ASSEMBLY | Tuff Cycle |
| BUILD TIME | 6 Months |
| | |
| --- | --- |
| ENGINE | |
| YEAR/ MANUFACTURER | '00/H-D |
| TYPE/SIZE | Twin Cam/88ci |
| BUILDER | H-D/Tuff Cycle |
| CASES | H-D |
| CYLINDERS | H-D |
| HEADS | H-D |
| ROCKER BOXES | H-D |
| CARBURETOR | Mikuni |
| AIR CLEANER | Vance & Hines V02 |
| EXHAUST | Bub 7 True Duals |
| | |
| --- | --- |
| TRANSMISSION | |
| YEAR/MANUFACTURER/TYPE | H-D/Five-speed |
| CASE | H-D |
| CLUTCH | Drag Specialties |
| PRIMARY DRIVE | H-D |
| | |
| --- | --- |
| FRAME | |
| YEAR/MANUFACTURER | '00/H-D |
| RAKE | Stock |
| STRETCH | None |
| | |
| --- | --- |
| SUSPENSION | |
| MANUFACTURER FRONT | H-D/Drag Specialties |
| LENGTH | |
| TRIPLE TREES | Stock Reversed |
| MANUFACTURER REAR | Custom Valley {{{200}}} |
| | Swingarm Kit |
| SHOCKS | Progressive Suspension Airtail Kit |
| | |
| --- | --- |
| WHEELS, TIRES, AND BRAKES | |
| MANUFACTURER FRONT/TYPE | Arlen Ness |
| | Hammer |
| SIZE-WIDTH/HEIGHT | 16×3.5 |
| TIRE/SIZE | Metzeler ME880/140/70/18 |
| CALIPER | Hawg Halters 6-Piston |
| ROTOR | Arlen Ness Hammer |
| MANUFACTUER REAR/TYPE | Arlen Ness/ |
| | Hammer |
| SIZE-WIDTH/HEIGHT | 18×5.5 |
| TIRE/SIZE | Metzeler ME880 200/50/18 |
| CALIPER | Hawg Halters 4-Piston |
| ROTOR | Arlen Ness Hammer |
| | |
| --- | --- |
| FINISH/PAINT | |
| COLOR | Zenith Gold, Candy Tangerine, |
| | Platinum Pearl |
| PAINTER | Tank @ Tuff Cycle |
| GRAPHICS | Tank @ Tuff Cycle |
| POWDERCOAT | None |
| | |
| --- | --- |
| | |
| ACCESSORIES | |
| FRONT FENDER | Russ Wernimont Cruiser |
| REAR FENDER | Russ Wernimont Cruiser |
| FENDER STRUTS | None |
| GAS TANK∩ | Drag Specialties |
| OIL TANK | H-D |
| DASH | None |
| GAUGES | H-D |
| HANDLEBARS | Drag Specialties |
| RISERS | H-D |
| MIRRORS | Cyclesmiths Oval |
| HAND CONTROLS | Drag Specialties w/ |
| | Joker Machine |
| FOOT CONTROLS | Jaybrake |
| FOOTPEGS | Jaybrake Full Rubber Pegs |
| HEADLIGHT | Adjure 7-inch |
| TAILLIGHT | Kuryakyn |
| TURN SIGNALS | K&S; |
| LICENSE MOUNT | Drag Specialties |
| SEAT | Drag Specialties |