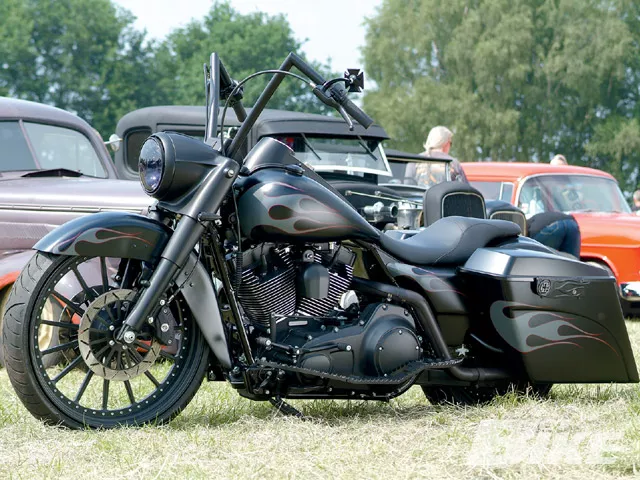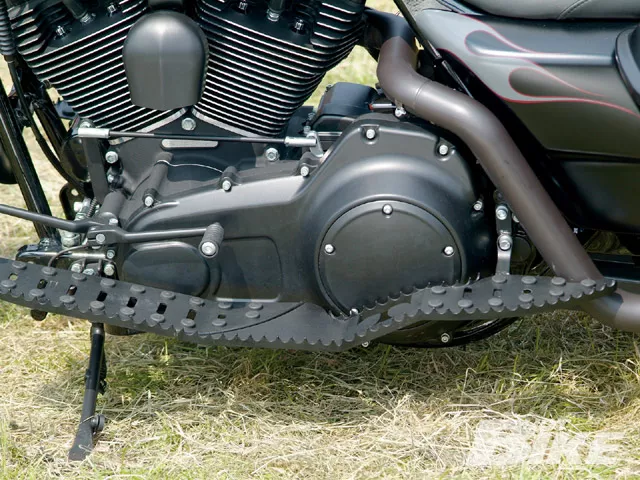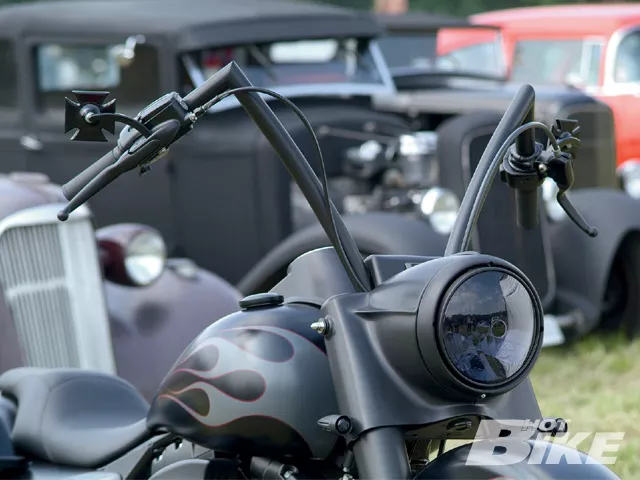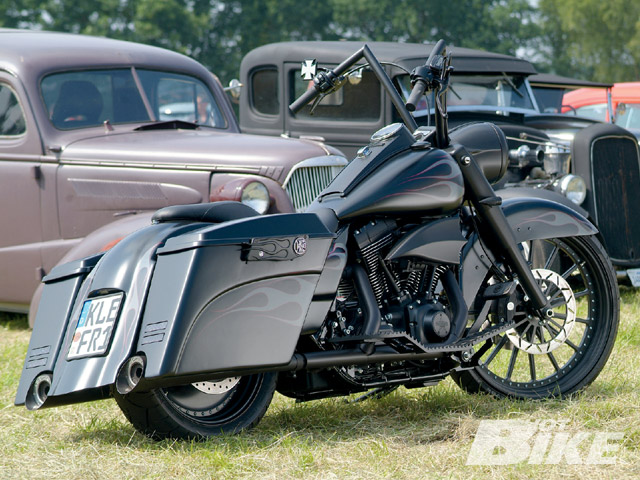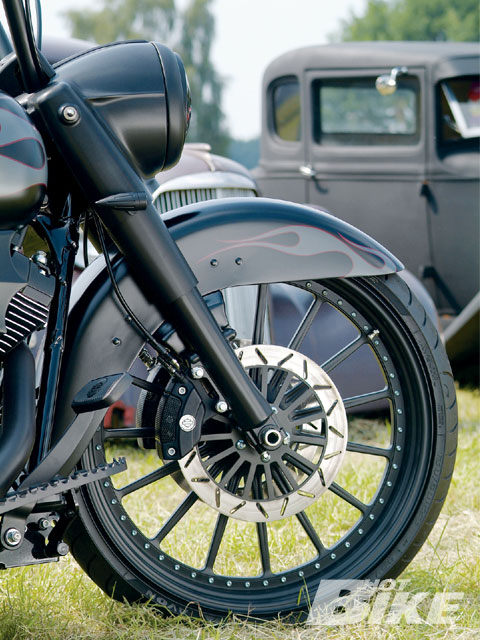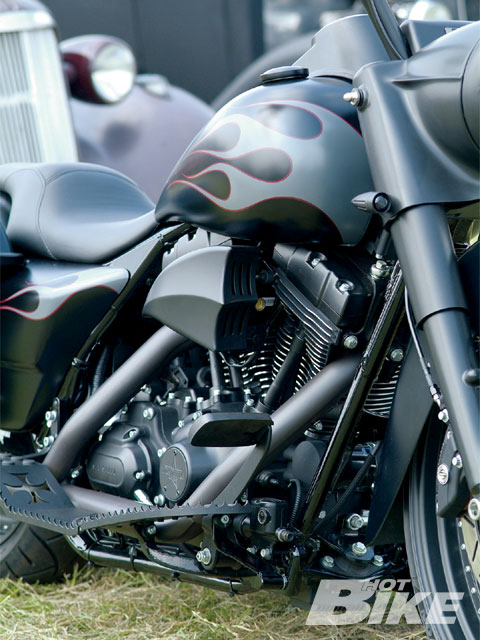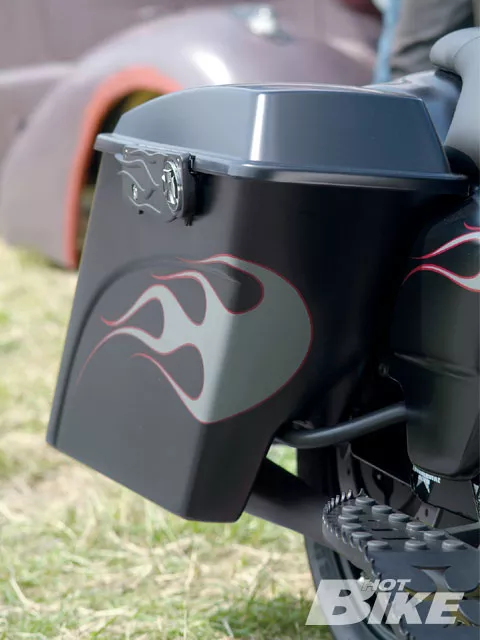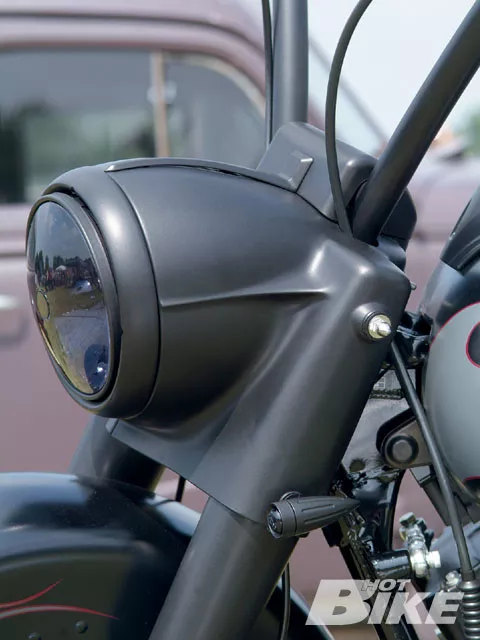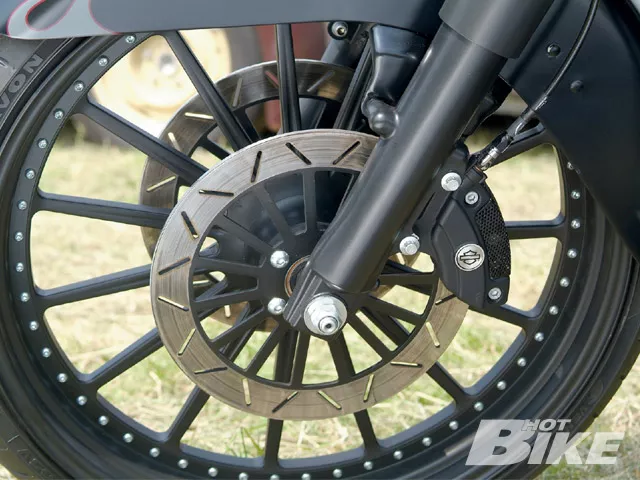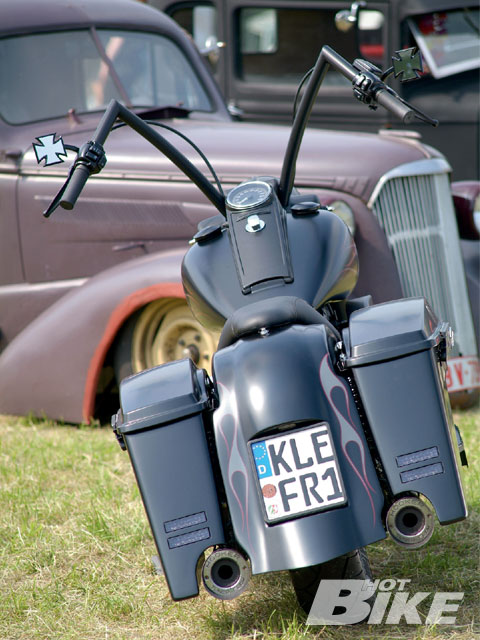 "Smart Andy" from Oberhausen, Germany, has been riding bikes since he was 18, and it was under the classic influence of hard-rock and electric guitars of the early '80s, that he started hanging out in rock clubs, bars and events propelled by heavy sounds, blood, sweat and leather. Around his early 20s Andy joined a motorcycle club, and through the years he made it to the executive board of his chapter.
As one of the opinion leaders it is natural to be on two wheels most of the time. Germany is not that large, (almost 138,000 square miles, compared to US's nearly 3.8 million square miles) and it is very common for people to travel within its boundaries via motorcycle. Because of that Andy always preferred fast V-Twins to make quick work of the stretches of the Autobahn he often traveled. Though it would've been more comfortable to ride a stock bike or a bike more geared towards long-distance touring, Andy rode a lot of custom bikes through his early years and he built most of his bikes with help from friends and club members. In 2006 Andy owned one of the fastest, meanest and boldest custom V-Rods ever built. It was basically a street fighter, and nowhere near the choppers he was used to riding.
However, there was one major problem Andy found with that V-Rod. With the short and high rear section there was no option to carry all the gear he would need for long road trips. Thinking about his situation with this new speed toy, Andy started looking through bike mags. He came across a lot of low-riders and high-neckers, but he didn't see anything that really got his attention.
You may or may not know this, but in Germany, baggers are mostly ridden by HOG members, and there are almost no "bikers" on Baggers. One day Andy was cruising around the web and he stumbled across a bagger on the HOT BIKE website and it struck him like lightning. The bike was mean and strong with a custom flame-paintjob, basically everything he looks for in a bike. And it was at that moment that he changed his opinion concerning baggers and that bike inspired him to start thinking about a bagger of his own. Soon after that Andy found himself standing in the showroom of his local Harley dealer looking for a basic bike he could customize into his own personal badass bagger.
After seeing that all the bikes on the showroom floor were either sold, full dressers, or had a mess of parts missing and still overpriced, he almost gave up. But then he remembered the guys over at ThunderBike, the shop that built his fast V-Rod, so he asked them for help once again.
ThunderBike's master builder, Michael, aka ThunderMike, sat down with Andy for two long afternoons and they banged out the crucial points of the build, the color had to be black with flames, it had to have a street fighter-esque appearance, and a lean and mean chopper-like seating position.
The base platform Andy chose was a '08 Road King. Satisfied with the power and reliability of the 96ci engine Andy decided to leave it alone and had ThunderBike strip the bike down to the frame. After pulling everything off Andy saw the heart and spirit of a Harley, a well-built and bold frame with a solid powertain. First of all the bike had to be lowered. ThunderBike cut the frontend down by almost 2 inches, and used a set of Progressive Suspension springs to smooth out the bumps up front. The rear shocks were swapped out for a set of Bitubo shocks, also lowered, but still with enough travel to be comfortable.
A completely new direction for Andy was the decision to go with a massive 23-inch ThunderBike billet spoke front wheel. Out back they stuffed an 18×4 1/2-inch billet spoke, and both wheels were wrapped in Avon rubber, a 130/60-23 front and 160/60-18 rear. To produce a "biker" seat position Andy felt ape hanger handlebars were necessary, so ThunderBike accommodated him with a set of Flip apes they fabricated to fit the look and style of the bike. To make the bike look longer the gas tank was stretched and shaped to transition right into the seat. To accentuate the stretched look, some very utilitarian floorboards that stretch all the way from the downtubes to the side covers were made. They are called TB-Bad King floorboards and were a special design by ThunderBike, for this project.
Finishing off the bodywork, ThunderBike modified the stock front fender to sit tight around the 23, while out back they used a Ness Bagger-Tail rear fender and Ness Big Bags to continue the long and low look. ThunderBike modified the fender and bags to sit even tighter on the bike to give it a beefier, but not fat look. The cutouts for the Hooker mufflers make it look like integrated shotgun barrels poking out the back. Finally, the addition of a low gloss dark gray basecoat with light gray flames outlined in red help add to the looks of speed and aggression.
In the end Andy was very pleased with his new bagger. To him this bike is a real biker-style bagger. In fact Andy liked the bike so much he rode it more than 10,000 miles during the '08 season without any problems. Mission accomplished! Not bad, this Bad King.
Specs
| | |
| --- | --- |
| BIKE OWNER | "Smart Andy" |
| SHOP NAME | ThunderBike |
| SHOP WEBSITE | www.thunderbike.de |
| YEAR/MAKE/MODEL | '08/H-D/Road King |
| FABRICATION | ThunderBike |
| ASSEMBLY | ThunderBike |
| BUILD TIME | Three Months |
| | |
| --- | --- |
| ENGINE | |
| YEAR/MANUFACTURER | '08/H-D |
| TYPE/SIZE | Twin Cam/96ci |
| BUILDER | H-D |
| CASES | H-D |
| CYLINDERS | H-D |
| HEADS | H-D |
| ROCKER BOXES | H-D |
| EFI | H-D |
| AIR CLEANER | ThunderBike |
| EXHAUST | Hooker/ThunderBike |
| | |
| --- | --- |
| TRANSMISSION | |
| YEAR/MANUFACTURER/TYPE | '08/H-D/Six speed |
| CASE | H-D |
| CLUTCH | H-D |
| PRIMARY DRIVE | H-D |
| | |
| --- | --- |
| FRAME | |
| YEAR/MANUFACTURER | H-D |
| RAKE | Stock |
| STRETCH | Stock |
| | |
| --- | --- |
| SUSPENSION | |
| MANUFACTURER FRONT | H-D/ThunderBike/Progressive |
| LENGTH | 2 inches under |
| TRIPLE TREES | H-D |
| MANUFACTURER REAR | Bitubo |
| SWINGARM | H-D |
| | |
| --- | --- |
| WHEELS, TIRES, AND BRAKES | |
| MANUFACTURER FRONT/TYPE | ThunderBike/Billet Spoke |
| SIZE-WIDTH/HEIGHT | 23×4.5 |
| TIRE/SIZE | Avon/130/60/23 |
| CALIPER | H-D |
| ROTOR | Thunderbike |
| MANUFACTUER REAR/TYPE | ThunderBike/Billet Spoke |
| SIZE-WIDTH/HEIGHT | 18×4.5 |
| TIRE/SIZE | Avon/160/60/18 |
| CALIPER | H-D |
| ROTOR | ThunderBike |
| | |
| --- | --- |
| FINISH/PAINT | |
| COLOR | Dark gray, light gray, red |
| PAINTER | Kruse Design |
| GRAPHICS | Kruse Design |
| | |
| --- | --- |
| ACCESSORIES | |
| FRONT FENDER | H-D/ThunderBike |
| REAR FENDER | Ness/ThunderBike |
| FENDER STRUTS | H-D/ThunderBike |
| GAS TANK∩ | H-D/ThunderBike |
| OIL TANK | H-D |
| DASH | H-D/ThunderBike |
| GAUGES | H-D |
| HANDLEBARS | ThunderBike |
| RISERS | ThunderBike |
| MIRRORS | ThunderBike |
| HAND CONTROLS | H-D |
| FOOT CONTROLS | H-D/ThunderBike |
| FOOTPEGS | H-D/ThunderBike |
| HEADLIGHT | H-D |
| TAILLIGHT | ThunderBike |
| TURN SIGNALS | Bullet/ThunderBike |
| LICENSE MOUNT | ThunderBike |
| SEAT | Thunderbike |