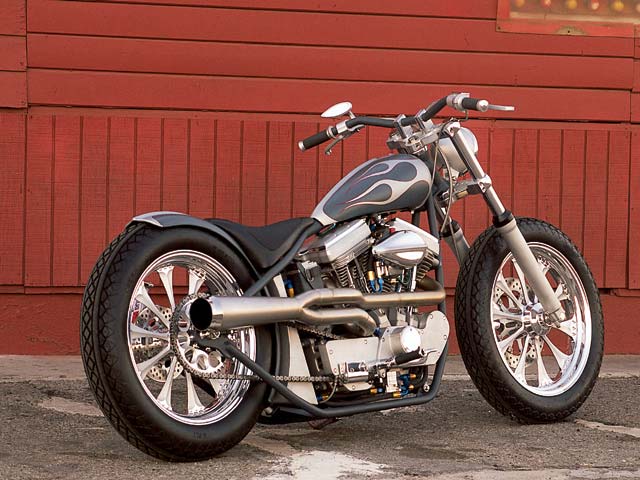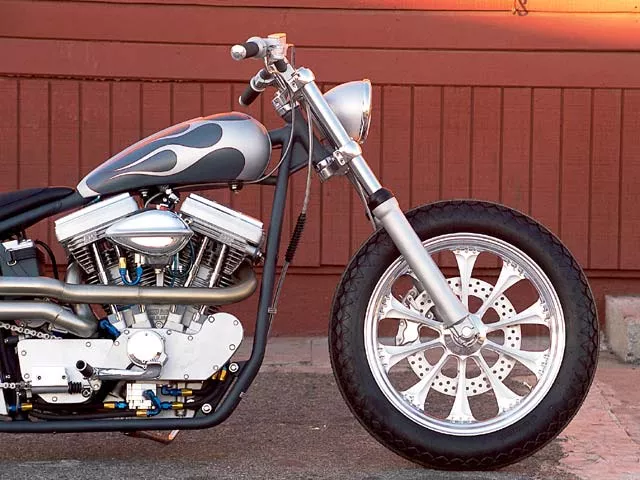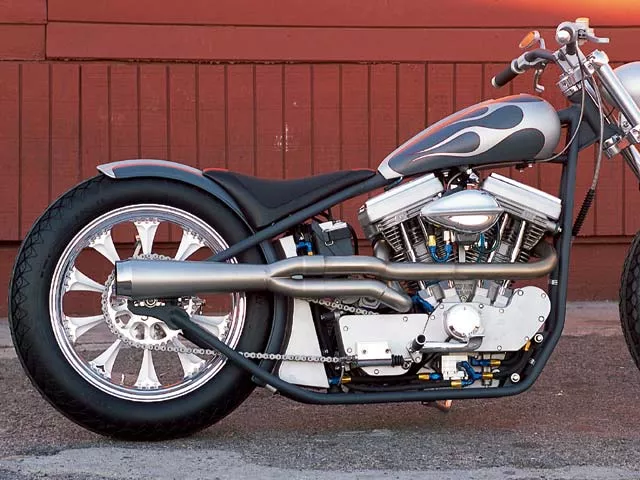 The story of Todd Silicato's bike is kind of long and twisted. See, Todd spends his days doing two things: working in Performance Machine's R&D; shop and managing its race team. Cool bikes and high speeds are integral parts of his life. Todd wanted to build himself a beater bike that was non-descript and went against the grain of everything that rolled through his life. No flashy paint, no fat tires, and no chrome — an anti-custom custom.
He lined up a Paughco Rigid frame for the no-frills project with no stretch and 30-degrees of rake, the perfect blast around geometry. He also had a line on a completely rebuilt Ironhead Sportster motor that was so cheap, he couldn't resist adding it to his plan. Things were going along just fine, the budget was well in check and the bike would certainly be low key. Then a simple twist of fate changed everything — sort of.
One of the P.M. marketing gurus happened to be on the phone with S&S; and mentioned how cool he thought Todd's basic bike was going to be. When S&S; heard about the bike, the kings of horsepower thought differently, suggesting one of its 100ci XL motors be the center-point of the machine, and it offered a smoking deal on the potent powerplant. Needless to say, the project changed gears quickly — but only sort of.
With a killer motor in the Paughco frame, Todd knew he would have to upgrade his idea, but he also knew he could still go against the grain. When the 100-incher showed up, Todd slid it into the frame and went to work on his biggest concern for the project, cool-looking pipes. After spending about $500 on stainless steel, Todd began fabricating a pipe that would make the little Rigid look just right when he was done.
With a frame, motor, and pipe in place, Todd moved up front and put a set of Custom Cycle Engineering triple trees in place. Then, he tossed a set of H-D lower legs on a lathe, shaved the fender mounts off, took a couple inches out of the tubes, and put them on the bike. Todd did the smart thing and lined up a set of 18-inch Performance Machine Hooligan wheels, but bead blasted the majority of the spokes, adding extreme contrast to the incredibly polished finish with which they start. A set of Coker 4×18 tires were installed, and P.M. rotors and calipers were added to the package at both ends.
Not far from Performance Machine's headquarters in La Palma, California, is a small Huntington Beach shop called Chica's. Once there, Todd explained his project to Chica and the pair went to work. First, the sleek stretched tank was formed, then they turned attention to the tiny rear fender. It was tucked way down into the frame, with a rib formed on the rear lip for additional style. Finally, an oil tank was fabricated to fill the void between the seat post and fender.
While Todd kicked the idea of a bare-metal bike around, he decided to let Rock and Roll Paint do some fancy shiny black paint with silver flames on everything. When they finished, it looked great but ended up being too glossy for Todd's slightly modified plan. So, everything went back in the boxes and got shipped to Mesa, Arizona, for Miguel's Pscycle Paint to turn the gloss into a satin finish. The easy part was sending the frame to Porter Powdercoating for the satin covering.
Todd's project was in the home stretch. He added a set of Storz risers and Flanders bars, and then took a saw to a perfectly good set of P.M. hand controls. A Headwinds headlight, P.M. footpegs, and H-D foot controls were installed, as was a Hot Match Custom Cycles kickstand. To get the bike on the road, a Leo's Custom Cycle taillamp/license mount was added just before the Bar Enterprises seat was secured.
Like we said in the beginning, Todd's project was a little twisted and went against the grain. Throughout the year, P.M. has been using the wild XL in its show booth, and has created quite a commotion — people love Todd's beater bike.
| | |
| --- | --- |
| Spec Sheet | |
| GENERAL | |
| OWNER | Todd Silicato |
| YEAR/MAKE | '03/Beater |
| FABRICATION | Todd Silicato |
| ASSEMBLY | Todd Silicato |
| BUILD TIME | one year |
| ENGINE | |
| SIZE/TYPE | 100ci/XL |
| CASES | S&S; |
| FLYWHEELS | S&S; |
| RODS | S&S; |
| PISTONS | S&S; |
| CYLINDERS | S&S; |
| HEADS | S&S; |
| CAMS | Andrews |
| CARB | S&S; |
| IGNITION | Dyna |
| PIPES | Owner |
| TRANSMISSION | |
| YEAR/TYPE | '02/S&S; |
| CASE | S&S; |
| GEARS | Baker |
| CLUTCH | Barnett |
| PRIMARY DRIVE | H-D |
| FRAME/SUSPENSION | |
| YEAR/TYPE | '02/Paughco |
| RAKE | 30 degrees |
| SWINGARM | Rigid |
| REAR SUSPENSION | Hee Hee |
| FORKS | H-D |
| EXTENSION | 2 inches under |
| TRIPLE TREES | CCE |
| WHEELS, TIRES, AND BRAKES | |
| WHEELS | Front: P.M. Rear: P.M. |
| TIRES | Front: Coker Rear: Coker |
| BRAKES | Front: P.M. Rear: P.M. |
| FINISH | |
| MOLDING | Rock and Roll |
| PAINTER | Rock and Roll/Pscycle Paint |
| COLOR | Flat |
| GRAPHICS | Flat |
| POWDERCOATING | Porter Powdercoating |
| ACCESSORIES | |
| BARS | Flanders |
| RISERS | Storz |
| HAND CONTROLS | P.M. |
| HEADLIGHT | Headwinds |
| TAILLIGHT | Leo |
| GAUGES | Drag |
| ELECTRICAL | Owner |
| FUEL TANK(S) | Chica/owner |
| OIL TANK | Chica/owner |
| REAR FENDER | Chica/owner |
| FENDER STRUTS | Built-in |
| PEGS | P.M. |
| FOOT CONTROLS | H-D |
| SEAT | Bar |