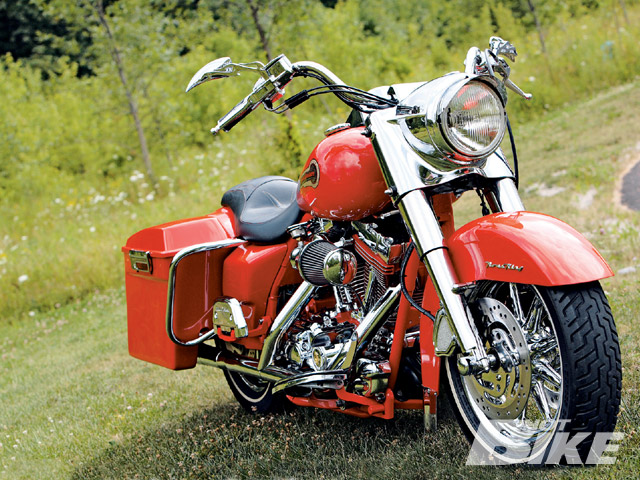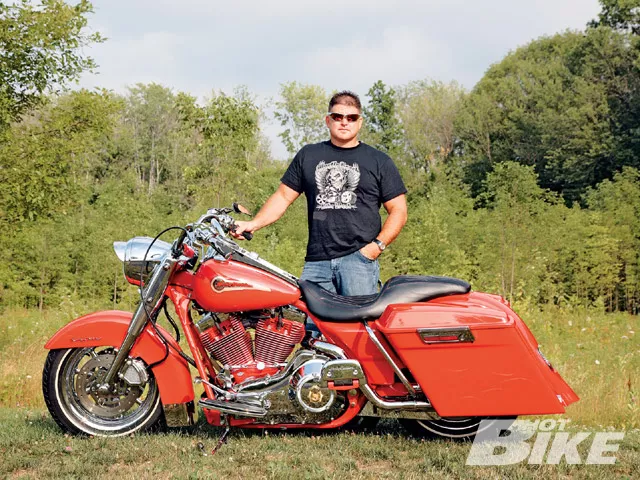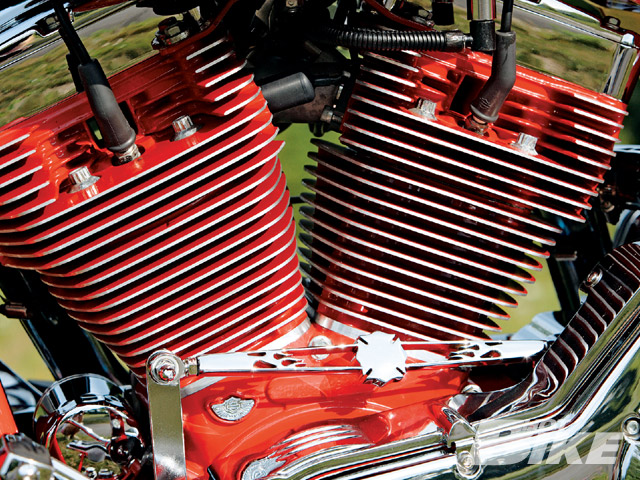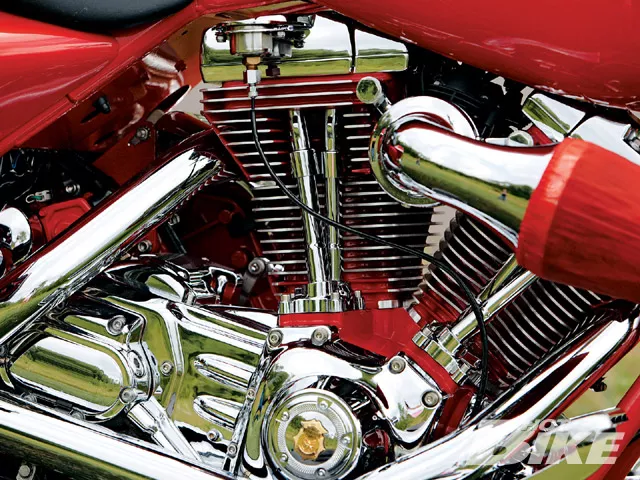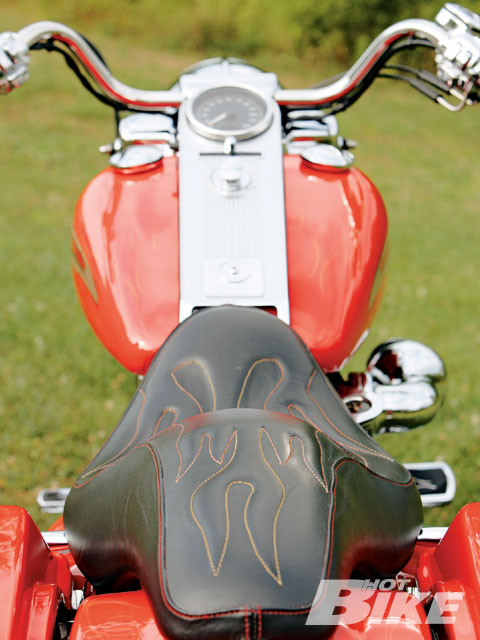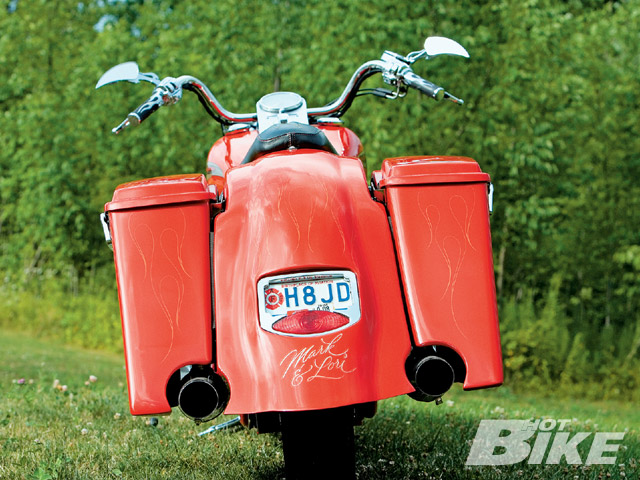 I have always ridden bikes since I was a kid, but couldn't wait until I could buy my first Harley. Finally in 2003 I went out to buy one and my wife thought since I am a firefighter, why not buy a FireFighter Edition Road King? I talked to my good friend Ed, who has been like a brother to me, and he said, "If you are going to only have one bike, the Road King is the way to go."
So I made the purchase, and after riding the bike stock all summer, Ed told me to store it in his basement for the winter. During the winter Ed and I spent hours in his basement adding chrome pieces and I would sit and stare at my bike and try to think of what I wanted to do next. Then spring would come around and we'd roll the bike out and I'd ride until winter came, then it was back to Ed's basement. This cycle went on for about four winters.
Over the course of that time we made quite a few changes to my Road King. We chromed and lowered the front of the bike 2 1/2 inches. I sent the stock nine-spoke wheels out to get chromed and when they came back we modified the stock fender so it would sit lower on the front wheel. We also pulled the chrome trim accent piece then filled and smoothed the fender. To go with the smooth look, up front we added an Arlen Ness wide fender kit and saddlebag extensions in the rear. This really made a difference seeing as how the fender has filler panels to hide the gap between the saddlebag and we frenched-in the license mount with built-in run, brake, and turn lights–a beautiful job if I do say so myself, considering it was done in a basement.
We dressed up the rest of the bike with flames and firefighter theme accents like floorboards, passenger boards, mirrors, grips, a seat, and a shift linkage. The last winter we worked on the bike, we decided to completely tear it down and powdercoat the frame, engine, and brackets–basically anything that wasn't chrome or rubber. Coincidentally, my neighbor,Chris Price, owns Pinnacle Powdercoating so he hooked me up. Meanwhile, Ed sprayed a couple fresh coats of red over the tank, fenders and side panels. Once all the color was down, we put the bike back together and headed out to South Carolina for the Myrtle Beach bike rally where I had Dan Kite add some really subtle pinstriped flames.
I really owe so much to Ed for not only being a great friend, but for doing all this work for me and teaching me so much about mechanical work, bodwork, fabrication, and encouraging me to try things I never thought I could do. Thanks to Monica Kimmell for the great pictures, and I also owe a very special thanks to my wife Lori for putting up with me while doing all this.
Specs
| | |
| --- | --- |
| OWNER | Mark McGuire |
| YEAR/MODEL | ,'03/Firefighter Edition Road King |
| BUILDER | Mark McGuire/Ed |
| ENGINE | H-D/88ci |
| EXHUAST | H-D/Thunderheader ThunderCones |
| TRANSMISSION | H-D |
| GAS TANK | H-D |
| FRONT FENDER | H-D/Ed |
| REAR FENDER | Arlen Ness |
| FRONT SUSPENSION | H-D |
| REAR SUSPENSION | H-D |
| WHEELS | H-D |
| TIRES | Dunlop |
| PAINTER | Ed/Dan Kite |
| SEAT | Tony |