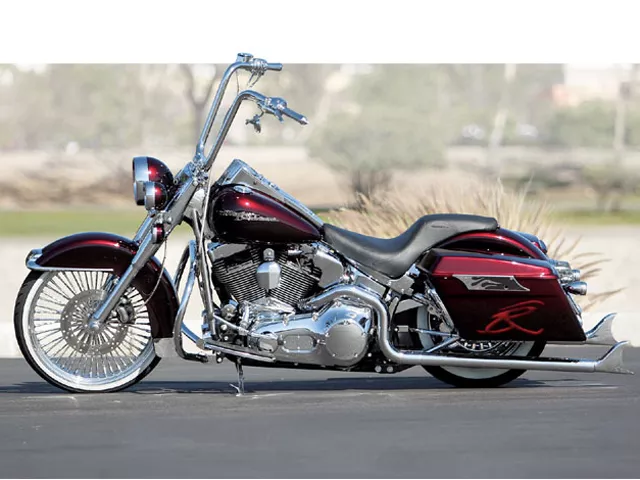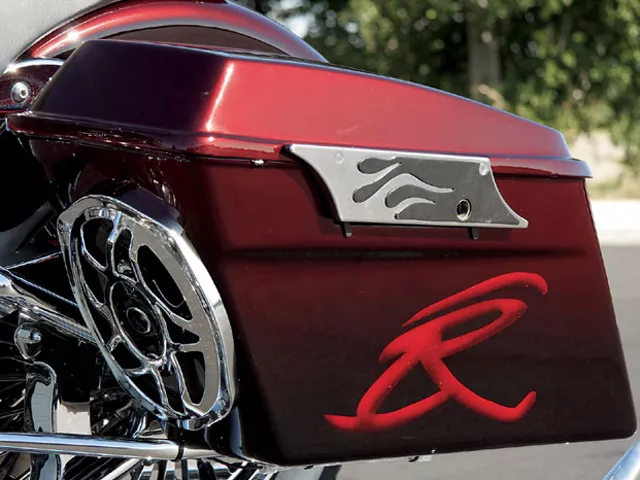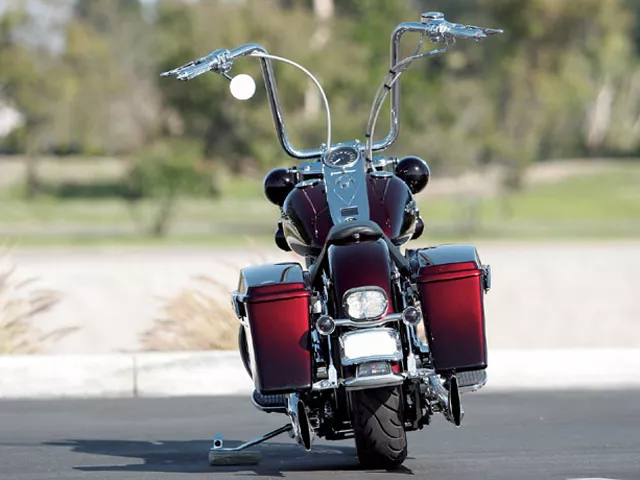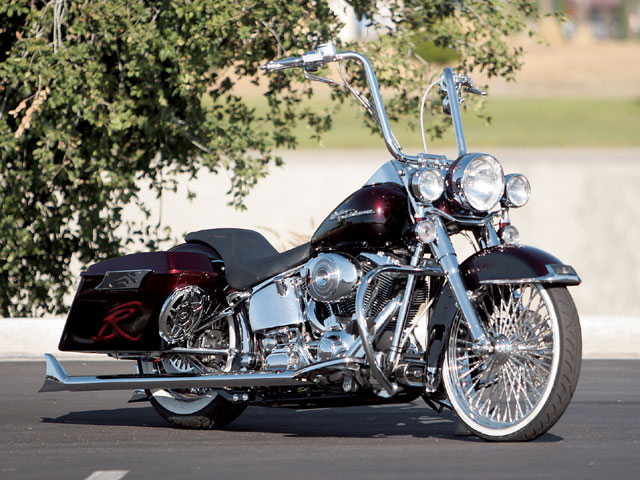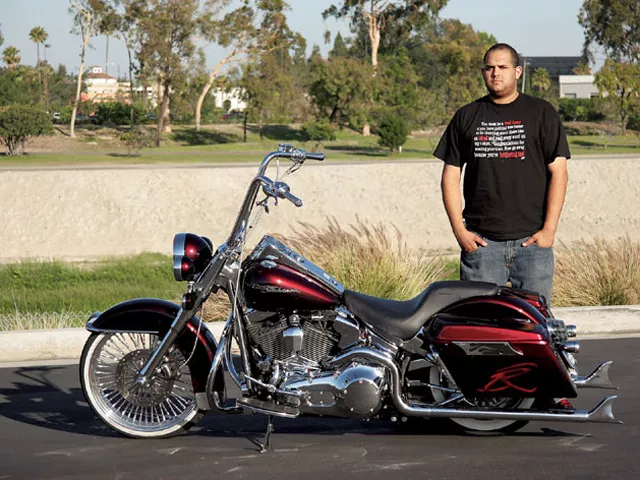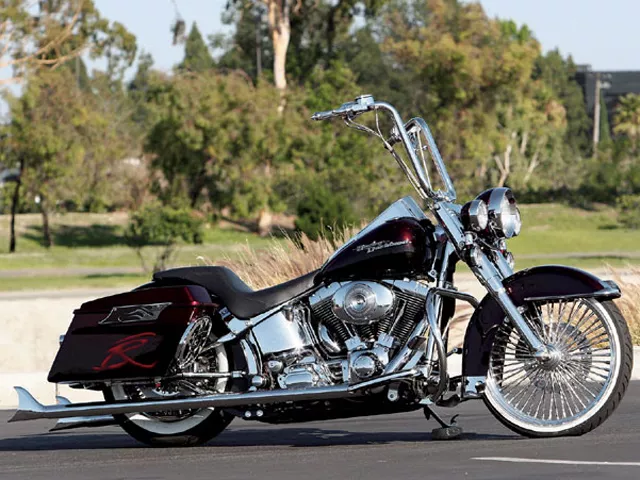 For a motorcycle parts company, what better way is there to showcase your products than to feature them on a bike, and let its theme revolve around those parts? That was the objective of Ride Wright Wheels in Anaheim, California, with the '03 Heritage Softail before you. Taking styling cues from the lowrider days of past and present, one idea for certain in shop owner Sam Wakim's mind was everything had to be built around the wheels.
After all, Ride Wright's been a custom wheel company since 2000, and specializes in making classic American motorcycle wheels, rotors, and pullies. "Our wheels ship complete," Sam said, "so we're a one-stop shop for customers." From chrome to a variety of colored wheels to precision-machined rotors and pullies, everything is built in-house with the latest technologies. To appease even the most finicky customer in the market for wheels, Ride Wright offers various styles and sizes, like 40, 50, 60 and 80-spokers in 15 inches up to 21, and now available in 23 inches.
In fact, it was their 50-spoke Fat Daddy wheels that inspired the rest of this bike's design. Sam wasn't interested in featuring his wheels on an overly flashy, expensive ride. "It seems the overkill and over-budgeted bikes have gone to the wayside," Sam said. Instead, they decided to play with rims and tires for this bike and reminisce about the old days.
As Sam explained, many lowriders of yesteryear and present are notorious for being hooked up with hydraulic systems, extended pipes, white wall tires and phat rims, and are just plain pimped out and loud-all things cool to owners and enthusiasts. In fact, lowrider owners would take the rims, put smaller tires on, and stretch them to fit, which is something similar to what Ride Wright did on this bike.
Before you get any ideas, they don't recommend stretching tires to fit the wheels. To showcase wide rims with low-profile tires, white-wall Avons were wrapped around Ride Wright's diamond-cut Fat Daddy spoke wheels. Other parts played a role in the overall theme of this motorcycle as well. A set of Samson Cholo fishtail pipes were mated up to the Twin Cam 88B engine and extend a few inches from the back of the bike similar to the exhaust setup on a lowrider. Of course, being able to slam this bike into the weeds was part of its low style, so a Progressive air ride system was installed.
LED lights and a sound system were added to enhance the theme of this motorcycle. "Usually there's no space or place to put tunes and speakers on a Softail," Sam said. But this ride had to have loud music. An iPod was installed in a custom dash, and after they ditched the stock soft bags, they tucked two 6×9-inch speakers in each hard saddlebag. They also installed a pair of Wild One high apes and Kuryakyn's old school-style taillights to add to its look. The flamin' cherry candy paint job and graphics laid down by Low Life complete the look.
"I wanted that old lowrider era in this bike," Sam said. It seems to him-judging from people's response to not only the bike, but also the wheels-that Ride Wright nailed the objective they initially set forth. This Softail not only went to work as a daily rider, but also as a shop spokesmodel.
Spec Sheet
| | |
| --- | --- |
| GENERAL | |
| BIKE OWNER | Ride Wright Wheels |
| SHOP NAME | Ride Wright Wheels |
| SHOP PHONE | (714) 632-8297 |
| SHOP WEBSITE | www.ridewrightwheels.com |
| YEAR/MAKE/MODEL | '03/Harley-Davidson/ |
| | Heritage Softail |
| FABRICATION | Ride Wright Wheels |
| ASSEMBLY | Ride Wright Wheels |
| BUILD TIME | Two months |
| | |
| --- | --- |
| ENGINE | |
| YEAR/MANUFACTURER | '03/Harley-Davidson |
| TYPE/SIZE | Twin Cam 88B |
| BUILDER | H-D |
| CASES | H-D |
| CYLINDERS | H-D |
| HEADS | H-D |
| ROCKER BOXES | H-D |
| CARBURETOR/EFI | H-D |
| AIR CLEANER | H-D |
| EXHAUST | Samson Cholo Fishtail |
| | |
| --- | --- |
| TRANSMISSION | |
| YEAR/MANUFACTURER/TYPE | '03/Harley-Davidson |
| CASE | H-D |
| CLUTCH | H-D |
| PRIMARY DRIVE | H-D |
| | |
| --- | --- |
| FRAME | |
| YEAR/MANUFACTURER | '03/Harley-Davison |
| RAKE | Stock |
| STRETCH | None |
| | |
| --- | --- |
| SUSPENSION | |
| MANUFACTURER FRONT | Harley-Davidson |
| TRIPLE TREES | H-D |
| MANUFACTURER REAR | Progressive Suspension |
| | Air Tail |
| | |
| --- | --- |
| WHEELS, TIRES, AND BRAKES | |
| MANUFACTURER FRONT/TYPE | Ride Wright |
| | Wheels/Fat Daddy Diamond |
| SIZE-WIDTH/HEIGHT | 21X3.5-inch/50 spoke |
| TIRE/SIZE | Avon white wall/{{{90}}}-90-21 |
| CALIPER | H-D |
| ROTOR | Ride Wright Wheels |
| MANUFACTURER REAR/TYPE | Ride Wright |
| | Wheels/Fat Daddy Diamond |
| SIZE-WIDTH/HEIGHT | 16X3.5/50 spoke |
| TIRE/SIZE | Avon white wall/150-16 |
| CALIPER | H-D |
| ROTOR | Ride Wright Wheels |
| | |
| --- | --- |
| FINISH/PAINT | |
| COLOR | Red Cherry Candy |
| PAINTER | Low Life |
| GRAPHICS | Low Life |
| PLATING/POLISHING | N/A |
| POWDERCOAT | N/A |
| | |
| --- | --- |
| ACCESSORIES | |
| FRONT FENDER | H-D |
| REAR FENDER | H-D |
| FENDER STRUTS | H-D |
| GAS TANK & CAP | H-D |
| OIL TANK | H-D |
| DASH | H-D |
| GAUGES | H-D |
| HANDLEBARS | Wild One |
| RISERS | H-D |
| MIRRORS | H-D |
| HAND CONTROLS | H-D |
| FOOT CONTROLS | H-D |
| FOOTPEGS | H-D |
| HEADLIGHT | H-D |
| TAILLIGHT | Kryakyn |
| TURN SIGNALS | Kryakyn |
| LICENSE MOUNT | Kryakyn |
| SEAT | H-D |