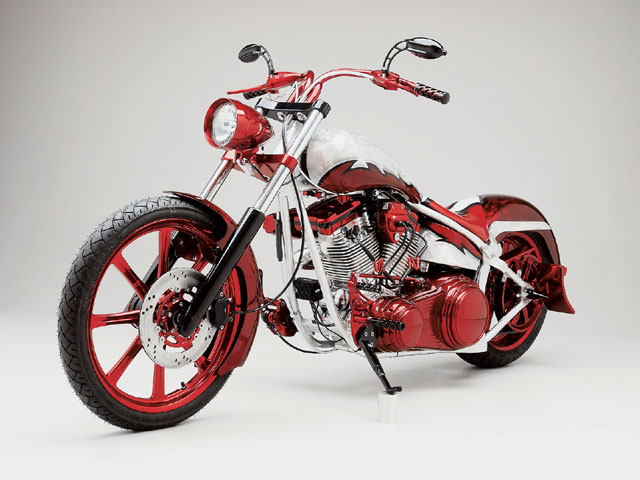 As the owner of a successful custom bike shop, it's expected that your personal ride would be a shining example of your work. For a female proprietor, the expectations are even higher. Mercedes Ross is part-owner of RedHill Motorcycle Werx in Lyons, CO, and she knew very well that her bike would have to be something special. Having already paid her dues on top of a hardtail, she also knew this bike would be nicely suspended.
Mercedes and husband Scot saw this as more than a chance to build a custom bike-it was also an opportunity to show the market what can be done to suit the unique needs of a female rider. An all-aluminum chassis from Wildcat Engineering with a little stretch and 38 degrees of rake not only sat nice and low but knocked off unneeded mass. The lightweight chassis set the tone for the rest of the bike, and aluminum bodywork soon followed, as did a Perse frontend. Power comes from a TP 107 and is mated to a transmission from the same manufacturer via an Arlen Ness primary. Rolling stock is from RevTech in the form of Meridian-style wheels wrapped in Metzeler rubber. Hand and foot controls are also from Mr. Ness, and the M bars (for Mercedes) are by Rick Doss.
The unfinished bike went to several shows in its raw metal state, and Mercedes was having a hard time covering it up with paint. She and Scot, along with in-house painter Phil Greff, dreamed up a solution. All of the red was done with a translucent powdercoat, and the balance of the exposed aluminum was treated to a Scotchbrite pad and clear powder.
The result of their efforts is a bike that sits low, weighs 150-odd pounds less than a stocker, and will keep up with Mercedes' husband's big-bore bikes without any trouble. We had to ask about the name, though. Mercedes explained, "My employees came up with that, because sometimes I can be one." We can't verify that particular fact, but we do know she and her shop can build one hell of a nice bike.
| | |
| --- | --- |
| SPEC SHEET | |
| OWNER | MERCEDES ROSS |
| SHOP | REDHILL MOTORCYCLE WERX |
| PHONE | (303) 823-6363 |
| YEAR/MAKE/MODEL | '04/REDHILL/ SPECIAL CONSTRUCTION |
| FABRICATION | REDHILL MOTORCYCLE WERX/ |
| PAINT | BLACK CANYON CUSTOM |
| ASSEMBLY | REDHILL MOTORCYCLE WERX/ |
| PAINT | BLACK CANYON CUSTOM |
| BUILD TIME | THREE AND A HALF MONTHS |
| | |
| --- | --- |
| ENGINE | |
| YEAR/TYPE/SIZE | '04/TP/107CI |
| BUILDER | TP |
| CASES | TP |
| FLYWHEELS | TP |
| RODS | TP |
| PISTONS | TP |
| CYLINDERS | TP |
| HEADS | TP |
| VALVES | TP |
| ROCKERS | TP |
| ROCKER BOXES | TP |
| PUSHRODS | TP |
| PUSHROD TUBES | TP |
| CAM | TP |
| LIFTERS | TP |
| CARBURETOR | MIKUNI |
| AIR CLEANER | FORCEWINDER |
| IGNITION | CRANE |
| EXHAUST | YAFFE X-PIPES |
| | |
| --- | --- |
| TRANSMISSION | |
| YEAR/TYPE | '04/TP SIX-SPEED |
| CLUTCH | CCI |
| PRIMARY DRIVE | CCI |
| | |
| --- | --- |
| FRAME | |
| YEAR/TYPE | 04/WILDCAT ENGINEERING |
| RAKE | 38 DEGREES |
| STRETCH | 3 INCHES OUT |
| | |
| --- | --- |
| SUSPENSION | |
| FRONT | PERSE |
| LENGTH | STOCK |
| TRIPLE-TREES | REDNECK ENGINEERING |
| REAR SWINGARM | WILDCAT ENGINEERING |
| SHOCKS | WORKS PERFORMANCE |
| | |
| --- | --- |
| WHEELS, TIRES, AND BRAKES | |
| FRONT BUILDER/SIZE | CCI/21 |
| TIRE | METZELER ME88/21 |
| CALIPER | GMA |
| ROTOR | CCI |
| REAR BUILDER/SIZE | CCI/16 |
| TIRE | METZELER ME880/218 |
| CALIPER | GMA |
| ROTOR | CCI |
| | |
| --- | --- |
| FINISH/PAINT | |
| COLOR | TRANSLUCENT RED POWDERCOAT OVER RAW METAL |
| PAINTER | PHIL GREFF/ |
| PAINT | BLACK CANYON CUSTOM |
| GRAPHICS | PHIL GREFF/ |
| PAINT | BLACK CANYON CUSTOM |
| | |
| --- | --- |
| ACCESSORIES | |
| FRONT FENDER | YAFFE |
| REAR FENDER | WEST COAST CHOPPERS |
| GAS TANK | FAT KATZ |
| OIL TANK | WILDCAT ENGINEERING |
| HANDLEBARS | RICK DOSS |
| HAND CONTROLS | ARLEN NESS |
| FOOT CONTROLS | ARLEN NESS |
| FOOTPEGS | ARLEN NESS |
| HEADLIGHT | HEADWINDS |
| TAILIGHT | THUNDER CYCLE |
| LICENSE MOUNT | THUNDER CYCLE |
| SEAT | ALL UPHOLSTERY |