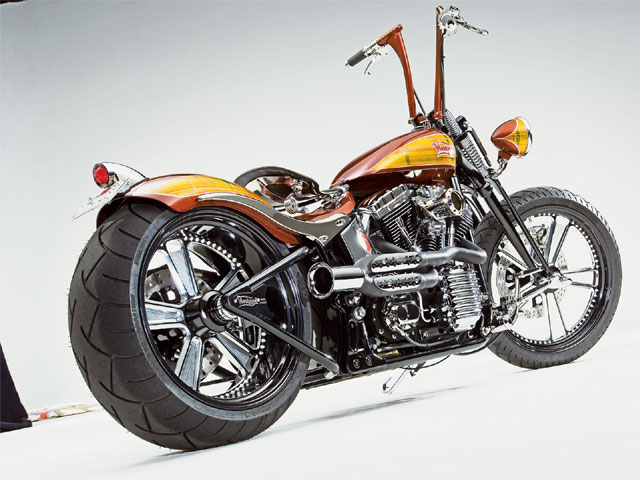 It's a question as old as the modern-day Harley-Davidson: How do you set your bike apart from the hordes of other Harleys out there? In the recent past the Motor Company has been churning out a high number of motorcycles on an annual basis, making it even tougher for owners to set their bikes apart from the rest. Sure, there are multiple families of bikes manufactured, each with various models in any particular category. As great as those choices may be, you can still end up with a motorcycle that has similar lines and styling to other incarnations of a particular family of motorcycle.
So what's a guy to do? You could begin by opening up Harley's mammoth phone book-sized Parts and Accessories Catalog and perusing its 900 pages, trying to find that elusive combination of parts that look really great together. If your take on that option is less than enthusiastic, you could riffle through any one of the many catalogs or web pages supplied by numerous parts distributors or aftermarket manufactures out there. The next route many consider is bringing their bike to a custom builder and letting him have his way with a torch, die grinder, and a welder. Whichever way you decide to go, your options will always be limited by your budget. The more custom you go, the more it will cost you in the end. It's been said that a Harley-Davidson is just a down payment on the accessories, and in many cases that's not all that far from the truth.
Not long ago, Roland Sands, V.P. of R&D; and design at Performance Machine (PM) and president of Roland Sands Designs (RSD), found himself pondering this very dilemma. Considering that Roland has the entire PM R&D; department at his fingertips, you might be asking yourself how a guy like this could have a problem customizing a stock Softail. That wasn't the issue for Roland. What he was looking to accomplish was to assemble a number of different components that could be offered as kits to riders, allowing them the ability to radically change the appearance of their Softails. Up until the past few years, Harley's Softail line easily outsold any other family of bikes, and Roland knew all too well how many riders were looking for more options when it came to changing the appearance of their bikes. Instead of just coming out with a new parts line, Roland's idea was to offer different kits that would allow the rider to modify the look of a bike from simple to extreme. This would give the bike owner the ability to tailor the final look of the bike based on both styling and budget.
While we would like to believe that Roland did all of this out of the goodness of his heart, he did have a bit of an ulterior motive. You see, Roland loves to ride Softails, but when you're a guy who designs some of the most beautiful parts for the custom V-Twin industry, you can't just ride around on a stock Softail. Most of the items you see on this bike were inspired by many of the plain-Jane bikes Roland had found himself riding over the years.
Inspiration for this particular project (known as "Vintage") came from another Roland-built bike that goes by the name of "El Borracho." Back in the spring of 2004, Roland and PM R&D; guru Todd Silicato built a bike to show off a bunch of the PM componentry that was available at the time. You may have seen the bike at any number of shows since the summer of 2004. Additionally, the bike was featured in our sister publication, HOT ROD BIKES (now titled HOT ROD'S BIKEWORKS). This bike was basically a Twin Cam Softail on which Roland performed a makeover by altering the sheetmetal, seat, bars, swingarm, and rear tire. These alterations gave the bike a completely different look from the one the bike had been born with, all while retaining the stock H-D frame and driveline-an important consideration when pondering any alterations. El Borracho didn't stop there; it was outfitted with numerous PM and aftermarket items, making the bike a true custom.
In addition to changing the look of a bike with the kits, Roland's goal was to come up with an assortment of parts designed to replace many of the stock components. Not wanting to mess with its reliability, Roland kept the driveline stock with only a few exceptions. Those included the addition of RSD's billet cam and rocker covers, and the transmission parts necessary to facilitate the use of PM's Phatail kit.
Major cosmetic changes on the bike can be seen in three separate kits, including the tank kit, seat-pan kit, rear-fender kit, and Phatail kit. For major visual impact, Roland went with a sort of hybrid-style flat track-inspired gas tank with a flat bottom that sits high on the backbone. Not liking the unfinished look of the stock backbone, Roland designed a backbone cover that completely cleans up the entire area. An added bonus of the cover is that it allows for relocation of the stock ignition switch by the neck. Making installation even easier is the fact that there is very little modification needed to relocate the switch.
Sticking with the feel of El Borracho, the seat kit includes a steel seat pan, chrome springs, mounting hardware, and a battery cover that makes the area beneath the seat clean and sano. From there you get into the rear fender kit. When used in conjunction with the PM Phatail kit, it allows the fitment of a 240 rear tire. In this case, the rubber (both front and back) resides on PM's contrast-cut Judge wheels. Those are the basic kits offered up by both RSD and PM. But the fun doesn't stop there-Roland decked the Vintage out with lots of other PM parts.
Adding to the nostalgic look of Vintage is the 2-inch-under black powdercoated Paughco Springer, one-off Vance & Hines exhaust, and Headwinds headlight. Roland tells us that most of the parts you see on this bike are already available from RSD or PM, or they will be in the near future.
Paint for the bike was handled by Chris Wood at Airtrix. Roland and Chris go back a long way, and when Roland pitched the idea of going with a butterscotch and plaid-style paint scheme, Chris was all over it. Now, these are certainly not colors or patterns you would normally see on a motorcycle, but the combination of Roland's vision and Chris' talent resulted in a stunning look.
Rumor has it that the last time the PM truck was loading up for a event, they had everything packed and ready to go. All but the Vintage-no sign of it anywhere. After turning the shop and showroom upside-down looking for it with no success, someone decided to give Roland a call on his cell phone. When asked about the bike's whereabouts, he replied, "It's in my garage at home-where else would it be?" Guess that means he really likes it.
| | |
| --- | --- |
| SPEC SHEET | |
| OWNER | Performance Machine (PM) |
| SHOP | PM |
| PHONE | (714) 228-8481 |
| WEBSITE | www.performancemachine.com |
| YEAR/MAKE/MODEL | '01/h-d/heritage Softail |
| FABRICATION | PM/RSD |
| ASSEMBLY | PM/RSD |
| BUILD TIME | A few months |
| | |
| --- | --- |
| ENGINE | |
| YEAR/TYPE/SIZE | '01/TC-B/88-inch |
| BUILDER | H-D |
| CASES | H-D |
| FLYWHEELS | H-D |
| RODS | H-D |
| PISTONS | H-D |
| CYLINDERS | H-D |
| HEADS | H-D |
| VALVES | H-D |
| ROCKERS | H-D |
| ROCKER BOXES | RSD |
| PUSHRODS | H-D |
| PUSHROD TUBES | H-D |
| CAMS | H-D |
| LIFTERS | H-D |
| CARBURETOR | Mikuni |
| AIR CLEANER | PM/RSD |
| IGNITION | H-D |
| EXHAUST | Vance & Hines |
| | |
| --- | --- |
| TRANSMISSION | |
| YEAR/TYPE | '01/Five-speed |
| CASE | H-D |
| GEARS | H-D |
| CLUTCH | PM |
| PRIMARY DRIVE | PM |
| | |
| --- | --- |
| FRAME | |
| YEAR/TYPE | '01/Softail |
| RAKE | Stock |
| STRETCH | Stock |
| | |
| --- | --- |
| SUSPENSION | |
| FRONT | Paughco Springer |
| LENGTH | 2 inches under |
| TRIPLE-TREES | Paughco |
| REAR | PM/Progressive |
| | |
| --- | --- |
| WHEELS, TIRES, AND BRAKES | |
| FRONT | |
| BUILDER/SIZE | PM/21×3-1/2 |
| TIRE/SIZE | Metzeler/120X70X21 |
| CALIPER | PM |
| ROTOR | PM |
| REAR | |
| BUILDER/SIZE | PM/18X8-1/2 |
| TIRE/SIZE | Metzeler/240X40X18 |
| CALIPER | PM |
| ROTOR | PM |
| | |
| --- | --- |
| FINISH/PAINT | |
| COLOR | Custom Mix |
| PAINTER | Chris Wood/Airtrix |
| POWDERCOATING | Embee |
| | |
| --- | --- |
| ACCESSORIES | |
| REAR FENDER | RSD |
| FENDER STRUTS | RSD |
| GAS TANK/CAP | RSD |
| OIL TANK | H-D |
| HANDLEBARS | RSD |
| RISERS | Paughco |
| HAND CONTROLS | PM |
| FOOT CONTROLS | PM |
| FOOT PEGS | PM |
| HEADLIGHT | Headwinds |
| TAILLIGHT | Sparco |
| LICENSE MOUNT | Sparco |
| SEAT | Mauricio/RSD |