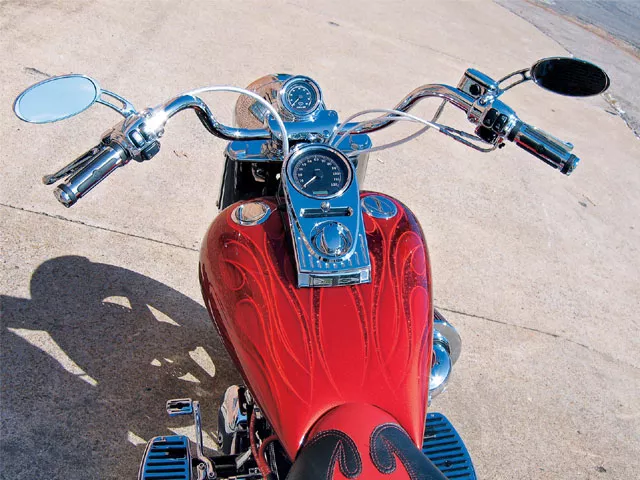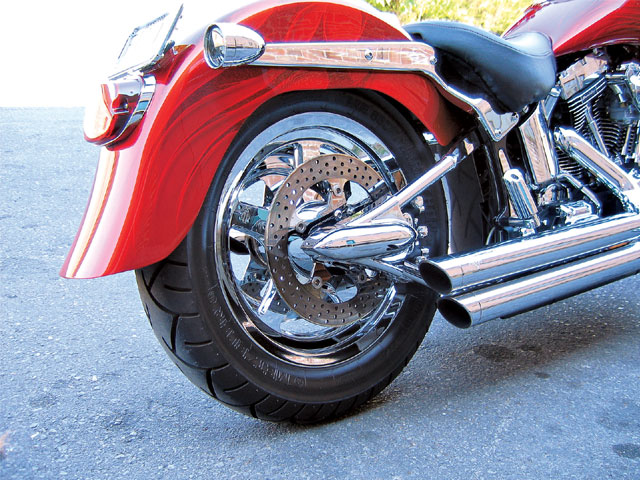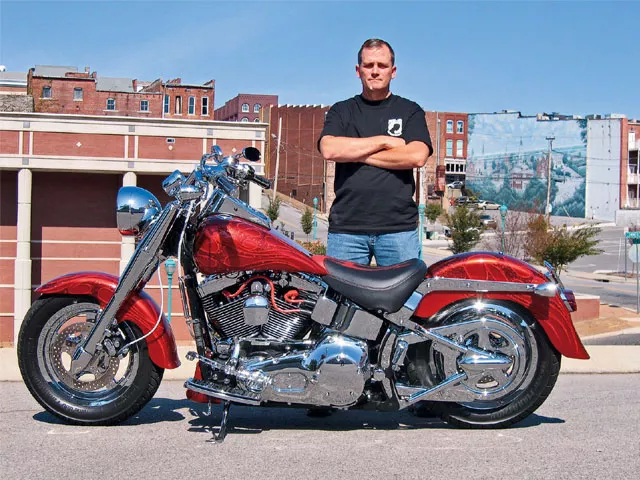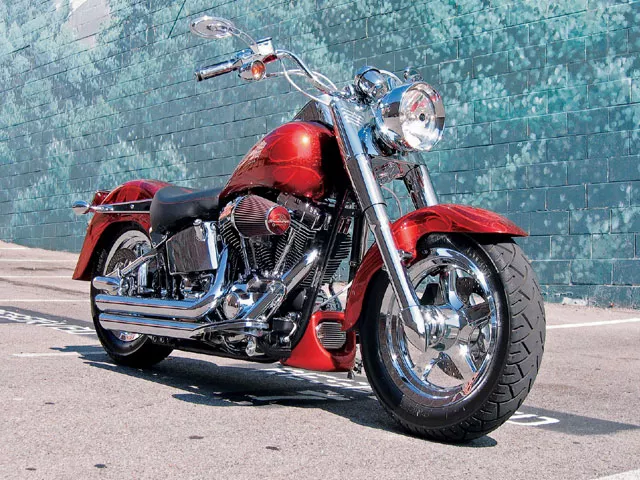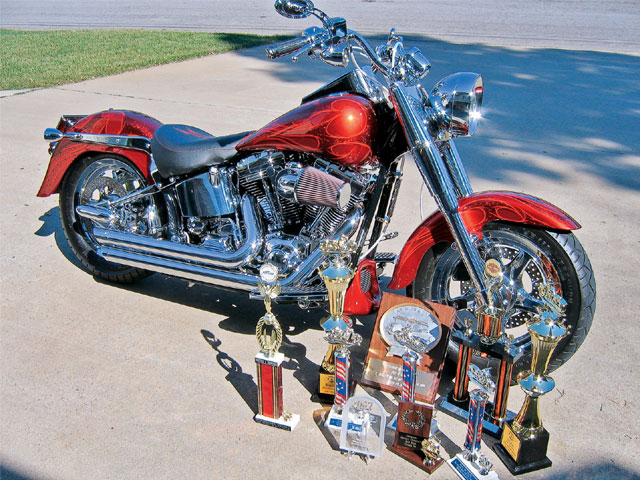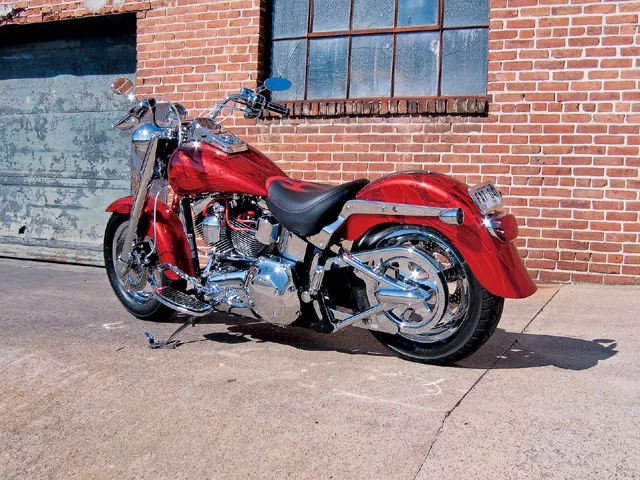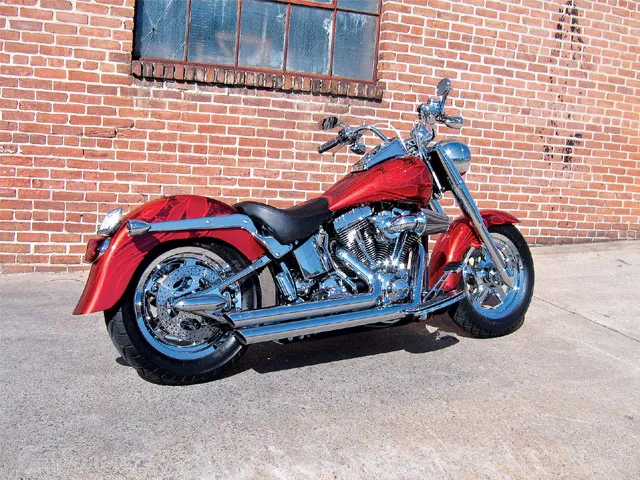 Here at Hot Bike, we get a lot of rides-Harleys, hogs, whatever you want to call them-submitted by our readers. Pick of the Pen is an opportunity to dedicate a few pages to our favorite reader-submitted bike each month. This month's pick of the pen comes to us from Jerry Tucker in Ft. Campbell, Kentucky.
This isn't your average story where a soldier comes home from the war and buys his dream bike. Instead, this is a story where the soldier returns home and turns his bike into his dream ride. It all started in February 2004 when my Army unit was in Kuwait. While we were in Kuwait, I found out that the AAFES, or what most people call the PX or Exchange, had a Harley-Davidson dealer set up taking orders for the soldiers returning to America. I placed one on order, not telling my other half (my wife Ginger) of my plans or what I had done. When I placed my order, I had to give them my e-mail address so that I could stay in contact with them about the order. However, I forgot that I had given Ginger my e-mail password in case of emergencies. Well, after a day or two, the Harley-Davidson dealer e-mailed me to confirm my order. I'm sure you can see where this is going. Yes, she found out by reading my e-mail…but I didn't know it yet.
I arrived safe and sound at Ft. Campbell, KY. Anxious to see my family again, we met up at a hanger they had decorated next to the airstrip. Ginger handed me a card made in a shape of a motorcycle. She told me to turn it over. On the back she had written, "YOU'RE BUSTED." The gig was up. I had to think of something to say and fast. After a few moments of babbling, she said "You deserve it." Wow! What a wonderful wife I have. Now the road to chrome begins.
I picked it up from the dealer after I had them change out the rims, exhaust, and a few other things here and there. I thought it looked pretty good, so I started to enter it in some of the local bike shows. My first time entering, I took First place in the stock class. The second time, I took Second. The third time, I entered it in a bike show called Bikefest at a Harley dealership in Nashville, TN. I didn't even place. The other bikes in the show were awesome-looking. I didn't have a chance. But this gave me a few ideas of what I could do next to the bike. After being back home in America for 12 months, it was time for our Division to redeploy to Iraq, but this time in Iraq, we had Internet access. While I was there, I spent most of my free time planning and pricing what I wanted to do next to the bike. This kept me from thinking so much of my family and kept me from getting homesick so bad. So, with what little time I had to myself, I started to plan the bike project into three stages.
The first stage was to plan a nice-looking paint job. I found a place called Attitude Custom Painting in Pinellas Park, Florida. I sent Scott Farrell all the ideas I had and suggested some modifications to one of his posted paint jobs on his website. I remember him telling me that he hadn't done one like that before, but that it would look awesome. The second stage was to have the engine work done. The more I read about it, the more I wanted to do it myself. So I learned all I could about how to change to a gear drive cam set-up, and all the areas that needed to be grounded down. Being a mechanic in the Army for 20 years, I knew my way around a truck, so I thought turning wrenches on a bike could be right up my alley. I contacted Dan at NRHS from Longmont, Colorado. He helped me with a few questions I had and also did the boring of the cylinders to match the pistons. My third and final stage was to upgrade the clutch and ignition system. I didn't want to spend a lot of money on the clutch, because I wasn't making a monster motor. I just wanted something that could handle the extra power the new engine was going to make. I found what I was looking for from AIM with the Variable Pull clutch kits. This kit would be able to handle every horsepower I could throw at it.
Now with all my plans mapped out on a computer spreadsheet, it would all have to wait until I got back to Ft. Campbell. I arrived home from Iraq in September, and I wanted to get some riding time in before I started this undertaking. It became my winter project. I started to take my first bolt loose in February, and by April I was riding what you see here in the photos. Now it was time to start entering it into the bike shows again. The first show with the new look, I received Best of Show. The next time, I took First and Best Paint, but the prize I wanted the most was to at least place at this year's Bikefest in Nashville, TN. I did take First place in my class, but the best of show went to a great-looking Road King that had a removable front fairing with a DVD player. Throughout the summer, I entered the bike in five shows and have eight trophies to show for all my hard work and planning. I know that there are some people out there that may think their Harley Softail bike is better-looking than mine. Bring it to my neck of the woods and we'll let the judges decide.
| | |
| --- | --- |
| SPEC SHEET | |
| OWNER | Jerry Tucker |
| HOMETOWN | Ft. Campbell, Kentucky |
| YEAR/MODEL | '04/H-D Fat Boy |
| BUILDER/ASSEMBLY | Jerry Tucker |
| ENGINE SIZE | 95ci |
| PIPES | Vance and Hines |
| TRANSMISSION | H-D |
| GAS TANK | Drag Specialties |
| FRONT FENDER | H-D |
| REAR FENDER | H-D |
| FRONT SUSPENSION | H-D |
| REAR SUSPENSION | H-D Lowered 1-1/2 inches |
| WHEELS | H-D |
| TIRES | Metzeler |
| HANDLEBARS | H-D |
| SEAT | B&G; Upholstery, Nashville, TN |