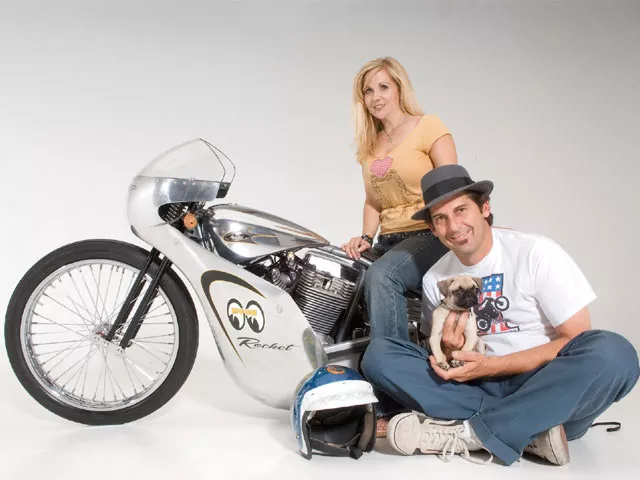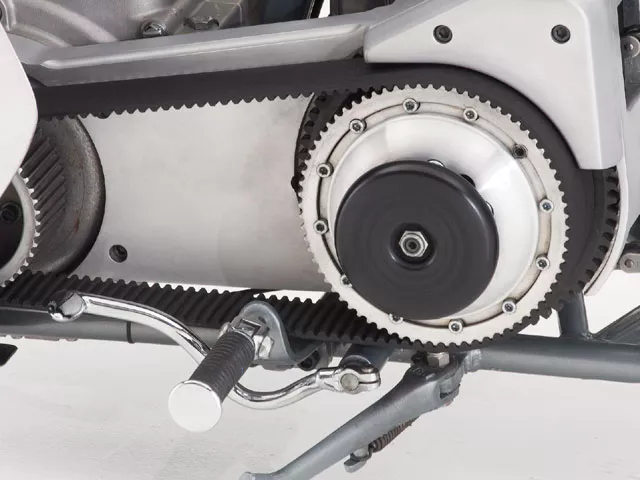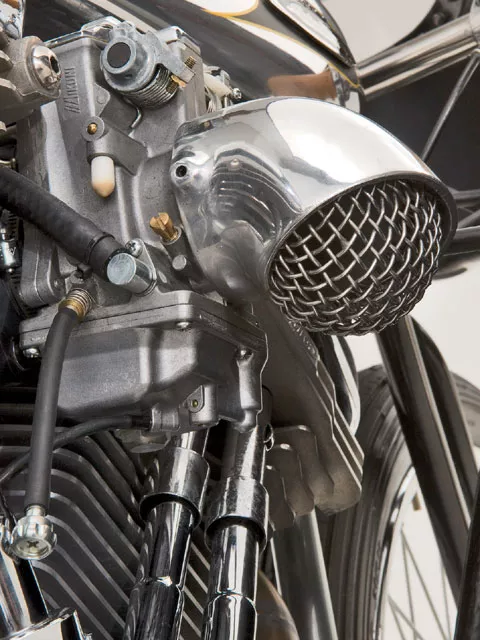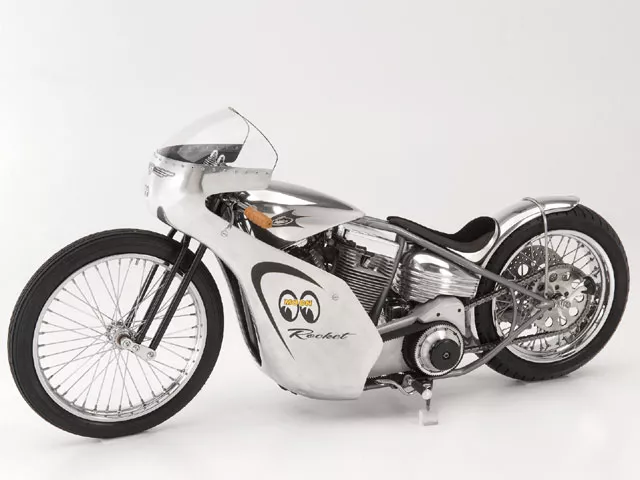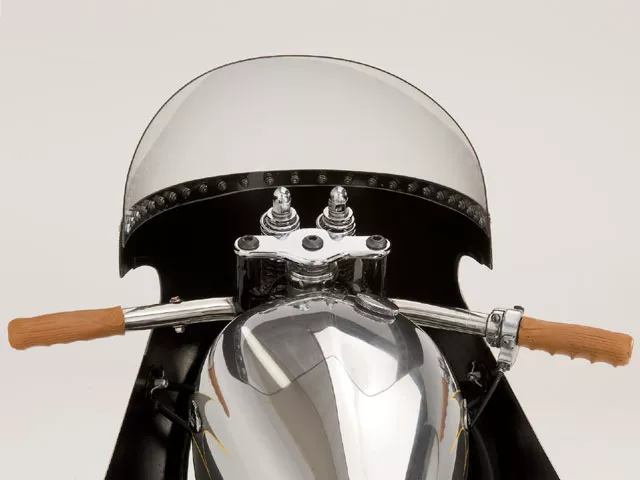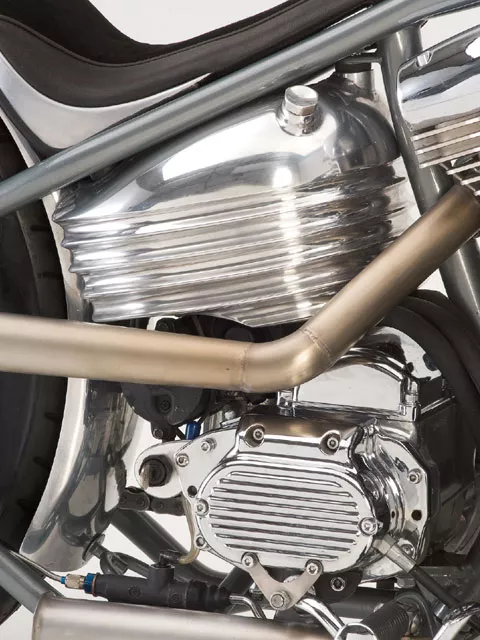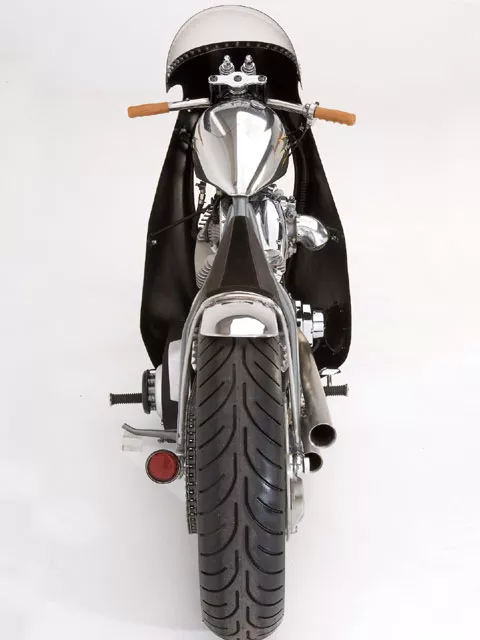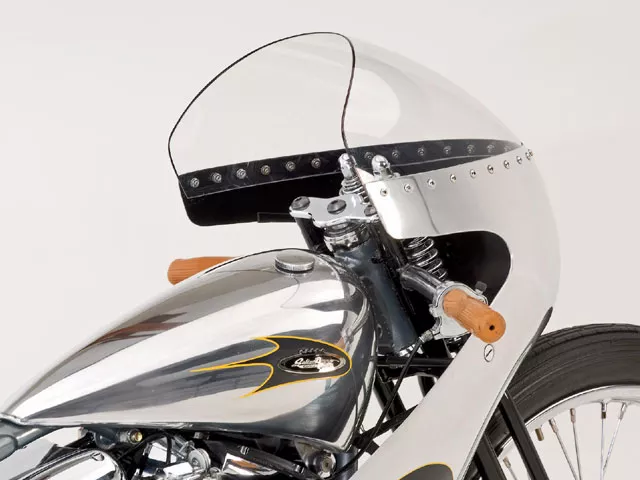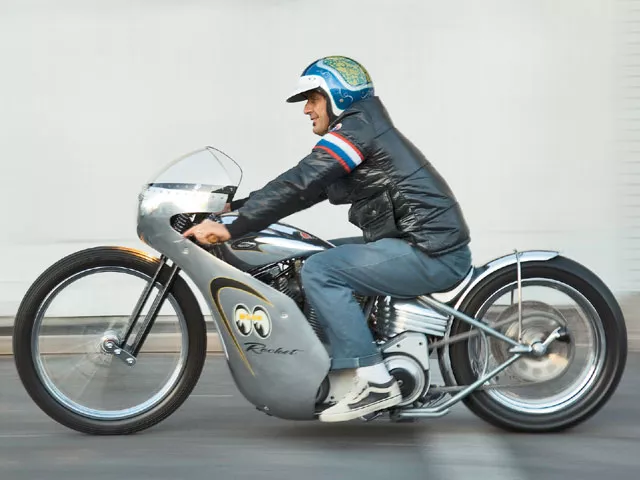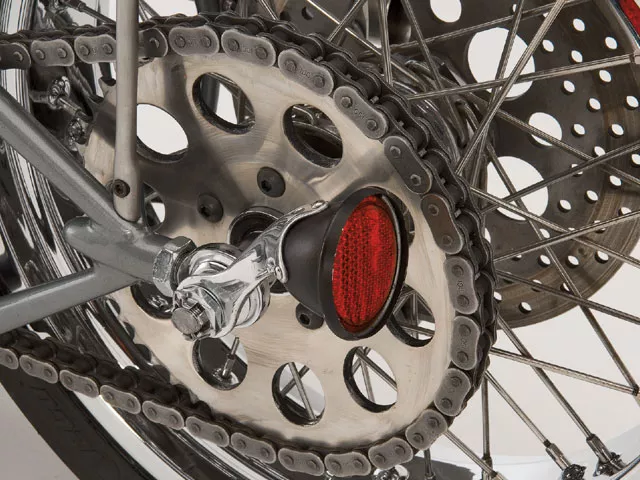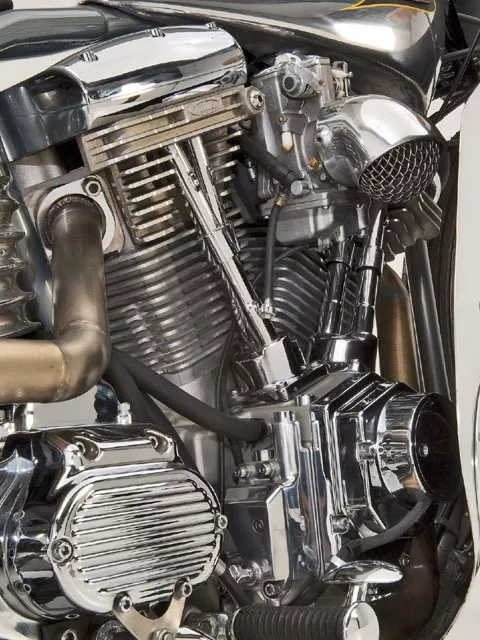 Over the years we've spoken to a lot of builders who say they started out customizing/rebuilding cars, which eventually led them into bikes. While building and/or restoring custom cars and bikes does have its similarities in skills, principles, and materials used, rarely, if ever, have we come across such a talented craftsman that is almost equally well known and respected in both circles.
Cole Foster is just that good, and has the pedigree to prove it. When we called to talk with him about the bike he built, which we put on this month's cover, he informed us he had just come back from the Goodguys Rod and Custom Association's Top 10 of 2007 Show in Scottsdale, Arizona, where he won the Kustom of the Year award with a 1936 Ford he built for Kirk Hammett of Metallica.
It was practically physically impossible for Cole not to get into building/restoring just about anything with wheels, as the customizing gene was part of the DNA passed down by his father, Pat Foster, a well-known and well- respected drag racer/restorer/recreator/builder. Like most of us, Cole got started on two wheels with bicycles, mini bikes, and dirt bikes. When he was a kid there was no such thing as a BMX bike, so he fixed up his Schwinns, lacing them up with heavy-duty spokes, and would take motorcycle handlebars over to the Dodge dealer and have them weld the bars onto his bikes. Then came the mini bikes, dirt bikes, and eventually Harleys. "When I was like 18-19 I had a pretty bitchin' Sportster," Cole said. "But as far as building bikes seriously or professionally, I didn't really have a big desire to build them. I was never really like 'oh, I gotta have a long chopper,' and go off and build a chopper. But I liked Panheads, and I had a Panhead for a couple years."
As far as getting into bikes on a more professional level, Cole said it pretty much started with Custom Chrome around 2001-2002. "I knew a guy named Joel that drove the show truck for Custom Chrome," said Cole. "And at the time Custom Chrome would provide certain builders with parts and the guys would build show bikes and Custom Chrome would tour them around for a year, then the guys would get to keep the bikes. So I told Joel 'hey, I want to do one of those bikes, let me in on that deal.'"
At first the guys in charge at Custom Chrome didn't take him seriously because they considered him strictly a "car" guy. But after some hours at the corporate table showing his extensive car portfolio and some magazine coverage he had gotten on a Triumph he had done, the suits were convinced that just off his name alone, Cole would be able to get them exposure in some car mags, even if it was with a bike. The bike (the blue Salinas Boys Bobber) eventually debuted at the Indianapolis Dealer show and was a huge hit for Custom Chrome and Cole. That blue bike was the talk of the show, because it was so different from what everyone was doing at the time. The bike was a tight, sanitary, bobber-esque machine that looked like it weighed next to nothing (pretty much did), and basically was the birth point for the style Cole has become known for in the motorcycle world: clean and simple, with a mix of classic and modern styling. In fact, Custom Chrome wanted to build a signature kit bike off of it, while Cole wanted to design a line of parts for them.
Things went well for awhile; Cole was designing a kit bike off the original bike, and Custom Chrome was going to add the gas tank from the Blue Bobber to their catalog, but then Custom Chrome went through some internal changes and the kit bike project kind of went south once he got to the roller stage. The bike sat in the back of the Custom Chrome warehouse for several years. Someone found the roller in the back and told Cole he should take it and finish it. "I always have 10 bike ideas rolling around in my head at any given time," Cole said. "I love the early drag bikes, I especially like the fairing style drag bikes like Leo Payne's Turnip Eater and Boris Murray had that twin motor Triumph with a Benelli fairing on it. Some may look at this bike and say 'oh, it's a caf racer,' but this bike has nothing to do with caf style bikes. I just wanted to use that fairing; if you pull the fairing off, you can see it's definitely drag-inspired."
With a span of several years passing between the time he originally built the roller and then wiping off dust that had collected on it, Cole decided to make some changes, like pounding and shaping the fairing, swapping out the mid glide frontend for a Parks Springer frontend, and making new mid controls. The original roller had Cole's signature steel bobber gas tank (now in the Custom Chrome catalog), but he pulled it off and made a similar one out of aluminum. He also made a set of bars, the pipes, and just about everything else on the bike.
So what started out as a potential badass kit bike sat in a dark warehouse collecting spiderwebs for several years, then re-emerged into the hands of its creator. And within three months of after-hours labor, the roller was massaged into a hot little drag-inspired racer with a slight caf touch. As for the decision to leave the bike unpainted, Cole said, "I wanted to leave it raw with a little bit of paint. And since it was all aluminum I was going to polish it to get all the scratches out and then brush finish it. But after quickly polishing it, I thought 'F#k, that looks pretty good.' I wanted it to look like it was touched by a human and not just stamped out. When you paint something you could do something pretty crude and filler makes it look good, but when it's just shiny aluminum there's no bullsht."
| | |
| --- | --- |
| SPEC SHEET | |
| BIKE OWNER | Cole Foster |
| SHOP NAME | Salinas Boys Customs |
| SHOP PHONE | (831) 444-9380 |
| SHOP WEBSITE | |
| YEAR/MAKE/MODEL | 2007/Cole Foster Custom |
| FABRICATION | Cole Foster (CF) |
| ASSEMBLY | CF |
| BUILD TIME | Three Months |
| | |
| --- | --- |
| TRANSMISSION | |
| YEAR/MANUFACTURER/TYPE | 5-speed/RevTech |
| CASE | RevTech |
| CLUTCH | BDL |
| PRIMARY DRIVE | BDL |
| | |
| --- | --- |
| FRAME | |
| MANUFACTURER | CF |
| RAKE | 30 degrees |
| Stretch | None |
| | |
| --- | --- |
| SUSPENSION | |
| MANUFACTURER FRONT | Parks Custom Springer |
| LENGTH | Shortened |
| TRIPLE TREES | Parks Custom Springer |
| MANUFACTURER REAR | None |
| | |
| --- | --- |
| WHEELS, TIRES, AND BRAKES | |
| MANUFACTURER/TYPE | Custom Chrome/Spoke |
| SIZE-HEIGHT | 21-incher |
| TIRE | Avon Speedmaster |
| CALIPER | Brembo |
| ROTOR | Custom Chrome |
| MANUFACTURER REAR/TYPE | Custom Chrome |
| | Spoke |
| SIZE-HEIGHT | 18-incher |
| TIRE/SIZE | Avon/130×18 |
| CALIPER | Brembo |
| ROTOR | Custom Chrome |
| | |
| --- | --- |
| FINISH/PAINT | |
| COLOR | Raw |
| PAINTER | Mike Hubbs |
| GRAPHICS | Chaparral Signs |
| PLATING/POLISHING | Jordan Skow |
| | |
| --- | --- |
| ACCESSORIES | |
| REAR FENDER | CF |
| FENDER STRUTS | CF |
| GAS TANK∩ | CF |
| OIL TANK | CF |
| HANDLEBARS | CF |
| HAND CONTROLS | CF |
| FOOT CONTROLS | CF |
| FOOTPEGS | Custom Chrome |
| HEADLIGHT | Little |
| TAILLIGHT | CF |
| SEAT | Backdrop |
| | |
| --- | --- |
| SPEC SHEET | |
| BIKE OWNER | Cole Foster |
| SHOP NAME | Salinas Boys Customs |
| SHOP PHONE | (831) 444-9380 |
| SHOP WEBSITE | |
| YEAR/MAKE/MODEL | 2007/Cole Foster Custom |
| FABRICATION | Cole Foster (CF) |
| ASSEMBLY | CF |
| BUILD TIME | Three Months |
| | |
| --- | --- |
| ENGINE | |
| MANUFACTURER | RevTech |
| TYPE/SIZE | Evo/100ci |
| BUILDER | RevTech |
| CASES | RevTech |
| CYLINDERS | RevTech |
| HEADS | RevTech |
| ROCKER BOXES | RevTech |
| CARBURETOR/EFI | RevTech |
| AIR CLEANER | CF |
| EXHAUST | CF |