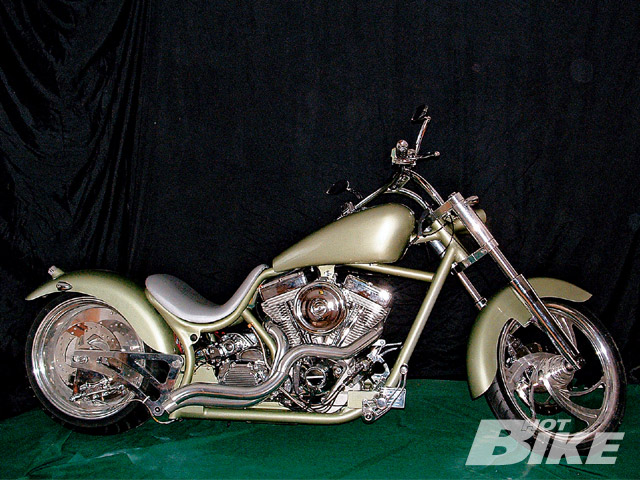 We would like to start by asking you, the reader, to help us with your ride submissions. There is no shortage of Readers' Rides coming across the editor's desks; however, only about 1/4 of them can be used. The reason: bad photos, little or no info about the bike, and even worse, no contact info to get better photos or the needed bike specs. So before you put a stamp on that envelope or send out that e-mail, make sure that you have filled out the basics: Your name, phone number and/or e-mail, where you're from. Then fill out a spec sheet-all you need to do is copy the info from the magazine: Motor, tran, frame, wheels, and so on. Last, a brief history about you and your bike. Now that you know exactly what we're looking for, we can't wait to see what you're going to send in. Thanks!E-Mail To:[email protected]
Less Is More
When Brian Malkowski was looking for a bike to buy and fix up, he kept finding bikes with too much shine as he put it. So when he saw this '04 Lowrider in need of paint, Brian struck a deal and the bike was his. As soon as the bike was home Brian started to break the bike down for paint and powdercoating. If the chrome was clean it stayed, if not it was covered or coated. Brian said he was not after a flashy bike, but he still liked the paint.
| | |
| --- | --- |
| CITY/ STATE | Toledo, OH |
| YEAR/MODEL | '04 / H-D Lowrider |
| BUILDER | Brian Malkowski |
| ENGINE | 88ci TC |
| HEADS | H-D |
| CARB | H-D |
| PIPES | Brian Malkowski |
| TRANSMISSION | H-D 6-Speed |
| PAINT | K&K; Toledo |
| COLOR | Flamed Tangerine Pearl |
| WHEELS | H-D |
| TIRE | Dunlop |
| BRAKES | H-D |
Don't Buy A Bike, Build A Bike
Ben Kubicki started building this bike just after he laid down his '99 Softail at the H-D 100th anniversary in Milwaukee. Some joker turned left in front of him. Sadly the bike was a total loss but Ben ended up with a few bumps and lumps. After a long battle with the insurance company, Ben was given a check to replace the Softail, but feeling the need to build a bike not buy a bike took him to the world of customs. Two years later what you see here is the outcome of Ben working nights and weekends to build his own custom.
| | |
| --- | --- |
| City/State: | Green Bay, WI |
| Year/Model | '07/Ground up Builder |
| Ben Kubicki Engine | 113ci Ultima Heads |
| Ultima Carburetor | Mikuni Cam |
| Ultima Pipes | CCS Choppers LLC Ignition |
| Crane Transmission | 6-speed Ultima Paint |
| Ben Kubicki Colors | Lime Gold Green Tires |
| Avon Breaks | PM |