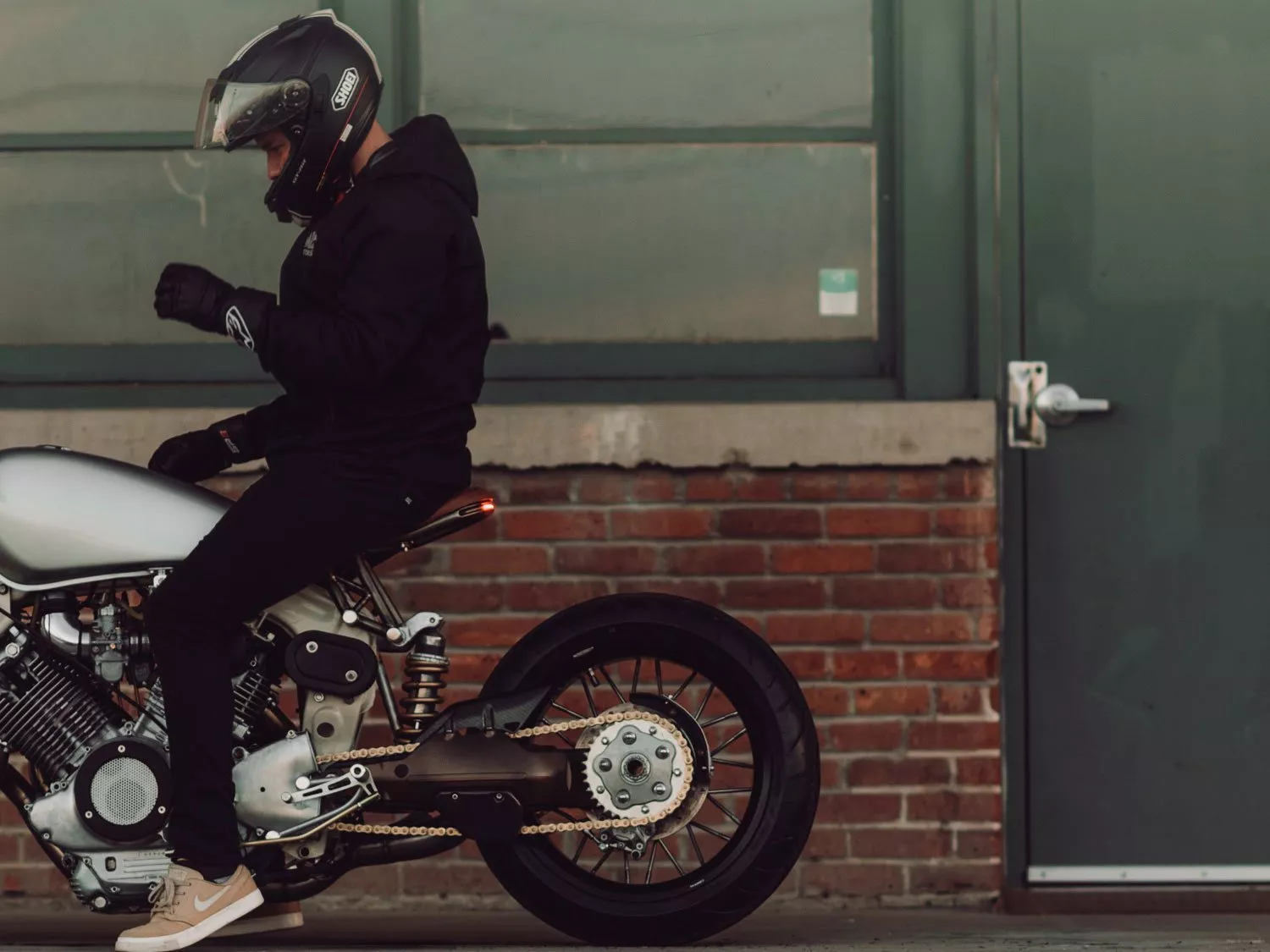 Motorcycle chains are a particular breed of mechanical device. Most often, they operate completely in the open, exposed to wind, heat and cold, rain and fog, and road grit, dirt, and debris. And then on the other hand…they need to look clean, bright, and shiny when you want to show your bike off. Often, new bikes' chains are treated to a waxy bath prior to shipping and sale. This keeps them protected during transit and storage—for as long as needed until the unit is sold. Then, when the machine is put into service, its chain needs responsible adjustment, cleaning, and lubrication for the longest service life. And finally, in some cases (sadly, sniff!), as bikes age they're sometimes left out in the cold, and rain, and snow, and…you get the idea: Then chains also require water dispersants and rust protection.
Goes On Great
From motorcycle, car, and truck racing supporter and sponsor Lucas Oil comes this 11-ounce aerosol Chain Lube Penetrant Aerosol. Specifically formulated to penetrate deep inside chains to protect the internal pins and bushings, it is also water resistant and serves as a rust inhibitor. What we just might like most about it, though, is the application process. Using the included tube, you can sharp-shoot the lube exactly where desired, with the lube foaming, dispersing, and clinging from there. But remove the tube and spray just with the valve head, and voila—broad, foamy, amazing coverage.
Wax It Up
It's common to find brand-new bikes on the showroom floor—those that use a chain final drive, anyway—patiently ready for sale with their chains prepped with a waxy-looking coating. The reasons are good. Wax-based lubrication offers long-lasting protection from the elements, so if the bike sits for months or years before being sold, the chain is protected. And if that wax-based chain lube is married to Teflon and moly additives? In the case of DuPont's Teflon Chain-Saver Dry Self-Cleaning Lubricant, then it's also O-ring safe, dirt and water resistant, non-staining and, as a "dry lubricant," won't fling off during use.
Race Spec Road Lube
Talk to most any racer or pro mechanic, and they'll know the high-performance Motul brand. Developed for street use, Motul C2 On Road Chain Lube and protectant is not only effective, but easy to apply. Credit here is due to a long application tube that allows precise aiming of the lube, including under sprocket covers and over or under the swingarm. Pro mechanics take great care to keep chain lube away from brake calipers, pads and rotors, and this long application tube, which stores handily on the cap, helps here too.
Clean, Lubricate, Protect
Not sure what to buy to care for your motorcycle chain? Here's a solution: The Maxima Chain Wax Ultimate Chain Care Aerosol Combo Kit. This package of three different aerosol products covers every aspect of chain care that you'll encounter. The kit includes a 15.5-ounce can of Maxima Clean Up to thoroughly clean chains without damaging their rubber O-rings; a 14.5-ounce can of Maxima Multi-Purpose Penetrant Lube that displaces water (highly useful after washing your bike), while providing rust and corrosion protection; and a 13.5-ounce can of Maxima Chain Wax with extreme pressure additives that protect chains during use.