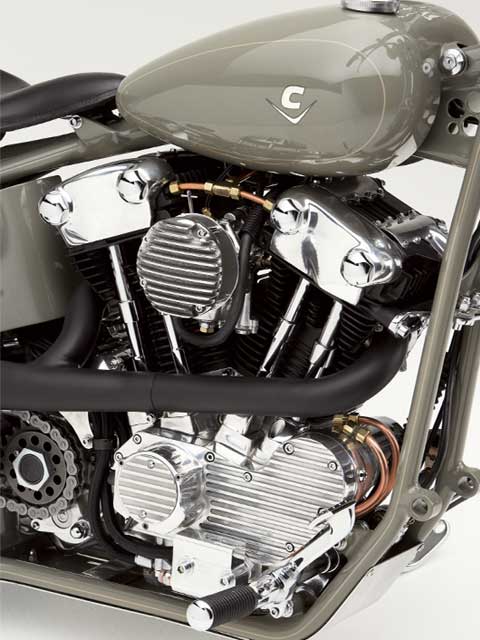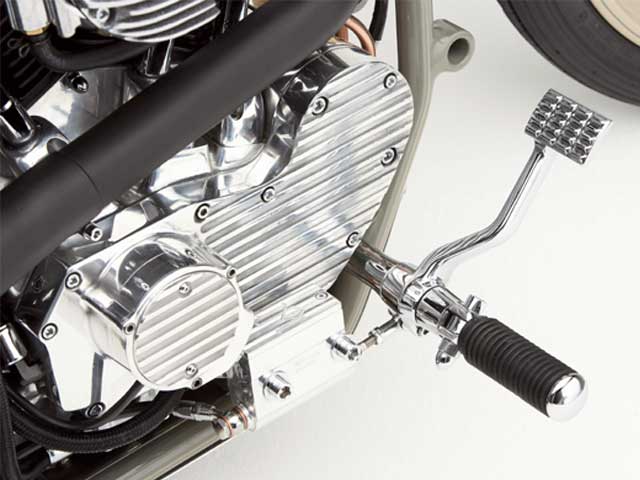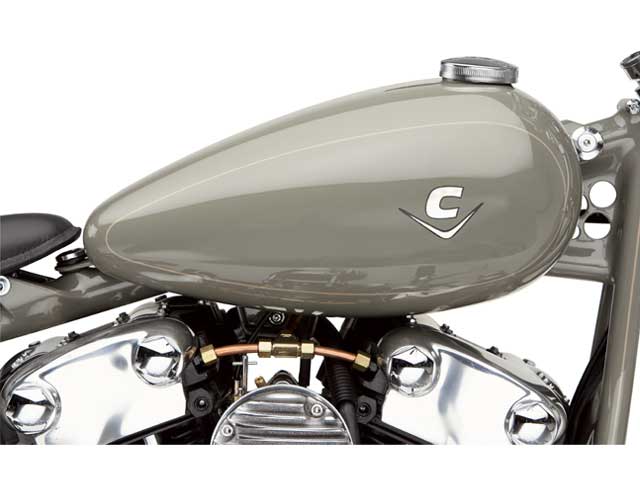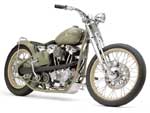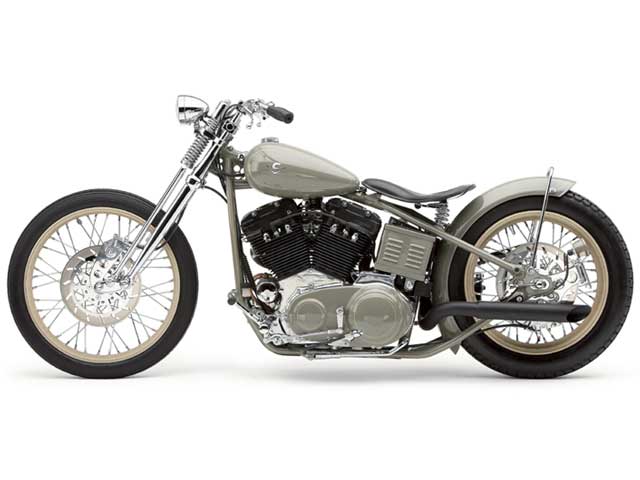 When the Cobra Special Projects Division team of Ken Boyko and Denny Berg began planning a bike collaboration, they discussed their affection for the old hot-rod magazines published in the late '50s, and both recalled seeing the lightweight motorcycles with high-performance engines called bobbers. The "Lakester" car culture on the West Coast was all about drag racing and driving at high speeds on the dry lake beds that littered the Southern California deserts. The motorcycles followed with their own stripped-down, nothing-but-the-essentials kind of experience.
Ken and Denny decided to meld a little old with a little new for this bike, consisting of a Sportster motor's bottom end with a knucklehead-appearing top end. Some might be tempted to call the "Knuckster" a bobber, but Denny was quick to point out a difference. "Look, East Coast bobbers were more like dual-purpose bikes, stripped down to compete off-road as well as on. The West Coast, or California, versions were potent drag bikes, usually with no front fender. It was a different kind of performance machine, one with its own specific culture and ethos."
"The last thing the world needed was yet one more custom chopper," added Ken Boyko, Cobra VP. "We had the desire to build a custom motorcycle that we'd actually like to ride, and we were both drawn to those early California bobbers. So the Knuckster became that bike." Though the Knuckster looks like a wonderful restoration of a '50s bobber, it's really all new, including the engine itself.
Harley engine builders in the '40s and '50s found innovative ways to improve their engines, coming up with Frankenstein creations in the search for horsepower and speed. There was the "45 Magnum," which used a Sportster top end. There was the "Shovester," which used a Sportster engine mated to a shovelhead top end. The Knuckster's engine is an S&S; Buell engine using parts that make it look like a knucklehead top end. It began life as a 51ci engine and then was punched out to 91 cubic inches with a 4-inch bore and 3-5/8-inch stroker flywheels. High-lift cams (0.555 inch) and an S&S; Super G carb add to the horsepower gains. All of that power gets to the road via a Baker six-speed transmission and chain final drive. By the way, that kick-starter pedal is not a functional unit-besides aesthetics, its only purpose is to serve as an exhaust heat shield.
The basis for the build was a Paughco rigid Sportster frame with a stock 35 degrees of rake and no stretch. Denny smoothed over and worked the frame to his specs by modifying the axle plates to resemble an old H-D rigid. In addition, knucklehead-style sidecar mounts were added to the frame for a little extra nostalgia. He drilled holes in the frame and chain guard, making the bike lighter-just as in the old days. An era-authentic bellypan, designed to keep mud and salt off the bike, was added to the underside of the frame. A period-correct Springer fork assembly was bolted up to the neck, which holds a Harley spoker with a modern disc brake. Front-brake actuation comes from a cable-operated master cylinder (scavenged from a Japanese sportbike) that's hidden away between the frame's downtubes.
Much about the Knuckster is more subtle than what you'd expect to see on a full-custom motorcycle. Denny admits, "A lot of people will walk right by because it's not painted with skulls or dragons. Older riders and the Rat Rod guys will get it in an instant, and they'll appreciate things like the 1909 grips and 1926 Harley switches. They'll even get the paint."
The paint alone is worth a story. While cruising a local hot-rod hangout, Boyko spotted a '32 Ford custom that on first glance seemed like a rather plain-Jane roadster. But upon closer examination it turned out to be an unbelievable machine with details beyond compare. It was painted green with camel tan wheels, and it had an understated elegance and undeniable air of refinement. Built by Rad Rods' Troy Trepanier in Illinois, that custom '32 became the inspiration for this entire bike, and the paint in particular.
"I've had an idea for this bike for a long time," said Denny, "and I'm glad we were finally able to put it together. It is subtle in many ways, but it's right. The shapes are right." The rear fender is a '50s or '60s aftermarket goodie from England- Berg calls it functional perfection. "Same with the gas tank. It's the right form, just like the rear trunk on the '32 Ford is perfect. No one can improve on those shapes." The peanut-shaped gas tank is from a '60s-era Mustang scooter-an item widely used by builders in those earlier days of bike building. Attached to the license mount is an original Vincent Black Shadow taillight that sits down low on the left side of the bike. The louvered battery box and the primary cover were coated with the same House of Kolor Green as the rest of the sheetmetal. Drag Specialties was called upon for a few of the finishing touches, such as the forward foot controls and pegs, along with the small, chrome-bullet headlight. A '52 Harley spring-mounted solo seat that Denny covered and beat with a hammer to make it look more worn handles rear suspension duties.
Exhaust for this motor comes from an updated version of a vintage Lakester exhaust complete with the removable end cap in place. The end cap can be removed for competition, but during normal, street-riding conditions, the exhaust gasses exit via the Cobra slash-cut pipe that's on the left side of the bike. If the boys really want to get throttle crazy-and loud-the endcap can be unbolted and removed from the right pipe, creating a large-diameter straight pipe that's very good at producing high-rpm power. As with other features on this bike, this idea came from the '32 Ford.
"Certainly, the Cobra Knuckster bucks the current trend in custom bikes, but its roots in the recent past and the quality of its execution have put it into a class of its own," said Ken. "This is one of those bikes where the original concept and the finished product are one and the same." Keep on the lookout for upcoming special project bikes from Cobra Engineering.