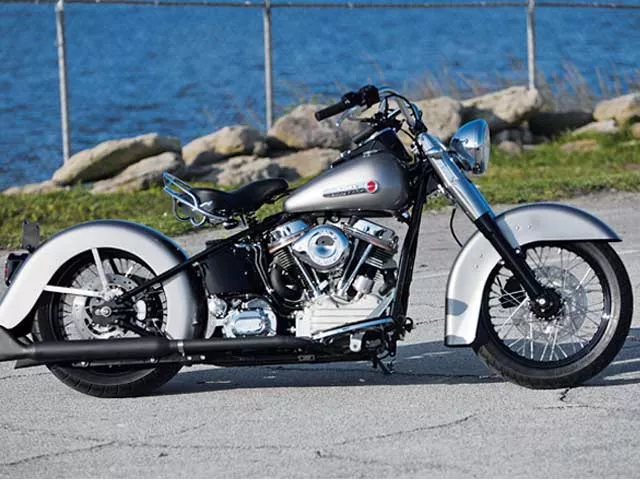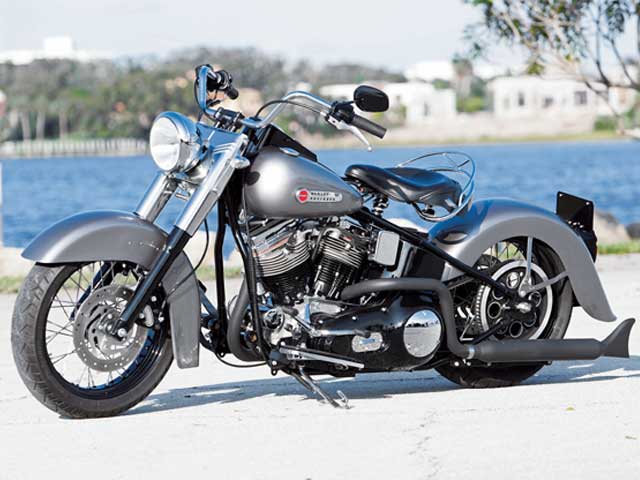 Good magicians and politicians both know one thing: The best deceptions are based on a little truth. These words of wisdom weren't lost on Jerry Jackman. In fact, you could say that's a big part of the general idea behind the bike he built for Douglas Gump. Jerry built this machine to look like an old stock Harley; he even used H-D parts for portions of the project (that would be the "based in truth" part). But here's the deception: None of the bike's parts were made before the year 2000.
It started when Doug came to Jerry's shop, Jackman Custom Cycle Inc. (JCC), in Gaithersburg, MD, for a motorcycle. He wanted a classic Harley, and, given Jerry's reputation, it made sense for Doug to look him up. Jerry's been building bikes since 1973, and during those 30-plus years he's acquired a skill set that runs the gamut of motorcycle tinkering, from restoring old iron to fabricating custom parts, first for his friends and later as a full-time builder. When Doug first contacted Jerry he wanted an old '49 H-D, which was fine; Jackman could do that. But Doug also wanted it to be a daily rider, and Jackman knew exactly how much of a maintenance headache an old bike could be, so he suggested a compromise. Why not build a motorcycle with the look of a vintage Harley but use modern parts for smoother riding and greater reliability? Doug gave Jerry the go-ahead, and the project was born.
Jerry kicked it off by building the rolling chassis. He ordered a frame from Chopper Guys with modest measurements, not only for comfortable riding but also to set the stage for the proper profile. It's a wishbone rigid chassis with 1-1/2 inches of stretch up and out, as well as 35 degrees of rake at the neck. Once the frame arrived at the shop, JCC added Ride Wright rims with Jackman's spokes and hubs shod in Metzeler tires (the rear being a 200 to beef up the back end a little). After that, they finished up with Harley-Davidson calipers and rotors to give Doug much better braking than he would've gotten with drum brakes from the '40s.
With the skeleton completed, Jerry turned to giving it some guts. He was looking for a good, reliable motor-preferably something under 100ci, but still big enough to make for fun riding. However, it also had to look like a panhead. Fortunately, Accurate Engineering made exactly what he wanted: a 93-inch crate mill done up to look like said pan. After he acquired the heart for his creation, Jerry made the custom dual-fishtail pipes for it and then shoe-horned the mill into the frame, where it was hooked up to a Harley primary and Baker six-speed for smooth sailing.
The next phase of the build is where the real art of deception came into play. We said before that Jerry had based part of the illusion on truth; if you want a bike to look like a Harley, it makes sense to use stock H-D parts on it, and that's precisely what he did when he added in the skin and controls. All of the tanks and the front fender are straight modern H-D, although Jerry added a few touches to throw off the casual viewer, such as '40s-era badges on the gas tanks. Jerry didn't have the luxury of using a modern Harley rear fender, however; it just didn't look right to him, so he made one complete with the old-style struts found on the bikes of old. Jerry finished the mockup with a set of Flanders bars set with Harley mirrors and H-D controls (with Harley foot controls to match).
After that the bike came apart for finishing. HPM Coatings blacked out the pipes and some of the other pieces with powdercoat, and while that was taking place, Tony Doherty laid down House of Kolor Platinum paint on the sheetmetal. Once the finished pieces came back, Jerry put the bike back together and added in the headlight. He then crowned it with a pogo seat with a Fox shock and called Doug to let him know his baby was ready to ride.
The entire process took 10 months, during which time Doug worked up quite the jones to ride his new toy. When he picked it up, he was eager to get going, and since then he's ridden this bike all over the place. Whenever he stops somewhere, people take quite an interest in his ride. Hawk-eyed cycle veterans figure out the ruse pretty quickly (and can see the beauty of it), but to the casual onlooker the bike looks like an old Harley, so that's what it must be. And that's just fine with Doug.