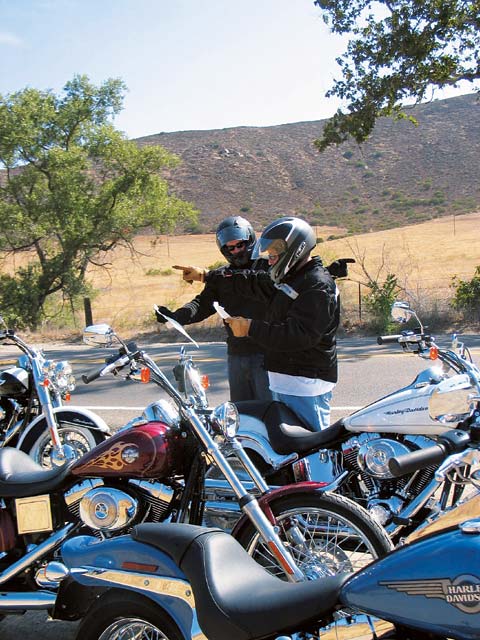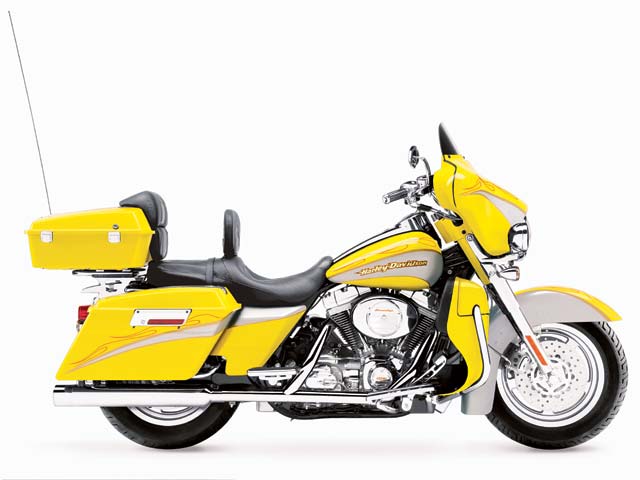 The rumor mill was working overtime this year about what Harley would be offering in 2005. Well, everything we heard around the office as to what would be new was wrong… completely wrong. There were no water-cooled baggers, no choppers, and no new motors.
Instead, the Motor Company pushed hard for the CVO (Custom Vehicle Operations) to create three new bikes, a V-Rod, a Fat Boy, and Ultra. Then, to complement them, four new standard models, an XL883 Low, an FXDC Super Glide Custom, a Softail Deluxe, and a Softail Springer Classic, are being released. Even Buell came out with a new model this year: the CityX. So, while there are no earth-shattering changes or giant revelations in the Harley world, there are plenty of new bikes to check out.
Some things will cross the entire platform lineup this year, including a clear lens, reflective optic headlamp, and chrome spokes and nipples on all wire wheels. Additionally, there will be a chrome-aluminum profile-laced wheel option — a very nice-looking wheel — and 11 new paint and badging options. Here is a quick look at some of the new bikes to tide you over until we get around to doing full road tests on them.
FLHTCSE Screamin' Eagle Electra Glide
Might as well start with the biggest bike there is: the new FLHTCSE Screamin' Eagle Electra Glide. If you like the big beast, you better grab one quickly as there will only be 3,500 of them this year. With a 103ci, fuel-injected motor, the Glide runs quickly. Add to that the wild paint, colormatched inner fairing, and a number of cool innovations, like a pop-up gas door release, a detachable tour pack, a hydraulic clutch, an oil cooler, and Thunderstar wheels and rotors, and you have a well-equipped custom touring machine. Additional upgrades, like cruise control, premium sound system with CD player, and spun-aluminum gauge faces, just take it to another level still.
All of these features don't come cheap though, MSRP is $29,995 and the bikes are available in three color combinations.
FLSTFSE Screamin' Eagle Fat Boy
Want to roll a custom softail down the boulevard? Take a good look at the FLSTFSE Screamin' Eagle Fat Boy. If you can get your eyes past the incredible styling pieces found on the bike, you might notice that it is equipped with a 103ci fuel-injected motor and it's a counter-balanced motor! So you get big-inch performance and balanced smoothness as you motor down the road.
The Fat Boy comes with a full complement of features, including a hydraulic clutch, a tachometer, a 1.25-inch handlebar, a high-torque starter, lowered rear suspension, chrome floorboard supports, and a new air cleaner. New Aileron mirrors, levers, covers, and assorted other pieces highlight the distinct styling of the bike, as does the wild new seat with a chrome pillion pad. The new Fat Boy is available in three distinct color combinations with color-matched frame inserts and swingarm.
There is more that comes along on this ride, but with an MSRP of $27,995, getting your hands on one of the 3,400 that will be out is going to be a challenge.
VRSCSE Screamin' Eagle V-Rod
You might as well go fast and look good at the same time. You can get help with both on the new VRSCSE Screamin' Eagle V-Rod. First, let's talk rear-wheel spinning power thanks to a big-bore version of the standard Revolution motor. Displacement has grown from 1,130 cc to 1,250, and rear-wheel power is up 10 percent. While that may not sound like much, keep in mind a standard V-Rod pushes 105-107 horses to the rear wheel, add 10 percent, and you are going really fast, really quickly.
To help this new V-Rod stand out in a crowd, plenty of chrome is added, along with new five-spoke Reactor wheels and rotors. A new airbox cover (looks like a gas tank, but the V-Rod hides its tank under the seat) features a chrome console holding an LED fuel gauge and indicator lights.
With three color combinations and only 2,400 bikes to be built, the MSRP of $25,495 makes it even better looking.
FLSTN/I Softail Deluxe
Let's talk king of the Softail line: the new FLSTN/I Softail Deluxe. Reminiscent of the original Heritage Nostalgia (can you say Moo-Glide?) the Deluxe hints towards retro-styling with all of today's best engineering. A counter-balanced 88ci engine feeds power to the wide whitewall tire out back and gets you down the road happily.
New floorboards add a little extra lean in the corners and a tombstone taillight adds a touch of retro. The FL-style front fender wears a small bit of chrome trim, and a very handy chrome luggage rack and low-profile seat further enhance the look of this bike. With its lowered suspension, the Deluxe lets you fly down the road at an altitude of just 24.5 inches.
There are six new paint schemes to deck your Deluxe out, and don't forget to check out the new headlight and nacelle on this bike when you stop in your local dealer's showroom.
FLSTSC/I Softail Springer Classic
If the Deluxe isn't nostalgic enough for you, just slide over to the seat of the FLSTSC/I Softail Springer Classic. Start up front with the blacked-out springer and chrome shock and springs. Let your eyes work back to the vintage Harley sticker on the oil bag, then move to the clean look of the blackwall tires and spoke wheels. This bike screams old school, but it runs on modern power with a combination of 88 ci of counterbalanced motor and a smooth shifting five-speed transmission to get you down the road quickly.
More vintage styling is found in the rear with a tombstone taillight. The seat is trimmed with embossed pieces that coordinate with the dash panel insert. Finally, a crossover dual exhaust balances the styling out when viewed from either side of the bike.
Buell CityX LightningBuell bursts onto the new bike scene with its CityX Lightning. Powered by the Buell Thunderstorm 984 engine, the CityX is just right for dodging city traffic or rush-hour traffic jams. Need to get from Point A to point B, and get over some rough roads while doing it? The CityX is your bike.
Take a look at the bodywork — its translucent! The rest of the bike that is not blue is basically black to promote a wash-it-less, ride-it-more attitude. New 43mm forks and aggressive Pirelli tires add handling while a Supermotard-style handlebar and taller seat make you want to throw the bike off curbs and jump it (not recommended). The CityX is aggressive and fun; you might as well go do wheelies and burnouts!